Expert Tips For Installing Pavers
November 23, 2022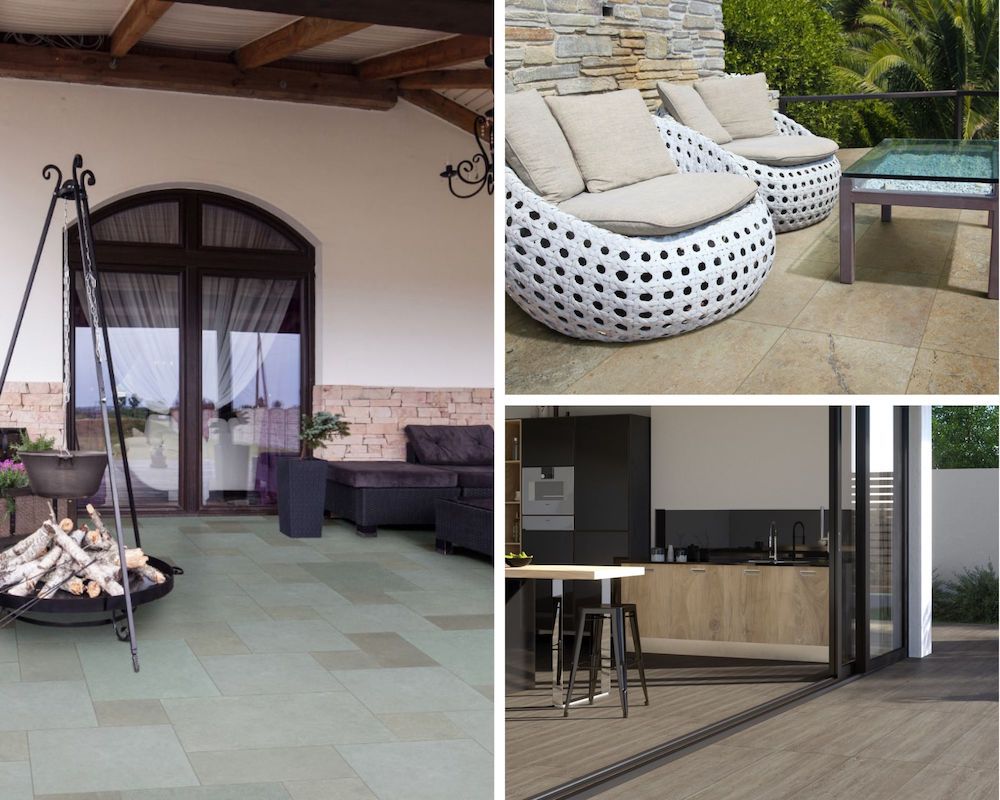 Our porcelain pavers are timeless, on-trend, and offered in various colors, sizes, designs, textures, patterns, and shapes. Not only do the Arterra Porcelain Tile Pavers look great, but they also come equipped with a series of heightened benefits. We engineer these beautiful pavers to last. Mildew, punishing UV rays, freezing temps, and more have no effect on these durable surfaces.
Arterra Porcelain Pavers, with their slip-resistance properties, are perfect for lining pathways, surrounding pools, and patios.

This article is not a step-by-step instructional piece for installing pavers. Instead, use it as a resource for expert tips to make the installation process a smoother and more enjoyable experience.
Additionally, we offer several irresistible natural stone options, including marble, quartzite, granite, limestone, slate, and travertine.
REQUIRED & SUGGESTED TOOLS
Here's a rundown of the required and suggested tools for installing pavers.
A diamond blade equipped wet cut tile saw manufactured to wet cut porcelain. Make sure it's designed to cut a 24" long porcelain paver safely.
Paver clamps. Use these to install and remove your porcelain pavers.
For mortar set installations, use trowels and grout float (based on grout manufacturers' recommendations).
We recommend wearing gloves while handling and installing the porcelain pavers.
PORCELAIN PAVER INSTALLATION EXPERT TIPS
Sandset Installation
This style of installation is appropriate for residential and commercial purposes. The method requires a wet saw with a diamond blade. You'll also need plastic spacers to maintain a minimum of 1/8 inch between pavers.
First, you'll need to excavate the site so there is space for the road base, sand, and pavers. When performing this task, consider the thickness of the 3/4 inch paver, the compacted sand, and the road base.
Compact the soil to ensure a slight slope away from any foundations or buildings. Over the subgrade, lay a geotextile. This creates separation between the base and helps limit any weed growth.
Next, it's time to install the base. Make sure it's well compacted first, then install the compact, screed, and bedding sand, ensuring the layer is flat.
Now it's time to set the pavers. It's important to ensure 4mm joint space by using spacers. You can make sure they're level by tamping them lightly. Then, install mortar set pavers or an edge restraint along the edge.
Finally, clean the joints and sweep the polymeric sand into the open joints, filling them completely. Remove any excess dust or sand from the surface, and use water to mist the pavement. This will activate the polymer and cure the mixture.
For more detailed instructions, take a look at this video:

Check out how great the Belton Blanco Arterra® Pavers look below in this sophisticated indoor-outdoor scene. These porcelain pavers showcase a cool white tone with subtle hints of a tonal pattern. The light color of these pavers is perfect for areas with a lot of sun as they won't absorb as much heat as darker colors.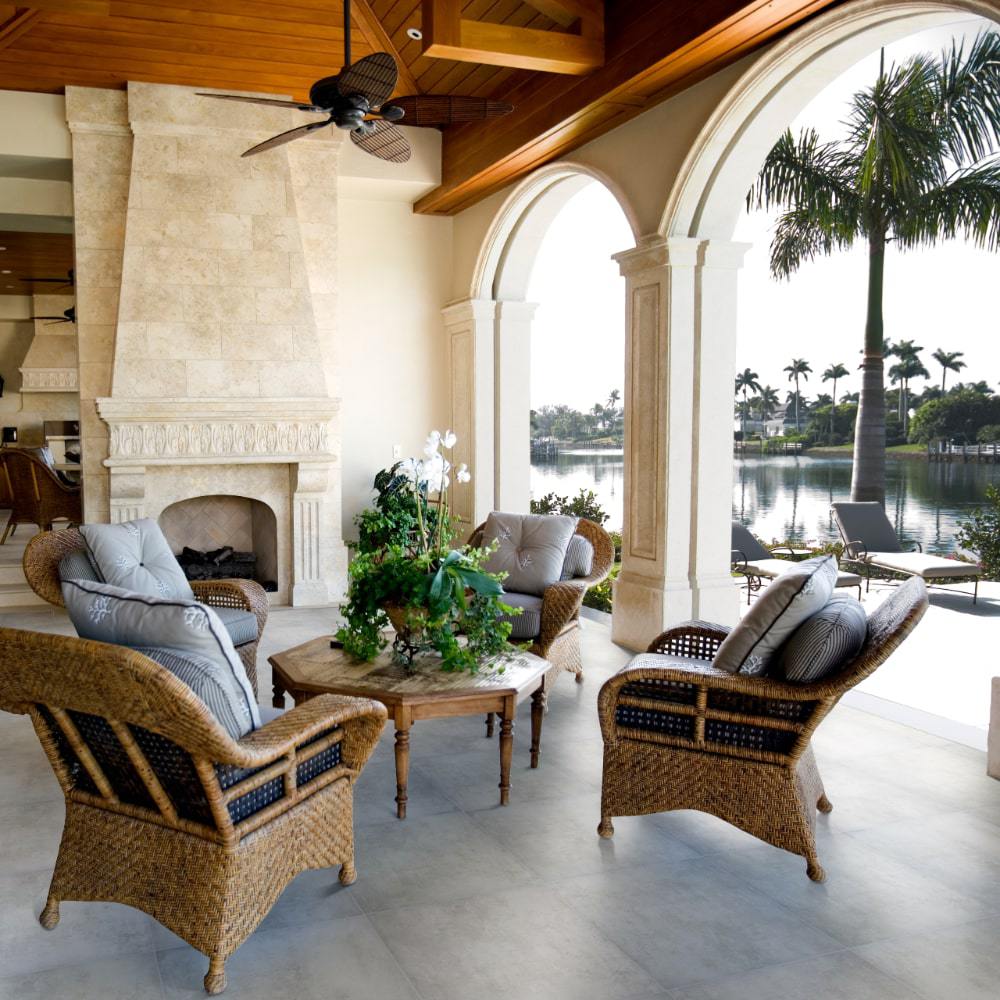 Mortar Installation
This style of installation is perfect for commercial projects or if you're looking to use pavers on driveways.
Make sure the concrete base is angled away from the building. To limit reflective cracking, you can install a crack suppression membrane.
Using a Large and Heavy Tile Mortar like ProLite Premium Large Format Tile Mortar or MegaLite Ultimate Crack Prevention Mortar, set the pavers.

Next, align the control joint in the concrete base using a porcelain paver joint. Finally, fill the joints using an exterior-grade grout.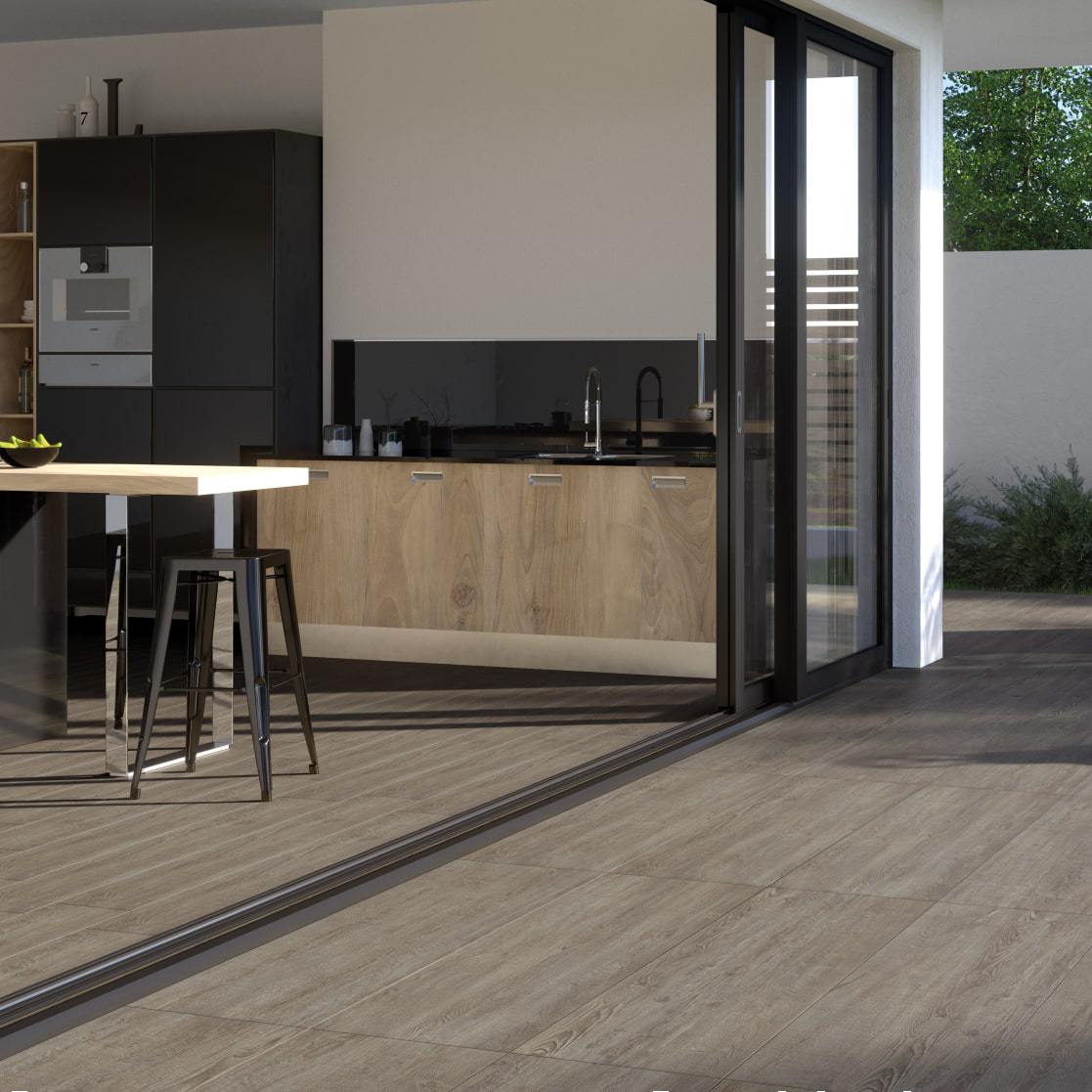 The Caldera Coala Arterra Pavers featured above in this indoor-outdoor transition are nothing short of breathtaking. Their on-trend gray background and the always popular wood look elevate the beauty of any floor. They're also easy to clean and maintain and durable enough to withstand cold or hot climates.
DOS AND DON'TS
IMPORTANT: Always pre-compact and strike off your sand leveling course before installing porcelain pavers in sand set installations. The reasoning here is porcelain pavers are not compacted and cannot be compacted with a plate compactor. So you'll need to pre-compact the sand layer.
Only use a tile saw with a wet-cut porcelain blade to wet-cut your porcelain pavers.
It's crucial to ensure you account for the overages of spacers. For example, if your project is 200 square feet, you will use approximately 68 spacers.
You never want to use a plate compactor to compact porcelain pavers.
Never install porcelain pavers without using the required 4mm spacing between them. On sand set installations, use plastic 4mm spacers.
JOINT FILLING
To fill in the joints, use polymeric sand. You want to ensure the sand is a fine grain that can pass through and fill 4mm joints. Sweep your sand into the open joints until you fill them completely. Any excess sand or dust should be removed from the surface. Once the surface is clean, and the joints are full, use water to mist the pavement, which will activate the polymer to cure the mixture. It's essential to follow the manufacturer's instructions to avoid surface staining when using polymeric sand.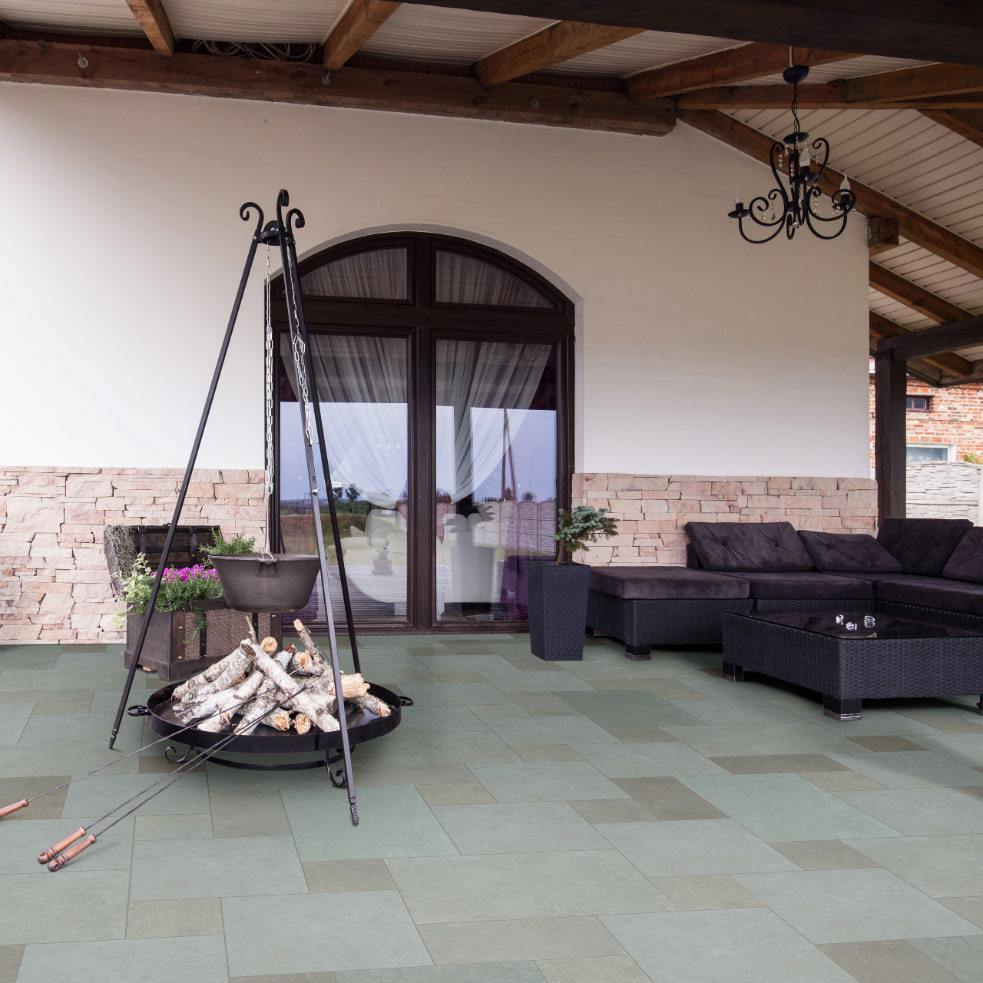 For your designs, you may want to check out our Caribbean Blue Paver. This gorgeous hardscaping adds so much character to the thoughtfully constructed outdoor space pictured here.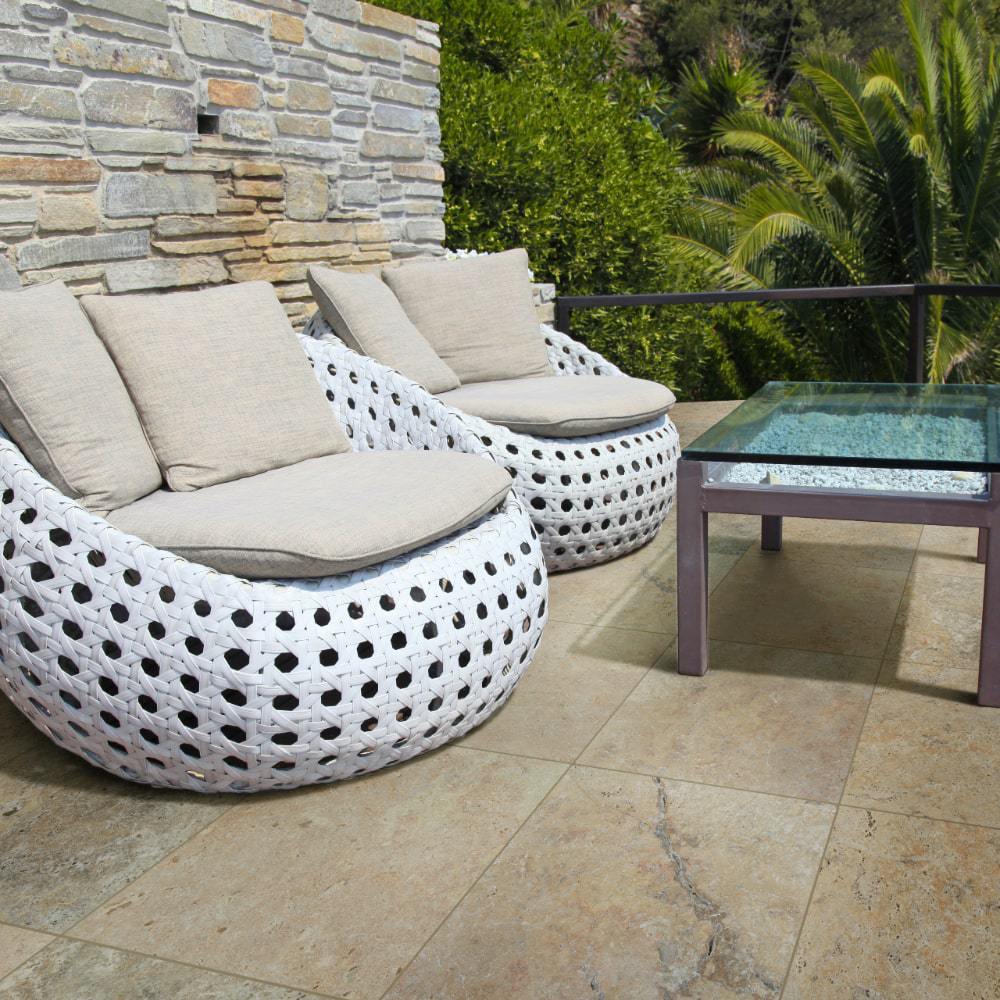 A fine choice for outdoor patio tile is the Tuscany Scabas Pavers. These alluring travertine pavers feature wild variations and multiple colors to create a beautiful and distinctive patio scene.
PEDESTRIAN FOOT TRAFFIC VS. LIGHT VEHICLE TRAFFIC
Use sand set over compacted road base for installing porcelain pavers for pedestrian foot traffic. You may also use stepping stones on grass for pedestrian foot traffic. For light vehicle traffic, use mortar set on concrete.
Do our awe-inspiring pavers have you chomping at the bit to start your next outdoor design project? Before you begin, contact us at MSI and see how we can help you find the perfect paver that meets all your unique design needs.
We're industry experts, and we are here to help you. You can contact us online, by visiting one of our showrooms, or by chatting with us in real time through our MSI website chat feature at the bottom right of your screen.
Learn More About Pavers And Alfresco Flooring
Coordinate Your Indoor & Outdoor Spaces With Matching Porcelain Tile & Pavers
Holistic Havens: Creating Your Indoor/Outdoor Sanctuary
Stylish Soreno Porcelain Pavers And Tiles With Zero-Slip Technology
3 Flooring Tile Styles That Create A Seamless Indoor And Outdoor Space
Living Alfresco With Arterra Porcelain Pavers