Choose The Perfect Porcelain Tile With Our New Bathroom Visualizer Tool
May 21, 2020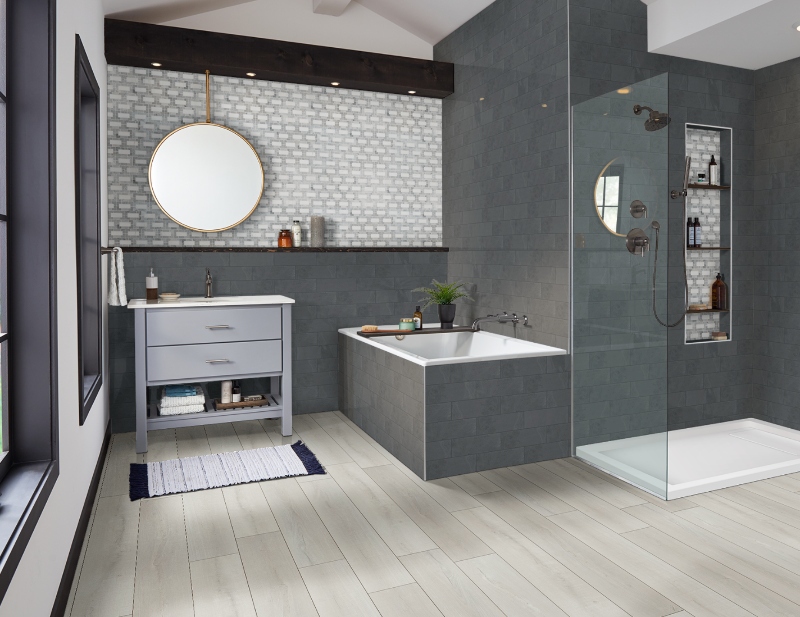 Aside from good looks, the most important feature homeowners want in their bathroom floor is that it's waterproof and durable. So, it's easy to see why porcelain tile is a favorite choice! With its variety of sizes, patterns, and colors, it offers endless possibilities for design opportunities. You can showcase your personal style, and your unique vision.
What, exactly, is your personal style? How do you choose – and just how much tile do you need for the project? You'll also wonder what other tile patterns and colors you're missing out on. That's why MSI is introducing our new Bathroom Visualizer Tool.
To get the most out of our visualizer tool, we recommend taking a moment to narrow down your choices. Here are a few tips to help you choose the perfect porcelain tile for your bathroom:
• Create a budget. Even before you start looking at tile patterns, knowing how much you want to spend on the project will help you narrow down your choices and prevent surprises.
• Calculate how much tile you will need. Measure the room, and be sure to add extra tiles if you want to extend the flooring up the wall, want to create a matching tub surround, or have other unusual features that may require more tiles.
• Choose a color scheme. Would you prefer light or dark shades? Neutrals or bolder hues? MSI's porcelain tile collections offer the complete range from black to pure white and everything in-between.
• Complement your accent tile. If you've chosen a bold, colorful accent tile for your walls, a neutral floor tile may be your best bet. Of course, your bathroom flooring can also become the room's show-stopping focus.
• Try different layouts. For example, porcelain tile is available in planks, which can be installed in a basketweave, diagonal, or herringbone pattern as well as the classic brick pattern.
Try these tile selections in our visualizer tool:
Aspenwood Ash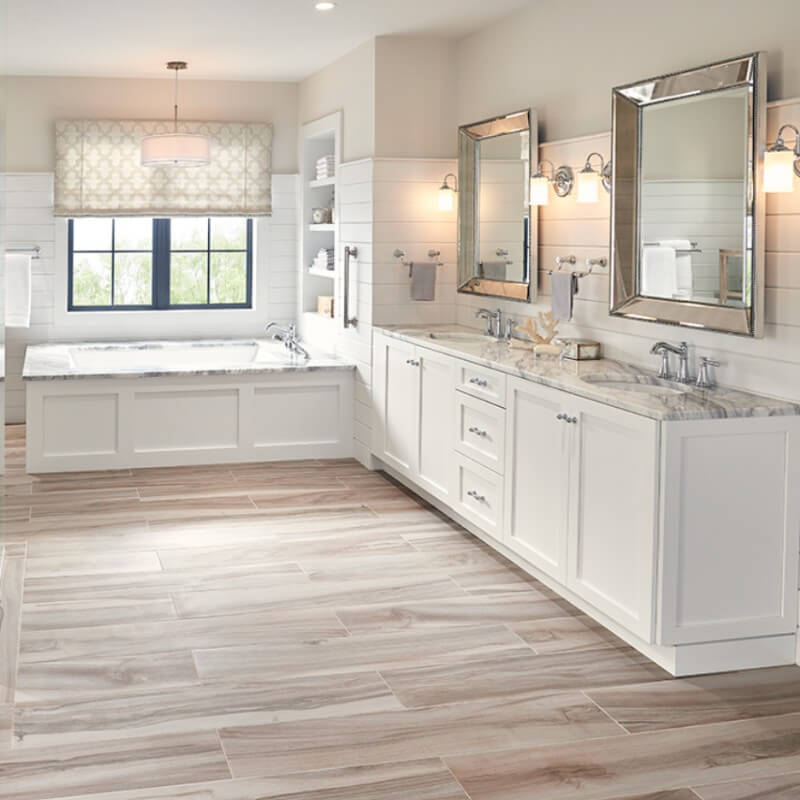 Porcelain tiles that look like wood are always a classic choice that won't go out of style. Aspenwood Ash gives you the warmth of hardwood flooring, in easy-care, waterproof porcelain.
La Fleur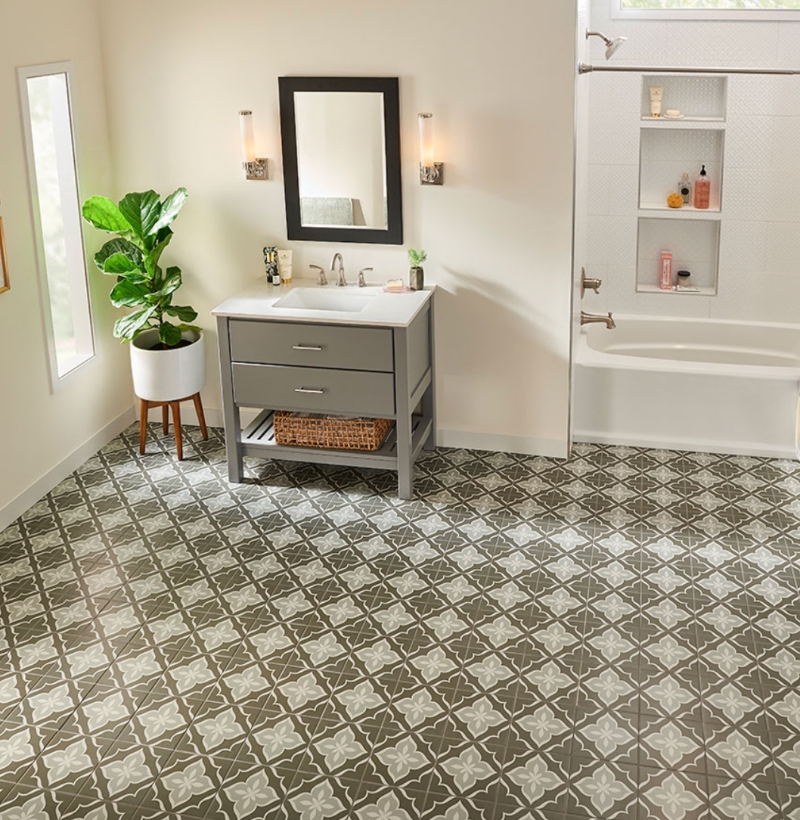 Here's an accent tile you'll fall in love with – La Fleur from our Kenzzi Collection. It's a modern tile with a retro feel, in shades of neutral gray that are easy to match with other types of tile, cabinetry, and more.
Statuario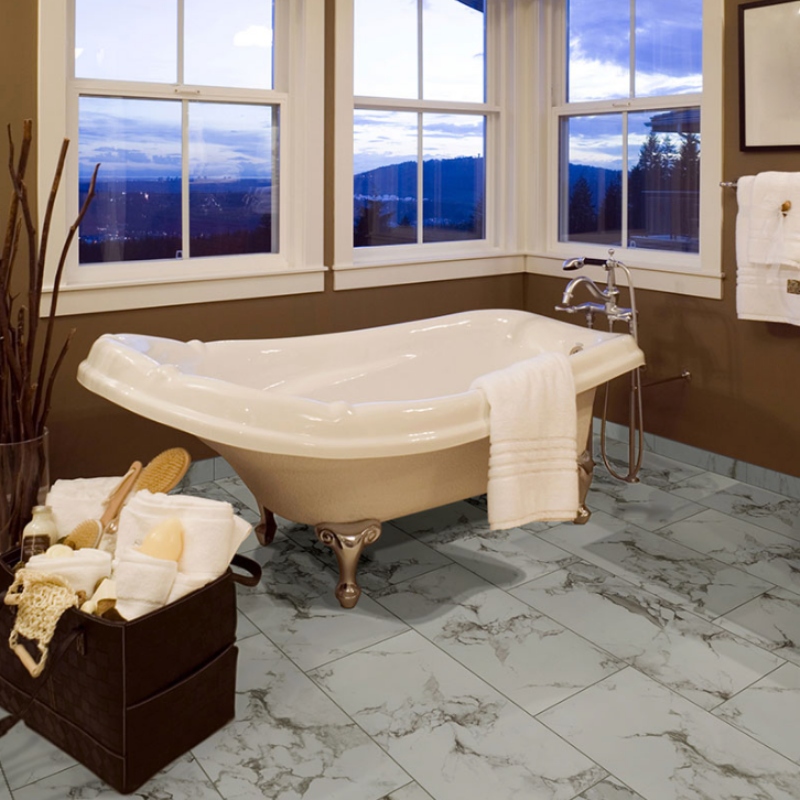 Marble is always an elegant choice for any room, and it will give your bathroom a luxurious ambience. Statuario porcelain tile bears an authentic resemblance to fine Italian marble, but is a lot easier to care for.
With so many porcelain tile choices, there's no need to settle for an ordinary bathroom. Elevate its design with the look of wood, marble, concrete, or with an attention-grabbing, bold pattern. With our bathroom visualizer, you'll be much more confident with your choices.
READ MORE ABOUT THE BENEFITS OF PORCELAIN TILE
Can I Install Radiant Heating Under My Porcelain Tile Floor?
6 Bold Bathrooms Using Porcelain Tile
Carefree Luxury: Pietra Porcelain Offers All of the Elegance Without the Worry