Popular
Carefree Luxury: Pietra Porcelain Offers All Of The Elegance Without The Worry
October 20, 2014
Do you love the look of natural stone, but fear the maintenance? If so, our Pietra Collection can give your design project the look and feel of natural stone, in a durable, virtually maintenance-free line of porcelain tiles.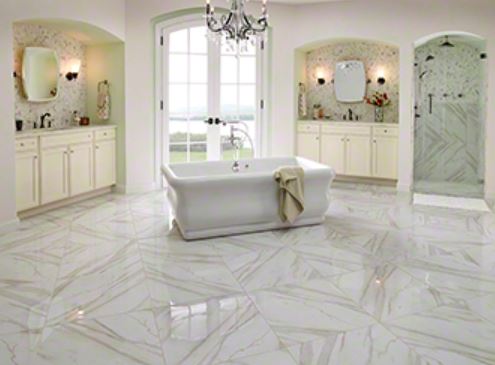 From traditional to contemporary, this versatile collection offers a variety of colors, sizes (complete with bullnoses), designs, and finishes. With over 10 different styles to choose from, these long-lasting porcelain tiles offer unfussy, livable surfaces with the sophisticated movement and color variation of marble. Here are some of our featured items from this collection:
Calacatta – With sweeping whites and creams with darker veins of grays and browns, Calacatta is available in various sizes making it adaptable to any project. Reminiscent of Calacatta marble, these porcelain tiles are ideal for floors, showers, bathtub surrounds, backsplashes, and countertops. The quiet and timeless elegance of these tiles works well with both contemporary and traditional designs.
Dunes - Mid-tone beiges and tans blend with natural cream and darker veins to create a durable tile suitable for a variety of projects including flooring, countertops, backsplashes, shower surrounds, and accent walls. Available in 4 sizes, Dunes facilitates unique design of any living space.
Lagos – The rich mid-tone beiges and browns and lighter cream veins of Lagos is reminiscent of natural quarried stone. This durable tile is available in a polished finish, in a variety of sizes making it suitable for an assortment of design projects. The rich earth tones partner beautifully with a range of natural wood finishes, natural stone countertops, and stainless steel appliances.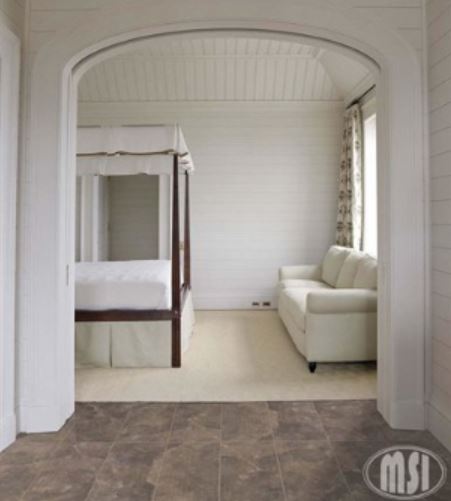 Rio Rustic - Available in 12x24 matte finished glazed tiles, Rio Rustic is arguably the most dramatic piece in the Pietra Collection. Resplendent with reds, beiges, and grays swirled together for a natural earthy feel, these tiles are ideal for floors, accent walls, shower surrounds, countertops, and so much more. Rio Rustic tiles team up nicely with a variety of natural stone products to create a warm and inviting environment.
Travertino Romano - Travertine is one of today's hottest surfaces. Travertino Romano, emulates the look natural travertine but with significantly less maintenance. Perfect to create a premium look in any entryway, kitchen or bath, when complemented with mosaics and natural stone, these travertine inspired tiles create a warm inviting atmosphere in any home.
The Pietra Collection was designed with durability in mind and can be used in most residential areas, as well as some light commercial flooring projects. With 8 additional tile designs currently available, and many more making their debut in the coming months, your project options with the Pietra Collection are virtually endless.
READ MORE ABOUT THE BENEFITS OF PORCELAIN TILE
Can I Install Radiant Heating Under My Porcelain Tile Floor?
6 Bold Bathrooms Using Porcelain Tile
Choose the Perfect Porcelain Tile with Our New Bathroom Visualizer Tool