Cozy Fireplace Surrounds Featuring Porcelain Tile
January 20, 2021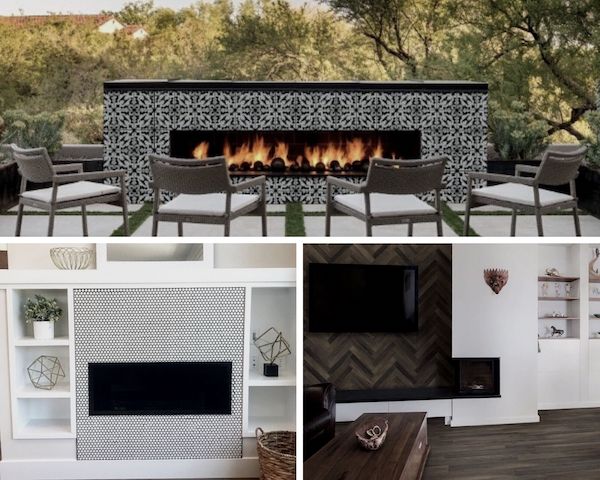 If you're fortunate enough to have a fireplace in your home, you should make the most of it by creating a stylish, cozy look. When one thinks of materials that complement a fireplace, what comes to mind is often marble, granite, or staked stone. But there's another surface contender that offers stunning possibilities that span the entire design spectrum: porcelain tile.
From traditional to contemporary and everything in between, porcelain tile surrounds are becoming one of the hottest trends in decorating. Whether your fireplace is indoors or outdoors on the patio, there's a porcelain tile that can turn a generic firebox into a work of art.
Before you jump onto the porcelain tile train, you might be wondering if porcelain tile is truly safe to use around fireplaces. After all, it's an incredibly versatile, budget-friendly, easy-to-install material — so when it comes to areas that are exposed to heat and smoke, is porcelain tile too good to be true?
Porcelain tile is crafted under high-heat environments. They are crafted of the finest clay which is molded, then cured to remove all traces of moisture. The tiles are then printed with inkjet technology, glazed, and fired in a kiln. This process results in a super-hard, durable surface that is easy to clean.
What's more, tiling the fireplace is just like tiling any other wall, unlike slabs of natural stone that require professional installation. Make it a small installation, covering the immediate area around your hearth, or cover an entire accent wall. Either way, you will transform your fireplace and elevate the design of your whole house.
MSI offers many different varieties of durable, easy-to-install tile in an amazing array of colors, patterns, shapes, and sizes, such as wood-look or brick look porcelain tile. If your preferred style is traditional, contemporary, rustic, or perhaps a look defined by your own unique, creative personality, there's a tile that will fit perfectly. That's the beauty of porcelain tile for fireplace surrounds — so many possibilities.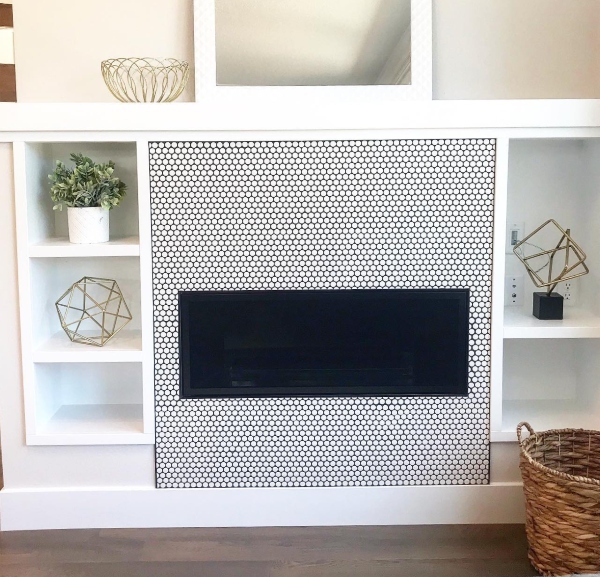 White Glossy Penny Round Mosaic
Self-contained gas fireplaces, or even electric appliances that mimic the real thing, are becoming more popular all the time. Even so, these modern fire features can still get extremely hot. Manufacturers of these fire features will warn homeowners to make sure they are installed in a safe manner, on and surrounded by materials that can stand the heat such as tile and stone.
By installing a fireplace surround with porcelain tile such as White Glossy Penny Round mosaic, you can ensure there will be no damage to the wall, and more importantly, less risk of igniting a house fire. This small-format mosaic provides eye-catching beauty in a neutral shade that's simple to coordinate with other design elements, such as a built-in bookshelf filled with all of your favorite items. At the same time, though, it won't detract from the main feature — the cozy flames!

Brina Porcelain Tile
Indoor fireplaces aren't the only spaces that can benefit from installation of porcelain tile. The bold patterning of Brina Porcelain Tile adds a stylish flair to fire features on patios and other outdoor living spaces, areas that are often left somewhat plain and unadorned due to their exposure to the elements.
You can feel safe investing in MSI's porcelain tile for these outdoor areas, because it's one of the most durable decorative surfaces available. Even better, because it's porcelain tile, it's easy to use around real wood-burning fireplaces, which do tend to get a bit messy at times. No worries about smudges from smoke and ashes. With such a glorious outdoor hearth, you might find that your patio is everyone's favorite place to gather together, day or night.

Upscape Bruno Wood Look Tile
Porcelain tile mimics a lot of different surfaces, such as porcelain tile that looks like marble. Wood-look porcelain tile allows you to incorporate the warmth and character of natural hardwood in places where it would normally be impractical. Because of advanced inkjet technology, porcelain tiles can mimic wood so well that it's hard to tell, even close up, that it's not the real thing. It's available in many different shades, from refined and subtle to bold and full of character, complete with graining and knots.
Bruno Wood Look Tile creates gorgeous floors in any room, but can also provide an unexpected boost on walls. What's more, because it's offered in plank shapes just like natural hardwood, you can create interesting patterns such as herringbone. A fireplace surround is the perfect place to add a bold pattern, since it's a small area that won't totally overwhelm the room.

Paloma Porcelain Tile
One of the best reasons to use porcelain tile around your fireplace is that it offers so much value for a minimal amount of effort and money. Despite the fact that your fireplace is a small area, even a plain fireplace naturally becomes the focal point of a room. This is true, even if your fireplace is non-functional because it needs expensive repairs, or perhaps you would just prefer to use it for decorative purposes only.
So, make the most of that focal point by adding a bold pattern such as Paloma Porcelain Tile. This black-and-white design feels vintage as if the design was stamped-on and slightly faded. It's lovely on its own, but the pattern is bound to inspire so many decorative possibilities.
Porcelain tile is an incredibly durable, versatile, and stylish surface material, and it's ideal for use around fireplaces. Since it's easy to install, this upgrade is a great DIY project — and even with a professional installation, it's easy on the budget as well. No matter what room your fireplace is in, whether it's indoors or outdoors, your choice of porcelain tile will completely transform the space and give it a fresh, updated, on-trend result that will last for many years.
READ MORE ABOUT THE BENEFITS OF PORCELAIN TILE
Can I Install Radiant Heating Under My Porcelain Tile Floor?
6 Bold Bathrooms Using Porcelain Tile
Carefree Luxury: Pietra Porcelain Offers All of the Elegance Without the Worry
Choose the Perfect Porcelain Tile with Our New Bathroom Visualizer Tool