How To Choose The Best Artificial Grass For Your Project: Understanding Pile Height, Face Weight, And Total Weight
July 12, 2023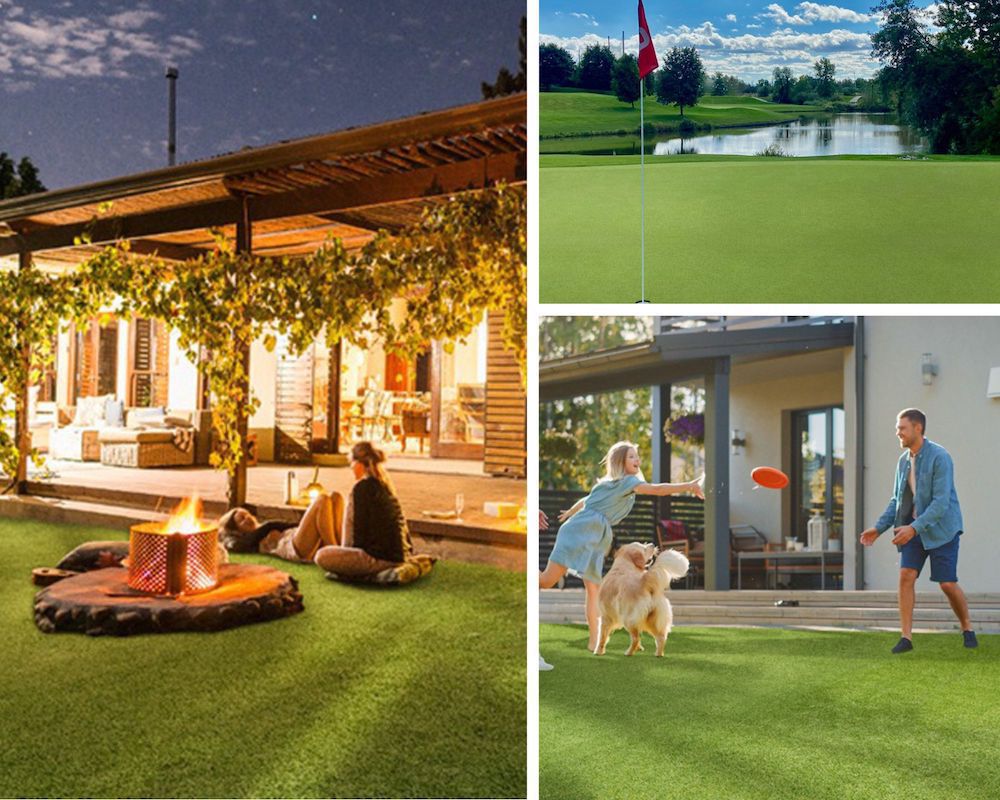 There's no denying the appeal of a lush, green expanse of lawn. If you're interested in a low-maintenance alternative to a natural lawn, artificial grass is a great option to provide the look you love, paired with the advantage of easy care.
With our Evergrass™ Artificial Turf Collection, you'll benefit from an antimicrobial surface that never requires mowing or weeding and helps you conserve water. Enjoy year-round greenery with a surface that's beautiful, easy to hose down, and quick to drain.
Before you purchase artificial turf it's helpful to understand the different features available, so you can choose the best product for your needs. When you know the importance of these features you can select the perfect product that offers the look, feel, and performance you need.
Factors to Consider When Choosing Artificial Grass
Our Evergrass™ Turf comes in different heights and densities to suit your preferences. Let's take a look at three factors you'll want to consider before selecting your final product: pile height, face weight, and total weight.
The first is a measurement of height, while the other two focus on the relative density and overall weight of the product, respectively. These factors are important because play a key role in the appearance and performance of your lawn.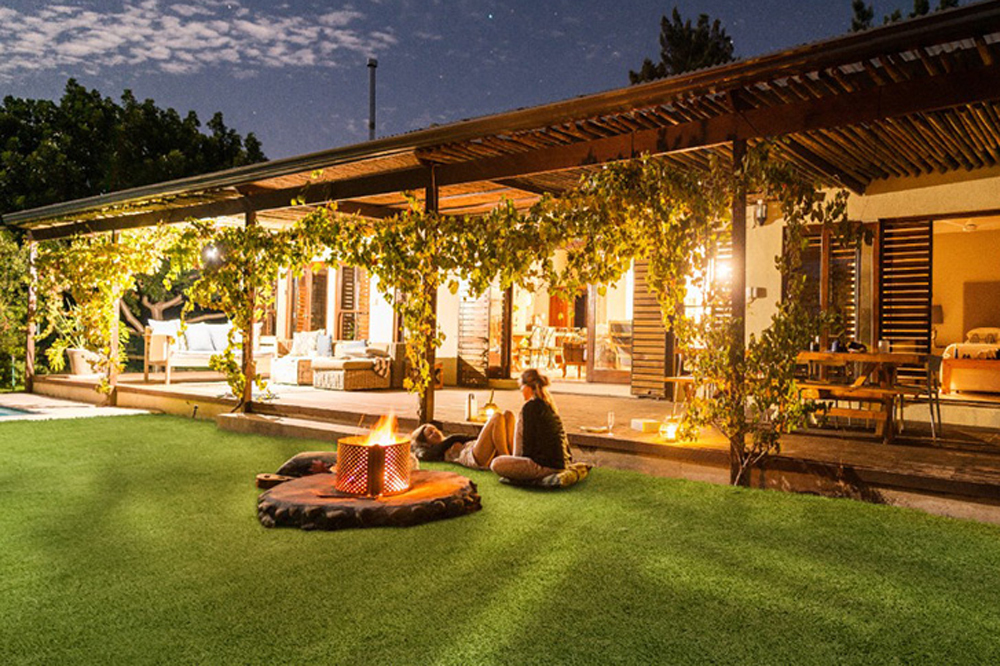 Evergrass™ Emerald Green Turf 110
Evergrass™ Emerald Green Turf 110, with a pile height of 1.75 inches and a face weight of 84 oz/sq yd, offers the most blade length and density for a thick, soft carpet of greenery. To better understand turf measurements, let's dive deeper into pile height, face weight, and total weight.
Pile Height
Pile height is a measurement of the blades of grass that make up your artificial turf. Our Evergrass™ Turf ranges from as short as 0.63 inches for a close-cropped look to up to 1.75 inches for a longer, fuller look.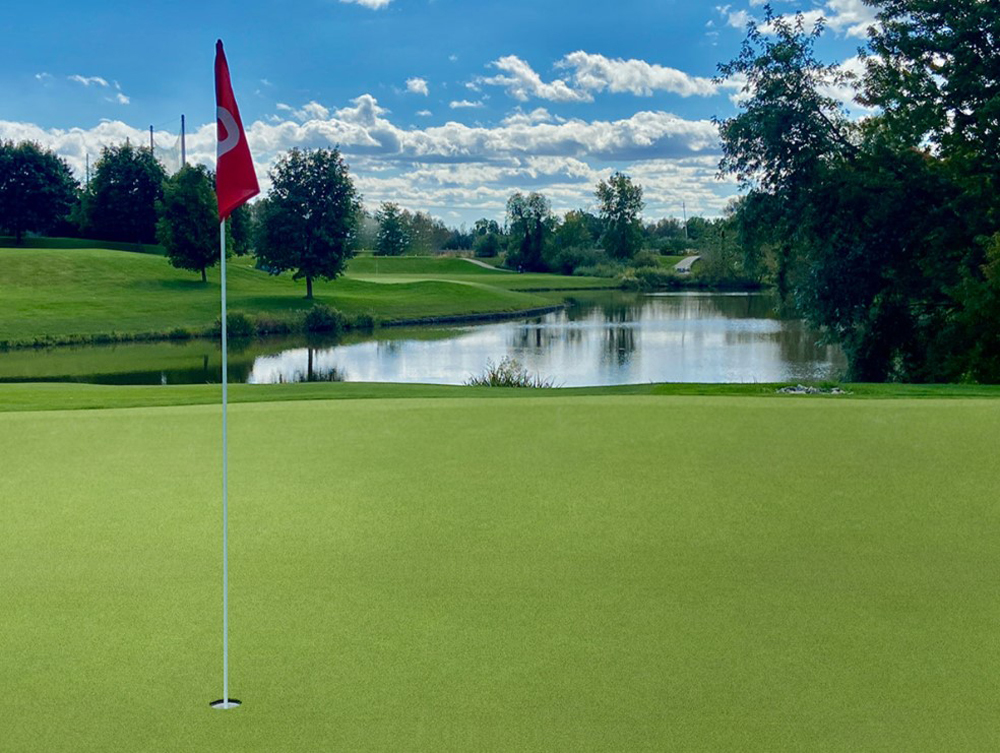 Evergrass™ Putting Green Turf 78
Shorter pile heights are typically used for surfaces designed for activities, such as sports, like this Evergrass™ Putting Green Turf 78 pictured above. Other areas, such as lawns and landscaping projects, may require a greater pile height.
This feature helps to create an authentic appearance, whether you want the look of a neatly-trimmed putting green or the lush appearance of a well-watered lawn.
Face Weight
Face weight — or the weight of fibers per square yard — is also an important consideration in the turf you choose. A higher face weight relates to greater density and durability.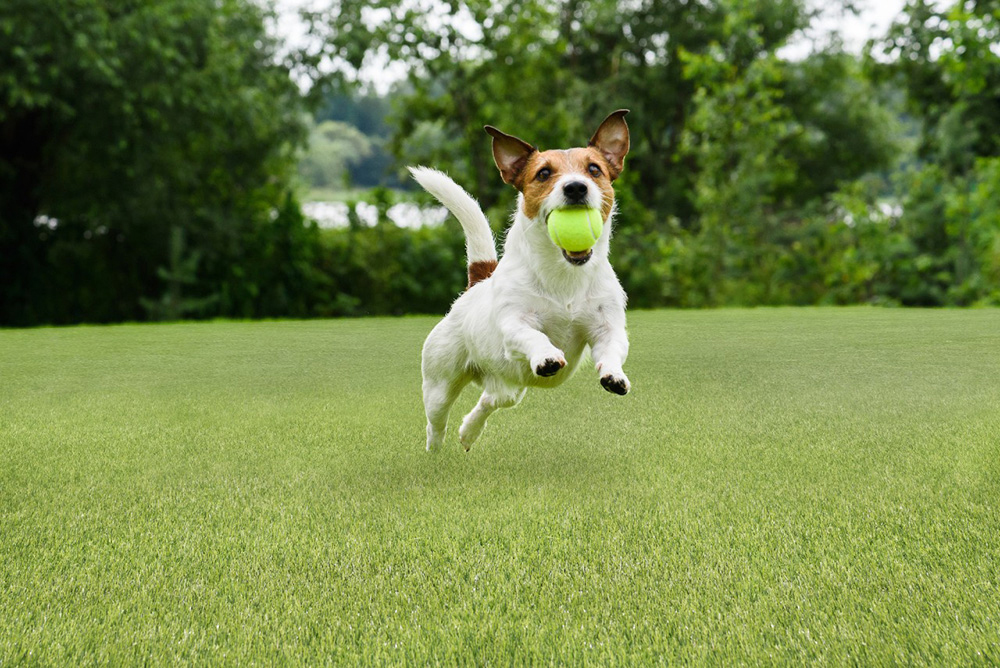 Evergrass™ Emerald Green Turf 76
You might opt for the shorter pile height of Evergrass™ Emerald Green Turf 76 for your furry friends who love to chase balls. However, if you're planning a play area for smaller children, you may prefer a product with a greater face weight for a springier surface.
Total Weight
For turf, total weight refers to how much it weighs in ounces per square yard. This measurement includes both the face weight and the backing material, as well as the infill, if applicable. A heavy backing provides a robust and stable foundation for your artificial turf.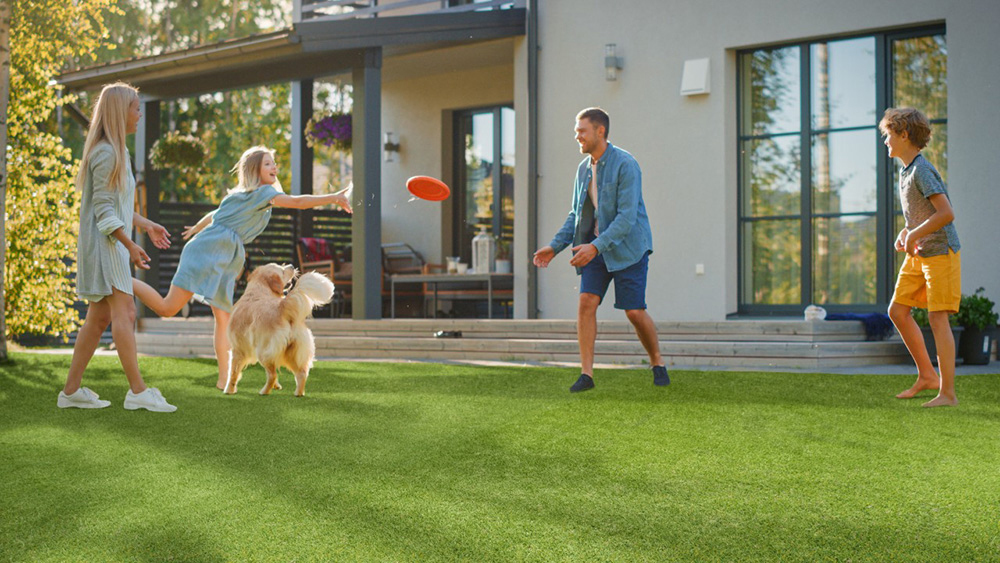 Evergrass™ Viridian Turf 91
Evergrass™ Viridian Turf 91 has a face weight of 65 oz/sq yd, but its total weight of 91 oz accounts for 26 oz of backing material, making it a nice option for an artificial lawn you can play on with your family.
Finding the Right Artificial Turf for Your Outdoor Spaces
When you know what the different artificial turf measurements mean, you have the best opportunity to select the product that meets your needs for performance, resilience, and aesthetics.
Whether you're looking for a rich complement to natural stone surfaces in your park-like backyard, or you need a reliable surface for sporting activities, you'll find the perfect solution with Evergrass™ Turf, backed by lifetime residential and 10-year commercial warranties.
Could your yard use a practical and eye-catching makeover? Find the right artificial turf for your outdoor spaces by chatting live online with us now, contacting an authorized MSI retailer, or visiting a nearby showroom.
LEARN MORE ABOUT ARTIFICIAL TURF
Turf Talk: The Perks Of Switching To Artificial Grass For Pet Owners
Artificial Grass Installation, Maintenance, And Cost Vs. Natural Grass
Can Artificial Grass Be Installed In Any Location Or Climate?
Transforming Your Backyard: Combining Artificial Turf And Pavers For A Low-Maintenance Oasis