Eye Catching Designs With Matarka Encaustic Tile
July 13, 2022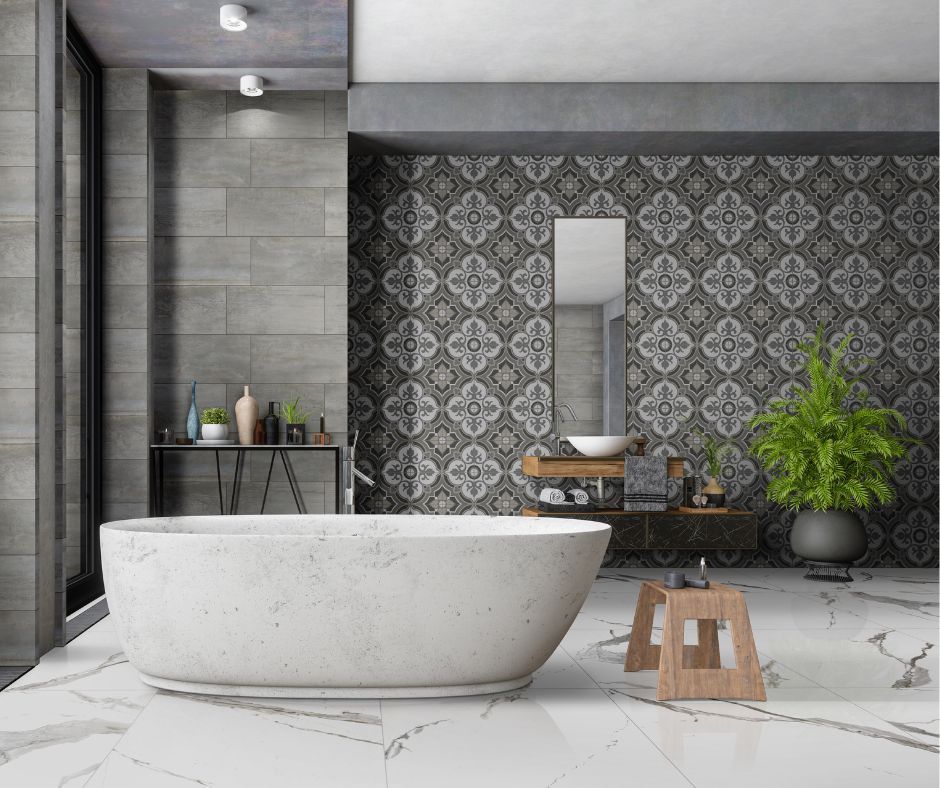 There are a few key ways you can add visual interest to any space in your home: color, pattern, texture, and shine. These elements help create a vibrant, dimensional, and sophisticated interior. If you have yet to consider Encaustic Tile, you're missing an opportunity to elevate the beauty and luxury of your living spaces.
The MSI Kenzzi Collection includes a range of European-style encaustic tiles that deliver a modern take on old-world charm. Whether you love the look of glazed porcelain tile for bathroom flooring or you're seeking an eye-catching backsplash to complement marble countertops, these patterned tiles add loads of personality to a range of interior design styles.
Primary designs in white, gray, black, taupe, and blue offer incredible versatility when it comes to pairing with other design elements, while large 8"x8" tiles make it easy to install porcelain flooring or wall displays.
Anyone looking to add a touch of whimsy and spark visual interest in a room is sure to find plenty to love, with over a dozen patterns in this impressive collection.
The two newest additions to this trendy line include Matarka and Tahari tile patterns. Let's explore how you can work these gorgeous styles into your updated living spaces.
What Is Encaustic Tile?
"Encaustic" is a word drawn from ancient Greek, meaning "to burn in." Often applied to a range of fire-hardened art styles, this term has also traditionally referred to a method of ceramic tile production in which two or more colors of clay are used to create an inlaid pattern.
This process involves two stages of molding. First, the clay meant for the inlay is placed in cavities within the mold. Then, the clay making up the main body color is backfilled around the inlay design. Finally, pressure is applied to seal the design together.
Surprisingly, the process of creating this type of tile flooring doesn't usually involve heat. Instead, these tiles were labeled encaustic during the Victorian era because they resembled a form of enameling that was, in fact, encaustic. The name stuck, and now these ages-old inlaid tile designs are referred to as encaustic.
Matarka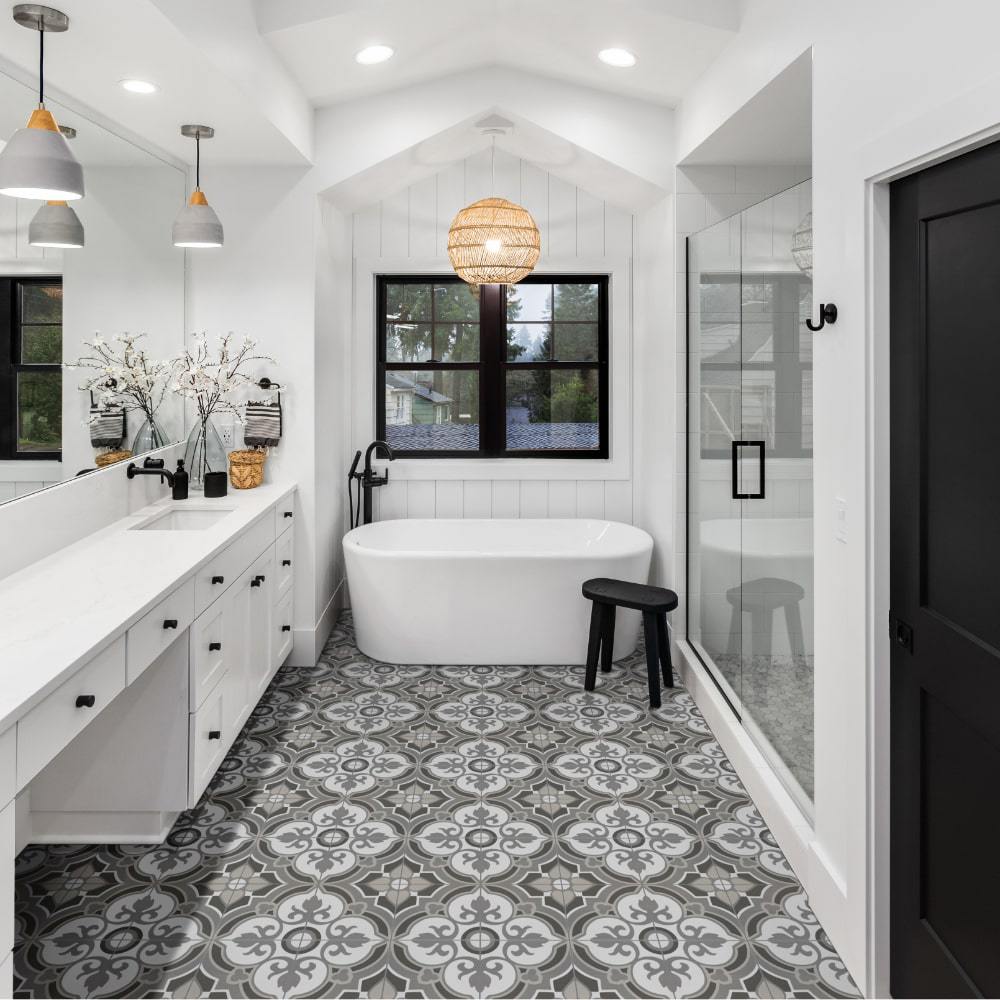 This tile pattern offers exotic flair balanced by a neutral palette. A mixture of white, gray, charcoal, and taupe lend this design subtle tranquility to offset the intricate clover and floral motif. Cool tones suit modern sensibilities, while the pattern delivers timeless appeal that fits both traditional and contemporary design.
Matarka flooring and wall tiles offer the detail of hand-painted tile with a modern, matte finish that's easy to clean and maintain. Add a statement backsplash between the range and hood vent with a handful of tiles, or create an expansive stretch of wall tile and flooring for your primary bath.
Attention-grabbing Matarka is ideal if you want your tile to be the star of the show. A timeless, white kitchen needs some flair to avoid feeling spartan, for example. But by adding a full-height, Matarka backsplash to a design with white cabinets and a Calacatta marble countertop, you'll infuse your space with personality and welcoming appeal. You could even pair it with a hardwood floor for added warmth in the space.
This pattern is also the perfect complement to a classic black and white bathroom. When used as flooring tile, it can help to ground the breezy feel of white cabinetry and counters and soften the transition to black hardware and fixtures.
If you're looking to create a more modern space, consider a vertical installation instead, with a floor-to-ceiling backsplash wall for your soaker tub and calming marble or quartzite flooring options. With a range of white, gray, and black hues, your primary bath will feel like a spa at a five-star hotel.
Metallics in stainless steel or brushed nickel make a lovely pair for Matarka, while gold, antique brass, and even rose gold pop with this tile as a backdrop. Pairing with colored walls or cabinets is easy as well with such a versatile surface material.
This resilient tile also performs well in high-traffic areas, making it perfect for entries and mudrooms. It's designed for both interior and exterior use, so it will look just as good tiling your patio or outdoor fire pit as well as your bathroom or surrounding your interior fireplace.
Tahari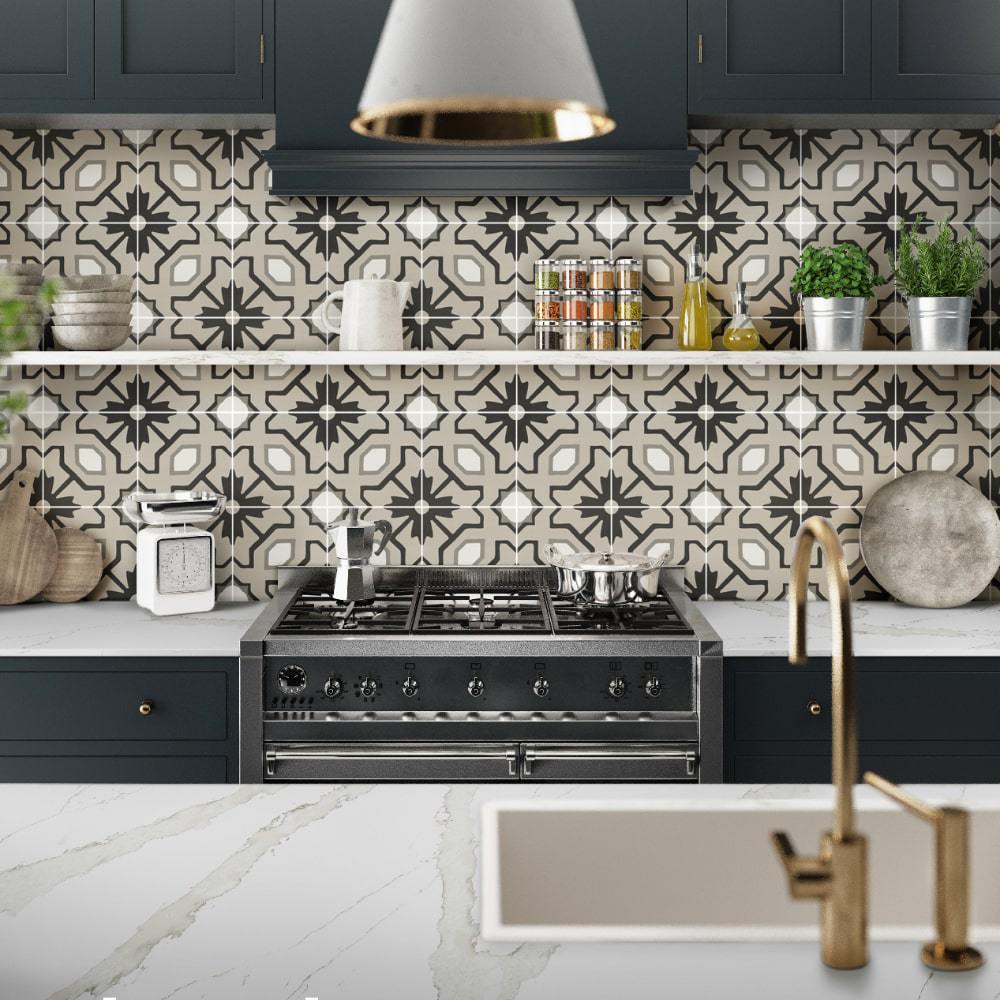 While floral tile patterns ooze with a traditional appeal that lends itself to current grandmillennial design trends, you might be attracted to a decidedly more modern tile design like Tahari Although it technically features a floral pattern, it's tempered by a geometric design that speaks to a mod aesthetic.
A versatile color scheme in black, white, and taupe means this tile will pair well with both cool and warm palettes, whether you want contemporary gray cabinets or solid hardwood flooring. It's particularly attractive as a backsplash tile and works well as a transition from light upper to dark lower cabinets.
Thanks to both bright and dark tones, this tile holds its own in designs that feature one or both of these aesthetics. Tahari tile looks equally stunning adjacent to counters in soothing Taj Mahal quartzite or Absolute Black granite. The range of tones featured in this design will complement engineered hardwood that ranges from blonde to ash to rich mahogany hues.
If you prefer the practicality of porcelain and ceramic tile or LVT flooring, there are plenty of MSI wood-look or stone-like options to explore, and versatile Tahari goes well with all of them. Whatever your preferred aesthetic might be, these tiles are the perfect addition to complete your look.
Incorporating a bold tile pattern can help to liven your interior, elevate the sophistication of your design, and upgrade your living spaces with unique personality. MSI's wide selection of tile and other surface materials offers endless opportunities to find the perfect combination of elements for your home upgrade project. You're always welcome to contact us with any questions or save some time with our handy live chat feature on our website.