Choosing Between Porcelain And Natural Stone Pavers From MSI
May 03, 2023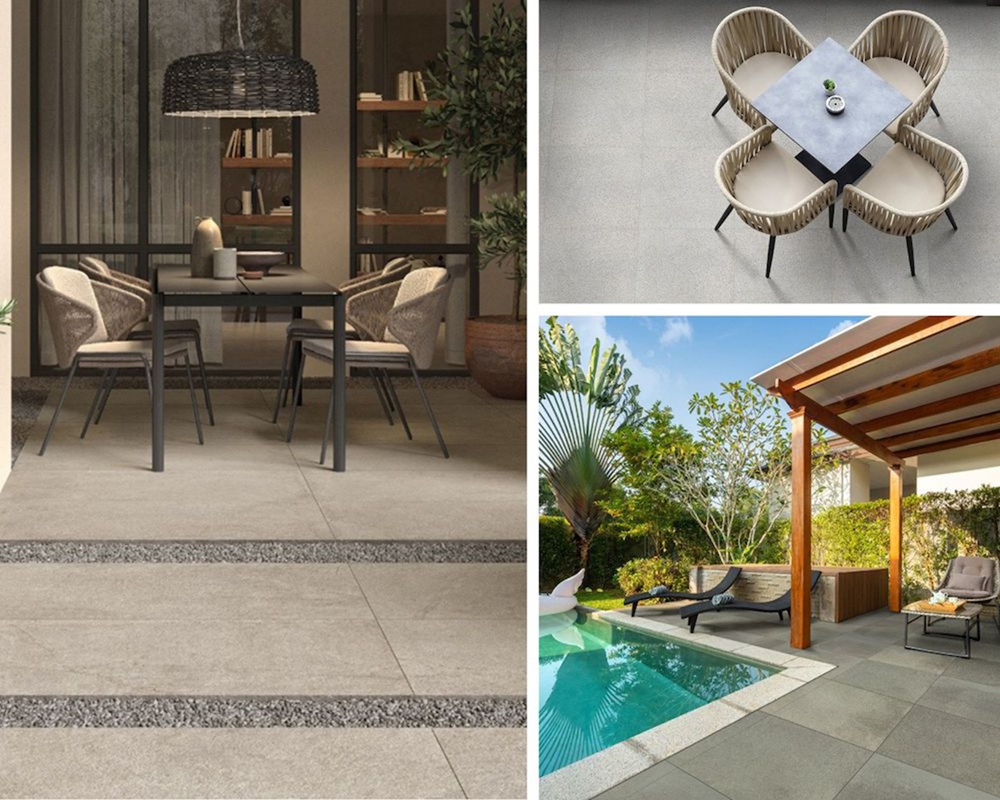 Pavers are an excellent way to elevate the beauty of your outdoor spaces. You can use them to create a walkway to a garden sanctuary, as a foundation for an outdoor kitchen, an intricate patio design, a stunning pool surround, and more. These outdoor surfaces are much easier to maintain, visually appealing, and safer than their alternatives, such as concrete.
Selecting the ideal materials for your next hardscape project requires careful consideration of several important factors, such as color, texture, size, and other benefits. Our collection includes a range of porcelain and natural stone pavers that are both durable and attractive, available in various sizes and styles. Keep reading to discover the unique features of each and determine which one best meets your design requirements.
STYLISH AND DURABLE ARTERRA PORCELAIN PAVERS
Through technological advances, primarily inkjet printing, porcelain can perfectly mimic other materials, such as natural wood. As a result, our Arterra Premium Porcelain Pavers collection provides considerable benefits, starting with ZeroSlip™. This proprietary technology offers extraordinary slip resistance on wet and dry surfaces, far exceeding industry standards.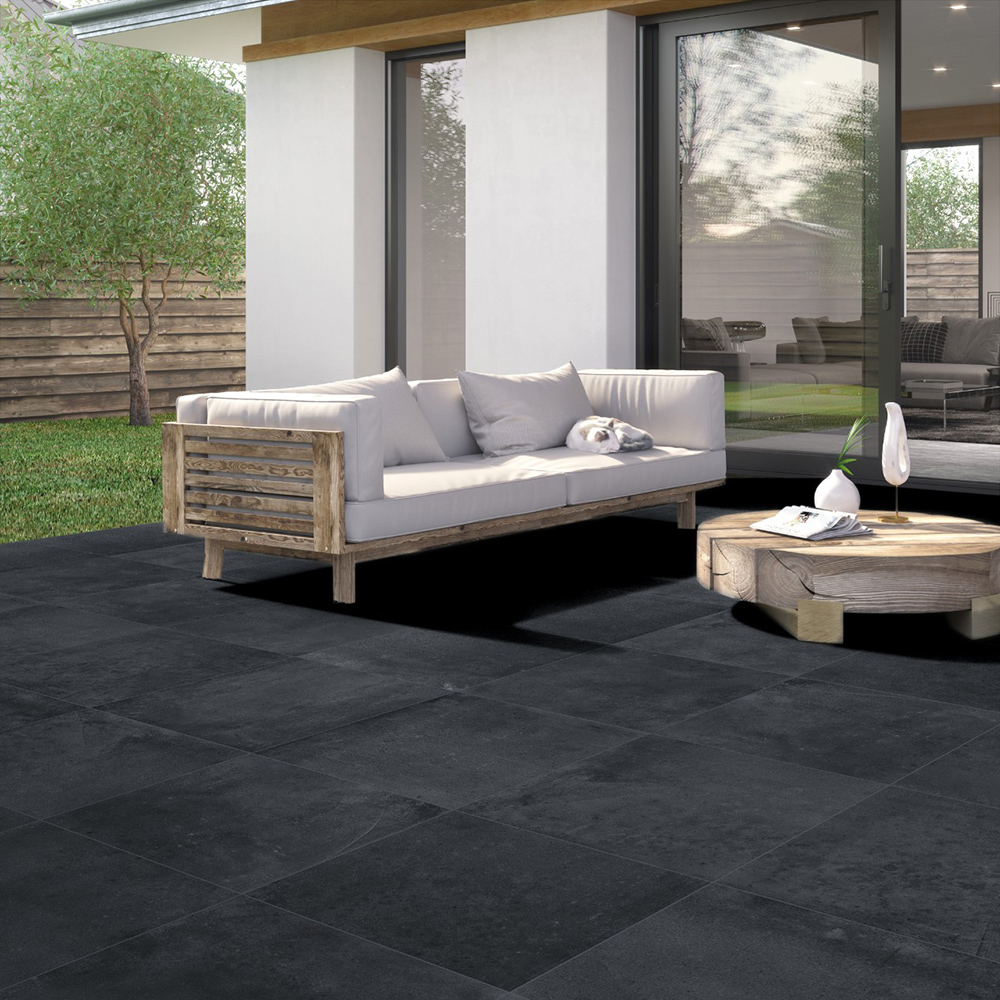 Arterra products like our Nolitan Carbon are 100% UV, stain, mold, mildew, and freeze-thaw resistant. They can be set on sand or grass or installed over a concrete bed using mortar. Arterra won't discolor or fade and comes backed by a lifetime residential warranty, so you can spend more time enjoying your outdoor porcelain pavers and less time worrying about them.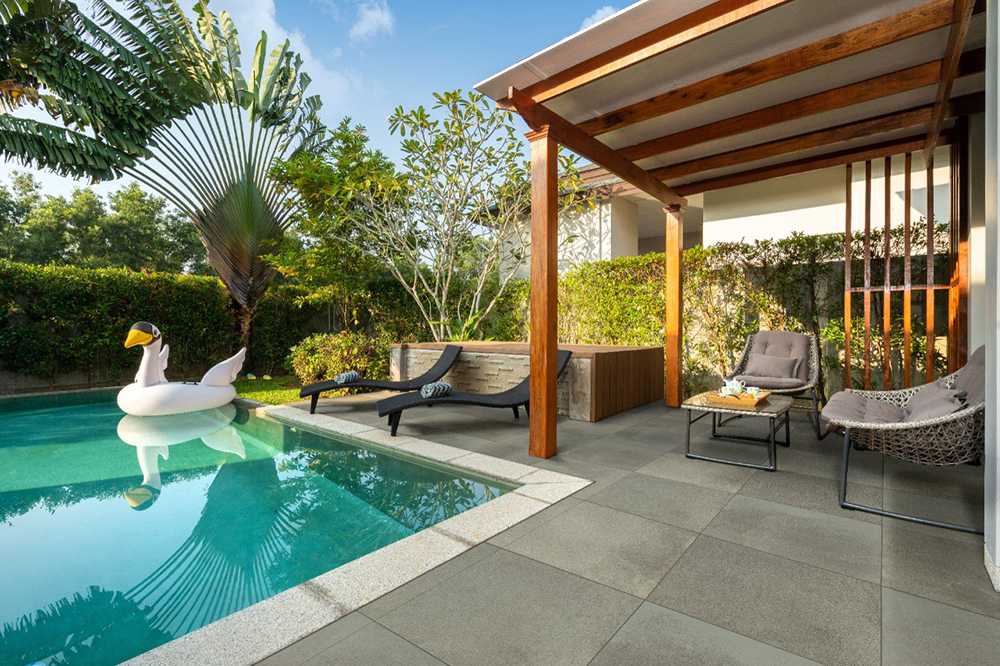 Like all of our Arterra porcelain paving stones, Full Range Bluestone permanently protects from the wear and tear of daily life. They are easy to clean and maintain and never require resealing. Additionally, the Arterra Collection utilizes environmentally responsible materials that keep spaces comfortable, healthy, and safe. Due to their sustainable design, these pavers are FloorScore and GreenGuard Gold Certified, meaning they rank at the highest standards to protect you, your family, and the environment.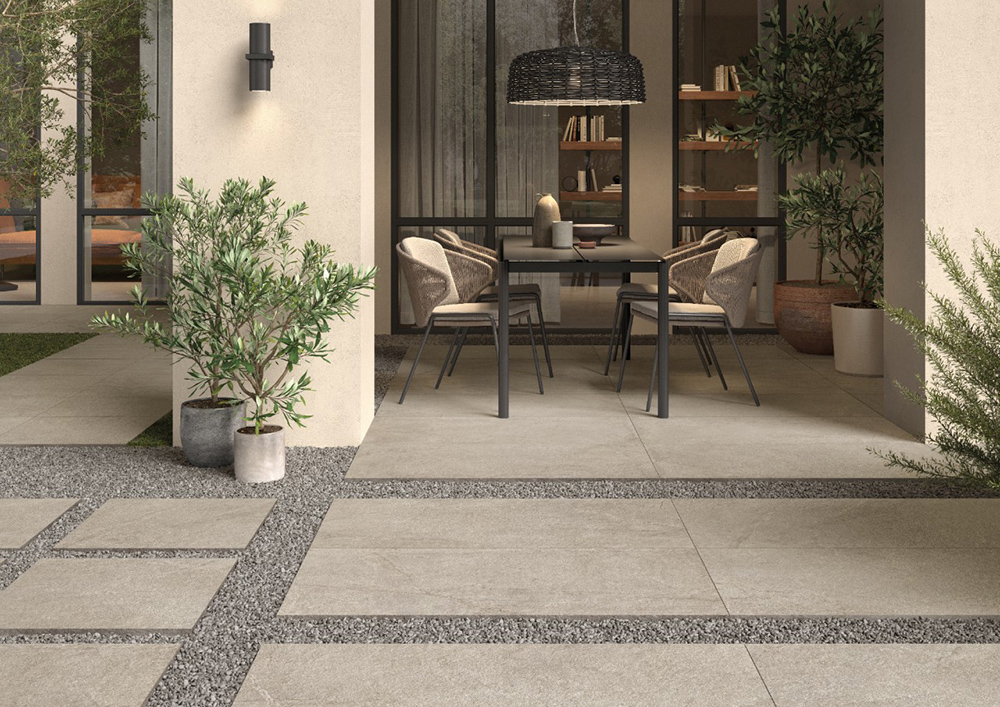 Available in 24x24 and 24x48, Soreno Taupe is a fine choice for creating a stunning patio, outdoor walkway, or pool surround. Using grayish-brown tones, Soreno Taupe works well in a single layout or as a group for a wide range of design possibilities.
TIMELESS AND ENDURING NATURAL STONE PAVERS
Natural stone is dug out from the earth in huge stone blocks and cut into usable pieces. Among the materials that make up these premium stone surfaces are travertine, granite, slate, quartzite, marble, and limestone. With countless designs, colors, and shapes, you're sure to find the perfect product to bring your design dreams to life.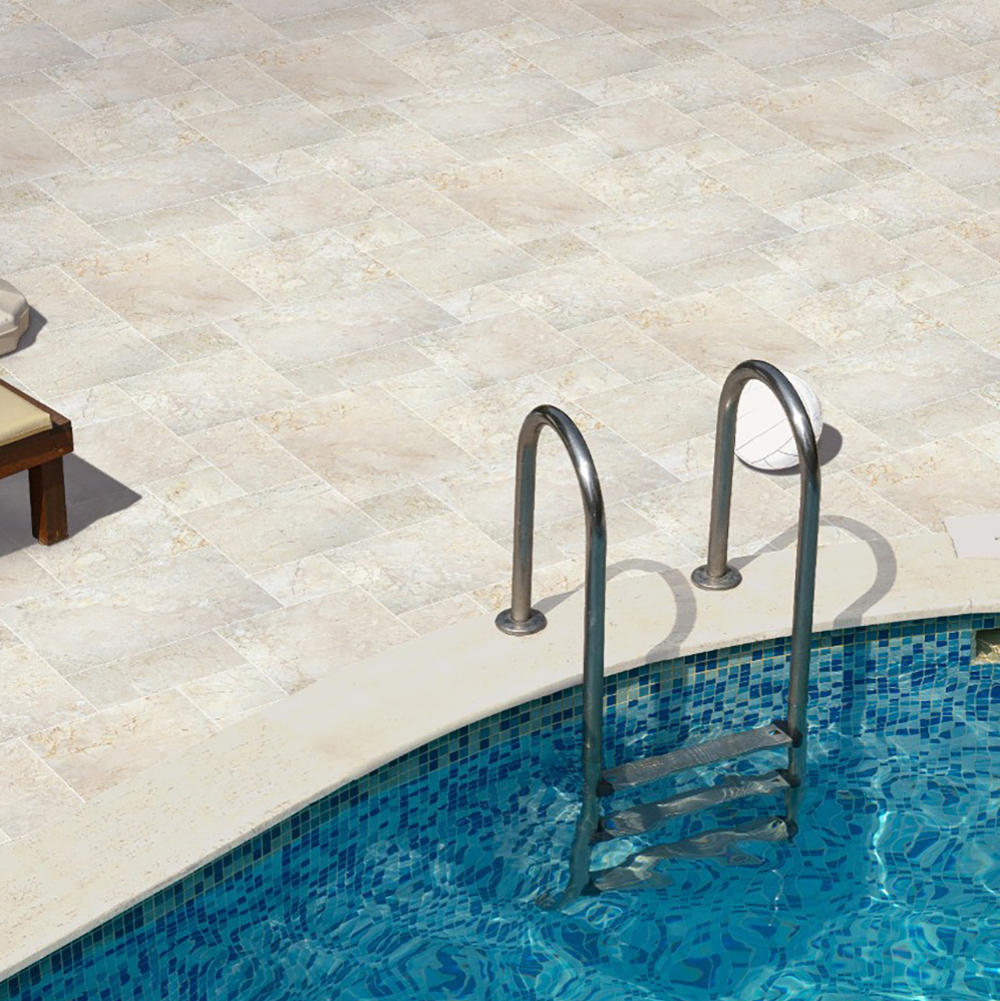 Like porcelain, our Premium Natural Stone Paver Collection offers a long list of benefits. First, few paving materials available today are as strong and durable as natural stone. An option like Aegean Pearl made of marble, stands up to harsh weather conditions and the elements year after year. All you need to do is look to the still-standing ruins of ancient Greece or Rome for proof of marble's longevity.
Outdoor spaces constructed from stone are highly versatile. You can use them in an extensive range of applications. From traditional and timeless to modern styles and everything in between, there is undoubtedly a natural stone for your taste.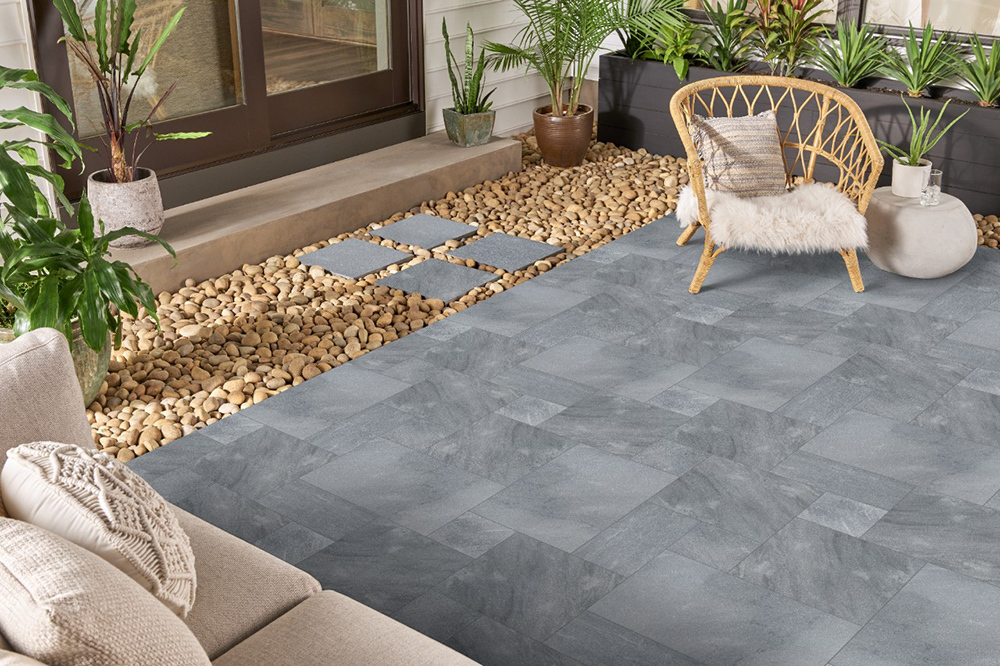 Opting for luxury looks like our marble Cosmic Black will help to increase your home's value and attract future home buyers. Thanks to this premium surface, you will get more enjoyment out of your home while you own it and may enjoy a higher sale price if you ever list it on the market.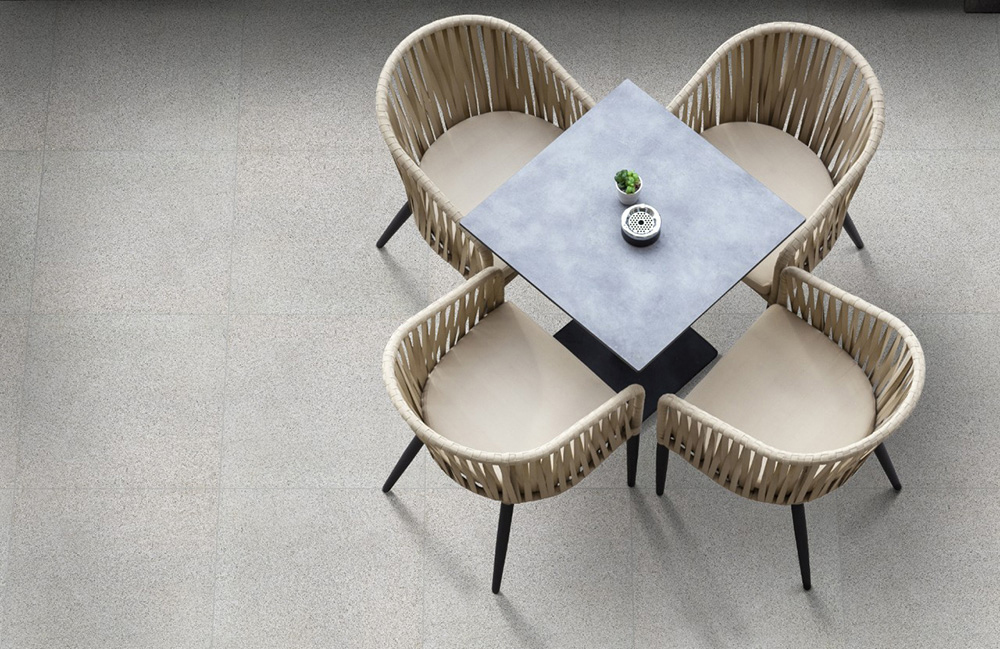 Finally, natural stone pavers, like our White Mist granite, are eco-friendly. If you ever decide to replace them, they can be recycled and used as reclaimed stone or other attractive pieces throughout your outdoor spaces.
Find out more about our natural stone pavers here:
CHOOSING BETWEEN PORCELAIN AND NATURAL STONE PAVERS
Essential factors to consider when deciding between porcelain and stone are your area's climate and weather conditions, your design preferences, and durability and maintenance.
Porcelain pavers are a low-maintenance option that does not require resealing, while natural stone most likely will. Natural stone pavers also tend to absorb more heat from the sun than porcelain, making porcelain a suitable choice for hot climates. Porcelain pavers are also optimum for wet areas, like pool decks, where slip-resistance is essential. Whether designing a patio, walkway, or driveway, adding pavers will enhance your spaces and impress guests with their irresistible beauty.
CONCLUSION
Both porcelain and natural stone pavers are excellent options for outdoor spaces. They boast exceptional durability, easy maintenance, and long-lasting beauty. Ultimately, choosing between the two will depend on your taste and specific design requirements.
Ready to get started on your next outdoor design project? We can help! Chat with us now, visit an MSI showroom near you, or contact an authorized MSI retailer in your area.
Learn More About Porcelain Pavers Countertops
CREATE THE PERFECT OUTDOOR LIVING SPACE WITH PAVERS AND TURF
EVERYTHING YOU NEED TO KNOW ABOUT ARTIFICIAL TURF
EXPERT TIPS FOR INSTALLING PAVERS