What You Need To Know About Outdoor Porcelain Tile
June 13, 2022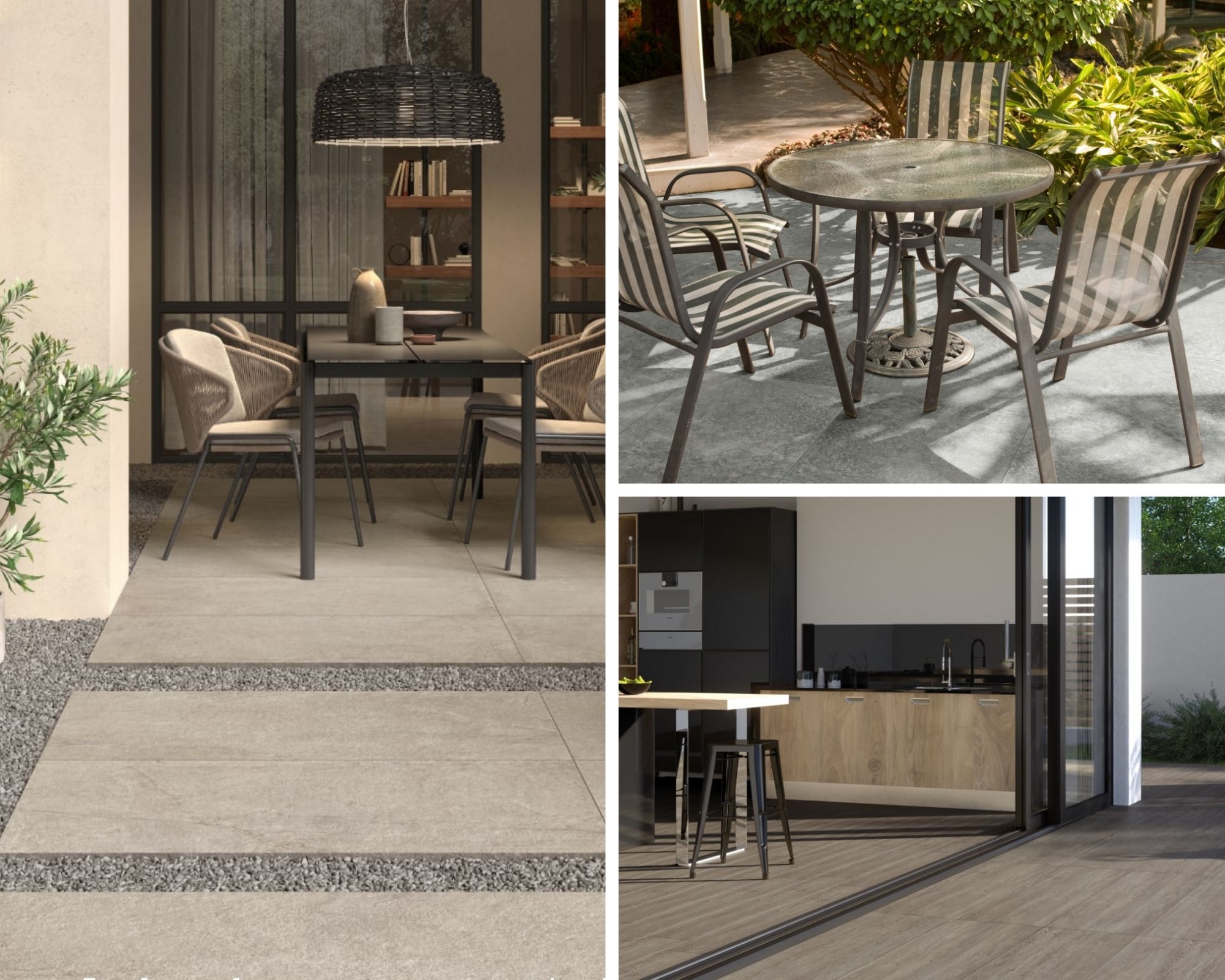 Many homeowners have discovered how durable, versatile, and beautiful porcelain tile can be indoors — for kitchens, bathrooms, family rooms, and really any room of the house. They're waterproof and easy to clean, making them perfect for any place there might be spills and splashes.
What you may not be aware of, however, is that many of our porcelain tiles can also be used outdoors in place of natural stone pavers, bricks, wood planks, and other surface materials that are commonly used to create outdoor living spaces and walkways. The same properties that make them ideal inside the home are beneficial outside too. But the most important of these is slip resistance.
Whether you are constructing a sheltered patio or a pool deck, it's a given that your pavers are going to get wet. For safety's sake, it's crucial to install a slip-resistant surface to prevent slips and falls.
Porcelain tile is manufactured to meet an industry standard of slip-resistance, which is called the Dynamic Coefficient of Friction (DCOF) value. The minimum standard for floor tile and pavers, whether they are installed indoors or out, is >0.42 DCOF. This measures the frictional resistance of an object (your feet) against the tile. Without going into complicated scientific explanations, if the motion of your feet creates a force greater than the resistance, you'll probably slip and fall. The greater the DCOF value, the higher the slip resistance will be.
Fortunately, MSI carries many porcelain pavers that meet or exceed the minimum required DCOF. Here are a few of our popular indoor/outdoor porcelain tiles and pavers that will not only make your outdoor living spaces more beautiful, but also safer.
LUNAR SILVER ARTERRA PAVERS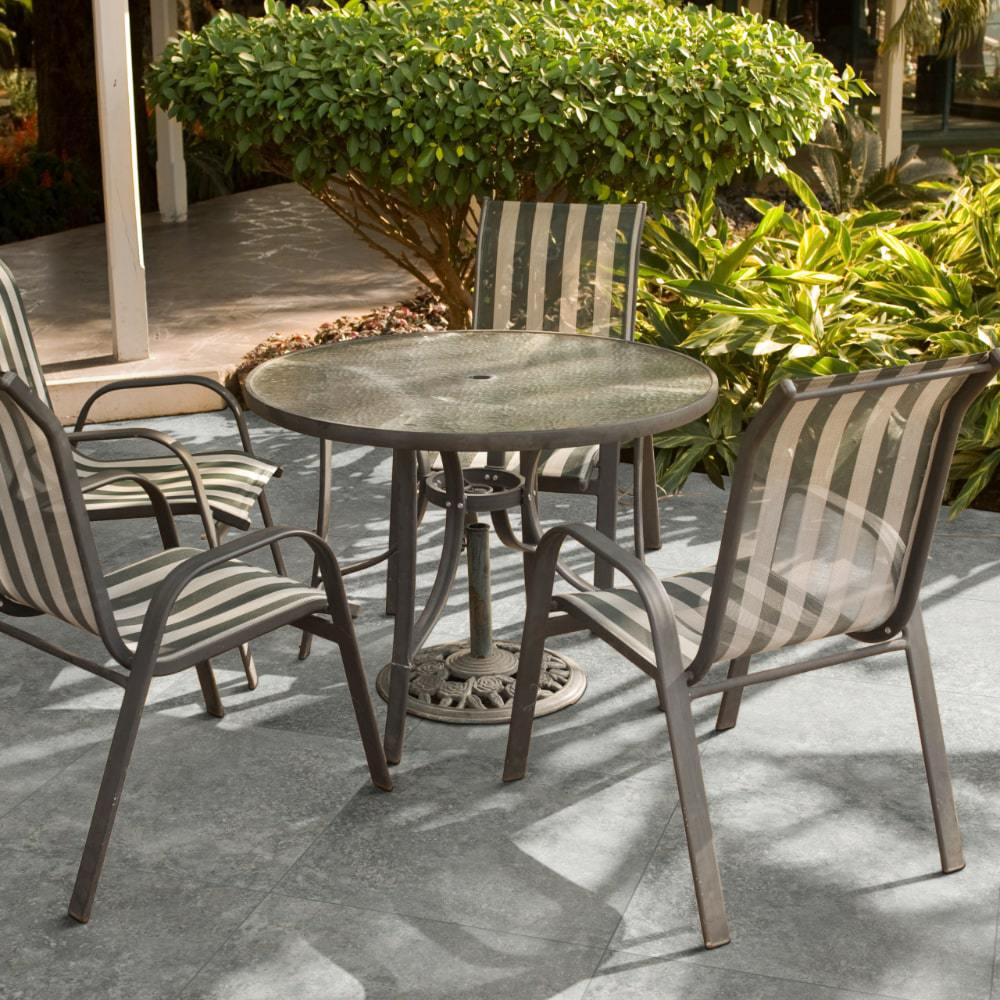 Travertine is a popular paver material for outdoor living spaces, but porcelain tile has so many advantages. And with large-format 24" x 24" tiles that fit tightly together, Lunar Silver Arterra pavers resemble concrete as well — a look that is totally on-trend.
Lunar Silver Arterra has an even higher DCOF; it's rated at >0.60. That makes it even better suited for use outdoors in unsheltered areas such as pool decks, patios, and walkways, even in areas that receive a lot of heavy rain. These pavers are also popular for commercial use in high-traffic areas, where safety is mandatory.
Here's something your traditional natural-stone pavers aren't suited for: wall tile. Since outdoor kitchens and hearths are getting more popular every year, consider the design possibilities of using the same porcelain tile on the floor as well as the wall, bar or tabletops, and fireplace surround. We did say they were versatile!
SORENO TAUPE PORCELAIN TILE
Another popular travertine look-alike is Soreno Taupe porcelain tile. Instead of gray, it has tones of warm, soft beige, ideally suited for blending in with natural landscaping. With its perfectly square edges, it can also be used creatively alongside landscape rock, as shown here in this eye-catching design.
Unlike travertine and concrete, porcelain pavers do not absorb water, which means they won't crack when exposed to freezing weather. They are super-low-maintenance, and never need sealing to maintain their water resistance. For the same reason, they are also resistant to staining, such as from spilled drinks, mud, or rust from outdoor furniture.
Versatile Soreno Taupe is available in three sizes to create interesting tile patterns: petite 2" x 2" tiles, large-format 24" x 24" tiles, and an even larger rectangular 24" x 48 size, all with a sophisticated matte finish. It's also available as 13" x 24" curved pool coping, which opens up a whole new world of design possibilities.
CALDERA COALA PORCELAIN TILE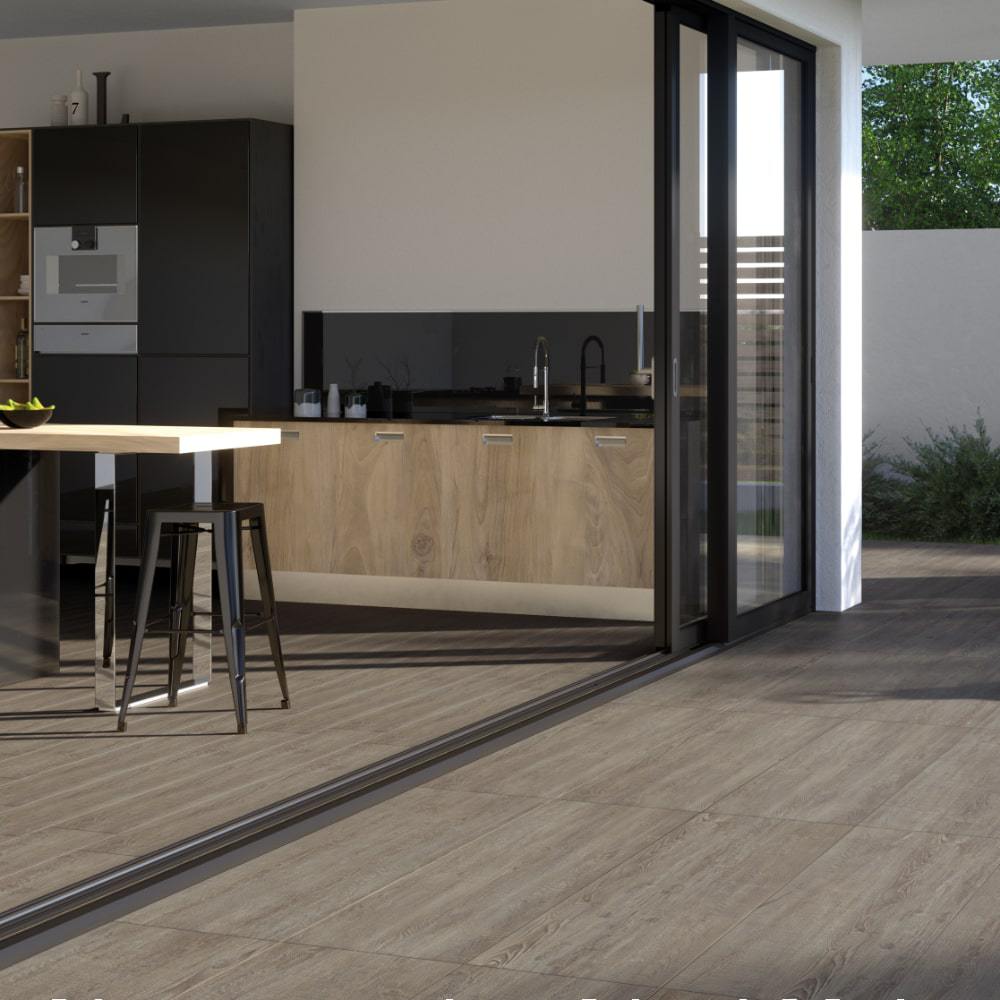 Decks are always popular outdoor living areas; there's nothing quite like the natural, warm, and casual feel of wood planking. But the problem many homeowners have with decks is that their initial beauty is difficult to maintain. They need regular sealing or painting, and even power-washing. Of course, this is not true when you choose a wood-look porcelain tile such as Caldera Coala, which has a realistic wood grain pattern.
While outdoor porcelain tile is typically installed on a ground-level patio or covered porch, one of its greatest advantages is that it's much thinner and lighter than traditional pavers and concrete. So it's entirely possible to create the look of a traditional elevated deck when you install tile on a subfloor as a permanent structure.
In fact, why not go one step further and install it in an adjacent interior room, such as a kitchen, and extend the same porcelain tile flooring outdoors? Tying your indoor and outdoor spaces together in this way will make both areas feel larger and more stylish.
If you have any questions about porcelain tile's suitability for the outdoor (or indoor) project you have in mind, do not hesitate to give us a call or email. You can also visit one of our showrooms for advice, inspiration, and an in-person look at our wide selection of products.