Quartz Makes A Splash In The Bathroom
September 13, 2013
Natural stone brings a unique beauty to every room. Our instincts may lean toward Q Premium Natural Quartz in the kitchen - after all, what better way to celebrate beauty and function than in the large expanses a kitchen layout offers? However, quartz countertops are an excellent surface for smaller rooms - especially the bathroom!
Quartz is a natural stone enhanced by the benefits of technology. Quartz is naturally porous, so its pores are filled with other non-toxic resins to make it one of the most durable surfaces available - in fact, it is the strongest countertop available. This is important in any room, but particularly in a high use area like the bathroom, where the countertops see everything from moisture and mildew to the various appliances we use in a day, items that are lifted and set many times over, such as hair brushes and electric razors.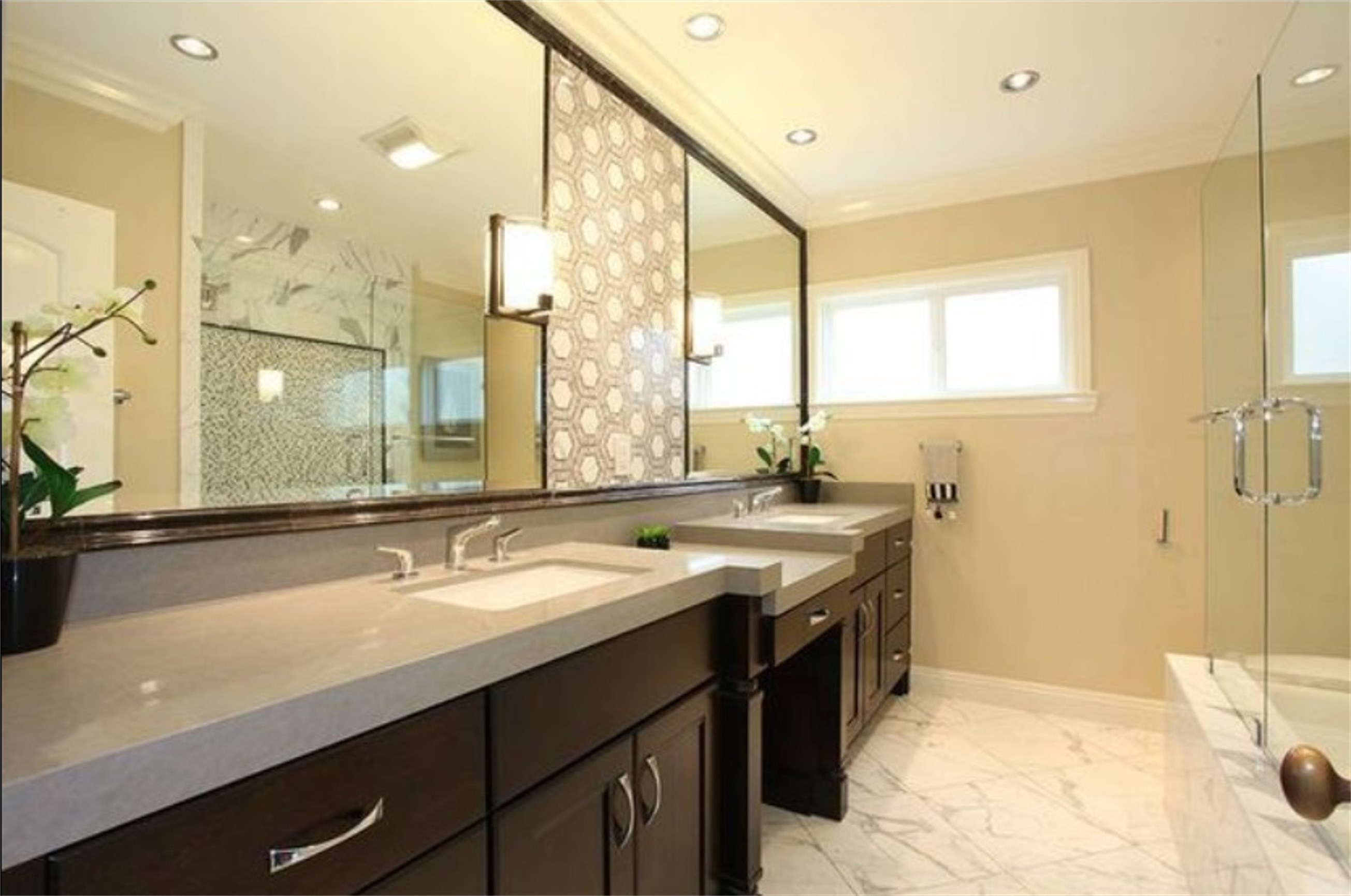 Here are a few attributes that make quartz countertops an excellent choice for the bathroom:
1. Quartz is low maintenance. Toxic cleaners are not needed to keep them clean - soap and water will do the trick. (Note that bleach and oil-based soaps are not recommended for any natural stone surfaces, including quartz.)
2. Quartz is stain resistant. Quartz countertops are not sealed, which means they never need to be re-sealed. Without a seal, the pores of a quartz countertop are tight and will turn aside liquids so they do not absorb. (Note, the shiny surface of quartz can be dulled by certain types of spills - guard against drain cleaners, nail polish, and oil-based products.)
3. Quartz resists moisture. Because of the tight pores, bacteria and mold spores do not collect in the stone. This is particularly useful in the bathroom where the steamy moisture does not dissipate immediately. Likewise, heavy duty cleaners and scrubbers are not needed (or recommended) to remove those impurities. They are simply wiped from the surface.
4. Quartz is scratch resistant. In theory, bathrooms are for bathing relaxation, a place to unwind and tend to our needs. In reality, bathrooms are usually a much more frantic place for busy households. No one has time to worry if the tissue holder will scratch the countertop. Quartz is a strong stone - and will not scratch under normal use.
5. Quartz is heat resistant. Not only is this natural stone resistant to extreme temperatures, but it does not need to be sealed. This means that there is no sealant on it that could be affected by temperature variation. Curling irons, hot rollers, and other heated bathroom appliances, for example, may be set on the surface without fear of leaving discoloration marks or dulling/clouding a sealed surface.
All of these benefits make quartz countertops and asset in the bathroom - but let's not forget that quartz will make a splash stylistically, too. Quartz has an unrivaled brilliance, reflecting light and bringing life to the room. Solid versions are cool and sleek and coordinate well with patterned mosaics, backsplash tile, and even floor to ceiling tile.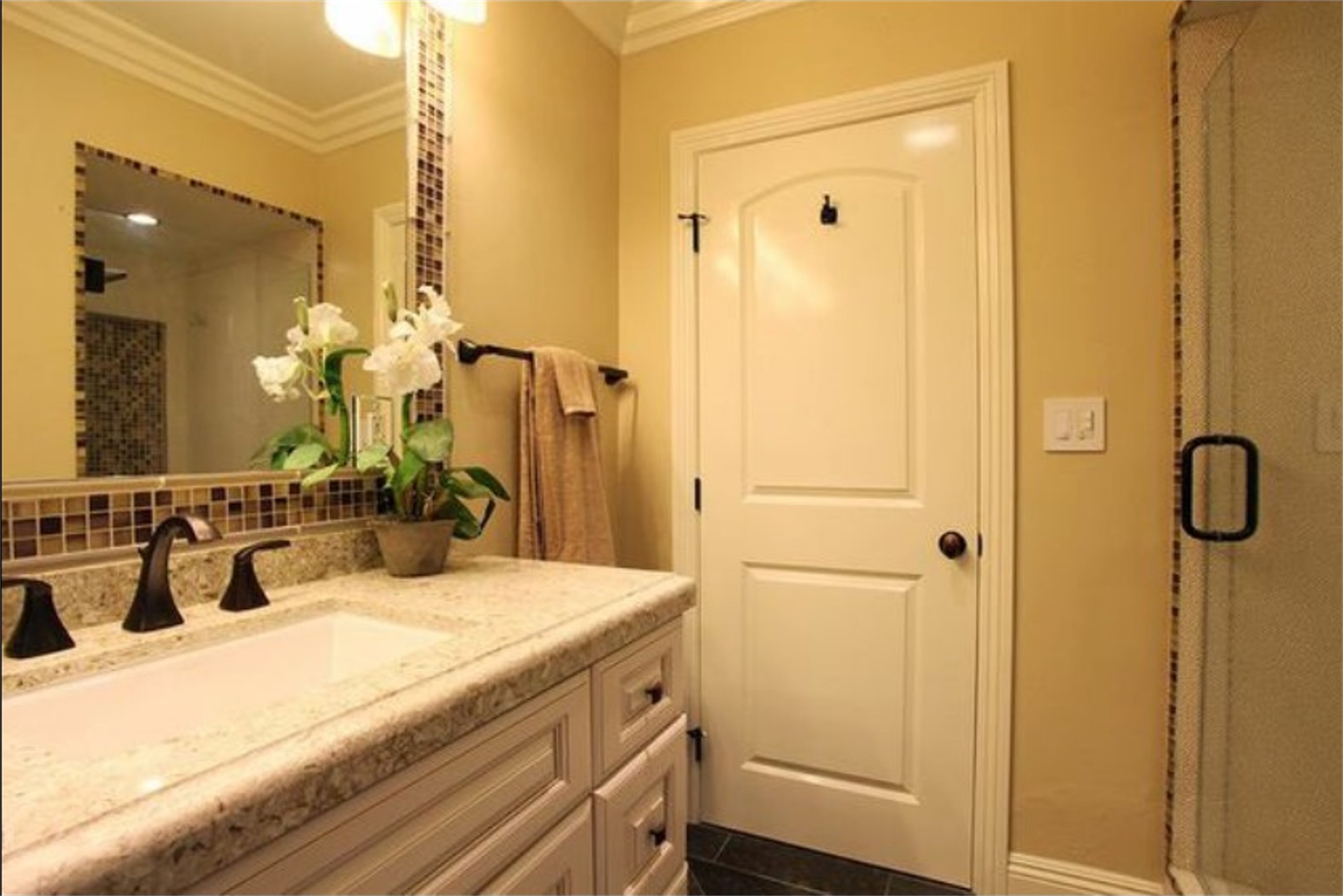 Though quartz is known for it's gorgeous monochromatic look in colors like black, white and red, Q Premium Natural Quartz actually comes in a more diverse palette of colors and patterns, including selections that mimic the look of granite and marble. Coronado Quartz, for example, showcases gold sparkles for a granite-like appearance; Fairy White Quartz with a white background and subtle grey veining looks like a marble with all the benefits of quartz!
MSI offers the broadest selection of quartz for all applications in North America. Q Premium Natural Quartz is currently available in 28 modern colors from sleek and solid contemporary colors to granular patterns for your next project - including a new look and exceptional function for your next bathroom upgrade!