6 Quartz Countertops That Look Like Concrete
August 09, 2021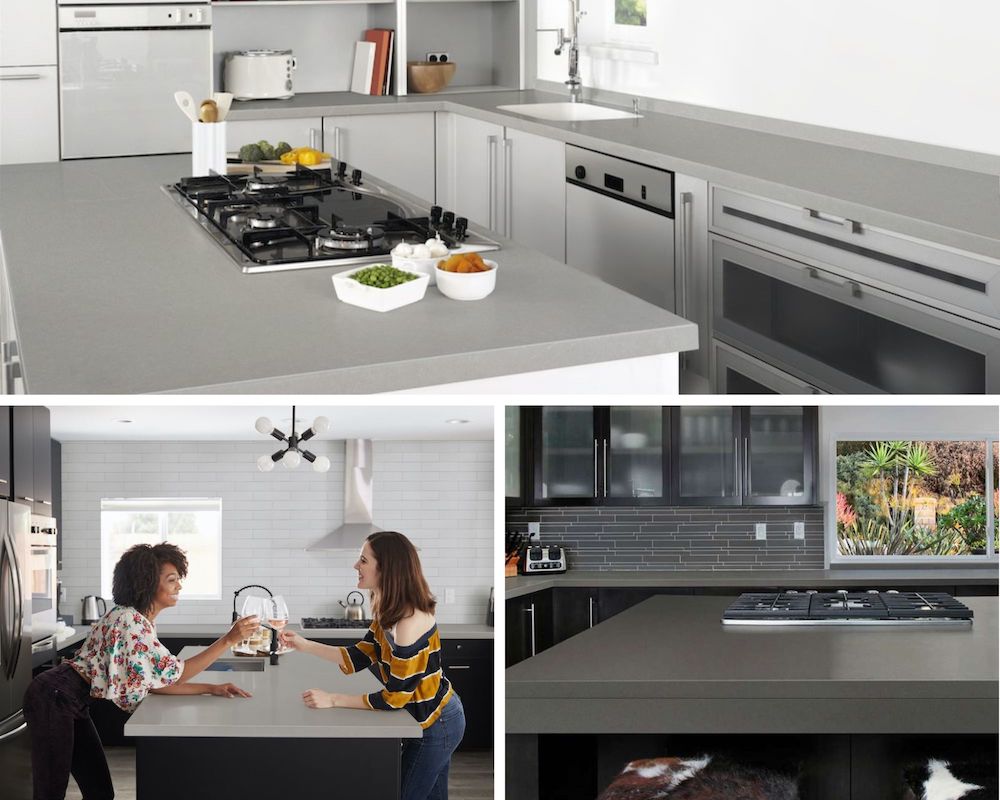 Do you love the look of concrete countertops but want something more durable and low maintenance? Well, now you can get the look of concrete with concrete-look quartz countertops! With ample color options, patterns, and looks, there is the perfect quartz slab that will help transform your vision into a reality. But with so many options, how can you determine if quartz countertops are the right premium surface for you?
To make the decision-making process a bit easier, we've outlined the key benefits of concrete-look quartz countertops, as well as six of our favorite concrete alternatives.
The Benefits of Concrete-Look Quartz Countertops
Whether you're renovating your kitchen or creating an outdoor living space, you're likely looking for the ideal countertop. From quartz vs. granite to marble vs. concrete, there are plenty of options to consider. After spending hours scouring Pinterest, you may have decided on concrete because you love the look of it. But did you know that concrete-look quartz countertops offer just as many benefits as concrete, if not more? Keep the following benefits of engineered quartz countertops in mind when comparing concrete to quartz:
Heat Resistance
Have you ever placed a pot or pan on your countertop in the middle of cooking? Even if you don't plan to place hot pots or pans on our counter, it may happen once or twice! When it comes to your countertops, you need a surface that is heat resistant and won't become damaged when exposed to hot cooking tools. With concrete-look quartz, you can have peace of mind knowing that they are very heat resistant and won't be easily damaged.
Maintenance
As a homeowner, you have a seemingly never-ending to-do list of home improvement projects. The last thing you want to do is spend your free time maintaining your countertops. Luckily, concrete-look quartz countertops are non-porous, meaning that it does not require sealing to prevent staining from water and dirt. On the other hand, concrete is porous and more likely to absorb messes, resulting in staining.
Stain Resistance
From cooking meals with your family to your children sitting at the kitchen island to do homework, your countertops are bound to see the occasional mess. You need countertops that require nothing more than a quick wipe down — and that's where quartz can help! Concrete countertops are more likely to absorb water, dirt, and grime that can lead to staining, while concrete-look quartz will retain its beauty for many years to come.
Versatility
Concrete offers a beautiful, neutral color palette that makes the ideal backdrop for any kitchen. But standard concrete can appear flat and lack any depth and dimension. Instead, you can opt for concrete-look quartz countertops which offer the beauty of natural concrete with additional design elements and color options that can elevate the overall look of your kitchen countertops.
Durability
Your countertops need to be able to withstand a lot of wear and tear. While concrete countertops offer some durability, they're still susceptible to stains, scratches, chips, dents, and cracks. Concrete-look quartz countertops are extremely durable and able to resist most types of damage, so you can rest easy knowing your remarkable countertops will continue looking their best no matter what you throw their way.
When you're hoping to introduce the look of concrete into your kitchen, concrete-look quartz countertops are the ideal option.
How to Choose Quartz that Looks like Concrete
Now that we've covered why concrete-look quartz countertops are superior to natural concrete, it's time to pick out which quartz slab is going to be used in your kitchen remodel! MSI Surfaces have a wide selection of concrete-look quartz countertops that can bring your dream kitchen to life. If you're not sure where to begin on your countertop selection journey, we've put together a list of our favorite quartz countertop colors and patterns that look like concrete:
Babylon Gray Concrete Finish Quartz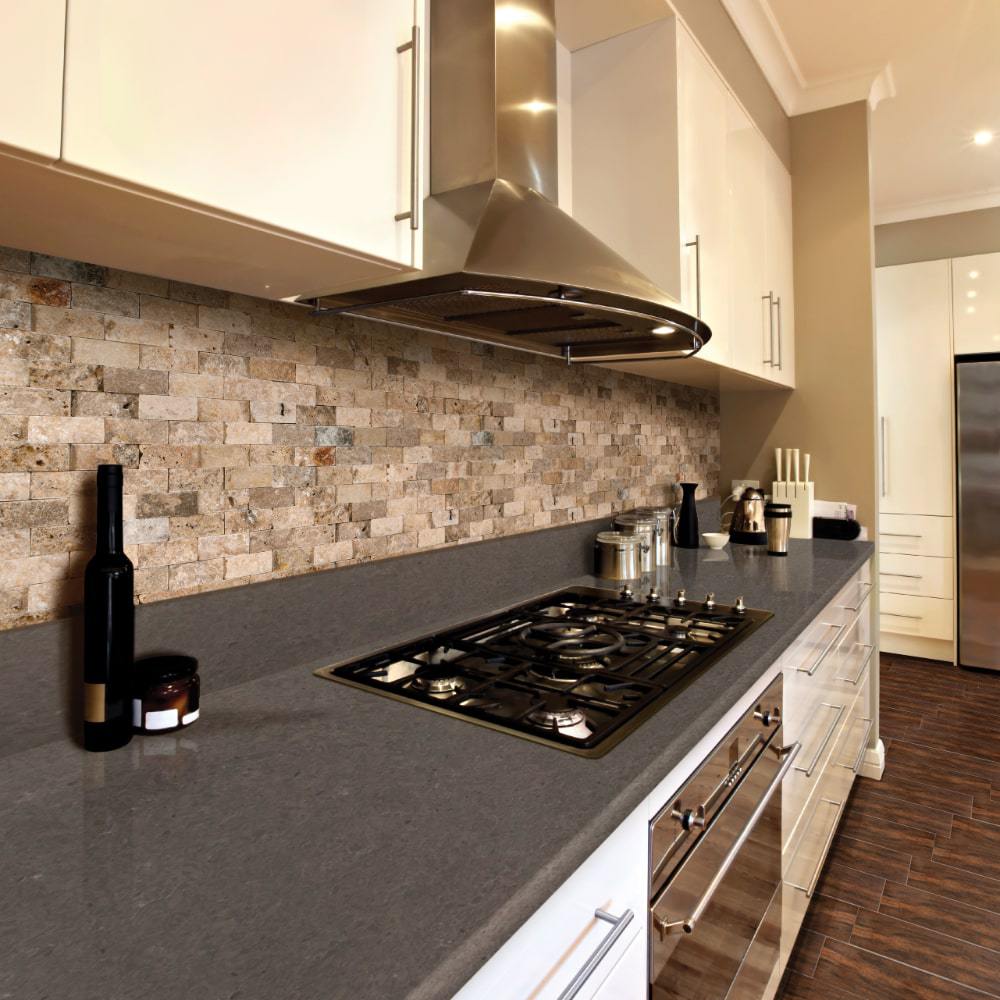 Babylon Gray Concrete Finish Quartz
Why settle for plain and boring gray concrete countertops when you can add some flair to your kitchen? With Babylon Gray Concrete Finish Quartz, you'll get the concrete look you crave but with trendy flecks throughout the slab that add both depth and dimension to your space. With its smooth velvety texture, it is the perfect addition to your countertops, bar top, backsplash, island, and other design elements throughout the kitchen.
Concerto Quartz Countertops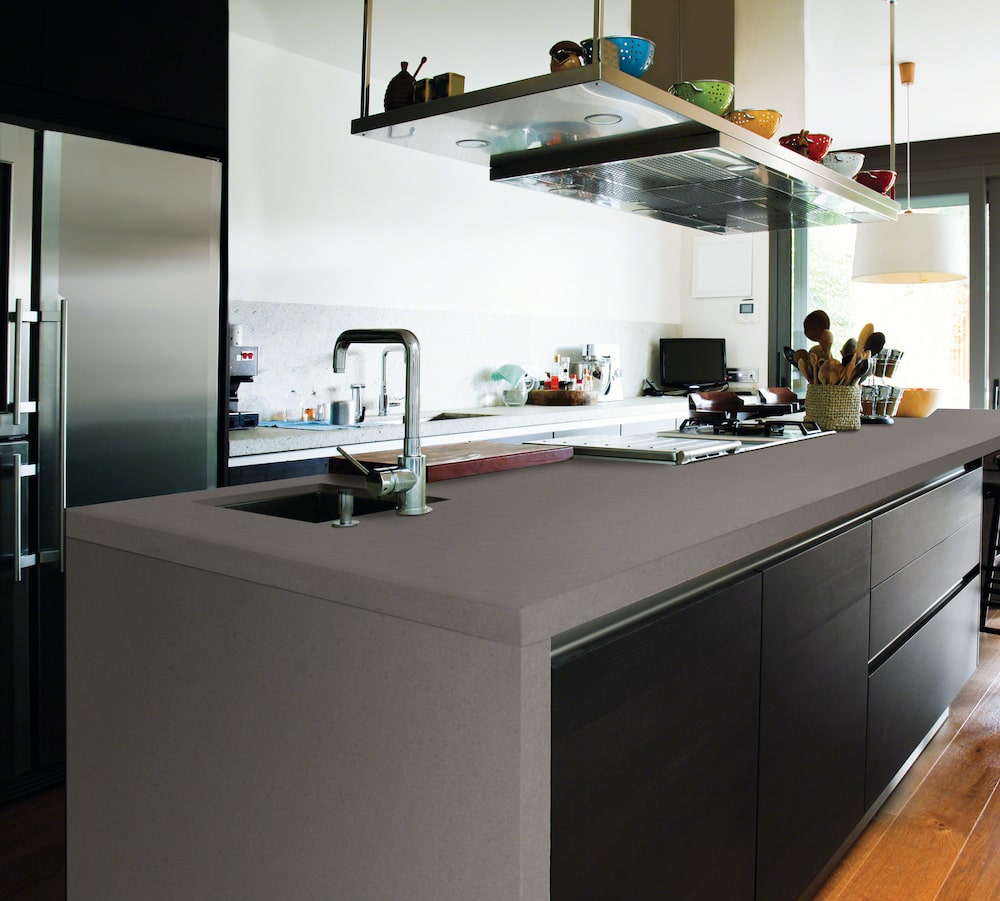 Concerto Quartz
When you desire countertops that closely resemble natural concrete with the added durability offered by quartz, look no further than our beautiful Concerto Quartz countertops. With a perfect blend of dove and frost grays with accents of darker, charcoal speckles, you'll create a remarkable backdrop for your kitchen that perfectly blends into both modern and traditional aesthetics. Its clean complexion allows it to integrate well into any space!
Fossil Gray Matte Finish Quartz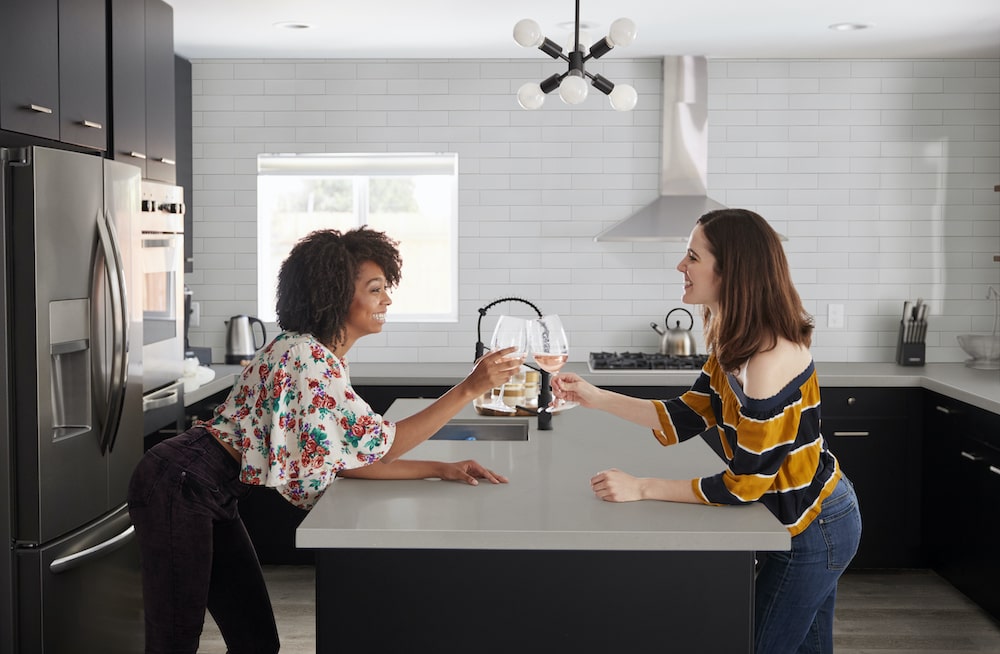 Fossil Gray Matte Finish Quartz
There's something special about the appearance of Fossil Gray Matte Finish Quartz from the Q Premium Natural Quartz line. With just one look at its mid-tone gray background with subtle speckles and veining throughout the slab, you'll be hooked! This durable, low-maintenance, and neutral-hued concrete-look quartz is a superior choice for your kitchen countertops, backsplashes, islands, accent walls, shower surrounds, flooring, and more. You'll never be disappointed in your choice of Fossil Gray Quartz.
Manhattan Gray Quartz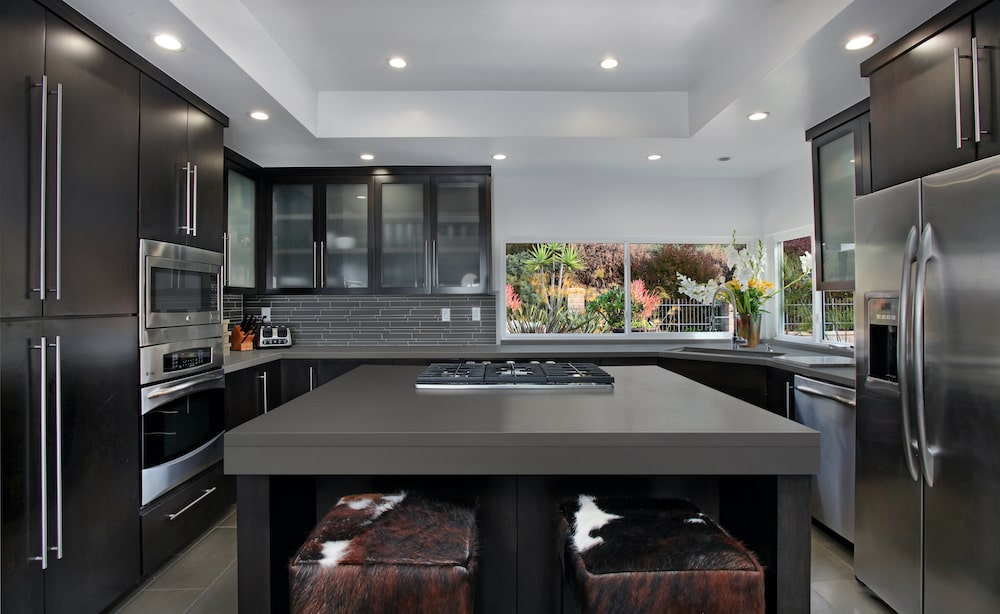 Manhattan Gray Quartz
If you desire a dark and moody concrete-look quartz countertop, you've come to the right place. One of our favorite quartz slabs to create a soothing gray backdrop to your kitchen is Manhattan Gray Quartz. This concrete-look slab features a smooth gray background with darker yet subtle specks that add character and depth to your kitchen. With its unique, dark color scheme, you'll be sure to set the tone in your kitchen whether you install it as floors, countertops, backsplashes, or accent walls!
Soapstone Mist Quartz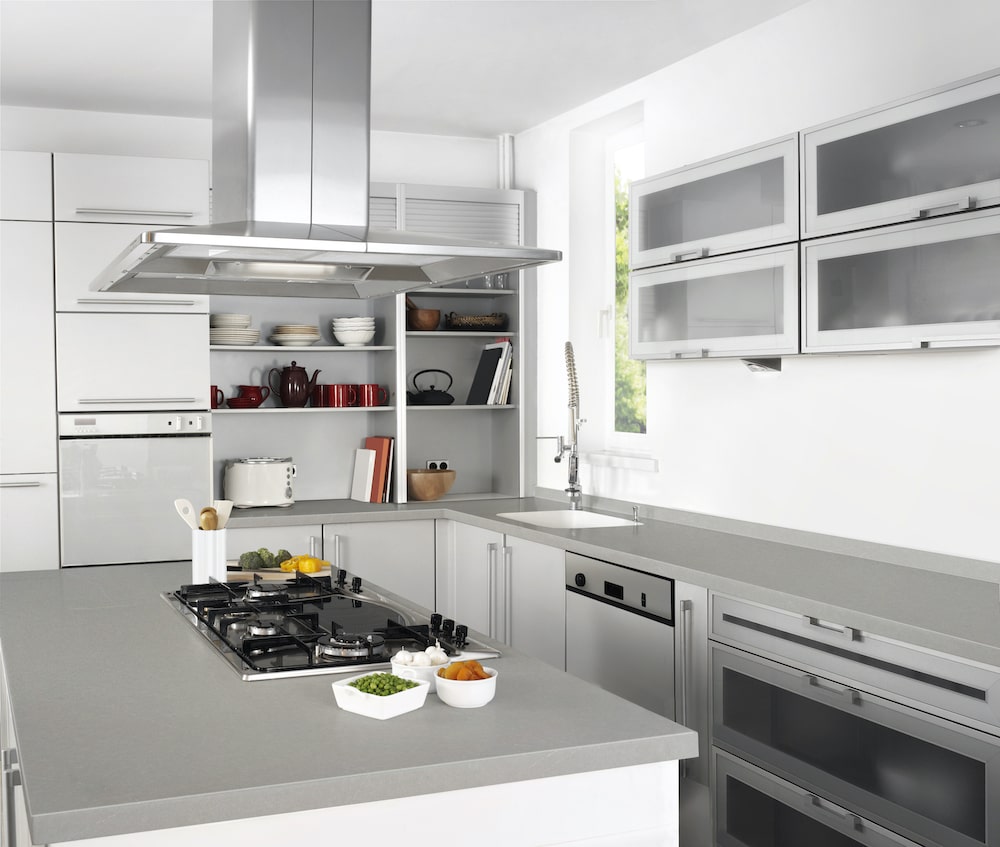 Soapstone Mist Concrete Quartz
Forget everything you thought you knew about concrete. Introducing Soapstone Mist Concrete, a captivating grey quartz that redefines the concrete aesthetic in an unprecedented way. With its sleek and modern appearance, Soapstone Mist brings a distinctive charm to your kitchen. This remarkable quartz showcases a subtle blend of earthy tones, creating a captivating statement piece. Its grey hue, reminiscent of soapstone, offers a unique twist on the traditional concrete look. Its enduring durability and exceptional stain resistance make it the ideal choice for busy households, effortlessly withstanding the rigors of daily life. Embrace the timeless allure of Soapstone Mist, and elevate your kitchen to new heights of sophistication.
Midnight Majesty Concrete Finish Quartz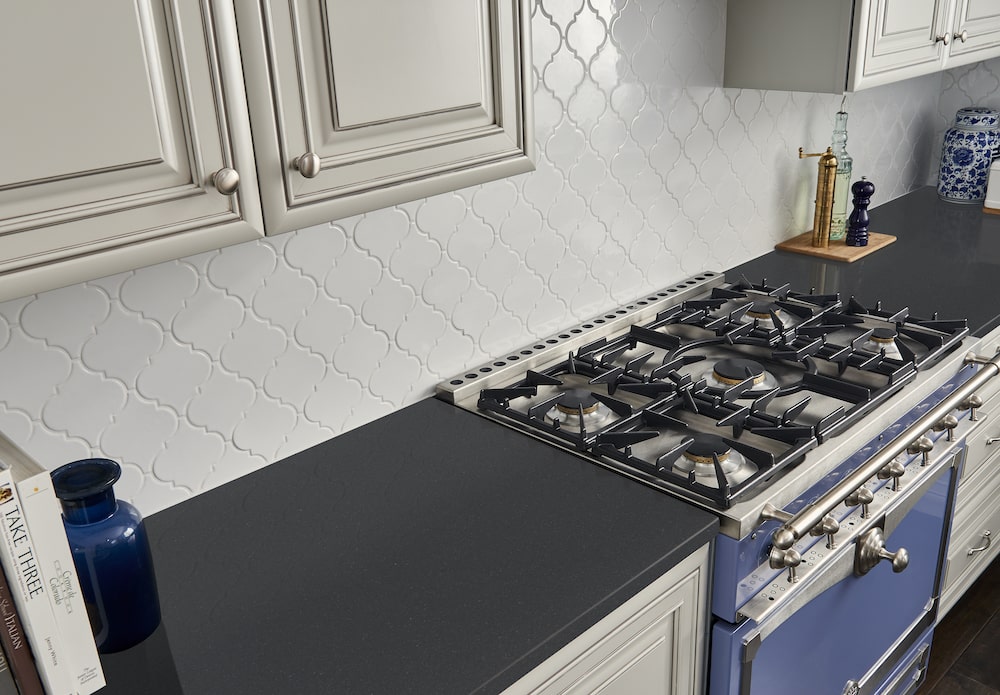 Midnight Majesty Concrete Finish Quartz
Do you want quartz countertops that are sure to make a statement? If you're looking for the perfect option to add a dark and dramatic backdrop to your kitchen, Midnight Majesty Concrete Finish Quartz might be exactly what you've been looking for. With its chic and sophisticated appearance that features a striking black background with contrasting flecks and a polished finish, it's sure to take your breath away every time you step foot in your kitchen and see it installed as your countertops, backsplash, kitchen island, or accent wall. This quartz that looks like concrete is a no-brainer!
Loving these concrete quartz looks? We'd love to help you choose the perfect one for your project! Chat with us using our online feature, visit one of our showrooms, or find an MSI authorized dealer near you.
Read more on Quartz countertops:
7 Quartz Colors That Look Like White Marble
Monochromatic Quartz Countertops: A Contemporary Trend
Are Quartzite and Quartz Countertops The Same Thing?
Solve Your Kitchen Remodel Emergency with Prefab Quartz Countertops