Can A Granite Countertop Withstand The Great Outdoors?
July 28, 2018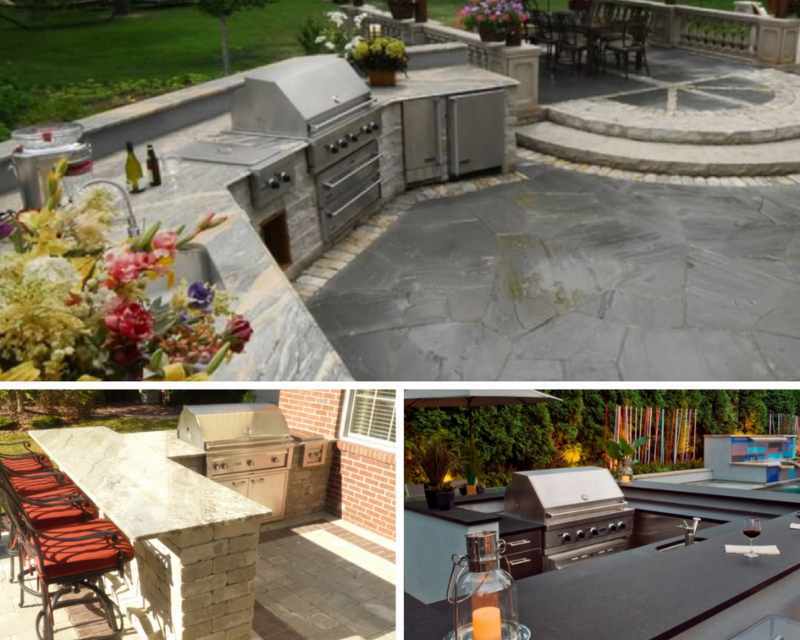 After spending the day in an office, it is time to breathe in some fresh air, relax, and enjoy a great meal. And, there is no better way to do that than to create a functional, durable, and beautiful outdoor kitchen. Whether under an awning, or out under the stars, expanding your living space to include a highly functional outdoor kitchen can bring you decades of enjoyment, and potentially increase the value of your home.
Of course, choosing the right appliances, outdoor tile, and countertop materials is essential. There seems to be conflicting information on granite countertops and their durability. On the one hand, we are told that granite is one of the hardest materials on earth, while on the other hand we are told that it needs to be sealed to resist staining and to preserve its beauty.
This alone does not preclude it from being used outdoors. Yes, an outdoor granite countertop may require more frequent sealing, but it withstands freezing temperatures, prolonged direct sun, and rain, quite beautifully.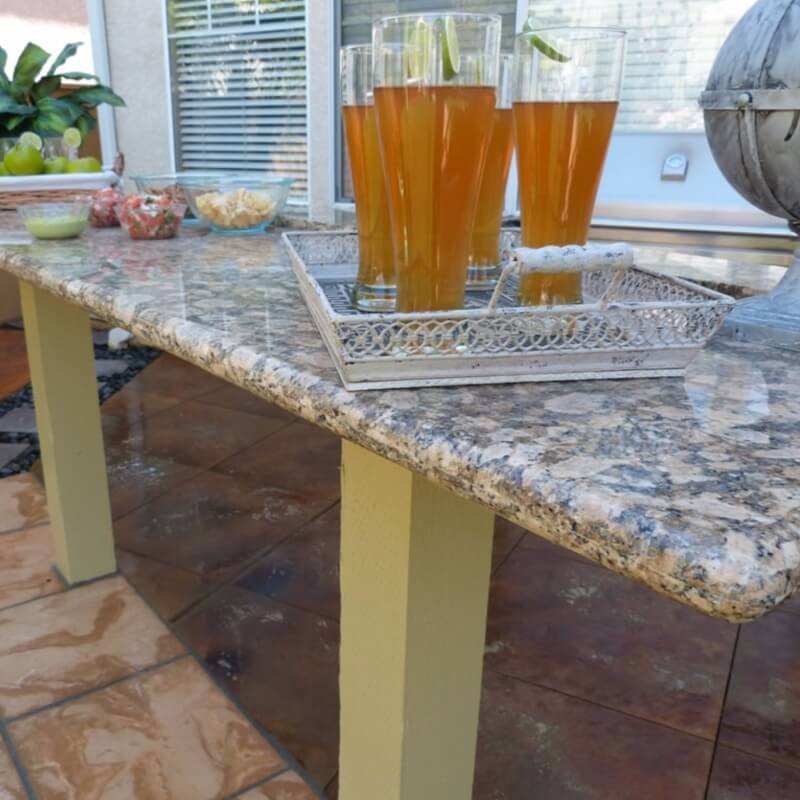 Create a similar look with MSI's Giallo Fiorito Granite (Photo Credit: Houzz)
In smaller areas, to add function and to make entertaining a breeze, create an outdoor bar area where you can serve up a refreshing cocktail or set out a buffet for your guests. Granite's natural durability and stain resistance make it perfect for this type of application. Just remember to wipe up any acidic spills quickly and routinely do the water test to see if your granite countertop needs sealing.
In this scene, our beautiful Giallo Fiorito Granite counter is tucked nicely up against the house, protecting it from some of the elements. This is wise if you live in an area with frequent hail storms. In these areas, you'd be wise to drape it in a heavy blanket during a storm to prevent against chipping or cracking if the hailstones are large.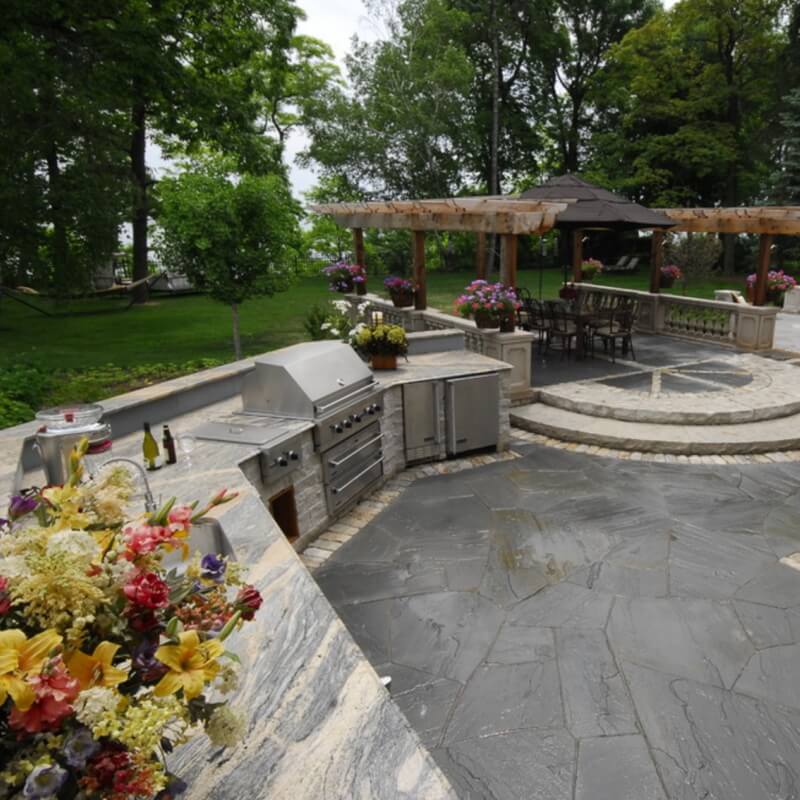 Recreate this look with MSI's Silver Creek Granite (Photo Credit: Houzz)
Out from under an eave, left uncovered, granite counters do a great job of making your outdoor kitchen look right at home. A granite color with a dramatic pattern, like our Silver Creek Granite can blend the landscaping, hardscaping, and appliances together quite perfectly.
If you have the space, opt for sweeping countertops so you can do the food preparation outdoors with your family and friends so that you can limit the time you spend indoors on a beautiful day. Larger spans of countertops also give you the opportunity to add significant storage, a couple of refrigerators, or even a dishwasher designed for the outdoors!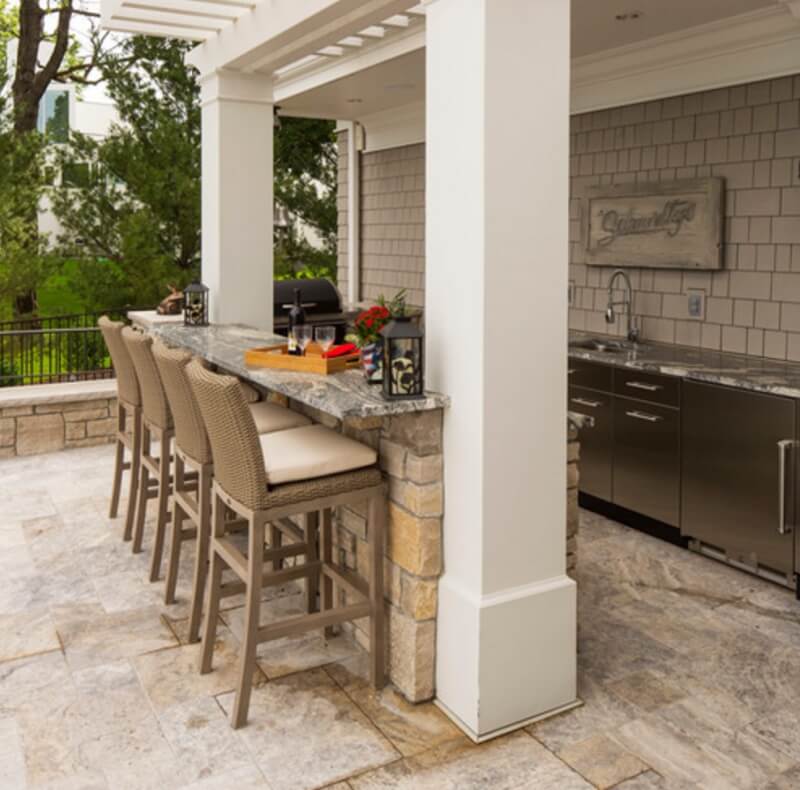 Create a similar look with MSI's Monte Cristo Granite (Photo Credit: Houzz)
In areas with lots of seasonal rain, you still want to be able to utilize your outdoor kitchen year-round. This means you need a roof over the cooking area to protect your outdoor cabinetry (and your chef!) from inclement weather.
After all, with an outdoor space this beautiful, and usable, you'll want to use it as often as possible. Natural granite colors that combine cool whites and sharp blacks with hints of gold, like our Monte Cristo Granite, can help to unify the design. Here the countertops feature this gorgeous natural stone countertop that will sparkle perfectly in the sunshine. The bar height is perfect for keeping the master griller company, and for playing host to a buffet.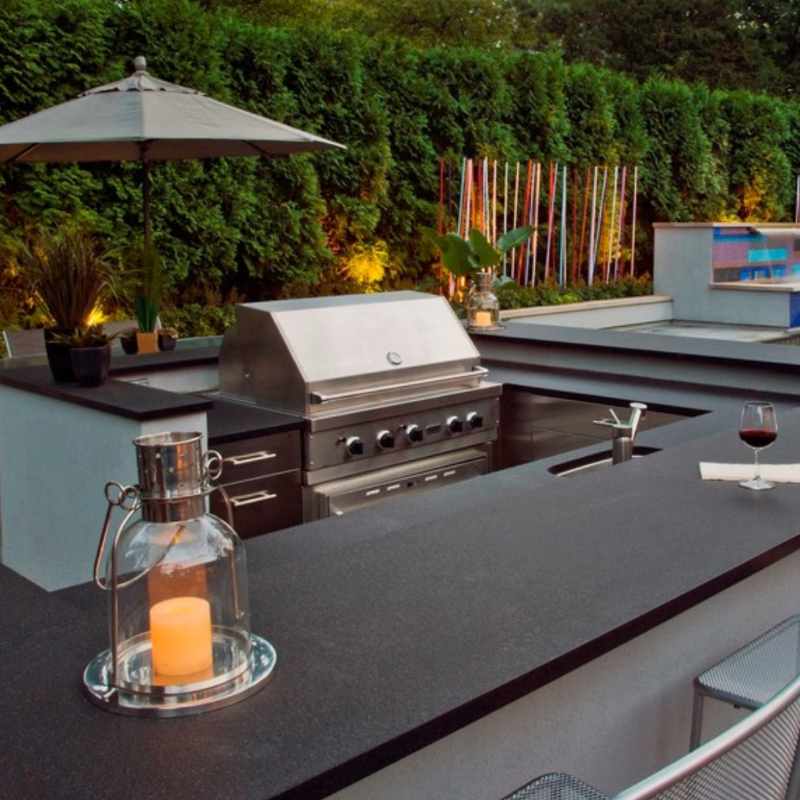 Get a similar look with MSI's Nero Mist Granite (Photo Credit: Houzz)
Of course, if your design style tips the scale more towards clean contemporary or relaxed modern, there are natural granite countertops that will complement your style. Sunken kitchens, like this one pictured here, are becoming more and more popular as they adapt beautifully to yards that have been terraced.
The sleek, clean lines of the appliances, furniture, landscaping, and cabinetry are the perfect place for the sophisticated look of our Nero Mist Granite. With subtle flecks and veins, and a honed finish, it is a spectacular design feature that can stand up to virtually everything Mother Nature can produce.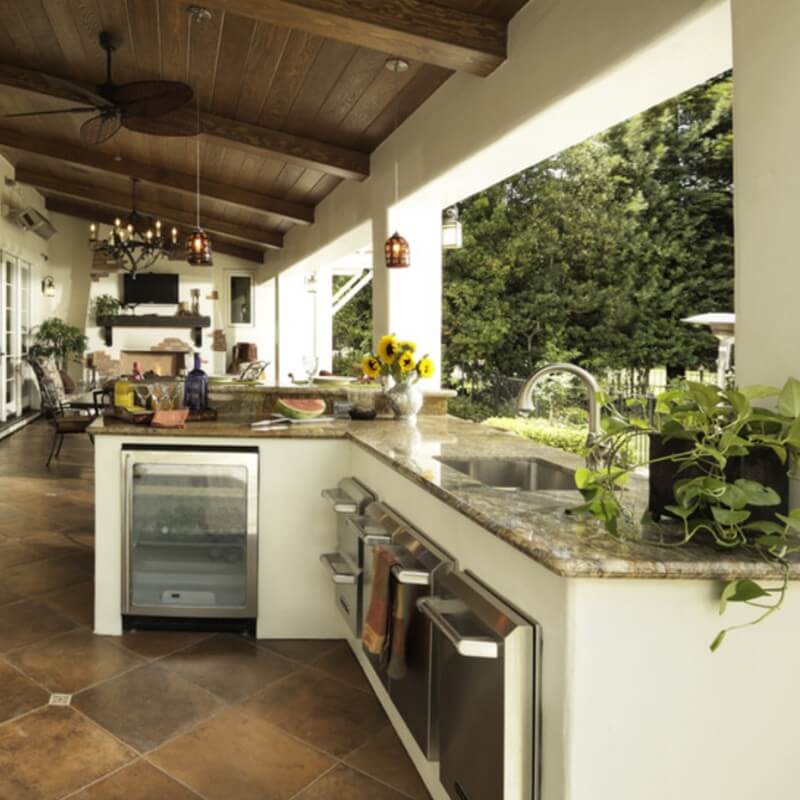 Recreate this look with MSI's Barcelona Granite (Photo Credit: Houzz)
And if your home has a sprawling covered outdoor area, be sure to dedicate ample space to the kitchen area. Use furniture to define seating areas and dining areas and consider adding a peninsula island to increase counter space and to add functionality.
In neutrally toned designs, a granite color that includes colors found in your flooring choice, furniture choices, paint, and accessories can really unify your design. Our Barcelona Granite countertops do that in this space perfectly. Even with the added protection of a roof, it is important to clean your countertop at the end of each day, and seal it as needed.
Granite is one of the hardest materials on earth, and that's why so many homeowners and business owners choose it as their go-to surface for outdoor countertops, bar tops, and tabletops. Even if you live in areas with freezing temperatures, tons of direct sunlight, and other types of harsh weather, granite countertops can withstand the elements, and be functional and beautiful for decades to come.
MORE OUTDOOR LIVING IDEAS
Outdoor Oasis: How To Create A Modern Outdoor Oasis With Porcelain Tile
Outdoor Oasis: Travertine Or Slate – Which Outdoor Tile Is Your Favorite?
Outdoor Oasis: Will Stacked Stone Add Value To Your Home?
Outdoor Oasis: Will Power Washing Ruin Your Outdoor Stacked Stone?
Outdoor Oasis: Porcelain Pavers That Look Like Real Stone
READ MORE ABOUT GRANITE COUNTERTOPS
Can You Use More Than One Granite Color For Your Kitchen Countertops?
Choosing the Right Edge For Your Granite Countertop
Color Crush On White & Gray Countertops
Creating the Perfect Pair with Your Backsplash And Granite Countertop