Luxurious Hotel Inspired Bathrooms Featuring Marble, Quartzite And More
August 27, 2016
There may be some debate about which room is the most important one in the home. The kitchen is called the heart of the home since everyone loves to eat. A beautiful, relaxing bedroom is essential. But one thing is for certain: If your bathroom exudes the well-designed luxury of an upscale hotel, you're going to start – and finish – each day feeling like a million bucks.
After all, the bathroom is where you head, first thing upon waking, to wash up. It's the place for applying makeup, styling your hair, and all manner of personal hygiene tasks. And at the end of the day, a stylish tub in which to soak and relax your cares away can transform you, cheer you and prepare you for restful, sweet dreams. And for your guests, nothing else says "welcome" like a tidy, well-decorated bathroom. What do luxury hotel bathrooms have that you don't?
Expensive designers, high-end materials that can withstand high traffic and harsh scrubbing… and impeccable taste in accessories. But it doesn't have to be difficult or expensive to re-create the look of a luxe lavatory.
Here are some ideas:
Install Opulent Touches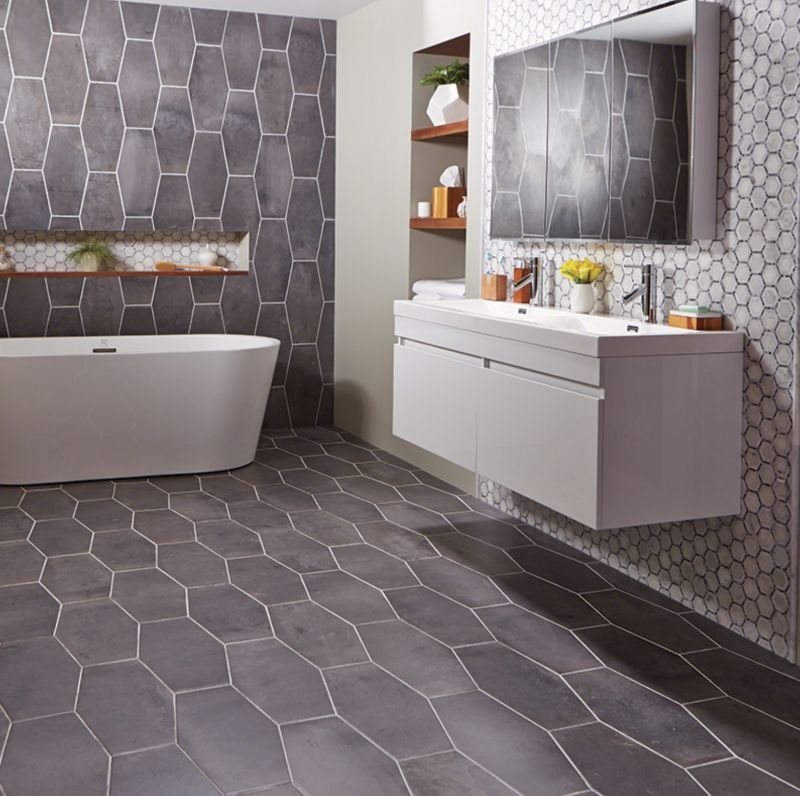 Featured: Telaio Mosaic
Luxe hotel bathrooms have pampering surprises in every corner like heated towel bars, marble countertops, glass shower doors, luxury shower heads, and body sprays. Arabescato Carrara Honed Pencil Molding adds a detailed finishing touch around corners and edges. Interesting mosaic patterns, like Telaio 2" Hexagon Honed or Greecian White Basketweave add intricate detail and eye appeal as backsplash tile, making it look like you've invested much more time and money into the room than you did!
Invest in Lavish Lighting
Ditch the harsh overhead light, or that cheap fixture with exposed bulbs. A trip to the home improvement store will have your head spinning with better ideas, including additional soft, mood lighting for those relaxing bubble baths. Chandeliers, with a dimmer switch, turn your bathroom into an evening retreat.
Let the Sunshine In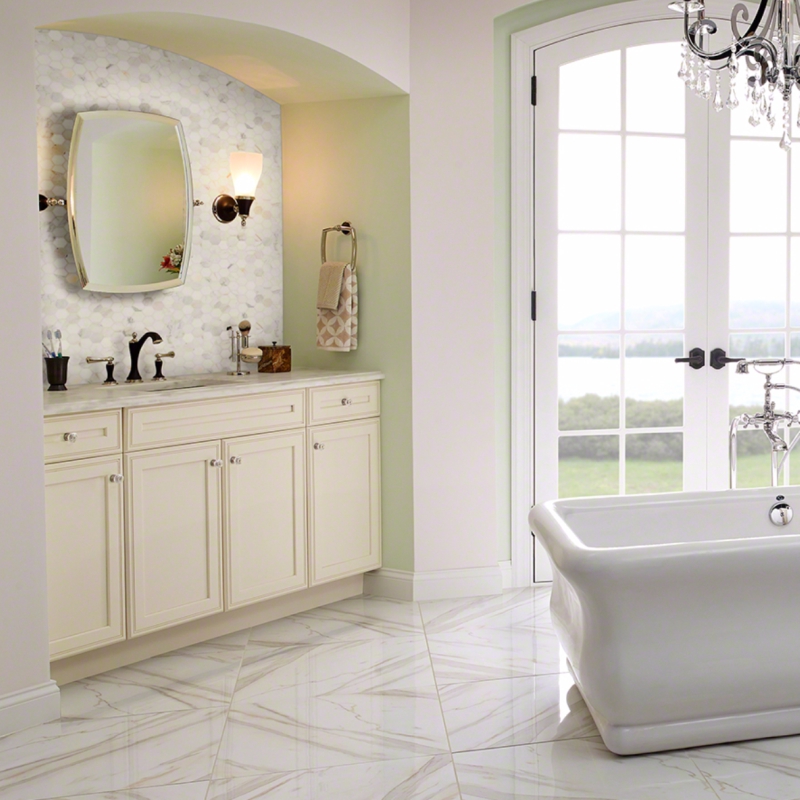 Featured: Calacatta Gold Marble Tile
Natural lighting, coming through large windows, adds sparkle to natural stone surfaces such as the stunning Calacatta Gold Marble, and brings out the best in your high-end investment. If you need privacy, try to keep window coverings sheer, or perhaps only cover the bottom half of your window.
Provide Luxury Personal Products
Spoil your guests with sweet-smelling soaps, lotions, shampoos, and other products. But you're worthy of spoiling too! Extra-plush bathrobes, posh, fluffy towels, and soft rugs underfoot will make all who enter feel spoiled and pampered.
Add Touches of Nature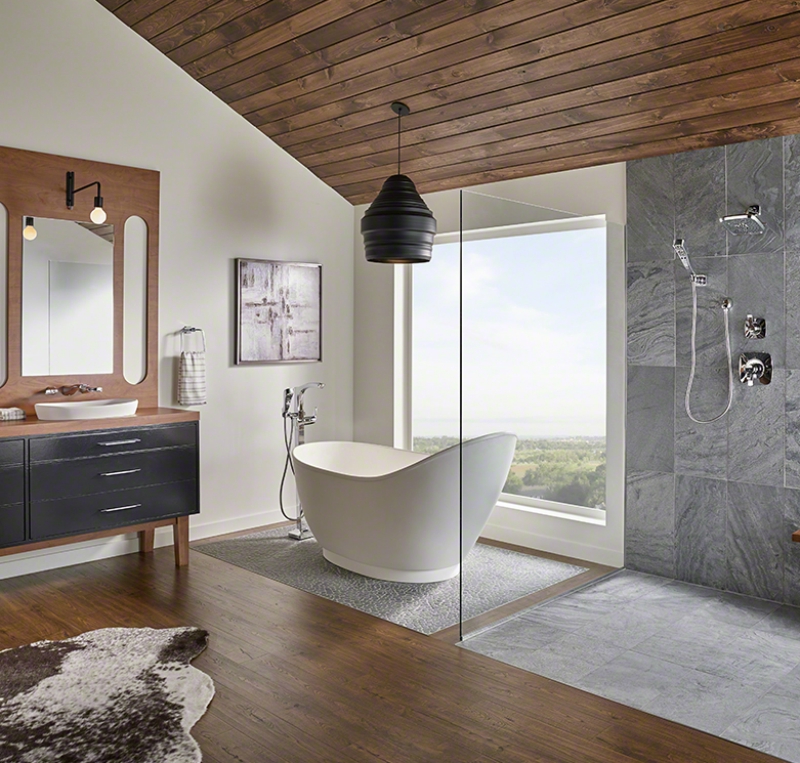 Featured: Ostrich Grey
Gleaming tile, on its own, can appear sterile – add some personality to your luxe bathroom, like the best hotels do, by using natural materials such as wood grain flooring or walls, or pebble mosaics like MSI's Black Pebbles or White Oak Pebbles. Ash porcelain tile is alternative to real wood in areas with a lot of moisture. For the finishing touch, add fresh flowers or a pot of greenery.
Remove the Clutter
Unlike a hotel bathroom, yours has numerous personal items that end up on the countertops – cosmetics, hair dryers and curlers, first aid supplies, even the kids' bath toys. But you don't have to keep them out in the open. Pare down your possessions to what's truly needed, and designate an out-of-sight storage place for them in a drawer, cabinet, or closet. And make a habit of putting everything away after use.
Make it Easy to Keep Clean
Above all, luxury hotel bathrooms are sparkling clean – this should be your number one priority! Durable natural stone and quartz countertops, like Boletus Quartz or Ostrich Grey Quartzite, are easy to keep clean and don't require a lot of maintenance.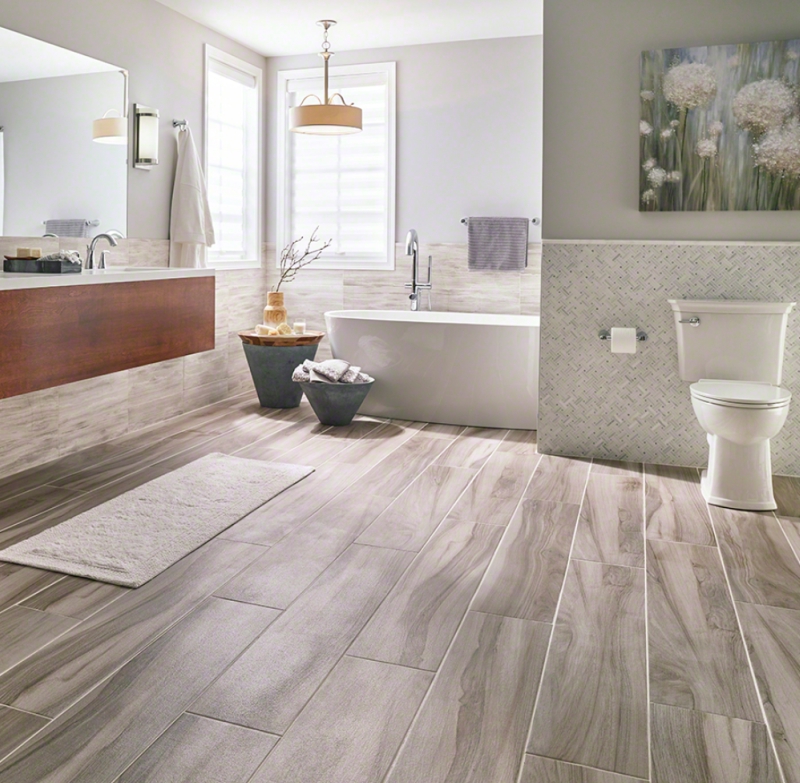 Featured: Ash
Go ahead and spoil yourself – you work hard, and you're worth it. Creating a luxe hotel-style bathroom in your home can inspire you, relax you, welcome guests, and make you feel like you're on a perpetual stay-cation. It's easier than you think!
READ MORE ABOUT HOTEL AND HOSPITALITY SURFACES:
Hotel Countertops: Reception Countertops And Hotel Bathroom Vanities
Hotel Flooring 101 — Stylish Commercial Flooring That's Comfortable And Durable