Tips From The Trade: What Is Inkjet Glass Tile?
December 14, 2016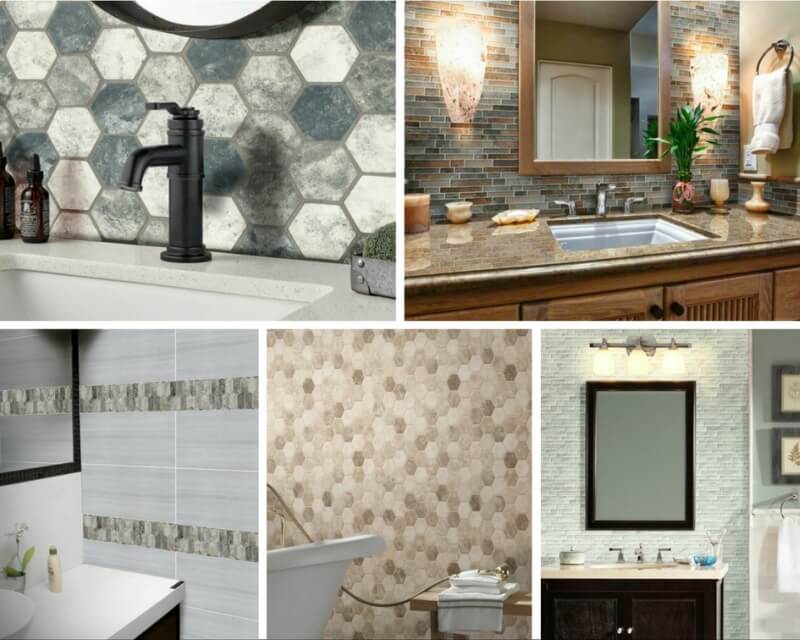 Glass Tile has been a popular décor choice for a long time. Now, with the introduction of inkjet printing technology, it's even better! Today's inkjet tiles are manufactured with ceramic or porcelain as well as glass. They can re-create the appearance of many other materials: wood, stone, and even textiles, just to name a few, opening up an incredible array of design possibilities.
The process of manufacturing inkjet glass tile is similar to your own desktop inkjet printer. Glass tiles are imprinted with a design that is resistant to scratching, staining, and chipping, and depending on the finish, a protective glaze may be applied. These tiles can resemble marble, stone, or display the 3-D glimmer glass tiles are known for. The patterns are artfully designed for realism, while maintaining a predictable uniformity that makes planning and installation easy.
Intrigued by the possibilities? Try out MSI's Virtual Kitchen Designer for your glass backsplash ideas, and mix and match surface materials to your heart's content before settling on the perfect tile for your home.
Urban Tapestry Hexagon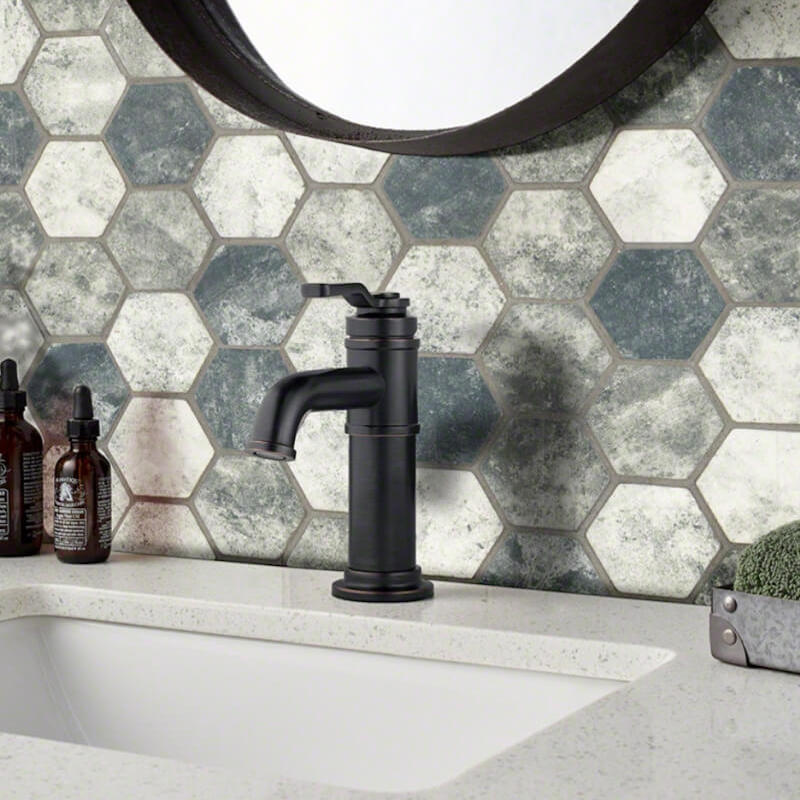 Featured: Urban Tapestry Hexagon Glass Tile
Urban Tapestry Hexagon Glass Tile is manufactured with recycled glass, making them eco-friendly as well as design-friendly! Resembling natural stone, these mosaic patterns feature varying shades of gray with stone-like speckles, arranged randomly. The Hexagon Mosaic shown here fits well in contemporary designs, a new twist on the classic hexagon pattern, equally at home with black or stainless steel accessories.
Urban Tapestry Interlocking Glass Tile is a pattern that features the same color tiles, but in a rectangular, brick arrangement.
Calypso Interlocking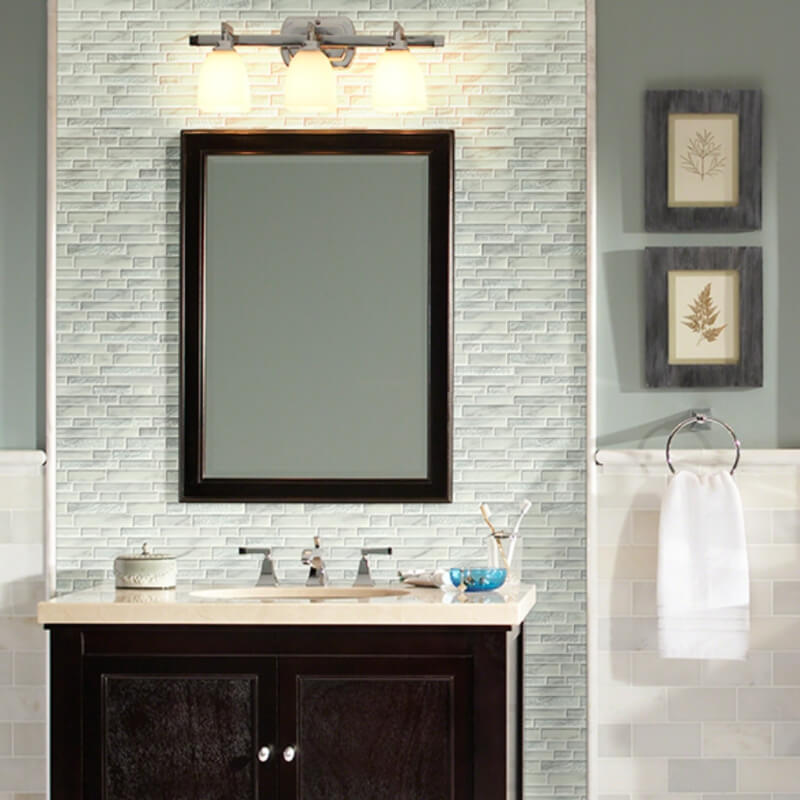 Featured: Calypso Interlocking Glass Tile
Calypso Interlocking Glass Tile is a good example of inkjet-printed glass that features depth and dimension. The printed design highlights varying textures, with the same monochromatic crystallized glass in soft white. It creates an elegant accent wall for a bath, as shown in this photo, or as a kitchen backsplash.
Calypso Picket Glass Tile is another option, featuring elongated hexagons inspired by the classic picket fence.
Savoy Picket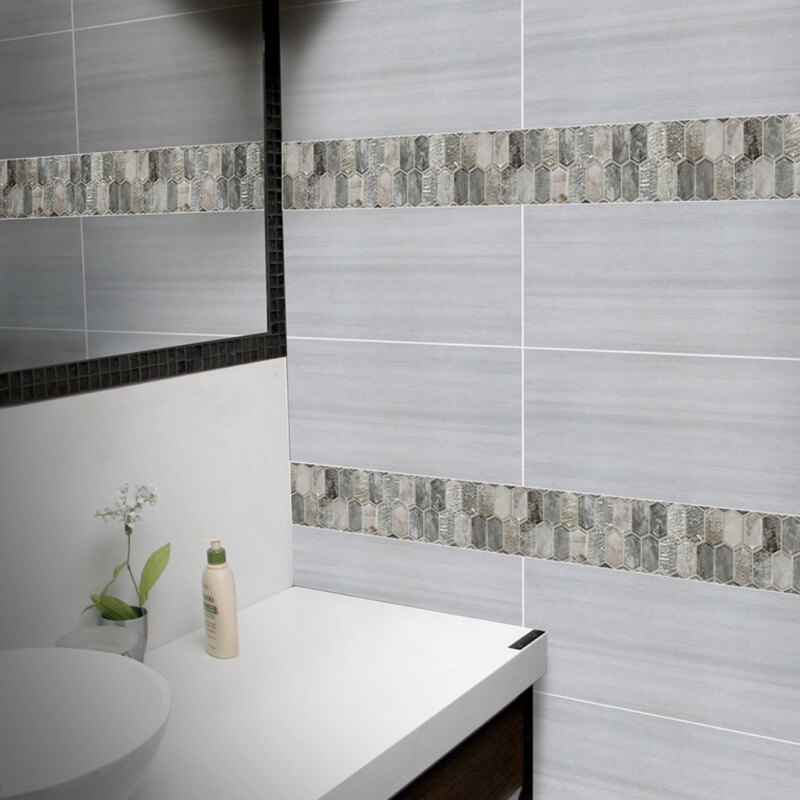 Featured: Savoy Picket Glass Tile
Savoy Picket Glass Tile demonstrates the elongated hexagon mosaic, with tiles that are printed on the back so that the glass captures light with a 3-D quality. It features shades of gray, taupe, and beige, with texture and speckling reminiscent of stone. This pre-meshed mosaic may be used in accent stripes, such as those shown here, in combination with other complementary tile choices.
Savoy is also available in a brick-like Savoy Interlocking Glass Tile pattern.
Taos Interlocking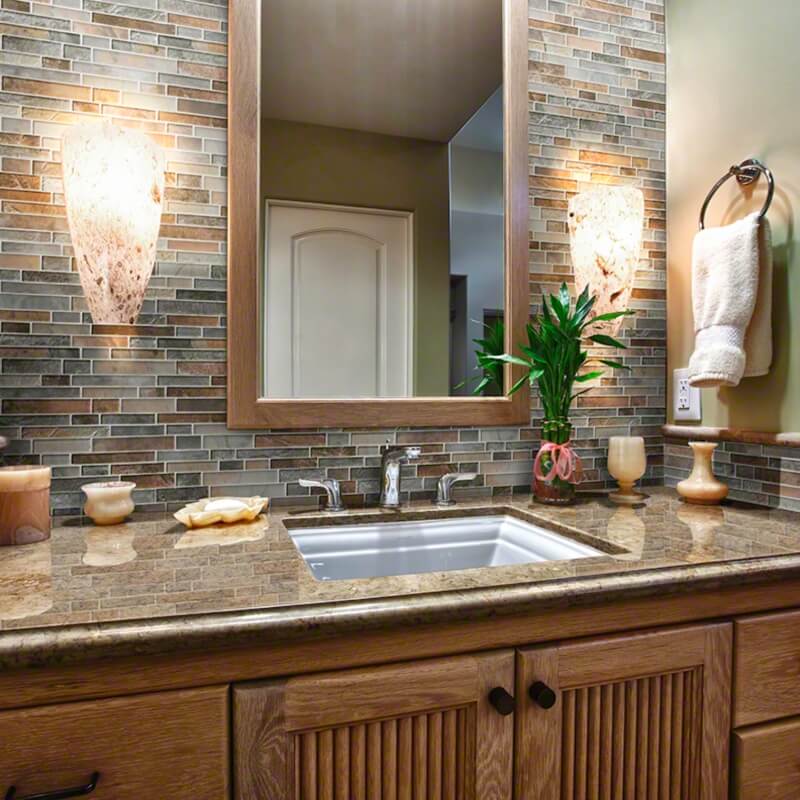 Featured: Taos Interlocking Glass Tile
Taos Interlocking Glass Tile resembles a reflective texture with shades of beige and gold, accented with gray and a warmer range of color. The narrow, rectangular tiles in a brick arrangement are stunning when used as backsplash tile, especially continued upward to create an accent wall. It contains many complementary neutral shades, so it's a cinch to coordinate with other design elements such as the countertop shown here.
Also available in Taos Picket Glass Tile, which is picket shape and pre-meshed for easy installation.
Driftwood Hexagon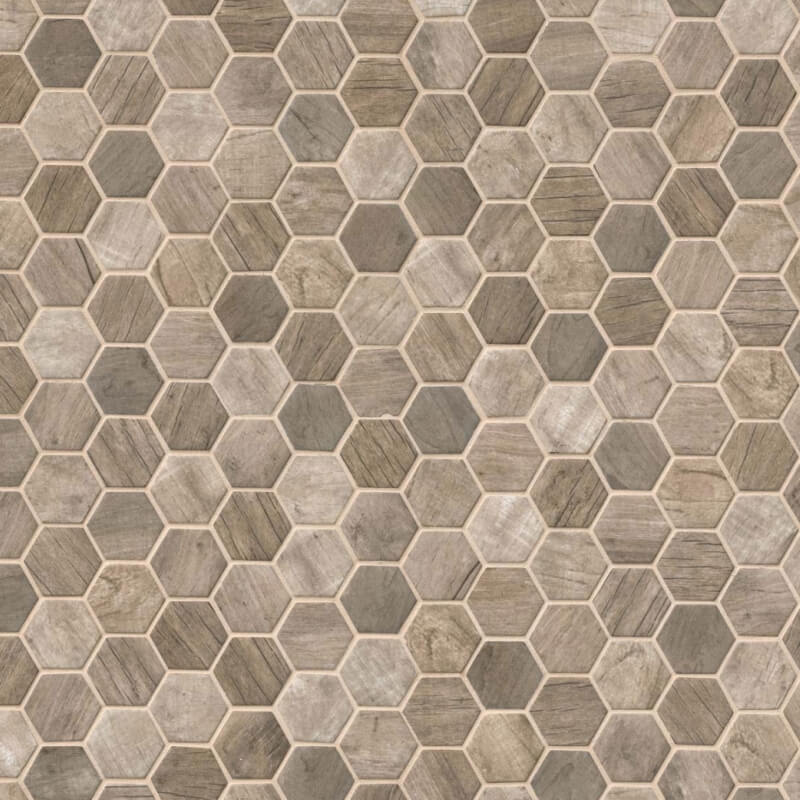 Featured: Driftwood Hexagon Glass Tile
With Driftwood Hexagon Glass Tile, you can have the elegance of matte-textured, striated natural stone tiles – arranged in a petite 2" hexagon pattern – with all the water and stain resistance of impermeable glass. It's an ideal material for backsplashes and accent walls, and can also be used for a worry-free floor.
Driftwood is also available in the Driftwood Interlocking Glass Tile pattern, with narrow tiles in a linear brick layout.
Sandhills Hexagon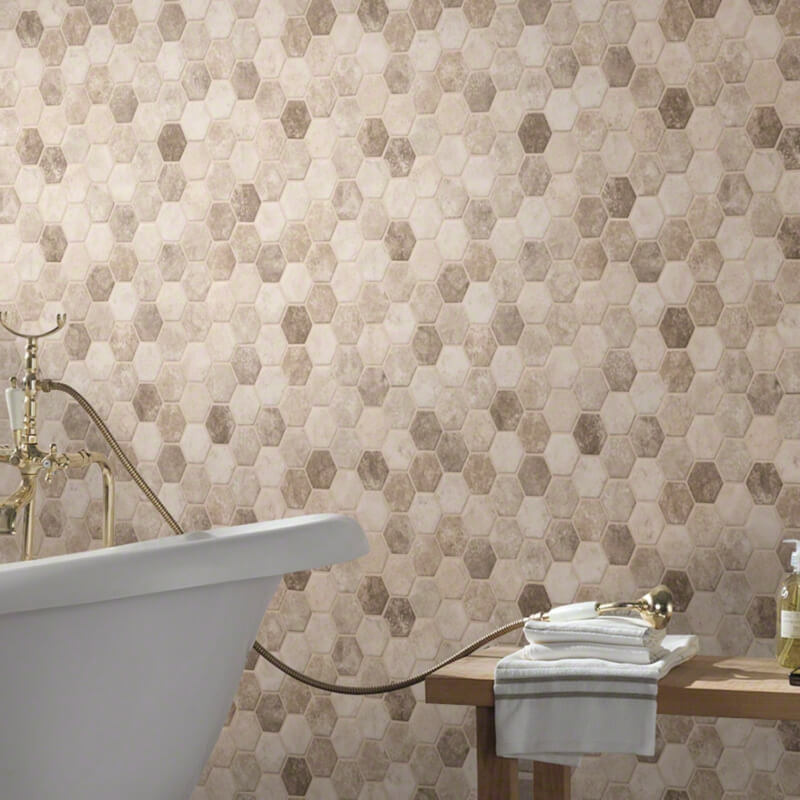 Featured: Sandhills Hexagon Glass Tile
A natural stone texture, complete with speckles in shades of cream, buff, ivory and beige, comprises Sandhills Hexagon Glass Tile. Despite the pale hues, there's no need to worry about the high maintenance natural stone can require; glass is tough! As shown here, it's great for a bathroom accent wall or shower surround because it's easy to keep clean.
This tile is also available in the classic Sandhills Interlocking Glass Tile brick layout.
Thanks to inkjet technology, we have the opportunity to take materials we already love – stone, marble, etc. – and make them even better. Inkjet printing can also create new patterns never before seen, making the absolute most of crystalline glass's reflective, dimensional qualities.