Does Luxury Vinyl Flooring Look Cheap?
July 29, 2020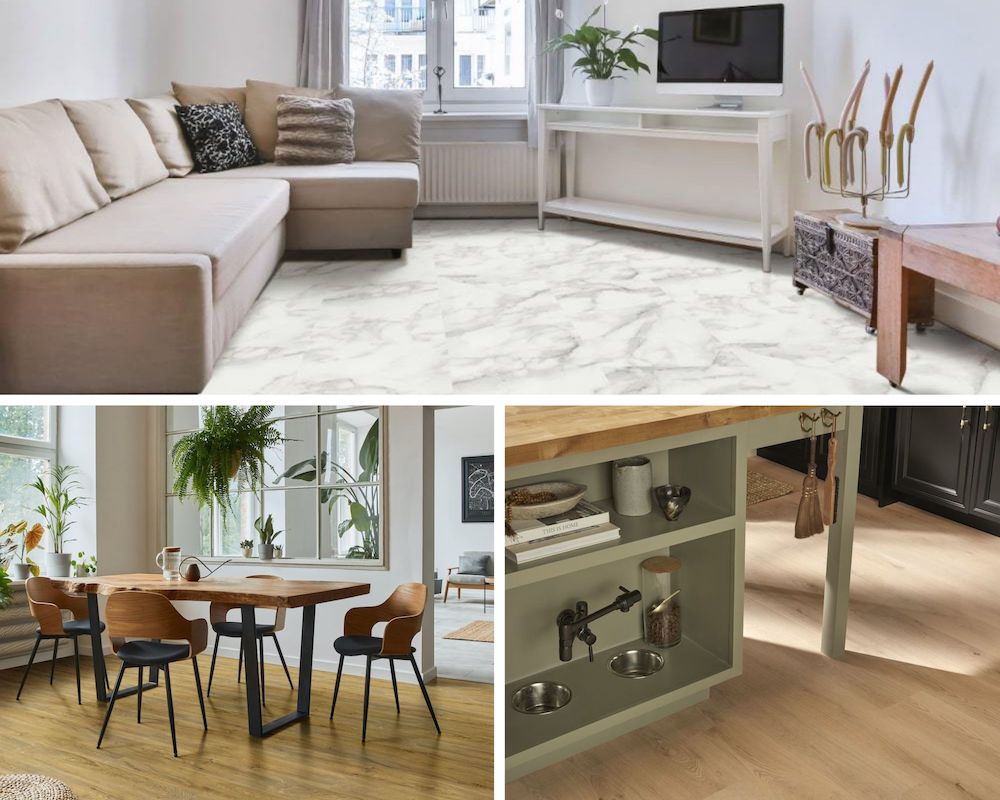 Remodeling your kitchen or bathroom with a shoestring budget doesn't mean accepting "cheap," low-quality materials. If you've been putting off that project for fear that you can't afford flooring that looks great and wears well, it's time to re-think your options. Savvy shoppers appreciate that saving money isn't necessarily about getting something "cheap," but rather getting the best value. Fortunately, there's a flooring solution that can save you a lot of money while looking like you splurged — Luxury Vinyl Flooring.
It's a common belief that you get what you pay for, and in many cases, that's correct. Can it be possible that luxury vinyl flooring is really a value, or is it too good to be true? Homeowners worry that their bargain shopping will result in a "cheap" floor that they will regret in the coming years.
So, what exactly do we mean when we call cheap flooring "cheap?" If the only factor we have in mind is spending as little as possible on flooring, we might end up with buyer's remorse because it looks fake, is hard to keep clean and loses its shine quickly. It lacks longevity, and may need replacing in just a few years because of stains, spots worn through to the backing, and tears. Flooring like this may be a quick fix if you're planning to move out right away, but even prospective buyers know a low-quality floor when they see one.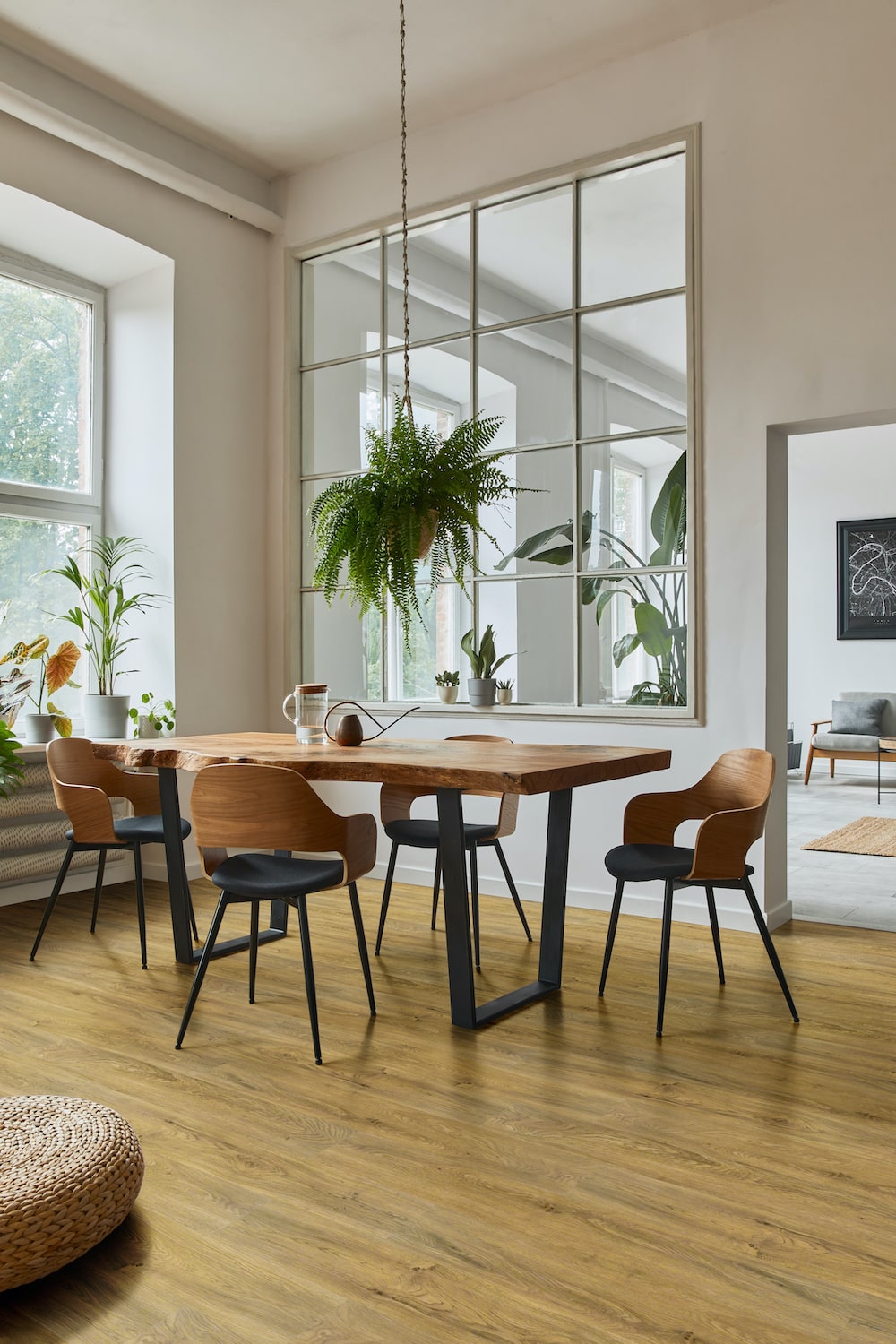 Ashton Colston Park Luxury Vinyl Planks
What is Luxury Vinyl Flooring?
When most people think of "vinyl flooring," they think of sheet vinyl or vinyl stick-on tiles. Those types of flooring have been around for many years, and are still popular today for low-end applications. Luxury vinyl planks, however, is completely different. For one thing, it's usually sold in planks and resembles hardwood flooring. Luxury Vinyl Tile can look like ceramic and stone tile, and thanks to modern printing technology, the result is amazingly realistic. vinyl flooring have several layers that work together to maintain its durability for a long life — up to 25 years, or even more.
With this in mind, take a look at the many luxury vinyl flooring benefits:
Waterproof: LVT and LVP is completely waterproof, which makes it an ideal flooring choice for areas that may get wet, such as bathrooms, kitchens, laundry rooms, mud rooms, and more. This is an obvious advantage over the hardwood planks it resembles, so you can have the look of wood in areas where it's normally unsuitable.
Low Maintenance: Since it's waterproof, vinyl flooring care and maintenance is a breeze. LVT and LVP resist stains and mildew and needs only regular sweeping and mopping to look its best. Best of all, it never needs sealing or waxing.
Withstands High Traffic: MSI's luxury vinyl flooring has several layers that protect it from wear caused by heavy foot traffic. It's an excellent choice for busy areas such as hallways, entryways, and family rooms, and may hold up even better than other popular flooring choices such as carpeting.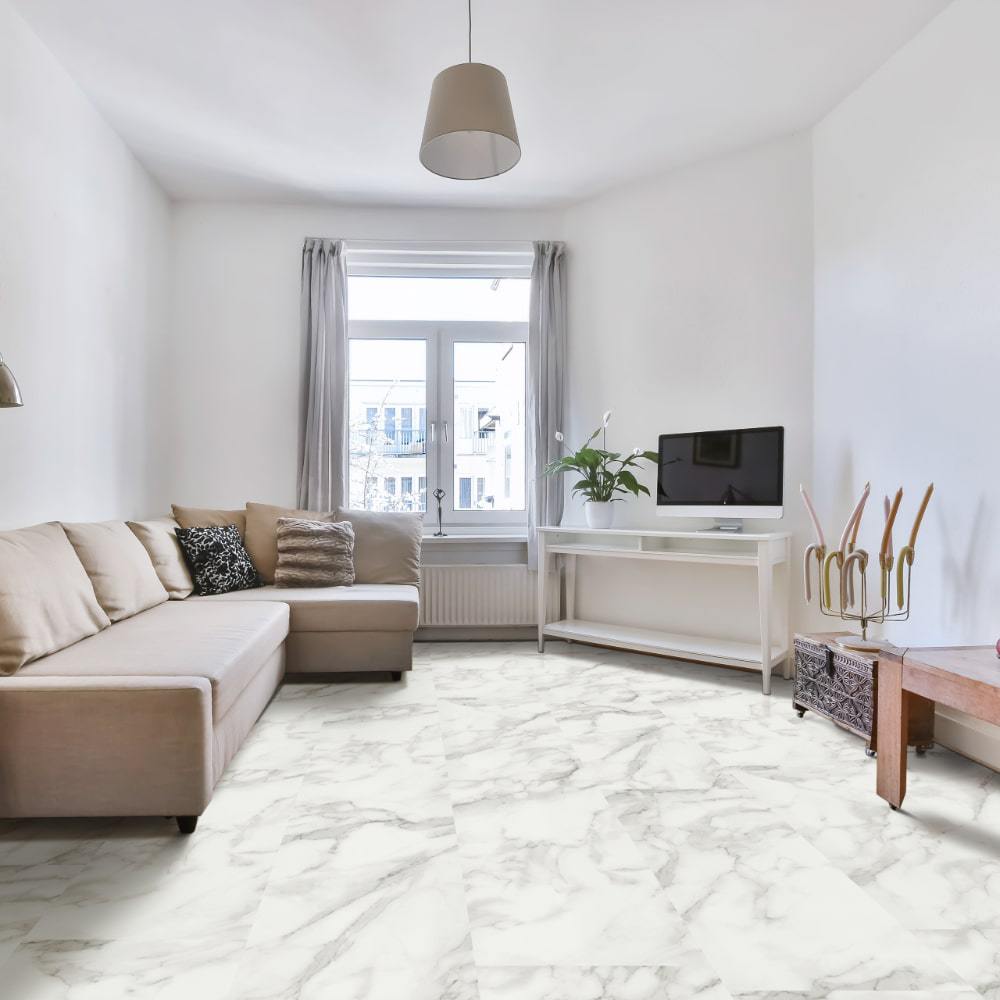 Calacatta Venosa Gold Luxury Vinyl Tile
Doesn't Hold Allergens: If you or a family member suffer from allergies, you know it's best to eliminate as many surfaces in the home that can harbor the tiny particles that make you miserable. That's why it's especially good for bedrooms. Just a regular sweep with a dust mop can help you get a great night's sleep without a stuffy nose.
Helps to Reduce Noise: Rigid flooring types such as tile or wood can be noisy, since there's nothing to absorb the sound of footsteps or other activity. Vinyl Flooring is made with a sound-absorbing layer, and choosing a quality underpayment can keep things even quieter.
Comfortable to Walk On: The same qualities that absorb noises make luxury vinyl flooring more comfortable to walk on than other rigid flooring. It has a warmer feeling underfoot than many alternatives.
Resistant to Scratches and Scuffs: You can confidently install LVT and LVP in your kids' busy playroom, because its durable wear layer will take anything they can dish out. It's great for families with pets, too, and won't get scratched up from dog paws.
Can Install Radiant Heating Underneath: There are only a few types of flooring appropriate for the installation of radiant heating. These systems are a surprisingly efficient way to heat a room, and can make your floor feel cozy underfoot. Imagine how wonderful a warm bedroom or bathroom floor will feel on a cold winter morning.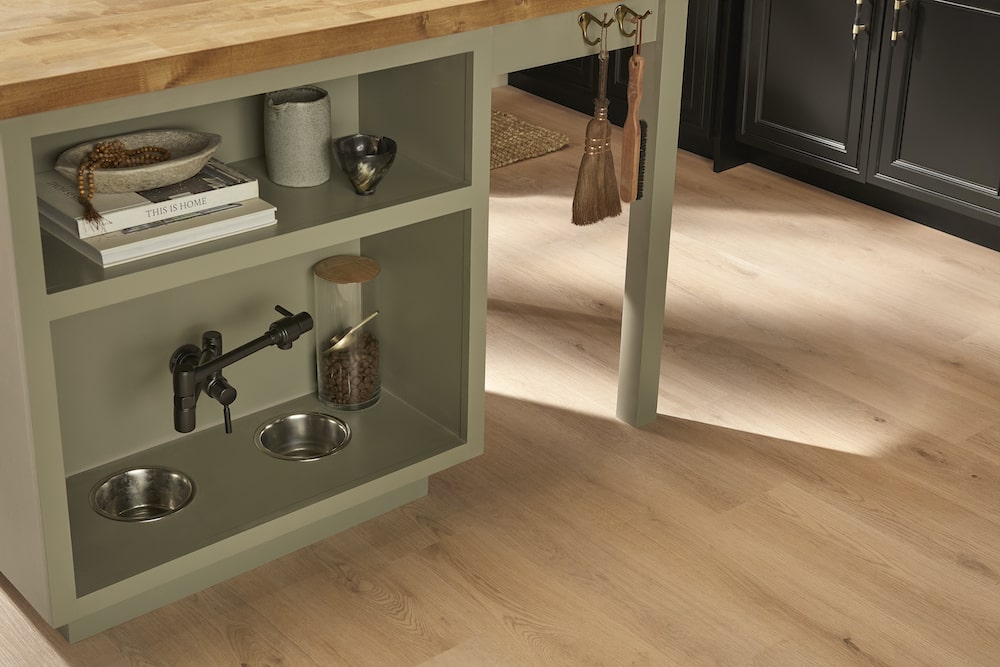 Runmille Isle Luxury Vinyl Plank
Appropriate for Home and Businesses: While active families need durable flooring that can hold up to the rigors of daily life, businesses can be even more demanding. LVT and LVP are so good at handling high traffic, resisting stains and scratches, requiring little maintenance, and looking great that many offices, retail establishments, and restaurants choose it as well.
Beautiful Colors: Even with all of these reasons why luxury vinyl flooring is a great choice for your home, it wouldn't be nearly as popular without a huge variety of colors to choose from. New vinyl flooring doesn't just mimic the wood color, but it also mimics the natural dimension and character of hardwood flooring — even down to the knots and divots.
Whether you're remodeling your home on a small budget or just want to get the most value for your money, you owe it to yourself to take a new look at MSI's luxury vinyl tile. Visit our web gallery to view the many wood-look options available, and to learn more about what makes LVT and LVP so popular, such as its incredible durability, water-resistance, easy care, and much more. Luxury vinyl flooring will never look "cheap" — it will make your life easier and enhance the look and comfort of your home.
Would you like to learn more about Luxury Vinyl Flooring? Read the Definitive Guide to Luxury Vinyl Flooring to learn everything you need to know. You can also reach out to one of our MSI advisors. You can chat with us online, visit one of our MSI showrooms nationwide, or stop by your nearest authorized MSI retailer.
More On Luxury Vinyl Flooring
Is Luxury Vinyl Tile Better Than Laminate?
What Is the Difference Between LVP And Luxury Vinyl Tile Flooring?
Signature Wood Look Luxury Vinyl Flooring Without the Worry
Is Luxury Vinyl Flooring in The Bathroom A Good Idea?