Tips From The Trade: How Much Should You Budget For A New Quartz Countertop?
February 20, 2018
When you're in the beginning stages of planning your kitchen or bathroom renovation project, one of the most important questions you may have is how much to budget for quartz countertops. The problem is that there's no simple answer, and that's because a number of different factors determine the price.
Giving an exact answer for a quartz countertop cost in this post isn't possible; even a general ballpark figure about the average cost of home remodeling in any particular room would fall short. However, we can offer you some information to help you determine a realistic budget, based on your own unique needs and circumstances.
General Quality and Price Ranges
It's useful to consider the price ranges of quartz or other countertop materials, usually in cost per square foot. Generally speaking, marble demands the highest price—so if you choose a quartz that looks like marble, you could save a substantial amount.
On the other hand, some natural stones such as granite have a lower price tag, and quartz that mimics these stones may actually run higher in price than the real thing. However, keep in mind that quartz is a high-quality surface material with many benefits, including exceptional durability. As a result, the cost for a premium quartz slab from MSI usually falls within the range of $80-$200 per square foot, which is considered to be an average price point.
Benefits of Quartz Countertops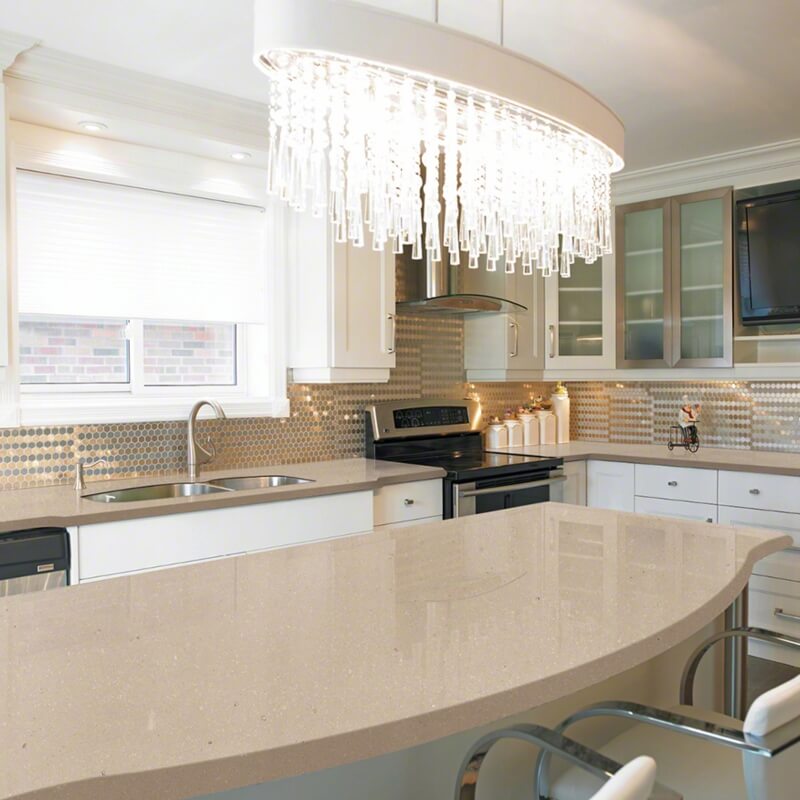 Featured: Fossil Taupe Quartz
Although new quartz countertops aren't inexpensive, they have many benefits to recommend them. It's up to you to decide if these perks make them worth the extra investment.
For one thing, even the palest white quartz countertops have extremely low maintenance needs. No sealing or special cleansers are required, which means no additional expenses for supplies or labor. Plus, pre-fab countertops in a variety of quartz colors are available, which can substantially reduce costs.
Consider Installation Costs
A quartz countertop is very heavy and may need extra reinforcement to install it properly. Of course, other countertop materials are heavy as well, including most natural stone slabs. The price you pay for installation varies widely depending upon which company or individual contractor you hire to perform the job. As is often the case, you get what you pay for—therefore, it's best to spend a little more to hire a professional with specific experience in quartz installation.
Extra Expenses
There are a few decisions to be made regarding your quartz countertop, and your answer may add to the base price. For one thing, you might choose to run the quartz up the wall as a backsplash. Aside from how fantastic it looks, this hot trend has many practical benefits. Also, if you choose a specialty edge treatment for your countertop such as beveled, ogee, etc., it will add to the cost.
No matter the cost, you're going to be happy with your investment! After all, MSI Q Premium Quartz comes with a residential lifetime warranty. When you're ready to get started, we encourage you to request samples of the quartz countertops that interest you, and get in touch with a local dealer who offer you an accurate estimate for your project.
Read More About Quartz Countertops Designs and Trends:
Perfect Quartz Countertop Pairings
5 Inspirational Tools Featuring Quartz Countertops
The Guide to Picking Your Perfect Quartz Countertop Edge
Everything You Need to Know About Buying Quartz Countertops