Tips From The Trade: Everything You Need To Know About Buying Quartz Countertops
September 13, 2018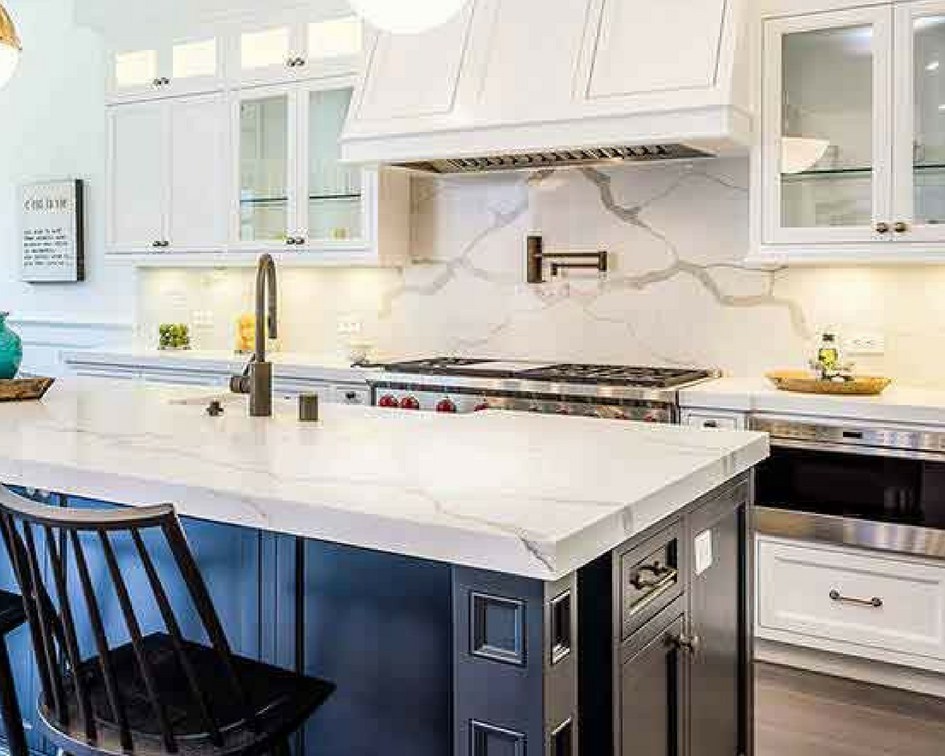 Quartz countertops are hot, not only with homeowners, but with designers and homebuyers as well. And for good reason! After all, there's no question that a quartz counter in your kitchen or bathroom sets the tone for the overall luxurious design and feel of the space. Besides that, with quartz colors ranging from realistic marble looks to more modern concrete looks, there is definitely one to perfectly complement your own personal style aesthetic.
However, it isn't just their beauty that makes quartz countertops one of the top choices today. In addition, quartz is durable, easy to clean, stain-resistant and chip-resistant, making it a smart choice for active lifestyles and entertaining. The bottom line is that busy families are always looking for shortcuts to keeping the kitchen clean with as little effort as possible, and quartz countertops require virtually no maintenance.
Naturally, with quartz gaining in popularity, more and more manufacturers are trying to jump into the booming market with their own products. But buyer beware! Not all quartz countertops are manufactured to the same exacting standards as MSI's Q Premium Natural QuartzÔ. Let's explore how Q Premium Quartz is both head-and-shoulders above the competition and some of the most gorgeous quartz colors on the market today.
One of the first questions many ask when shopping for a new countertop is, What is quartz? Q Premium Quartz is crafted from one of the hardest minerals on earth—natural quartz. However, it is considered to be a manufactured stone because during manufacturing, natural quartz is mixed with resins and other synthetic materials to create a luxurious surface that never needs sealing. Kitchen islands, where homework is completed, gym bags are thrown, and cookies are decorated is a perfect place for installing quartz. In this striking two-tone kitchen, Lagos Azul slabs are used to create a waterfall island that will be as easy to keep clean as it is beautiful.
In the manufacturing of quartz countertops, natural quartz is mixed with marble, granite, and silica, and is then heated and pressed into slabs. The slabs are then polished, creating an antimicrobial surface that resists mold, mildew, and germs. If food allergies are a problem in your household, rest assured that a quartz countertop's poreless surface won't harbor potentially dangerous allergens after proper cleaning. Modern light and airy kitchens with a loft feel are the perfect place for a modern quartz color like our Meridian Gray. Its subtle tone and color variation doesn't steal the show, but rather, complements the overall design.
When choosing a quartz countertop slab for your project, it is important to know if the design runs through the entire slab, or if the design is only on the top layer. Q Premium Natural QuartzÔ is one of only a couple available on market that is "through-body," meaning that the pattern you see on the top continues all the way through the slab to the very bottom. This can be important in the unlikely event your countertop is damaged, in which case a through-body slab can be sanded and refinished without losing its beauty. And speaking of beauty, in addition to marble looks, our quartz counters are also available in granite looks like the classically styled Cascade White. With the enduring popularity of granite looks and the easy durability of quartz, this quartz color is definitely a timeless investment in your home.
Another difference between the competition and Q Premium Natural QuartzÔ is the warranty. Our quartz slabs have a lifetime warranty for private residential properties. This industry-leading warranty covers materials that have been properly installed and maintained according to our guidelines. After your new quartz countertop is installed, be sure to activate your warranty within 30 days to ensure coverage.
Everyone loves an expansive marble countertop, but this natural stone does require special care, and isn't practical for every homeowner or every budget. That's why we wanted to create a quartz that realistically captures the beauty of natural marble, and we think our Calacatta Luccia is simply perfect for busy kitchens—it won't stain, and is resistant to chipping, etching, and discoloring.
Finally, when considering a purchase of a quartz countertop, remember that this is a luxurious surface. With realistic natural stone looks including granite, limestone, and marble, as well as contemporary looks with sparkles or resembling concrete, quartz countertops are an investment in your home. They look amazing in kitchens, bathrooms, laundry rooms, and mudrooms; and can be used for perimeter countertops, kitchen islands, backsplashes, and accent walls. The only limitation is your imagination. Selecting the right pattern and color is the most difficult part, but don't be afraid to partner contemporary cabinetry and fixtures with a more traditional quartz like our Calacatta Classique.
As you can see, quartz countertops offer an amazing array of benefits, and MSI's Q Premium Natural QuartzÔ stands above the competition for its warranty, through-body design, and beautiful colors and patterns offered. Explore all of our Q colors to find the one that your design yearns for. Some of our colors are offered in matte finishes as well as polished finishes, and some of our most popular colors are available in prefab sizes, making installation a breeze. Whatever your style aesthetic, there's a durable, easy-care quartz countertop to fit the bill!
MORE FACTS ABOUT COUNTERTOP COSTS
Get The Facts About Quartz Countertop Costs
Tips From The Trade: Which Is More Expensive – Granite Or Quartz?
Take It For Granite: Granite Countertops Are A Worthwhile Investment
Tips From The Trade: How To Estimate Your Quartz Countertop Cost
How To Save Money On A Granite Countertop