Mixing And Matching: Combining Neutral Countertops With Complementary Backsplashes
August 18, 2023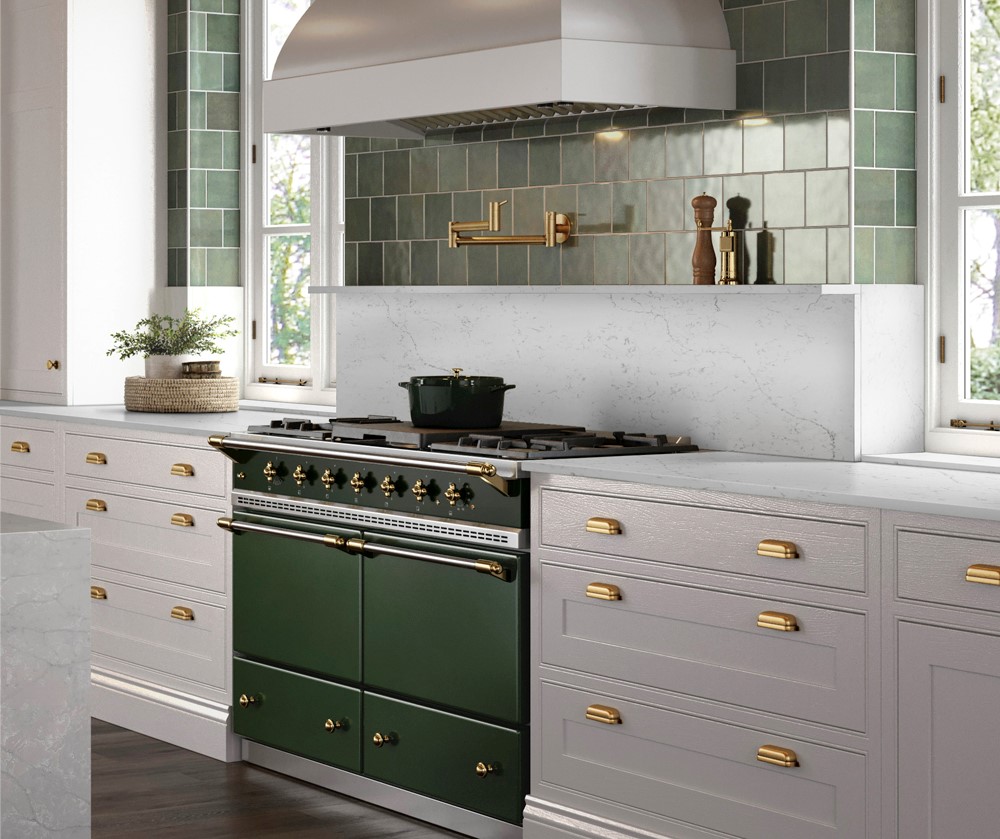 Calacatta Lavasa Quartz and Renzo Jade Ceramic Tile
In interior design, the kitchen is a vital hub where style meets functionality. As homeowners and designers seek to balance elegance and practicality, the harmonious pairing of neutral kitchen countertops with complementary backsplashes has emerged as a winning formula. By artfully blending timeless, neutral tones with vibrant, eye-catching elements, a kitchen can be transformed into a captivating space!
One example of this design concept is the seamless fusion of Calacatta Lavasa quartz countertop and Renzo Jade ceramic backsplash tile. This combination showcases one of our 5 Top Design Trends for 2023—Verdant Storm! This trend demonstrates how the right balance of neutrality and vibrancy can enliven a kitchen.
As we explore the unique characteristics of these two elements and delve into the artistry of combining them, we will explore how to create a stunning and functional kitchen, where beauty and practicality unite.
Fusing Classic Elegance with Modern Appeal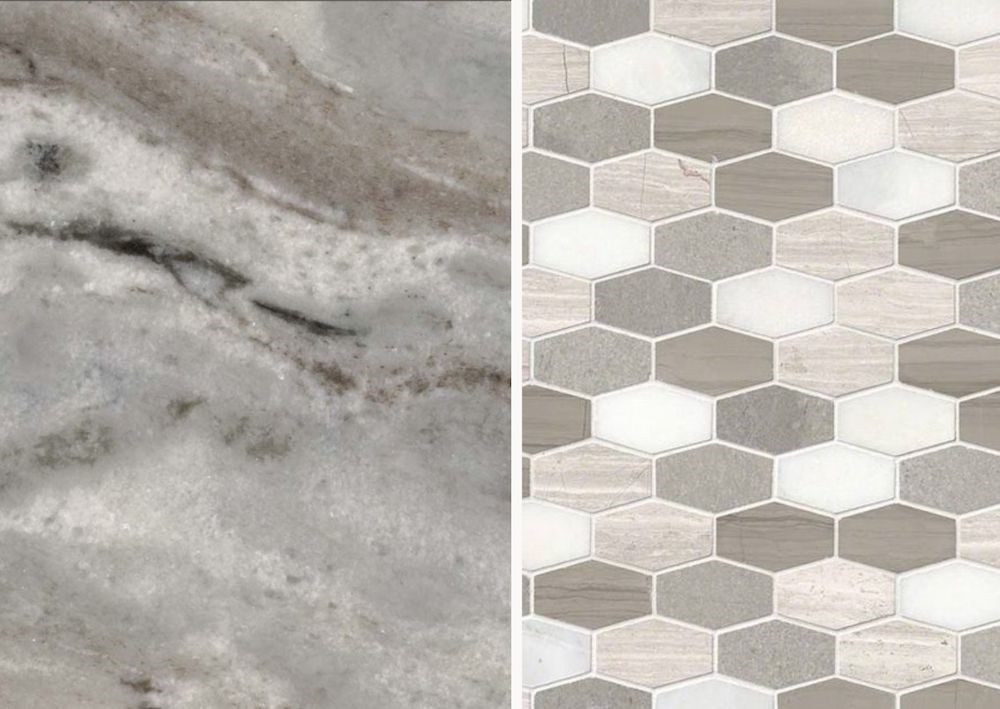 Fantasy Brown Marble and Bellagio Blend Elongated Hexagon Backsplash Tile
Pairing a Fantasy Brown Marble countertop with a Bellagio Blend Elongated Hexagon backsplash offers any kitchen space classic elegance and modern appeal. Fantasy Brown Marble, renowned for its mesmerizing fusion of beige, brown, and gray tones, forms an impressive centerpiece that adds opulence to a kitchen. Its distinctive veining and swirling patterns create a captivating visual effect that elevates the overall aesthetic. Complementing this luxurious countertop is Bellagio Blend backsplash tile, with its elongated hexagon look in a blend of warm and cool tones. This pairing achieves a delicate balance with the traditional beauty of marble and the trendy allure of hexagon tiles, resulting in a sophisticated kitchen with a contemporary edge.
Uniting Timeless Charm and Cutting-Edge Flair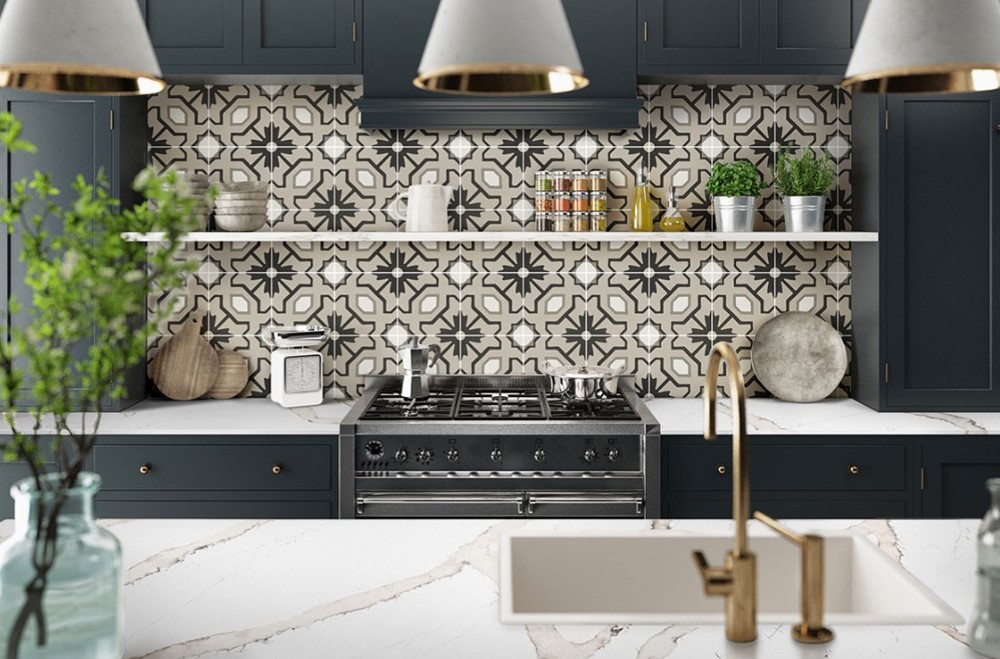 Calacatta Goa Quartz Countertop and Kenzzi Tahari Backsplash Tile
This delightful combination of Calacatta Goa quartz and Kenzzi Tahari encaustic tiles combines the look of natural stone and modern intricate patterns to create a captivating kitchen space. The quartz countertop boasts elegant veining in soft hues, infusing the kitchen with refined luxury. In perfect synchrony, the backsplash features old world encaustic patterns with a contemporary style, adding a bold and artistic statement. Together, they highlight another of our top design trends for this year, More Than Mod, showcasing a blend of classic and contemporary elements. This design enhances the kitchen's visual appeal and demonstrates how combining different design components can create an inspiring kitchen.
Harmonizing Natural Beauty and Contemporary Style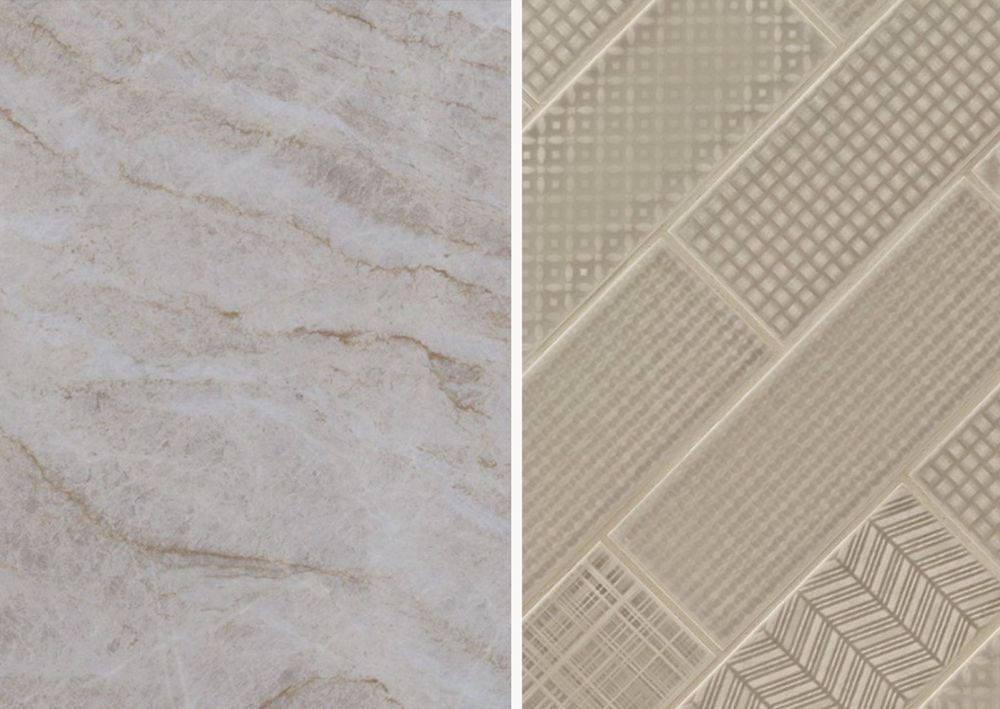 Taj Mahal Quartzite Countertop with an Urbano Warm Concrete 3D Mix Backsplash Tile
Marrying a Taj Mahal quartzite countertop with an Urbano Warm Concrete 3D Mix backsplash brings sophistication and charm to any kitchen. Taj Mahal's warm beige and ivory hues add a timeless appeal, while its natural veining adds luxury. The Urbano Warm Concrete 3D Mix backsplash complements the countertop with a blend of warm and cool concrete tones, giving the kitchen a contemporary twist. The 3D mix effect adds depth and visual interest, creating an inviting space for cooking and socializing. This striking pair showcases how classic beauty and modern elements can create an attractive and welcoming kitchen.
Embracing Nature's Beauty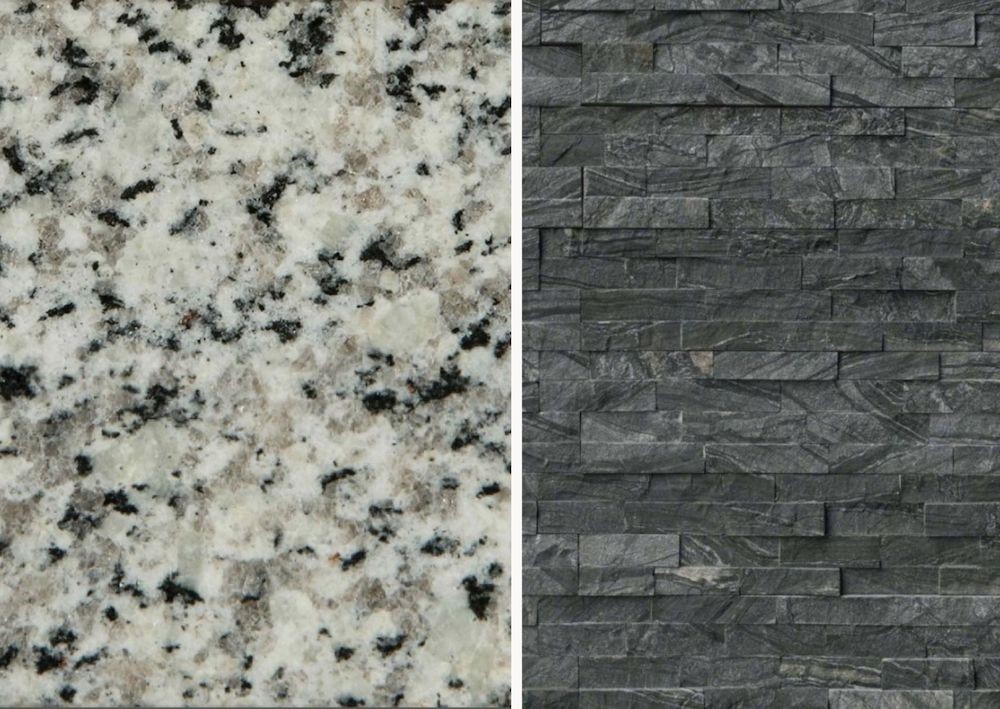 Valle Nevado Granite Countertop and Glacial Black Stacked Stone Backsplash
Combining a Valle Nevado granite countertop with Glacial Black stacked stone for the backsplash presents a fusion of natural beauty and modern elegance in any kitchen space. The Valle Nevado granite, with its striking blend of white, gray, and black tones, brings sophistication and depth to the countertop, creating a visual appeal that draws the eye. Complementing this stunning granite, the Glacial Black stacked stone backsplash features rich, dark hues that add a contemporary touch to the design. The interlocking stone pieces create a sense of texture and depth, transforming the backsplash into a work of art. This seamless pairing harmonizes natural stone with sleek modern stacked stone, creating a kitchen with natural style and modern functionality.
Find Your Perfect Pairing
Combining neutral countertops with complementary backsplashes is a fantastic way to transform your kitchen. We've seen how the right mix of materials and textures can elevate the space, adding elegance and a modern touch. The seamless blend of timeless neutrals with vibrant accents enhances a kitchen's look and reflects your personal style. Whether pairing quartz countertops with ceramic backsplashes or natural stone countertops with modern stacked stone, the options are limitless. Embracing the harmony between classic and contemporary elements allows you to create a functional and visually appealing kitchen. So, let your creativity shine as you design a kitchen that represents your taste and preference.
Ready to get started? Let us help! Chat with us online now, visit one of our many MSI showrooms, or contact and authorized MSI retailer near you.
LEARN MORE ABOUT BACKSPLASH TILE
Create Sparkle With Modern Metallic Backsplashes
Using Geometric Tile Patterns To Create Unique Backsplashes
Full Height Quartz Backsplashes To Complement Your New Quartz Countertop
From Subway Tile To Mosaics: The Latest Decorative Accent Tiles For Walls And Beyond