Using Geometric Tile Patterns To Create Unique Backsplashes
August 21, 2022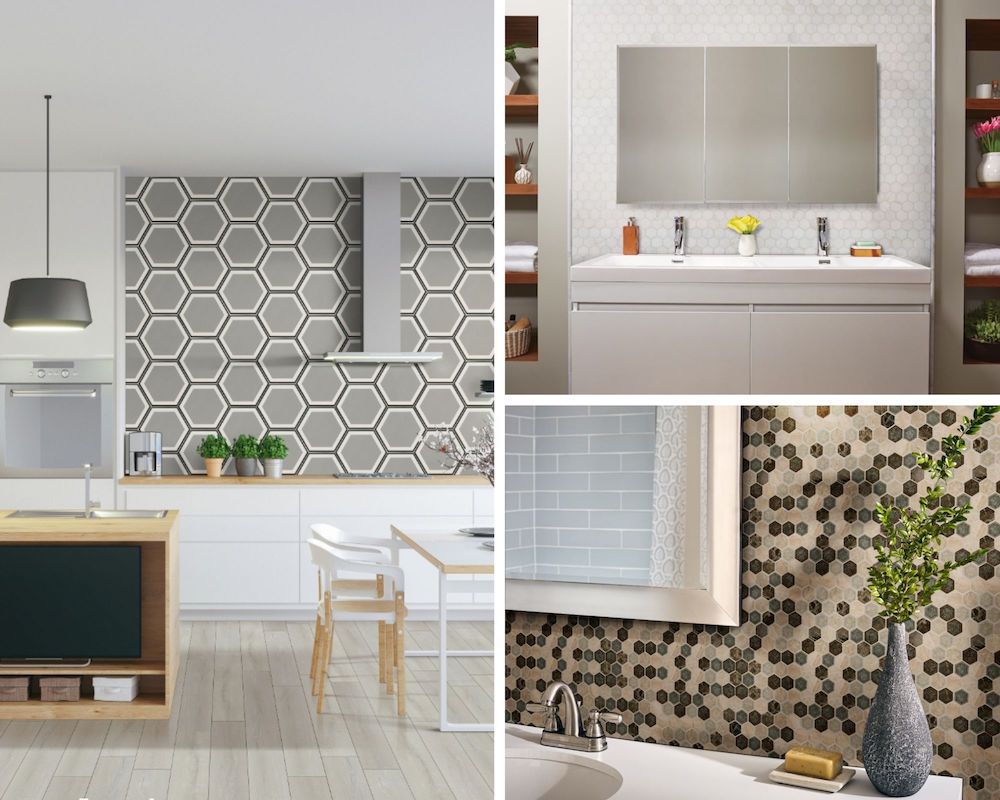 If you're looking for a fun way to make your bathroom or kitchen unique, look no further. You can make a splash by creating a clever backsplash with tile that creates geometric tile patterns.
But how do you know where to begin? Tiles feel a bit permanent, so you don't want to just start sticking them to the wall. By the time you've finished reading this article, you'll have several ideas for how to turn your blank backsplash into an instant work of art.
How to Use Geometric Tiles
Designers in the past few years have begun to use geometric tiles to create unique patterns. They've shied away from the monochromatic style of the past and are now using the designs of individual tiles to create overall bigger repeated images on walls and floors. Here are a few of the most interesting techniques.
Interwoven Ovals
You can create a beautiful chain of ovals by pairing square tiles that have half circles on them. The pattern will carry an intricate and sophisticated feel to it, especially when you use classy colors like silver and blue.
The pattern will consist of four shapes. You will easily see the silver ovals and diamonds, but if you look closely, you'll also see mirrored images of diamonds and ovals in the negative space.
Triangles
Use triangular tiles to create bigger and smaller triangles. You can also place the triangles so they create trapezoids at the same time. When you step back, you should also e able to see bigger triangles and hexagons.
When using triangles, focus on creating prominent shapes. Take your time to design the tile pattern. Put together a small pattern first, and then fill it in and see how it looks as you step back.
As you play with the tiles, you'll see endless possibilities of shapes you can create by repeating the patterns.
Historical Backsplashes
You can also create unique backsplash designs by looking back in history. Look at the Greek pattern called "meandros" or meander pattern.
This is a swirled print that adds design and structure to your space. This particular design also emphasizes hard angles. You will see this design throughout history as ancient cultures relied on mathematical shapes for the decor in their homes.
You also do not have to use the tiles from one end of the wall to the other. Instead, you can use them as a border or trim design. As you do this, you still create a geometric pattern with the tiles, depending on their shape.
Flat Backsplash
You can create a unique design by using a monochromatic tile but varying the depth of the tile. Doing this will create shadows as the light plays on the tile. This adds depth and dimension to the wall.
When you use your tiles for creative kitchen tile designs, you add to the value and uniqueness of your home.
If the process of putting together designs overwhelms you, you can always seek out a designer who will assist you in choosing tile patterns and using a backsplash visualizer.
Hexagon Tile Patterns
Hexagon tile patterns have existed for decades. You can often find hexagon used as bathroom tile on floors and kitchen backsplashes. They're making their way into the world of design once again, but not all hexagon tiles are the same. Here are a few tiles that stand out.
Hexley Hive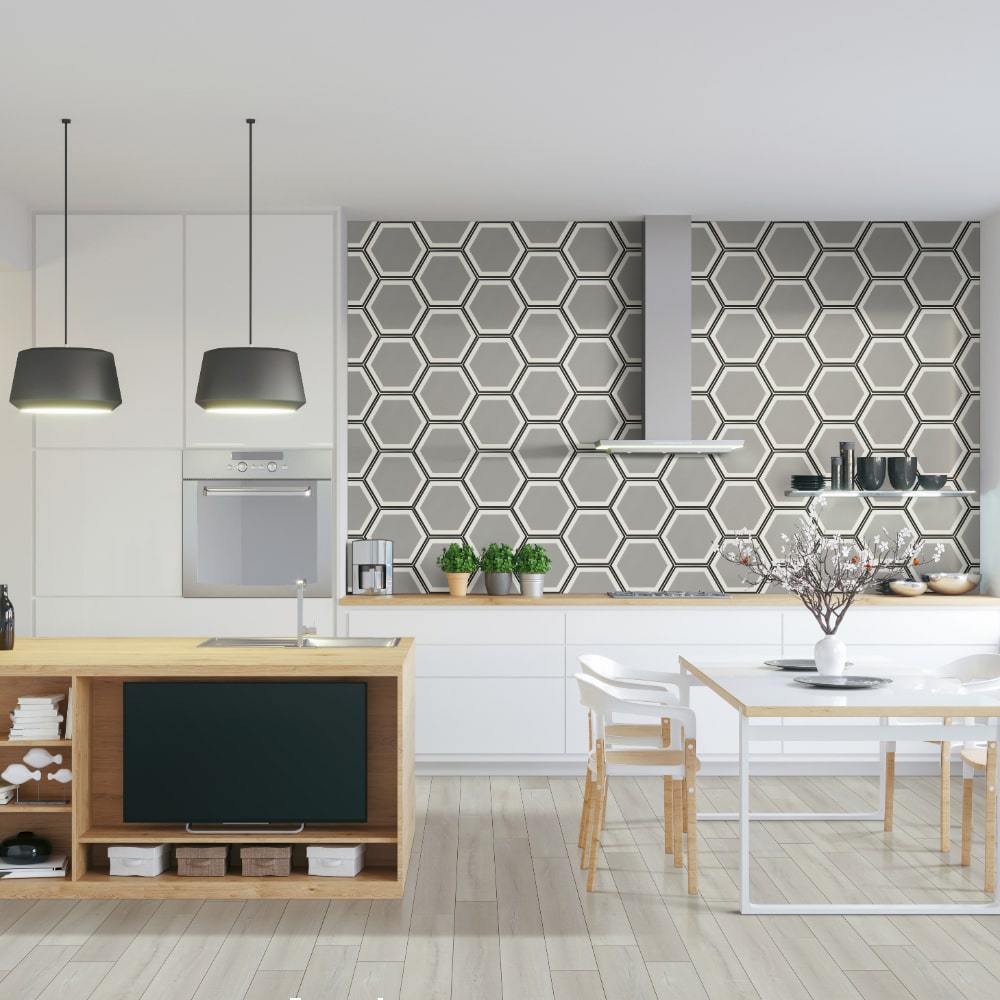 Hexley Hive hexagon tile comes in three colors with a classic geo shape and is part of the new MSI Hexley collection. This exquisite collection works well on bathroom floors, vanity walls, and shower walls.
When you pair the Hive with other Hexley tiles, they create unique designs that makes the tile combination truly yours.
Bianco Dolomite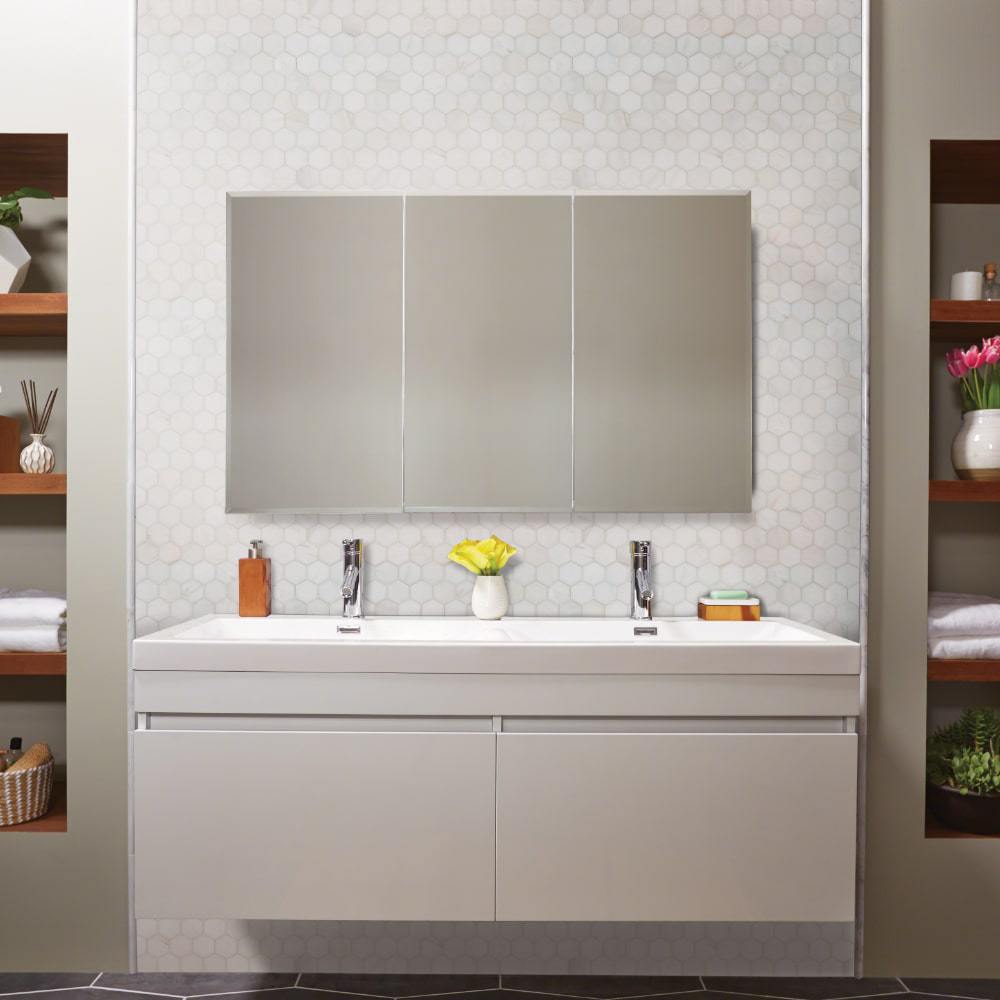 The Bianco Dolomite 2" Hexagon tile comes directly from Turkey. It has a soft white background with smooth swirls and veins. It works well for backsplash, floor, or wall tile, and you can even use it as a countertop.
The neutrality of the Bianco makes it work especially well with other tiles to create a truly unique design.
Icelandic Green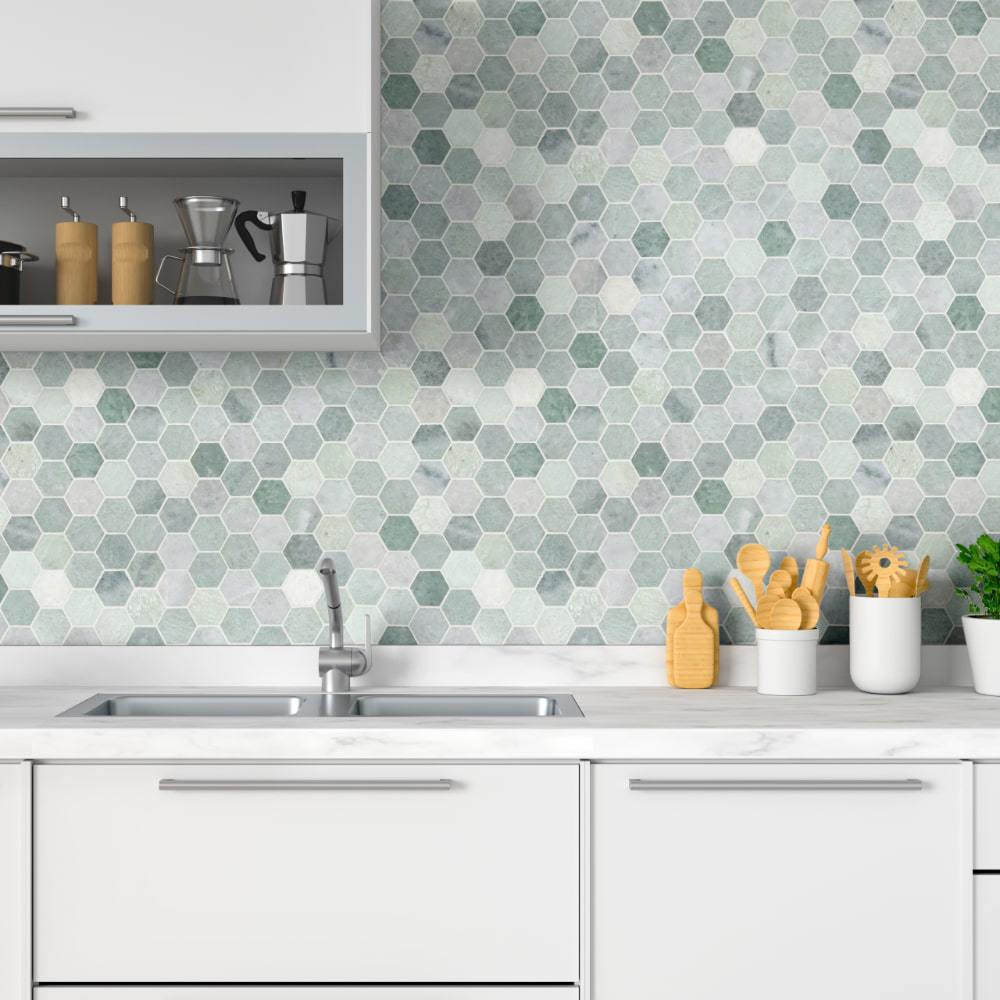 The Icelandic Green 2" mosaic tile consists of modern geometric hexagons in an array of green. In the world of tile, green complements nearly any style and color, as it is a timeless choice.
The green tile works well in both residential and commercial spaces. It creates beautiful backsplashes, accent walls, flooring, and shower surround.
Kensington Hexagon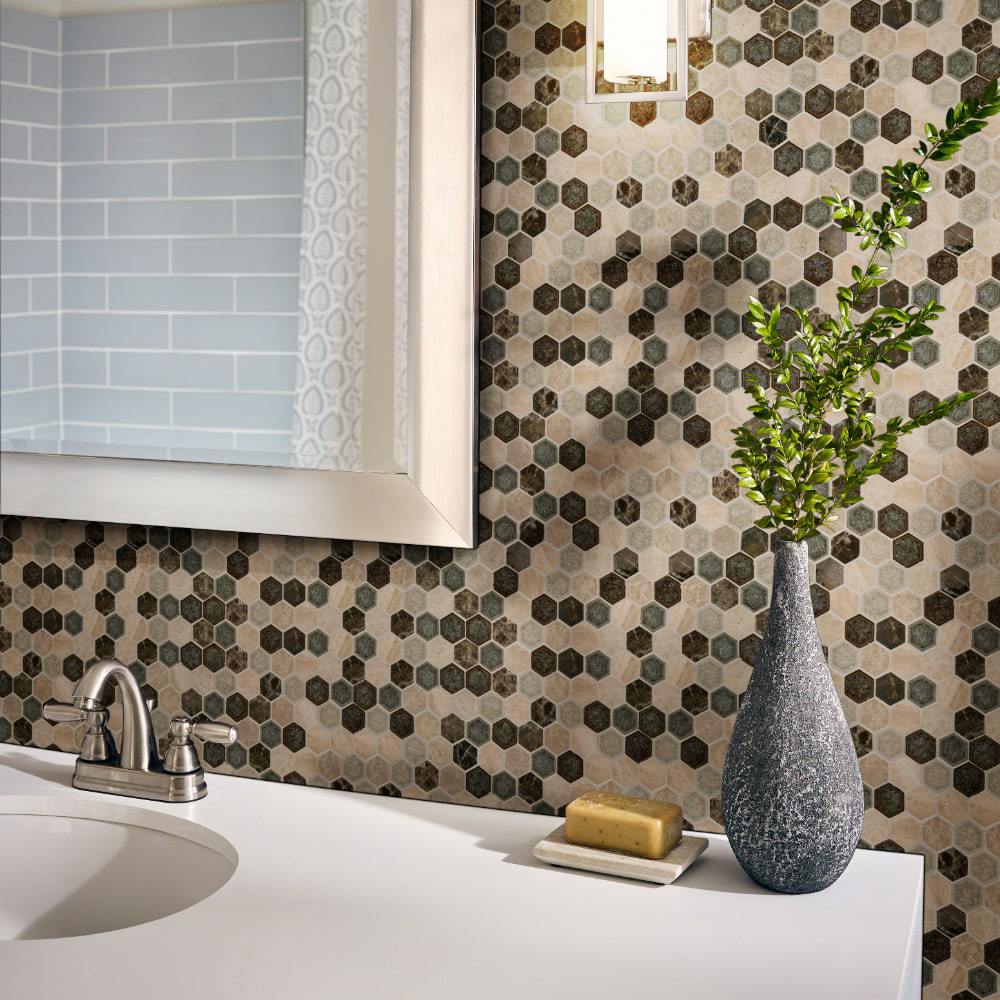 When you're looking for a warmer tile, the Kensington Hexagon 1" tile fits the bill. This stone tile has a dramatic veining and yet a reflective glass look. As a result, it creates an artistic feel.
The Kensington works well for accent walls, backsplashes, showers, and floors.
Urban Tapestry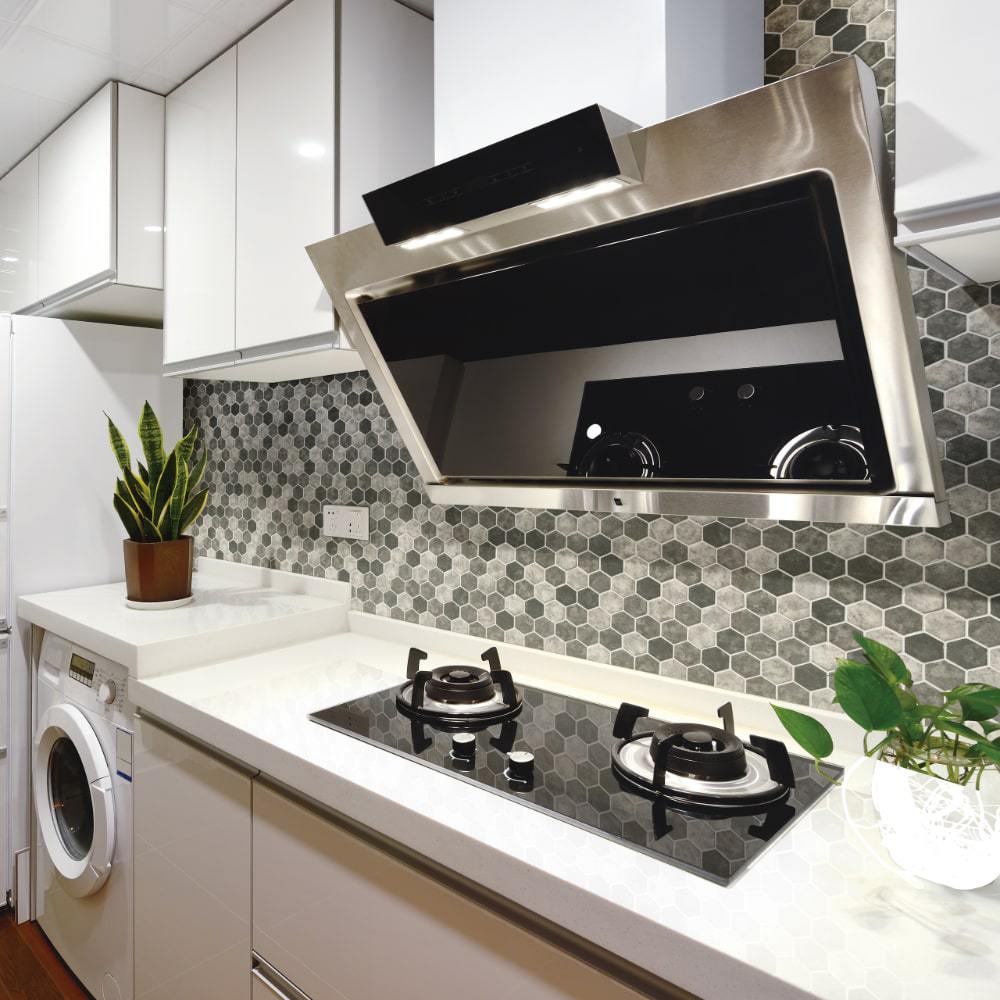 The Urban Tapestry hexagon tile is truly different from the previous hexagon tiles. It is a 2-inch recycled glass tile that combines a contemporary look with a traditional shape. You can get the tile in gray, white, and charcoal, making it the perfect medium for a dramatic feel, depending on how you put your tile together.
The Urban Tapestry works well on accent walls, countertops, shower walls, or even little nooks that need their own personality. This mosaic gives both commercial and residential spaces some visual intrigue.
Get Creative With Geometric Tile
When you're working with geometric tiles, the sky is the limit. Take time to put your tiles together and create the feeling that you're looking for. Using tiles as your medium will give you the unique space you desire and truly make your kitchen, bathroom, or entire home stand out.
Do you want your home to stand out? Are you looking for a creative outlet? Put down the paintbrush and take a look at our geometric tile.
We have quality tiles in a variety of styles and colors. Contact us today and let your creative side loose, or chat with us on our website for immediate assistance.