Full Height Quartz Backsplashes To Complement Your New Quartz Countertop
July 15, 2022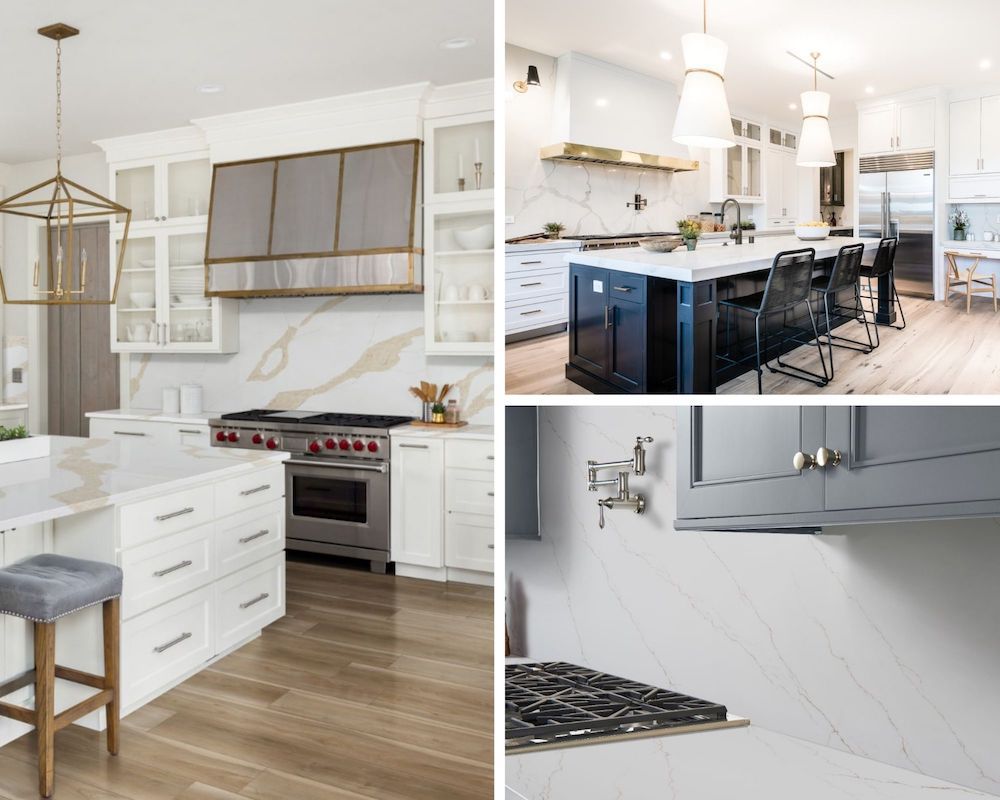 The backsplash, while an essential element of kitchen and bathroom design, is often treated as a secondary consideration after the more important counter and cabinet materials have been chosen. The functional appeal of this vertical surface can't be denied, as it protects the wall from splashes and splatters, but when you choose to extend your quartz countertop to the backsplash, you add breathtaking visual appeal.
When you select MSI engineered quartz for both your counter and backsplash material, you'll find several advantages, both functional and aesthetic. This is even more apparent when opting for a full-height (versus standard) backsplash. What benefits will you enjoy when your design features a full-height quartz backsplash?
Standard vs. Full-Height Backsplash
Typically, backsplashes need only reach a height of about 4" above the counter surface, but as enthusiastic cooks know, this splash zone is far from ideal when you're beating eggs in a frenzy or frying up some fish.
These days, taller backsplashes are de rigueur, and at full height, they extend as far as the bottom of upper cabinets, the underside of the hood vent, or even the soffit or ceiling.
Interior designers differ on the height of backsplash they prefer, and it varies by project. However, there's no denying the practical benefits of a more expansive backsplash, and there are aesthetic reasons to go this route, as well.
Benefits of Going the Distance
The first and most obvious reason to extend your backsplash beyond the standard 4"-mark is protection; in this sense, quartz is the perfect material for your modern design.
This non-porous, engineered surface is incredibly low-maintenance and easy to clean. You can use pretty much any all-purpose home cleaner — or simple dish soap and water — to quickly wipe away grease and other food splatters.
Full-height backsplashes also serve as an ideal complement to stunning quartz countertops for kitchens. They extend the visual appeal of the counters, adding color and pattern to areas often designed to recede.
When you skip the boring subway tile in favor of eye-catching quartz, you can make a sophisticated style statement and add a bold personality to your design. Custom-shaped slabs can add to your aesthetic even more.
Why Quartz Is a Great Choice for a Matching Counter and Backsplash
Modern quartz has many appealing qualities because it's a non-porous, food-safe surface. It's especially resistant to damage like staining, abrasions, chipping, and cracking.
While it's not as heat resistant as natural stone countertop material (marble, granite, quartzite, etc.), it can reliably withstand temperatures up to about 300°F. However, the ease of cleaning and the fact that it never needs to be sealed makes it an ideal backsplash material to go with your quartz countertops.
Of course, it's also a beautiful addition to your kitchen design. You can have the best of both worlds with varieties that look like your favorite marble or granite slabs. Quartz is also available in a range of unique colors and patterns not found in nature.
Which MSI Quartz Is Right for Your Kitchen Remodel?
Choosing the right quartz countertop and backsplash variety for your modern kitchen is no easy task. With so many striking designs to choose from, it can be difficult to narrow down your choices, and when you're covering that much space, you definitely want to make the right decision.
Among the most attractive and popular quartz colors is a range of Calacatta varieties made to look like marble of the same name. Here are a few that will serve as the star of your kitchen design without overwhelming your space.
Calacatta Leon Gold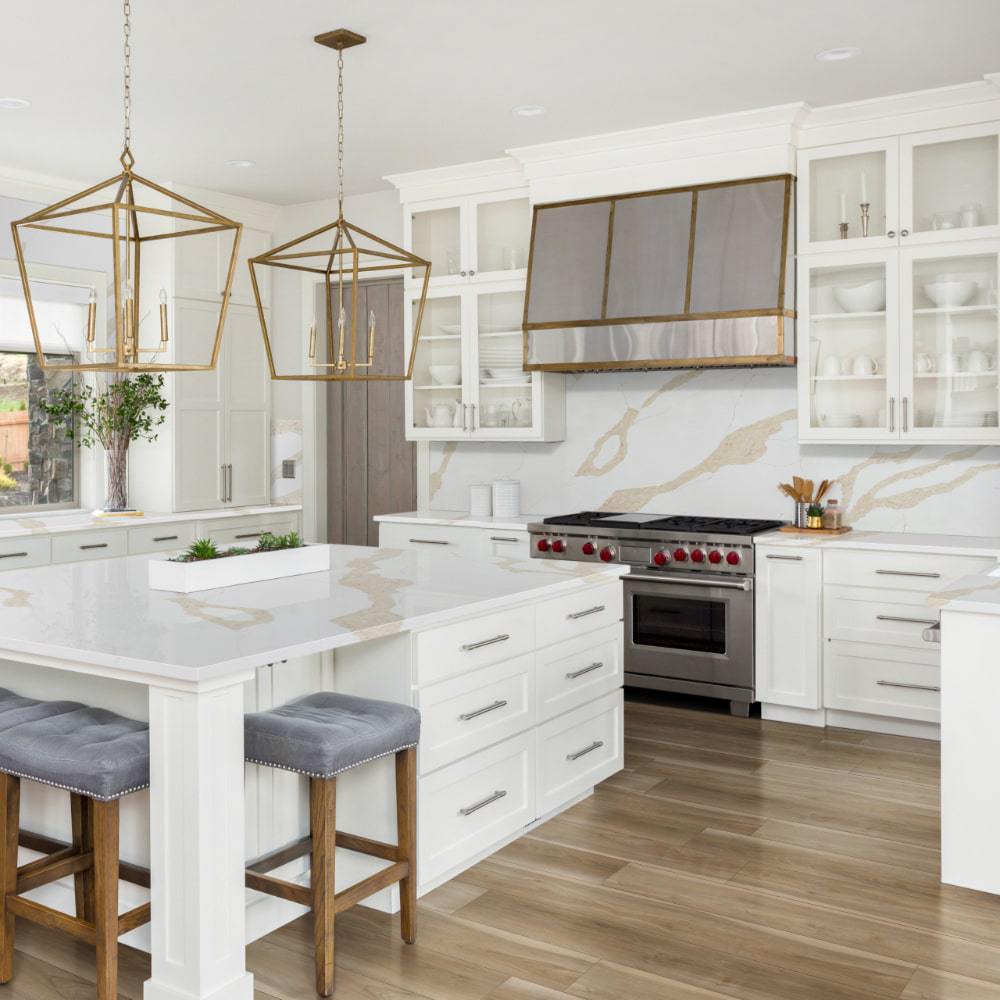 Calacatta Leon Gold Quartz
There's a certain softness about Calacatta Leon Gold, which features a white background with heavy yet gentle veining in warm golden, taupe, and tawny tones. The look is a perfect balance of boldness and subtlety that creates a focal point without screaming for attention.
Because of the warm, neutral hues, this Calacatta design is a great option to pair with wood cabinets and trendy hardware in gold or antique brass, as the rippling veins will tie in nicely with golds and browns. If you want more contrast, add this countertop and backsplash material to an all-white kitchen to see the veins really stand out.
Calacatta Miraggio Gold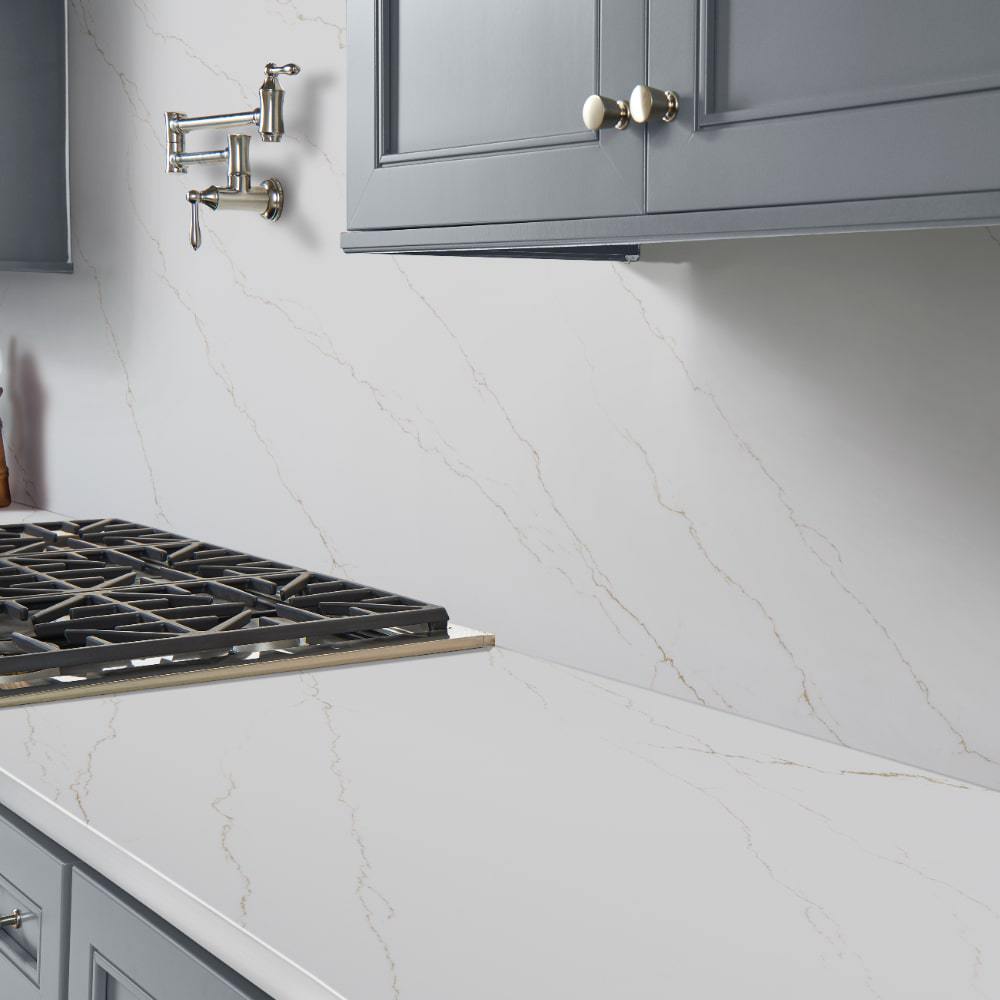 Calacatta Miraggio Gold Quartz
Calacatta Miraggio Gold quartz epitomizes a refined and relaxing marble look. With a crisp, white background and subtle, delicate veining in honeyed hues, it imbues your space with a sense of serenity that supports quality family time spent preparing and enjoying meals together.
It's also incredibly versatile and works well with a cool or warm color scheme. While the barely-there pattern is a bit too subtle to truly stand out in a white kitchen, this variety adds a striking contrast to dark wood and black, gray, or colored cabinetry. Or you can tone it down with cream or light-colored wood cabinets.
Calacatta Laza
Calacatta Laza Quartz
Suppose that you're looking for a classic marble appearance. In that case, Calacatta Laza delivers a soft, milky backdrop marked by prominent, ropy veining in pale gray with hints of brown outlining the striations. For a counter and backsplash that really make a splash, you can't go wrong with this traditional marble look.
Unlike subtler options, Calacatta Laza stands out beautifully against white cabinets, as the dramatic pattern draws the eye. Surprisingly, this neutral variety leans a bit warm, so it's also a great choice to pair with wood if you prefer an inviting space over the airy appeal of an all-white kitchen.
Calacatta Verona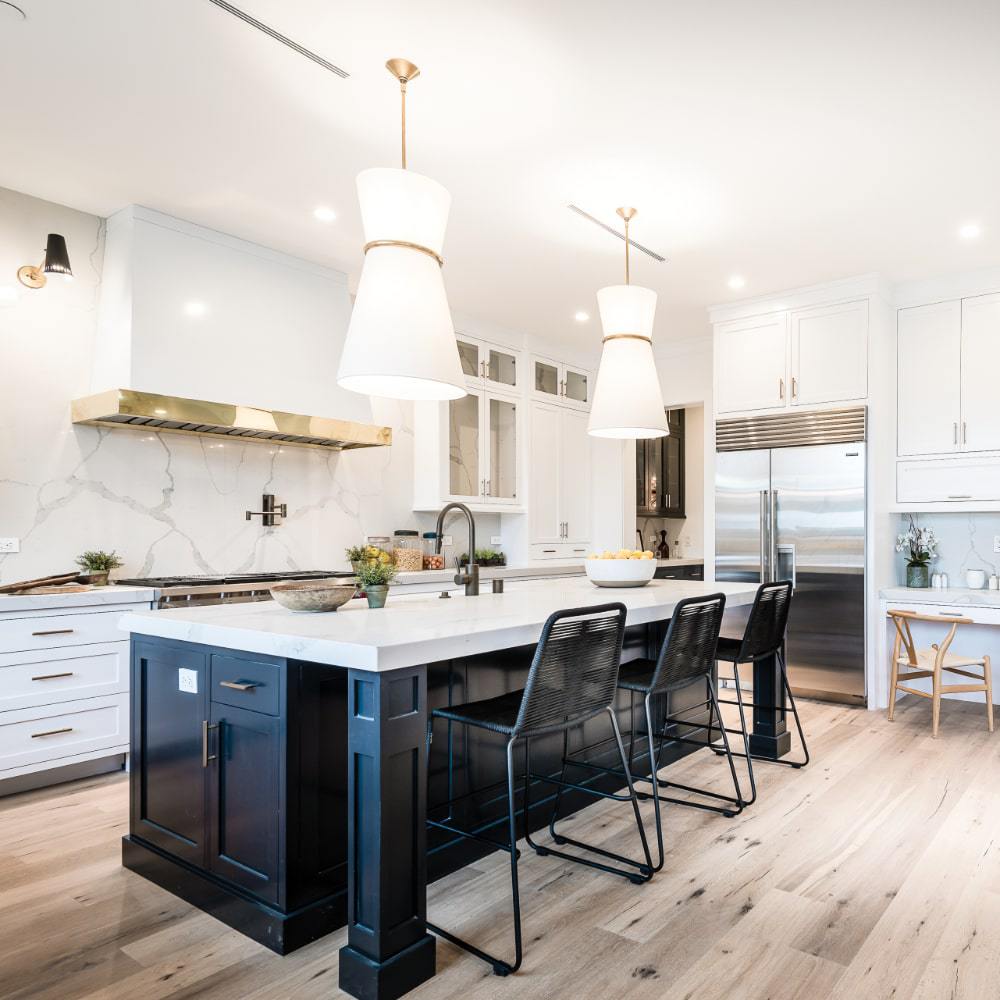 Calacatta Verona Quartz
A soft, white background and wispy, gray veining make Calacatta Verona a fine choice for your sophisticated, modern home interior. This stone pairs particularly well with trendy, colored cabinets in navy, teal, or other cool hues.
Although it brings some visual interest to a white kitchen, the soft, insubstantial quality of the veining won't do much to catch the eye. A bolder color palette allows the counter and backsplash to pop, making the pattern slightly more noticeable.
With so many lovely MSI quartz surfaces to choose from, you're sure to find the design that suits your style and adds just the right amount of visual appeal to your counter and backsplash combination.
Still, have questions or want a little insight into our incredible array of countertops? We're here to help! You can connect with our team using the simple chat feature at the bottom of this page, visit an MSI showroom, or contact an authorized MSI retailer in your area.
Learn More About MSI Quartz Countertops
Sink Choices For Your New Quartz Countertop And Beyond
The Benefits of Prefab Quartz Countertops
6 Reasons To Choose An MSI Quartz Countertop
Get Peace of Mind with our Q Premium Natural Quartz Warranty
8 Quartz Countertop Island Ideas to Inspire Your Dream Kitchen