Mosaic Monday: Winter White Mosaics
March 20, 2017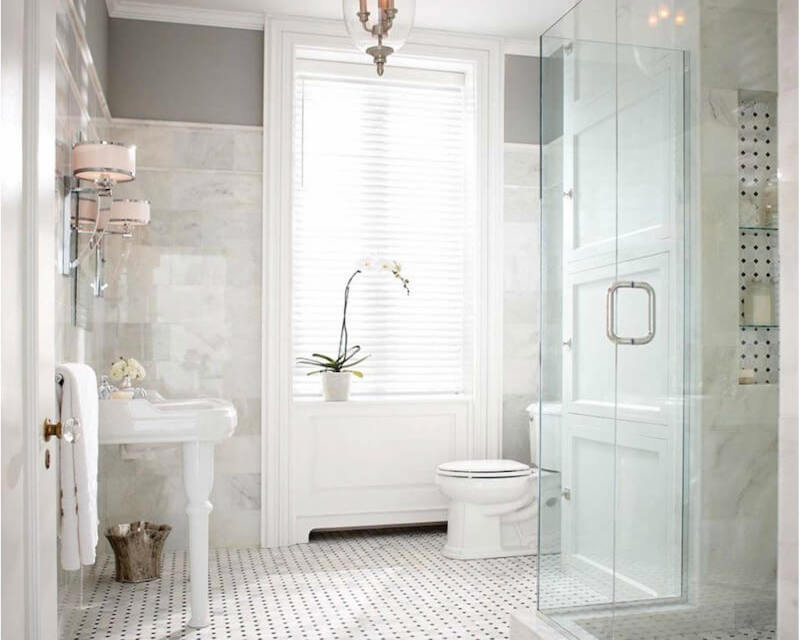 Remodeling and redecorating are not for the faint of heart! The endless choices—materials, color schemes, texture, and patterns—each one can make for a difficult home makeover. The good news is that there's one look that appeals to everyone, and it can be personalized to your exact style. What is it? It's white on white!
Designing with white is a popular choice for many homeowners because it offers a crisp, clean look. And white hued mosaics are the perfect way to add pattern and texture to a kitchen or bathroom. With so many different shades of white to choose from, you're sure to find one that suits you perfectly.
Whether your preference has gray, taupe, or blue undertones, you can incorporate complementary hues to create a cohesive room that's anything but boring. With that in mind, here are five winter white mosaics you'll want to feature in your home.
Classic Basketweave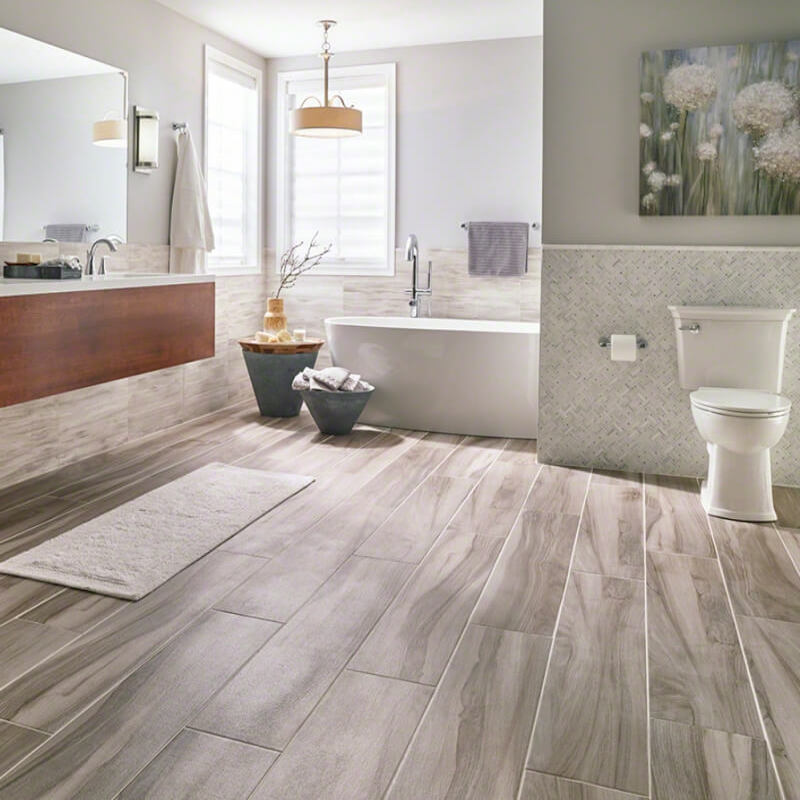 Featured: Greecian White Basketweave Marble Mosaic
This contemporary bathroom beautifully blends modern features with classic touches, such as Greecian White Basketweave Marble Mosaic tile The polished marble tile features grays and creams with black accents. Diagonal installation gives the look a bit more of a twist. Because it's not a pure white color, this classic tile works well with the other warmer neutrals, from the taupe wall color to the wood-look tile floors.
Luxurious Leaves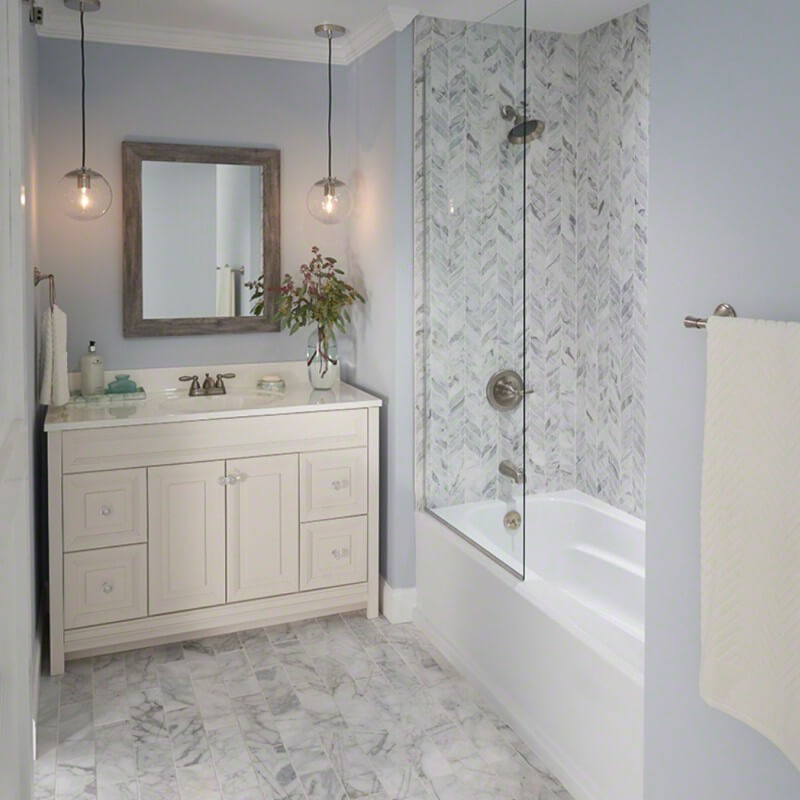 Featured: Calacatta Cressa Leaf Honed Marble Mosaic
A bathtub is the perfect place to showcase your style using mosaics. This chic space takes the tile from tub to ceiling using Calacatta Cressa Leaf Honed Marble Mosaic. This leaf-patterned honed marble mosaic is similar to a chevron pattern, but the curved leaves provide a softer and more elegant look.
With marble on both floor and tub surround, these homeowners turned to the rich undertones of the natural stone for the rest of the design inspiration. The cream-colored vanity and periwinkle walls perfectly tie in the various subtle hues in the marble.
Sleek Lotus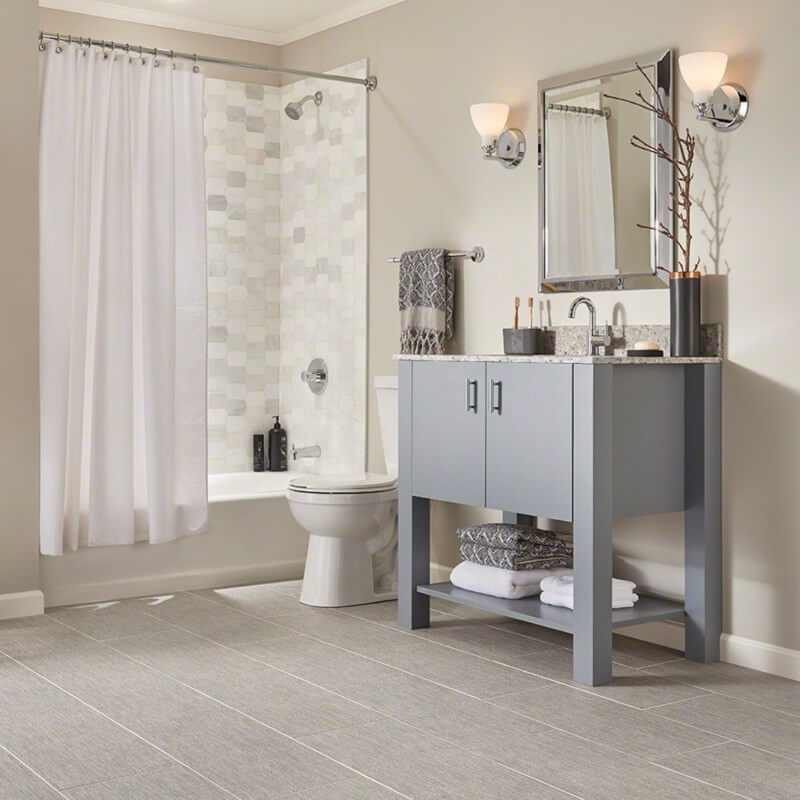 Featured: Calypso Blanco Lotus Pattern Marble Mosaic
This contemporary bathroom is not all white, but rather full of warm neutrals that pull from the striking mosaic tiles featured in the bathtub. Calypso Blanco Lotus Pattern Marble Mosaic is a lotus pattern that features a trio of finishes and is composed of natural Arabescato Carrara Marble.
From textured to smooth tiles, these mosaics offer various colors, including bright whites, beiges, and grays. The mostly monochromatic bathroom utilizes white as an accent color, from the clean shower curtain to the crisp towels.
Shiny Subway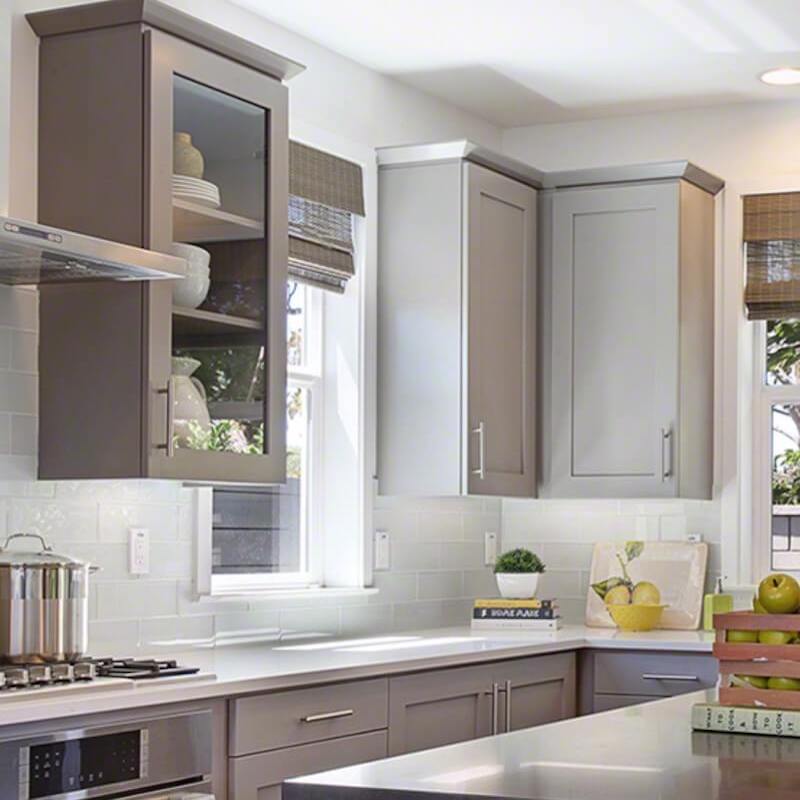 Featured: Ice Subway Mosaic
This traditional kitchen carries the countertop's white to the backsplash tiles. These homeowners introduced pattern and texture to their overall classic look using MSI's Ice Subway Mosaic Tile. This elegant, crystalized glass subway tile in a soft white tone adds shimmer and interest, but without overwhelming the clean and simple kitchen design. You can also install these 4x12 tiles in a vertical or herringbone pattern for even more detail.
Mixing Mosaics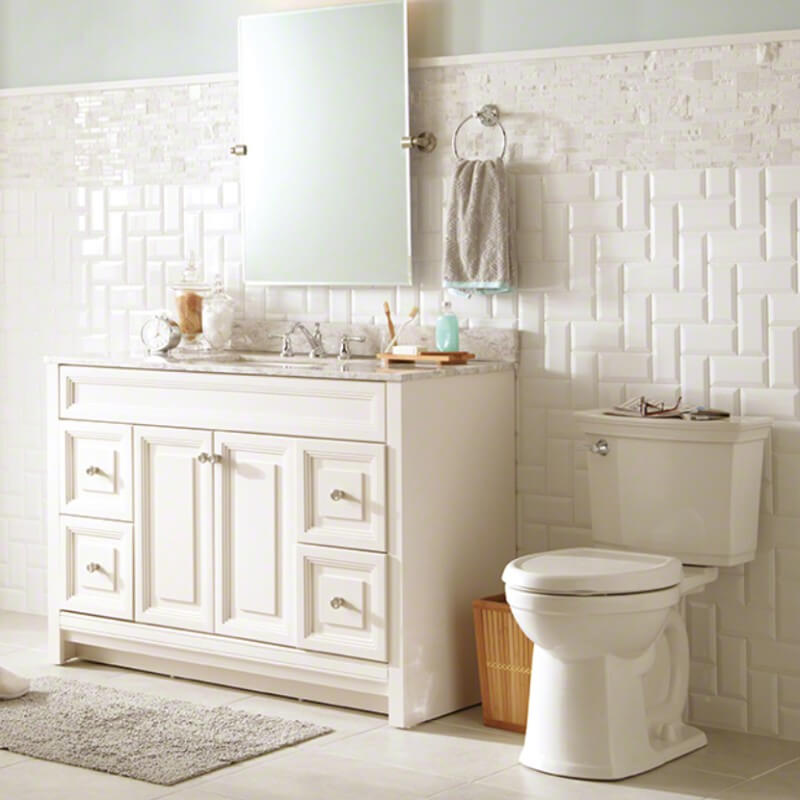 Featured: Greecian White Opus Marble Mosaic
When you want a mostly white bathroom, look no further than this final inspiration! Instead of plain white walls, the backsplash design mixes two different types of mosaics to add much-needed pattern and texture to the space. At the top is Greecian White Opus Marble Mosaic, a soft white and gray marble. The different sizes of stone and mixed finishes create a rustic yet refined elegance.
The main event of this feature wall is created using White Glossy Subway Tile Beveled Mosaic, a unique twist on the classic subway tile. The staggered beveled edge on these glossy porcelain 2x4 tiles marries well with both traditional and modern décors.