Current Obsessions: Why The Countertop Matters The Most In Your Kitchen Remodel
December 21, 2017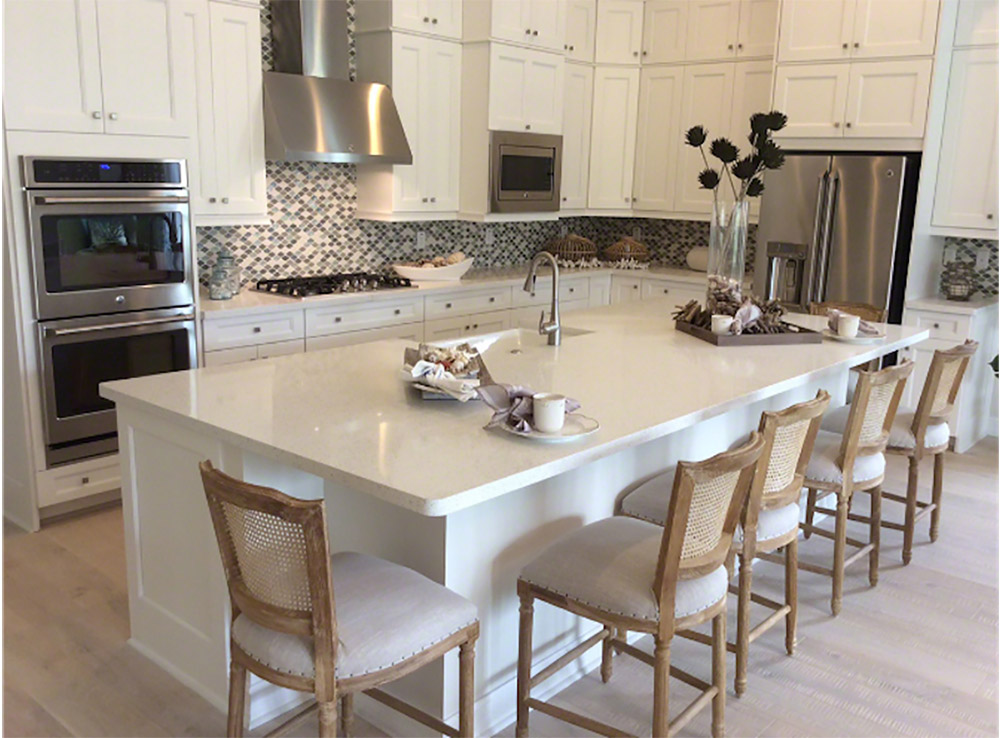 When planning a kitchen remodel, there are a lot of decisions to make. The first is how to allocate funds, and this may depend on whether you plan to improve the functionality of your home or make cosmetic updates to your cooking area to maximize resale value. It can be a challenge to decide where to splurge and where to save, all while keeping in mind your personal style and return on investment.
For answers about kitchen remodeling, ask any Realtor, contractor, or interior designer. They'll tell you that one of the biggest impacts you can make is with a new countertop. Because they are so visible, countertops are a focal point in any home, and in particular, quartz countertops meet all of the requirements for a successful remodel.
While natural stone provides many beautiful options, quartz's durability, variety of colors, and ability to mimic the look of marble, makes it a popular alternative. Plus, man-made quartz looks perfectly at home in both contemporary and traditional kitchens, so you're sure to find a pattern and color that perfectly suits your aesthetic. And if you're weighing the pros and cons of quartz vs. granite, then it's important to point out that quartz offers a number of appealing benefits, such as no long-term maintenance, a smooth surface that won't harbor bacteria, and scratch- and stain-resistance.
With so much at stake with your countertop choice, quartz is an option that offers a tough and versatile material for modern living. With that in mind, we feature some of our favorite quartz countertops for your next kitchen remodel.
Shadow Gray
To add contrast to your kitchen, look to Shadow Gray Quartz. This deep, dusky graphite gray quartz countertop features flecks of onyx, pewter and iron. Complemented by oversized pendant lights and white cabinetry, the dark countertop on the island stands out as the focal point in this kitchen.
Calacatta Verona
For the upscale look of marble—without the maintenance—consider Calacatta Verona Quartz. Its warm white background and subtle veining makes it a stunningly realistic option for a spectacular kitchen. Unlike real marble, this resilient surface doesn't need to be sealed, so you can count on your bright white counters retaining their classic look for years to come.
Lagos Azul
If a dark countertop suits your style, Lagos Azul Quartz is a perfect choice for a remodel of what promises to be a busy kitchen. Here, the solid brown quartz with subtle flecks of dark brown complements classic French white cabinetry. While it might hide crumbs and other messes, you won't have to worry about spills on its stain-resistant surface.
Cashmere Oro
Brighten up your kitchen with Cashmere Oro Quartz! Its peaceful blend of soft whites with barely-there veining lends quiet drama to this contemporary kitchen. The island's countertop is gracefully balanced by the white shaker-style cabinetry, and the soft hues of the countertops bounce light from the windows.
Calacatta Laza
Create an eye-catching kitchen with Calacatta Laza Quartz, another quartz that looks just like marble. This countertop includes a milky white background with realistic veining. The dramatic movement of its luxurious lines makes an unmistakable statement on the waterfall edge of this island.
Remember, a new kitchen countertop will get you the most value with an upgrade or remodel, and it's important to select materials that will both meet your needs and stand up to use and abuse. MSI offers nearly 70 colors of quartz to choose from, including several white quartz countertops and quartz countertops that look like Carrara marble. Make your kitchen the focal point of your house with a new quartz countertop. And for even more kitchen remodel inspiration, check out MSI's Room Scene Gallery of gorgeous kitchen designs.
Read More About Quartz Countertops Designs and Trends:
5 Inspirational Tools Featuring Quartz Countertops
How Much Should You Budget for A New Quartz Countertop
The Guide to Picking Your Perfect Quartz Countertop Edge
Everything You Need to Know About Buying Quartz Countertops