Add A Decorative Touch With Piedra Polished Pebbles
December 15, 2020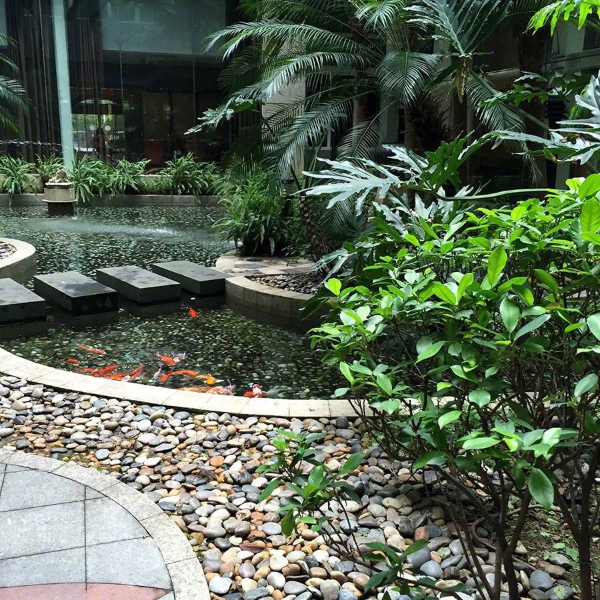 Using pebbles for your hardscape designs can provide that finishing touch that brings it all together with elegance and charm. Pebbles aren't just for filling in empty spaces, though — they deliver beauty as well as function. That's why there are so many stone choices to choose from, in a variety of sizes, shapes, textures, and colors.
But, how do you decide which type of garden rock is right for your outdoor spaces? Don't just randomly pick the first one you like. There are many things to consider to ensure that the perfect look and purpose are achieved. Will you need to walk on the area? Will you be contrasting one color pebble with another?
Pebbles can also act as a form of permanent mulch to block weeds. Remember that light-colored pebbles reflect light and heat, while darker ones absorb heat; this may make a difference in your garden design, as it affects the temperature of the soil underneath or the water above.
An integrated hardscape design may include pebbles of various sizes and colors, along with other types of natural stone such as cobbles and pavers. This short video highlights some of MSI's other popular hardscape products, and will inspire your creativity:
Consider the following pebbles from MSI's Piedra Pebble Collection, and see how they perform in hardscape designs and complement other elements.
Red Polished Quartzite Pebbles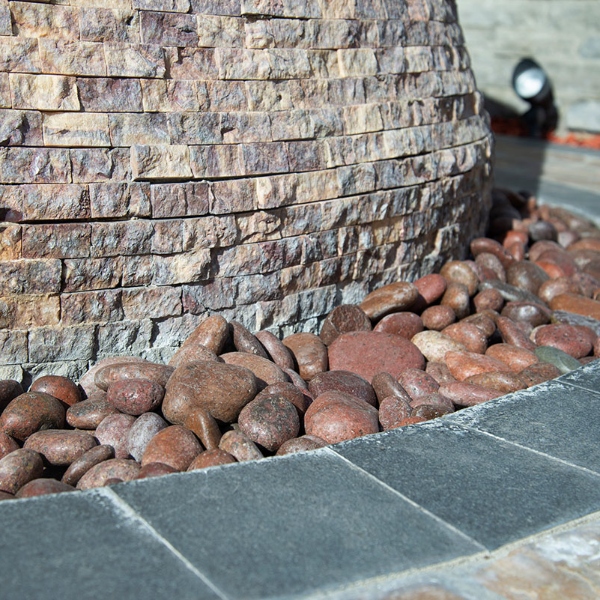 When planning your hardscape design, you might already know which ideas you want to include in the area such as water features, walkways, or raised garden beds. However, you also need to decide what the end look should feel like — what ¬aesthetic are you trying to achieve, and what mood do you wish to create? If you want to create a natural, rustic look you would choose a different type of hardscape stone than you might choose if your desired end result is modern and contemporary. Red Polished Quartzite pebbles, with their smooth surfaces and vivid shades, add a dash of color to either a traditional or contemporary design, catching the eye to highlight the other features they surround.
Yellow Polished Marble Pebbles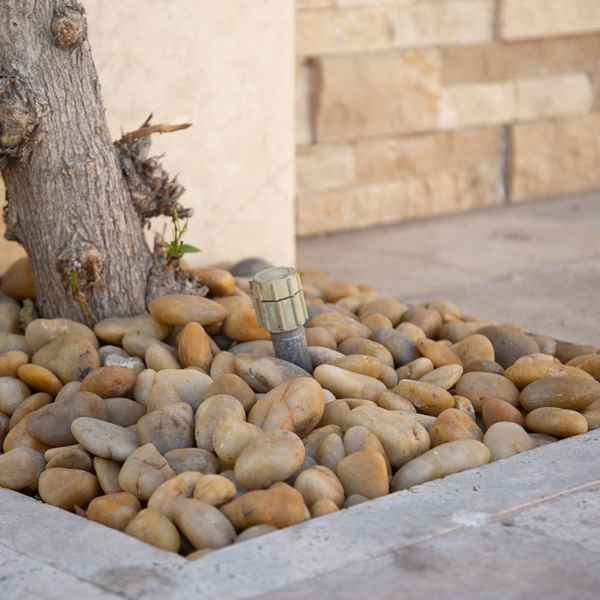 Many homeowners have a specific function in mind that their landscape rock should perform in their hardscape. Pebbles can prevent weed growth, assist in directing water drainage while reducing damage or erosion, or fill in spaces around pavers in walkways or patio areas, just to name a few examples. They also add beauty, of course. Yellow Polished Marble pebbles feature the translucence and natural veining of marble, in hues of golden beige and gray. They allow you to highlight certain elements within the landscape, such as trees, lighting, or water features, while serving a practical purpose. While initially an investment, your application of garden pebbles will be maintenance-free for years to come.
Sahara White Quartzite Pebbles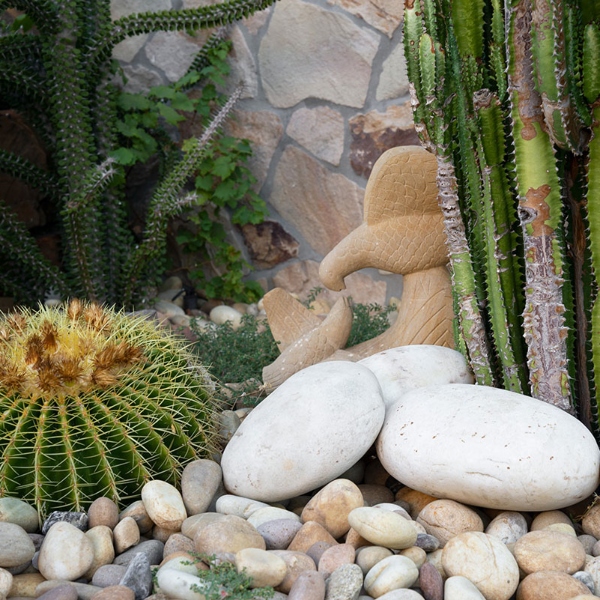 Hardscaping pebbles come in many different sizes, shapes, and colors. This allows you to use more than one type of stone, with contrasting features, to add even more interest to your gardens and other outdoor spaces. Pea gravel, for example is slightly more jagged, while polished pebbles are smooth. Other examples include decomposed granite, lightweight lava rock, unpolished river rock, marble chips, or boulders. Sahara White Quartzite boulders are on the larger side, measuring between 7 and 14 inches across. Try scattering a few of these in small groups throughout your garden alongside other types of stone.
Black Polished Quartzite Pebbles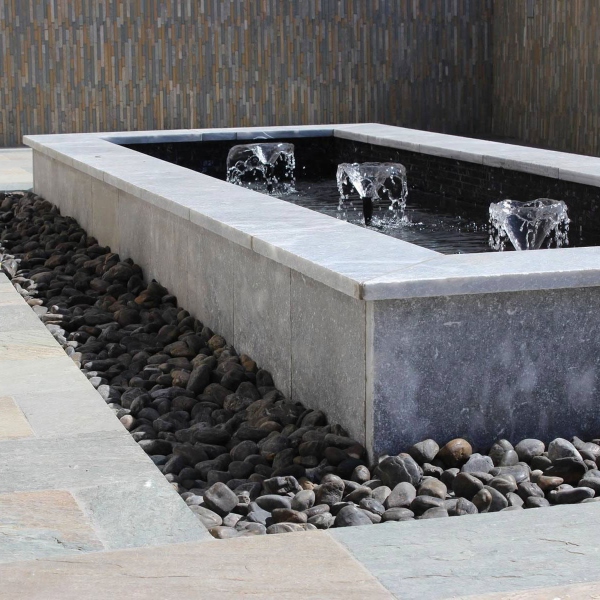 Sleek, contemporary hardscape designs call for sleek, contemporary pebbles, like Black Polished Quartzite pebbles from MSI. They are available in a range of sizes from a quarter-inch to about two inches in diameter, so you can choose the perfect pebbles for your project. The deep charcoal color is complementary to a range of other stones and pavers, and as shown here, looks terrific surrounding an elegant, modern water fountain. These pebbles would also work well as the base for a dramatic gas-fueled fire feature or surrounding large pavers in a walkway.
Mixed Polished Pebbles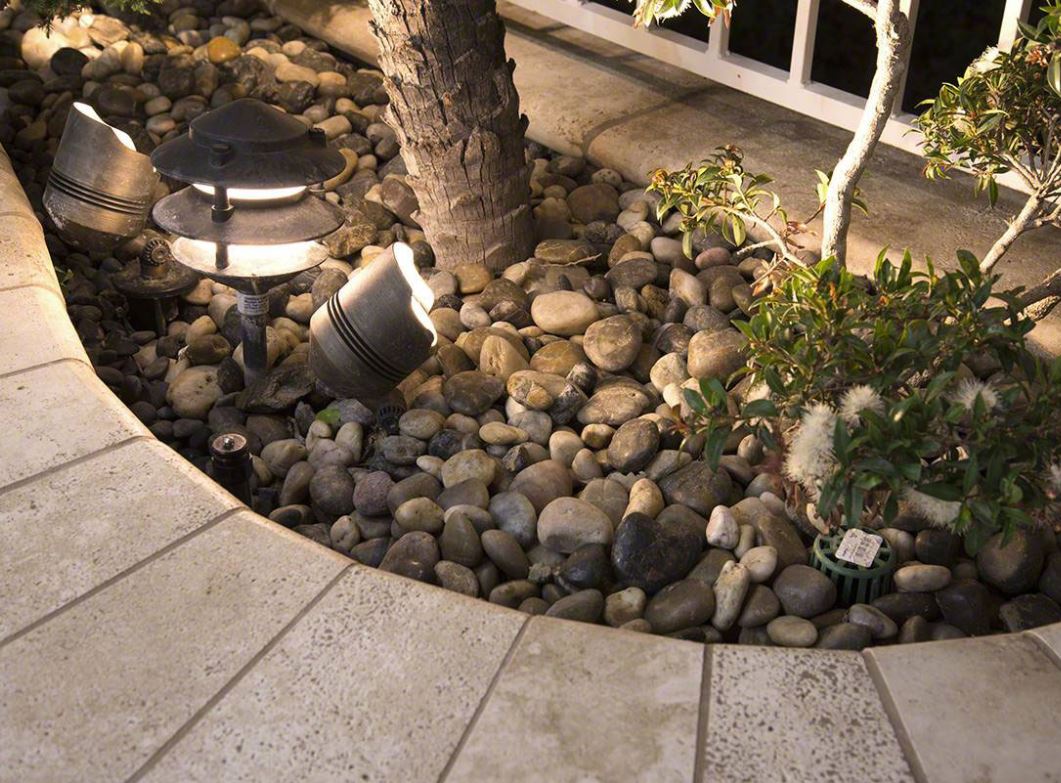 Just as pebbles in nature are found in many different shapes and colors mixed together, using Mixed Polished Pebbles in your hardscape can create a warm, natural look that is less formal than a design using just one pebble color. These pebbles are tumbled, polished marble in many hues, available in three different sizes for maximum versatility. Because they are less uniform in shape than some of our other polished pebble varieties, they are easy to walk on and ideal for areas with foot traffic such as walkways or patios, or as a fill-in material around pavers. Perhaps the most popular use of mixed polished pebbles is in water features such as fountains and ponds, especially when you want them to blend in naturally with the rest of the landscape.
Himalaya White Pebbles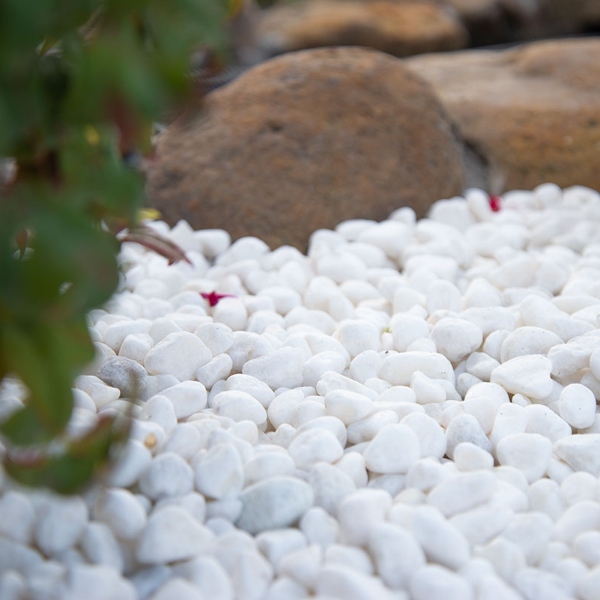 Every color of hardscaping pebble has a purpose, and works to achieve a desired result amid the larger design. Bright white pebbles, such as Himalaya White, add brightness, allowing you to highlight certain areas or draw attention to other elements such as specimen plants. Although they are right at home in minimalist designs, you should also explore other hardscaping styles such as tropical, desert, or English Traditional. You'll especially love the look of Himalaya White pebbles in a Japanese-inspired zen garden, where they are raked carefully to create a swirling pattern.
Hardscaping trends come and go, but using pebbles is a timeless way to achieve a variety of design aesthetics, especially for those who want to spend more time enjoying their outdoor spaces and less time maintaining them. Not only are pebbles attractive and versatile, they can also serve many practical purposes such as mulch, drainage, erosion control, and solving hardscape dilemmas where no other material will do. We invite you to explore the many types of pebbles, cobbles, boulders, and other hardscaping materials in the MSI Inspiration Gallery online.