Baker's Dozen: 13 Unique Colors And Designs Of Granite Countertops
December 12, 2012
If you're a baker at heart, you know that a smooth, even surface in the kitchen is a must for kneading and rolling dough for your favorite pies and pastries. Granite countertops are an excellent surface for a baker's needs. In addition to offering the perfect platform for rolling, granite itself is easy to prepare for baking activities. It retains cold, so is easy to chill with bags of ice for rolling and shaping finicky pastries (a cold surface is better than cold dough). Light misting of non-stick cooking spray (on a sealed granite) will prevent dough from sliding off the countertop, and a dusting of flour will ensure your dough does not stick to the surface or rolling pin. Best of all, clean-up is easy with a swipe of warm water or a little dish soap if cooking spray is used.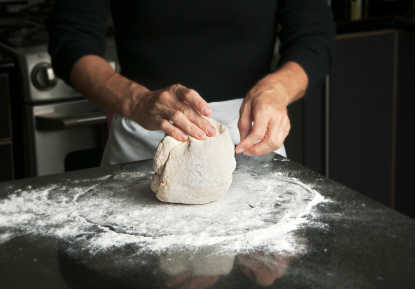 Most granite slabs do not etch, therefore, a baker need not worry about cookie cutters or metal trivets or cooling racks. Though wooden or plastic countertops may burn or melt when a hot item is placed directly on its surface, granite is a more durable material that will not scorch under the heat of hot pans or ingredients, like hot candy mixtures.
A home baker spends a great deal of time in the kitchen; therefore, appearance can be just as important as function. Here is a look at 13 unique granite countertop colors and patterns, sure to please any family cook for both look and performance:
1. Absolute Black: Sometimes the most unique and exotic materials are the most simple. Absolute Black, also known as Jet Black or Premium Black, is a rich black granite with consistent textures. The dark, unrelieved color is a perfect choice for showcasing colorful foods.
2. Amadeus: Also known as Blue Fantasy, this granite selection offers dark blue waves that will make you feel like you are rolling on a river rather than a countertop! The dark pattern is relieved by white and easily hides your mess as you work.
3. Apollo Storm: Apollo Storm granite is an exquisite gold granite with medium variations of creams and darker gold's that call to mind perfectly baked cookies and pie crusts – a great choice for a baker who wants to be reminded daily of something sweet.
4. Barricato: Easily one of the most interesting and unique choices in terms of granite colors, it is also uniquely adaptable to extremely cold temperatures which makes it particularly suited for chilling before rolling a fragile dough.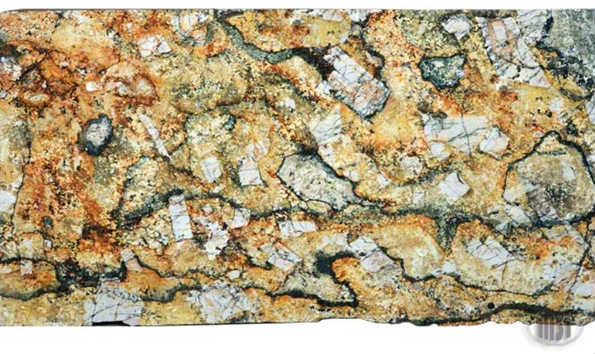 5. Black Marinace: If Amadeus is like rolling on a river, Black Marinace is like peering down into it. This highly distinctive granite looks like wet pebbles and will inspire creativity in the kitchen!
6. Chocolate Bordeaux: What baker doesn't love chocolate? This granite selection, also known as Cappuccino, is a concoction of light and dark browns in a pattern resembling chunks and bricks of chocolate, sure to make a baker hungry as he or she works at the counter.
7. Fusion: A succulent dessert is the fusion of just the right balance of sweet and salty. Fusion granite is also a balance of extremes, between subtle blues and dynamic rusts colors that make this granite unlike anything you've ever seen in a kitchen.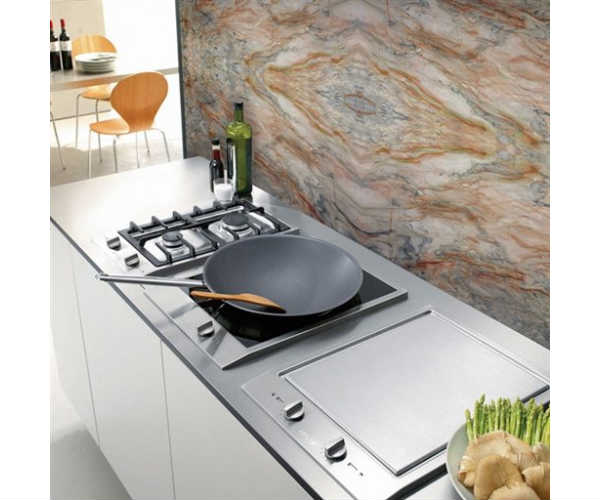 8. Golden Lumiere: This granite selection of rich gold's and browns is as eye-catching as it is durable – dark enough to highlight color foods, variant enough to offer a sophisticated work environment.
9. Hypnose: Sweeping veins of gray-green, gold, and black are the hallmark of this granite, colors and patterns gentle on the eyes and suited to long afternoons in the kitchen.
10. Prada Gold: The name might imply the wealth and luxury of Prada clothes or gold jewelry, but this alluring pattern is actually a stunning combination of gold's, grays, and peaches that escalate the quality of the kitchen.
11. Red Dragon: This granite selection evokes the dark and mysterious, but to a baker, it also means a solid food prep surface coupled with reds that inspire cherry pies and berry-filled pastries.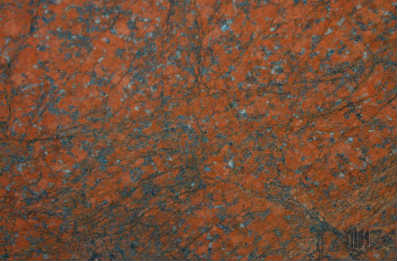 12. Titanium: An elegant selection, this granite's swirls of grays, blacks, gold's, creams and ivory is an ideal selection for one who enjoys succulent design, whether that design is a kitchen countertop or backsplashes, or the decoration on a rich dessert.
13. White Tango: Like black, white is an ideal choice for contrasting with vibrant foods. White Tango is a subtle white that makes a bold statement when paired with colorful dishes, from candied breads to iced cupcakes.
MSI offers hundreds of granite selections for kitchen countertops (as well as backsplash tile and flooring) that will please the baker who spends hours in the kitchen creating his or her edible masterpieces. We encourage you to explore the many colors, textures, variations, patterns and finishes granite has to offer.
Curious about your natural stone countertops and keeping them clean for your baking needs? Download our free maintenance guide, Cleaning and Care of Natural Stone.
Learn More about Popular Granite Colors

Colors of Granite - Creating Your Own Color Scheme
23 New Granite Colors to Love
5 Exotic Granite Colors
Bold and Beautiful Granite Colors
Exotic Granite Colors from Around the World
READ MORE ABOUT GRANITE COUNTERTOPS
Beyond Bullnose: Exploring Granite Countertop Edges
Black Granite Countertops Make A Powerful Statement
Black Granite Countertops: the Royal Appeal