What Can Cause Granite Countertops To Etch?
October 16, 2018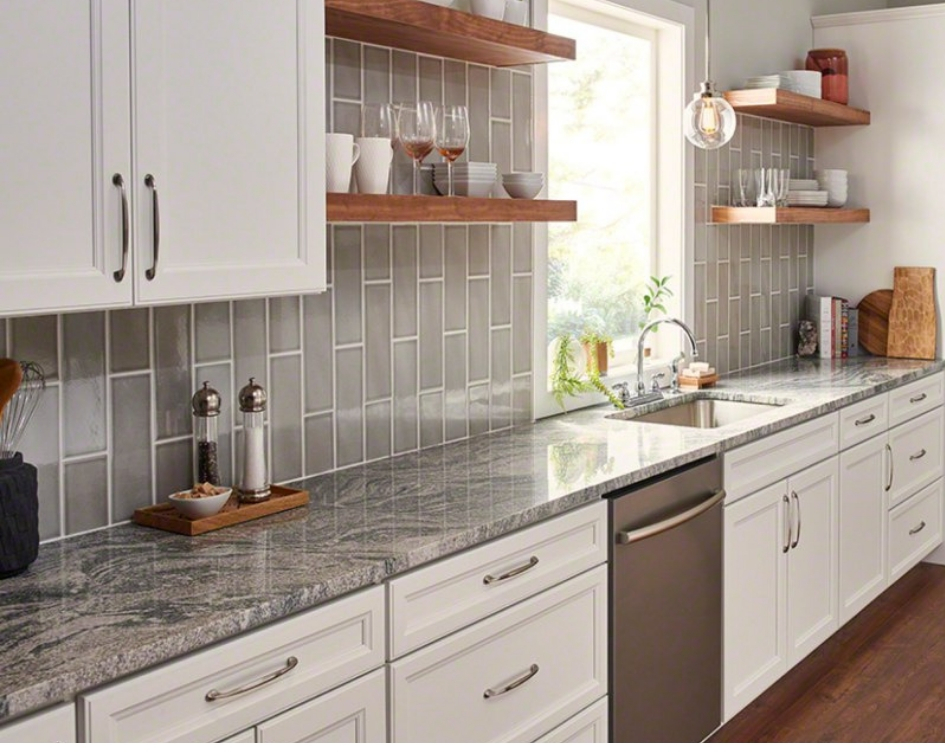 Granite countertops are well-known for their beauty and durability. As one of nature's toughest materials, a top-quality granite adds equity to your home and can last a lifetime. However, that doesn't mean it won't be susceptible to damage if not cared for properly. One of the most common problems homeowners have with a granite countertop is etching.
As an igneous rock, created by volcanic action, granite's composition is alkaline. Therefore, it's vulnerable to acid exposure. Etching happens when acid comes in contact with the granite countertop, and is left long enough for the acid to dissolve some of the minerals. The result is a discoloration at the point of contact, a rough texture, and even a possible depression where the acid dissolved a significant portion of the stone.
Sounds dangerous — but now that you know what causes it, you can take steps to prevent it. Here's how:
1. Do not use cleansers containing acidic substances, such as vinegar or lemon juice. Stick to cleansers formulated specifically for stone, or mild dish soap, both of which have a neutral pH.
2. Use a cutting board when preparing food, and wipe up any spills or splatters immediately. This is especially important for acidic fruit and juice, tomato-based foods, soda, coffee, and wine.
3. Remember that etching damage is more visible on a polished finish on a granite countertop compared with a matte, honed finish.
4. Damage from etching can be repaired by sanding the area, applying an epoxy material designed for repairing granite, and sealing. However, we recommend contacting a stone restoration professional.
Check out this roundup of gorgeous granite countertops and you'll agree — they're definitely worth the minor care and maintenance.
Nevasca Mist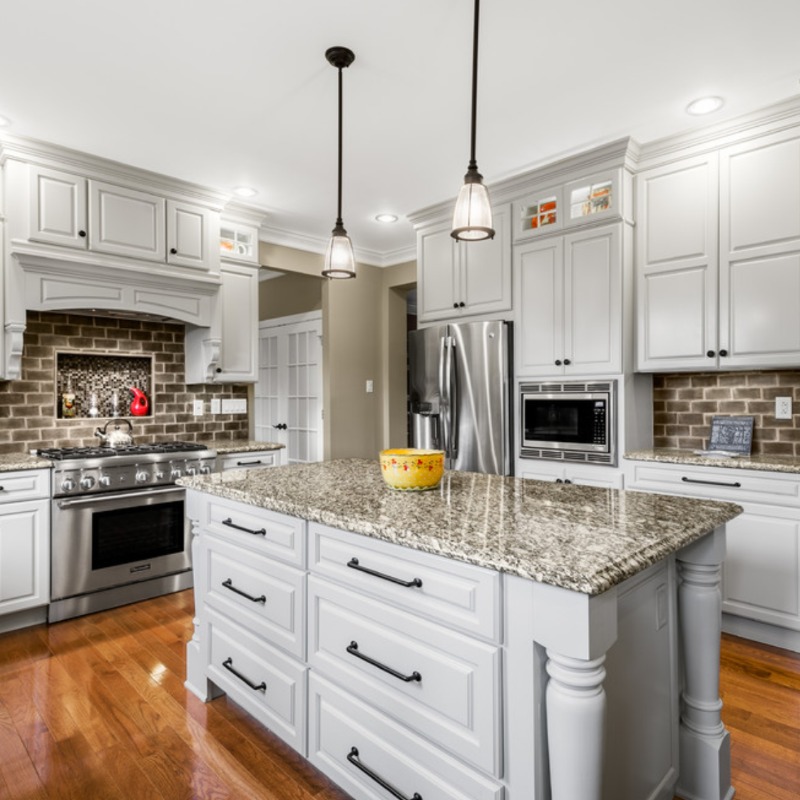 Recreate this look with MSI's Nevasca Mist Granite (Photo Credit: Houzz)
A granite countertop is equally at home in contemporary and traditional decor, or even better, a creative combination of the two. The swirls of gray and beige in Nevasca Mist granite are easygoing, but bold enough to become a room's focal point on a center island. A custom edge treatment could be the perfect finishing touch.
Jasmine White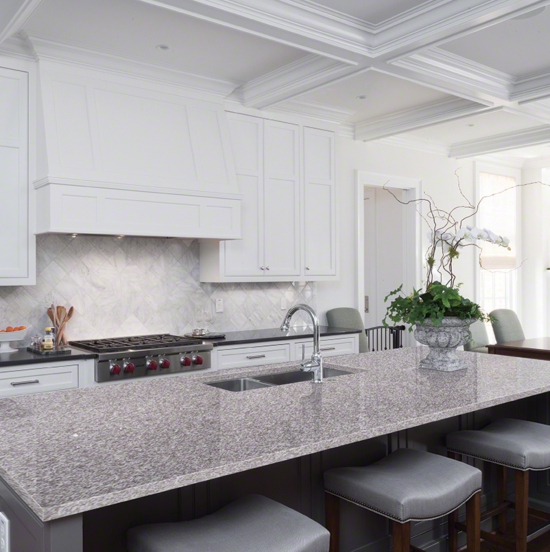 Featured: Jasmine White Granite
When is a contemporary, minimalist design too minimal? When it leaves out the eye-pleasing combination of mid-tone gray and white in Jasmine White granite. Just because your tastes are simple and refined doesn't mean you can't have a beautiful, creative kitchen to inspire you.
Ganache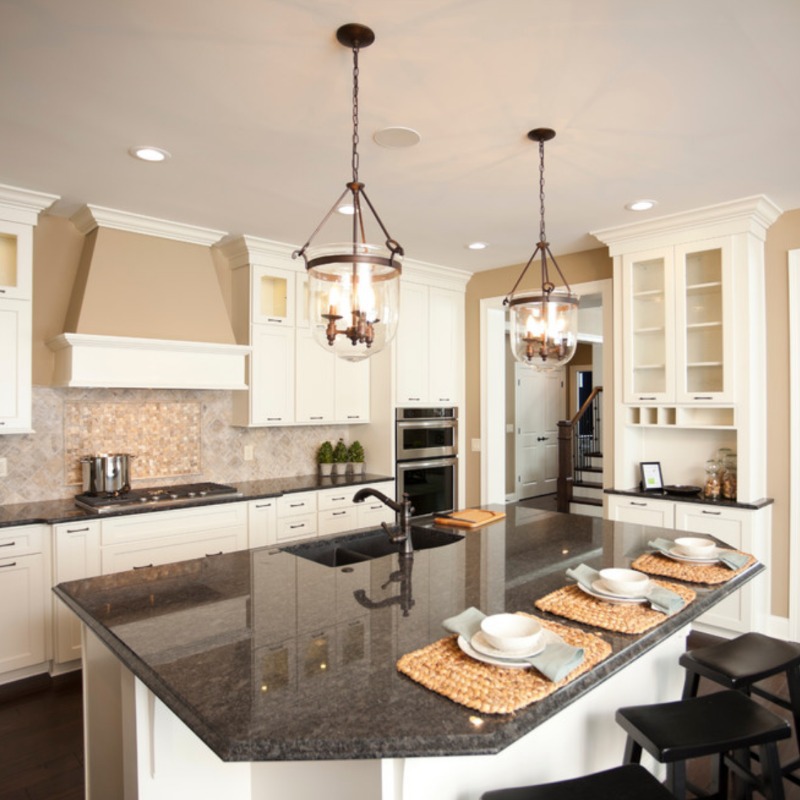 Recreate this look with MSI's Ganache Granite (Photo Credit: Houzz)
The kitchen island is more than a central food-prep station — it's the center of everything. Your family gathers here for snacking, homework, projects, and togetherness, so naturally you want to make it as durable as it is gorgeous. Ganache offers an eye-pleasing combo of gray, white, and ebony.
Azul Platino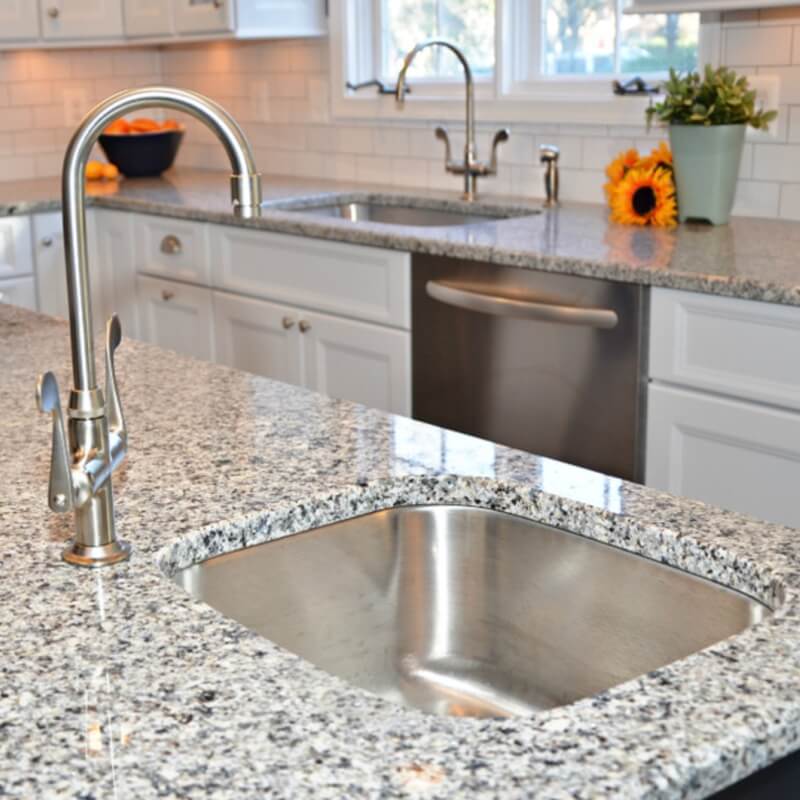 Recreate this look with MSI's Azul Platino Granite (Photo Credit: Houzz)
Kitchen sinks are busy places. So, even though Azul Platino granite is a delicate blend of white and blue-gray, don't be deceived by its good looks. With proper care, even the most-used parts of your granite counter will look good as new for many years, giving you an impressive return on investment.
Bianco Romano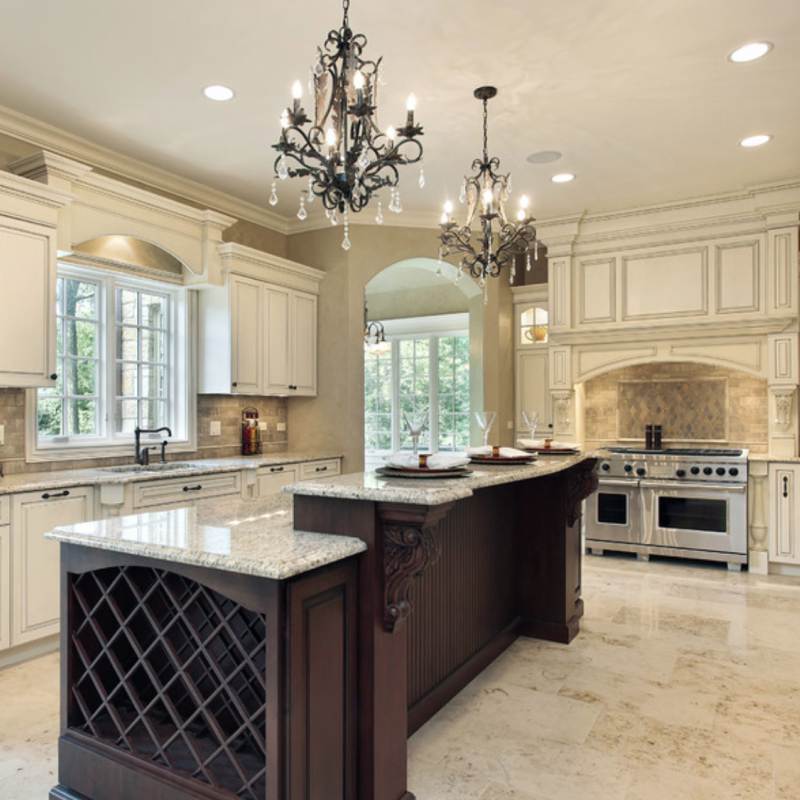 Recreate this look with MSI's Bianco Romano Granite (Photo Credit: Houzz)
The wonderful thing about granite is its adaptability — it's well suited for casual decor, but can also take a grand, upscale design to its pinnacle. Behold the transformative power of Bianco Romano granite counters, an elegant mixture of creamy white with flecks of gray and gold.
No countertop surface is entirely damage-proof, but granite comes close. With a bit of knowledge going in, you can easily protect it from chips, scratches, and etching. The payoff is an incredibly durable, beautiful countertop that increases your home value and increases enjoyment of your home, too.
Read More about Granite Countertops
The Straight Skinny on Sealing Your Granite Countertops | Blog
High-Style Granite Countertop and Luxury Vinyl Flooring Pairings
Comparing Polished, Honed & Leathered Granite Countertop Finishes
Granite Countertop Edge Selection for the Win
READ MORE ABOUT GRANITE COUNTERTOPS
Viva Brazil! Sports, Festivals, And Granite
What to Ask Your Contractor Before Buying Granite Countertop
When Is a Prefabricated Granite Countertop Is the Best Choice?