Outdoor Oasis: When To Choose Travertine Tile Over Travertine Pavers For Outdoor Use
April 30, 2017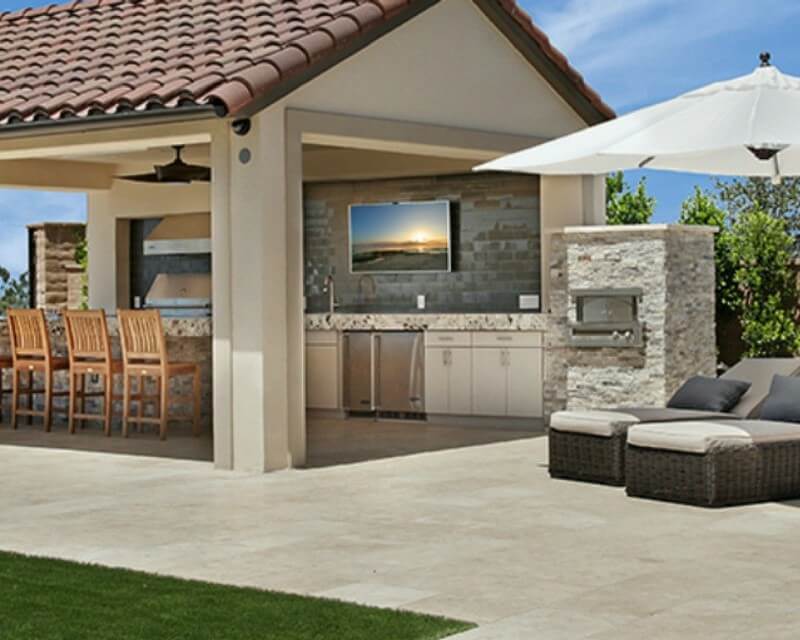 The outdoor flooring options on the market these days are endless, and the sheer number of choices can be overwhelming. Even once you have narrowed the choice down to a specific material such as travertine, you still have various options such as tile or pavers. So what exactly are the key differences between tiles and pavers, and which option is the best for your project?
One of the biggest differences between travertine tile and travertine pavers is the thickness of the material. Travertine tiles are typically about 1/2" thick, while pavers are much thicker, ranging from 1 1/4 - 2" inches in thickness. Travertine tiles also usually have very square edges, allowing them to be installed seamlessly for a clean look. On the other hand, pavers have chiseled or tumbled edges and can be installed using sand and gravel versus the typical grout application of tiles.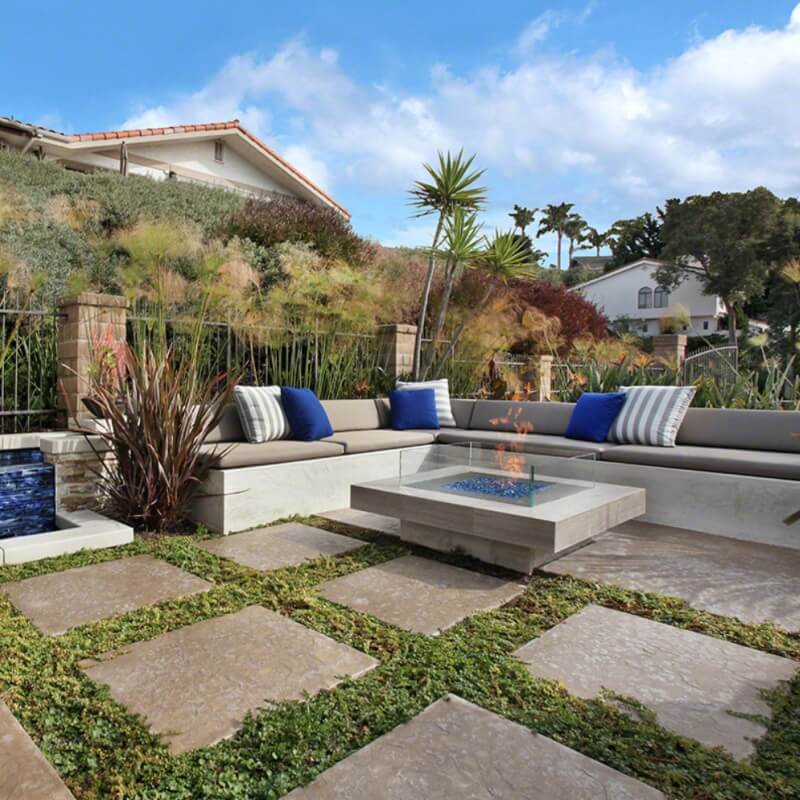 Featured: Tuscany Walnut Tumbled Travertine
The choice of whether to use travertine tile or pavers can usually be decided by analyzing the space and how it will be used. For instance, this outdoor scene features Tuscany Walnut Tumbled Travertine pavers around a fire pit lounge. The pavers are set right into the ground with a border of natural groundcover.
Pavers are ideal for this application, as their weight and thickness allows them to be installed right into the natural setting without the use of concrete or grout.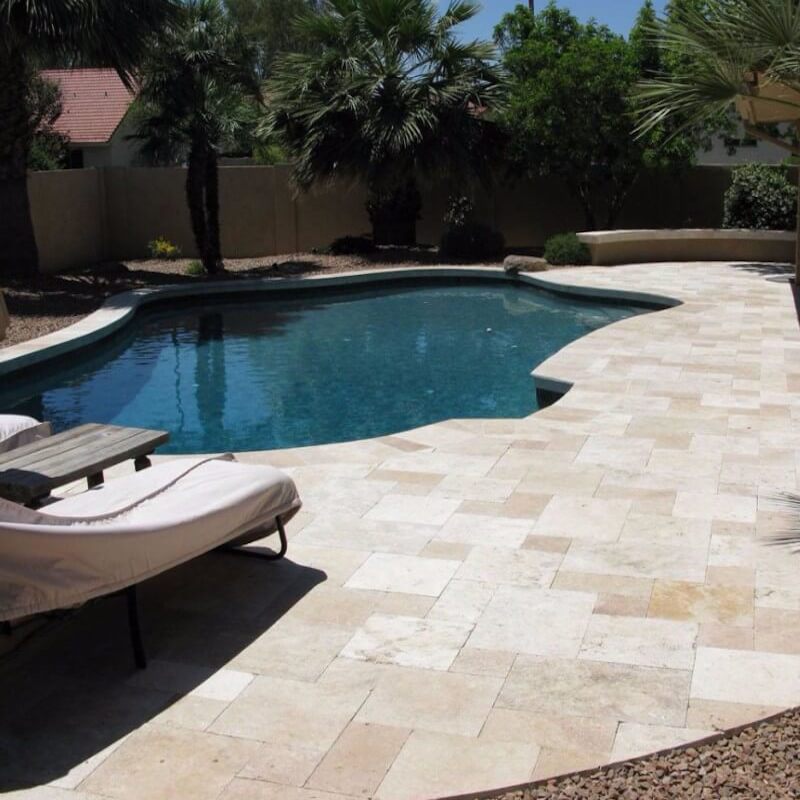 Featured: Tuscany Beige Tumbled Pavers
Tuscany Beige Tumbled Pavers are a perfect choice for this pool and hot tub surround featured by MSI. The tumbled pavers are rough-hewn to prevent slips and falls in wet areas, and come with coordinating pool coping and edging options for a cohesive look throughout your outdoor landscape.
Plus, travertine pavers won't react with pool chemicals or permit mold growth in a pool setting.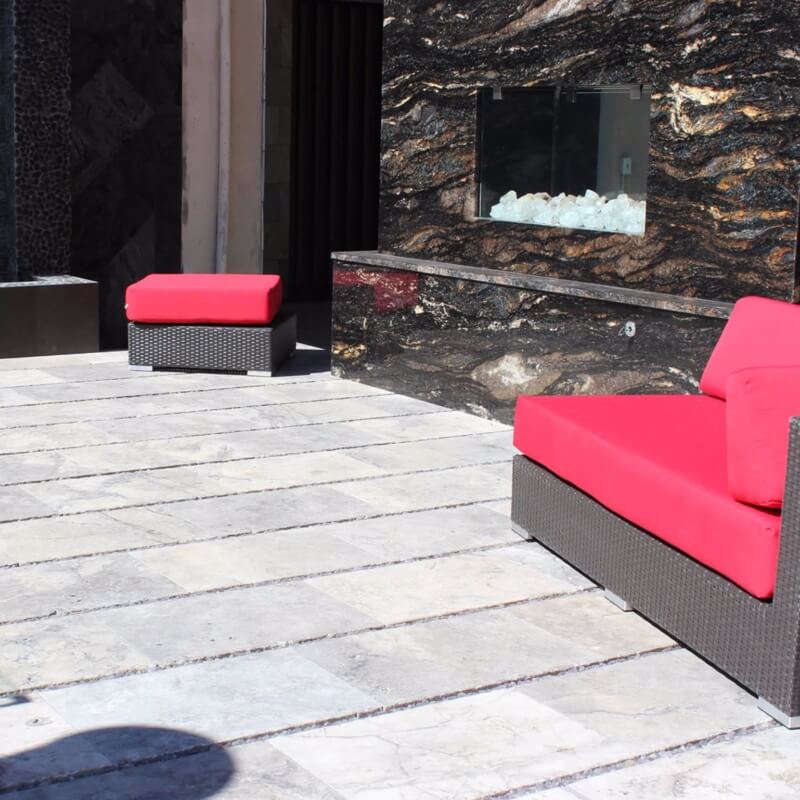 Featured: Silver Travertine Pavers
Finishing out our travertine paver highlights is Silver Travertine Pavers from MSI. This natural material features a trendy griege palette with a mix of light and dark silver and a touch of beige tones. As you can see, this uncovered outdoor seating area gets a lot of exposure to the elements.
Travertine pavers are rugged enough to withstand constant sun exposure, moisture, and even extreme temperatures, all without showing extreme wear and tear. Pavers are great for uncovered areas like this one because they don't retain heat in extreme temperatures, meaning they'll stay cool to the touch even on a hot summer's day.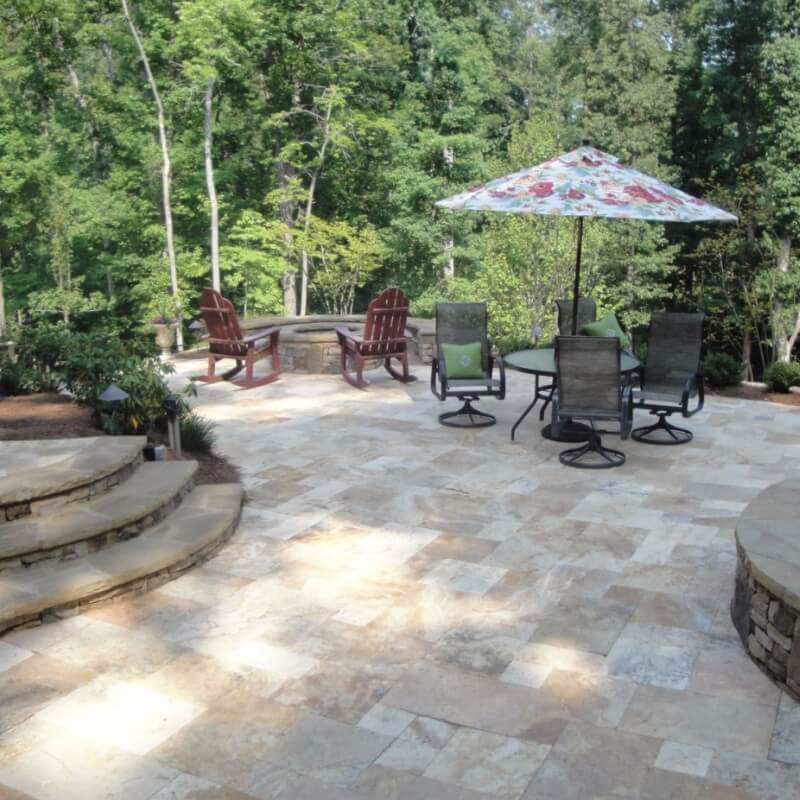 Featured: Tuscany Porcini Travertine
Travertine tiles can also be used outdoors, as seen in this Tuscany Porcini Travertine tile deck. Complemented by a stacked stone fire pit, steps, and hot tub surround, this travertine floor both stands alone as its own design element and emphasizes the individual design elements of the space.
The color variation of rich caramels, cool grey tones, and whites makes each individual tile pop and gives the outdoors an elevated sense of style.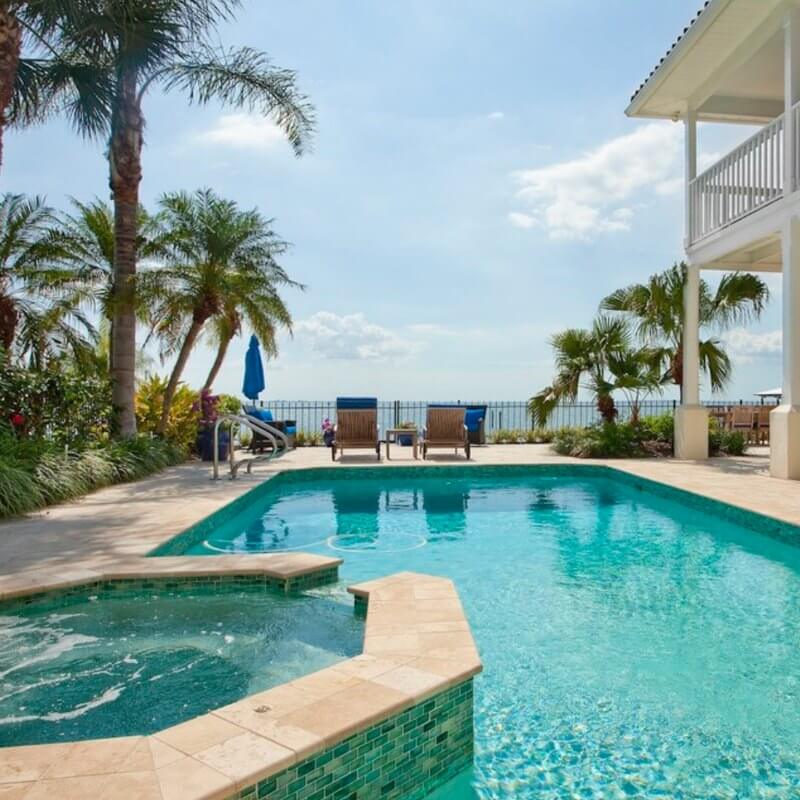 Get this look with MSI's Tuscany Albastrino Travertine (Photo Credit: Houzz)
Perfect for the pool, the honed finish of this Tuscany Albastrino Travertine is elegant and timeless, with its muted color palette of creams and beiges that blends effortlessly with most interiors and exteriors.
Further explore the world of travertine with this article discussing ways to decorate with travertine throughout the home!