Outdoor Oasis: Explore The Different Ways To Lay Your Travertine Flooring
August 04, 2018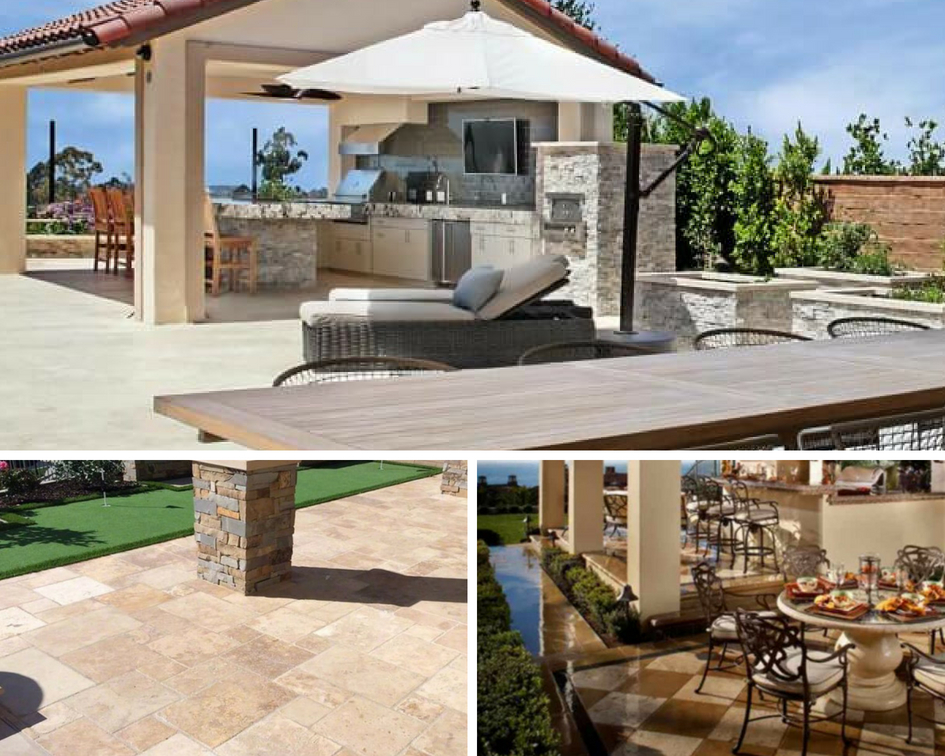 Travertine is one of the most luxurious natural stones on earth. It has the ability to add character and beauty to virtually any design. Indoors, travertine floors, countertops and walls give a richness to any surface, and when sealed properly, are sure to look stunning for decades to come. Outdoors, travertine pavers and tiles are a great option for polishing and beautifying your home's exterior, even in climates with inclement weather. The rich textures, colors, and finishes complement design styles from traditional to modern.
Travertine adds elegance to spaces when installed in a traditional pattern, but the neutral tones of honed travertine pavers also lend themselves beautifully to creative installation patterns like the traditionally elegant Versailles pattern, the classic tile floor pattern the chevron, or the more dynamic and eye-catching Harlequin.
All of these and more are perfect installations choices when you want to infuse your personal design flare into the space. Beyond these ideas, for travertine tiles with a polished finish, the straight lay pattern or the Savannah pattern are sure to highlight the beauty of your travertine floor as well.
Regardless of your design preference, when selecting a pattern, you want to be sure to partner it with the right travertine, in order to enhance the overall design. Sometimes it can be difficult to visualize how a sample stone will look when installed over a larger space, and that's why it's so helpful to look at how homeowners and designers have already used your favorite stones to create various style looks. With that in mind, let's take a look at just a few of our favorite amazing installations you could do with travertine!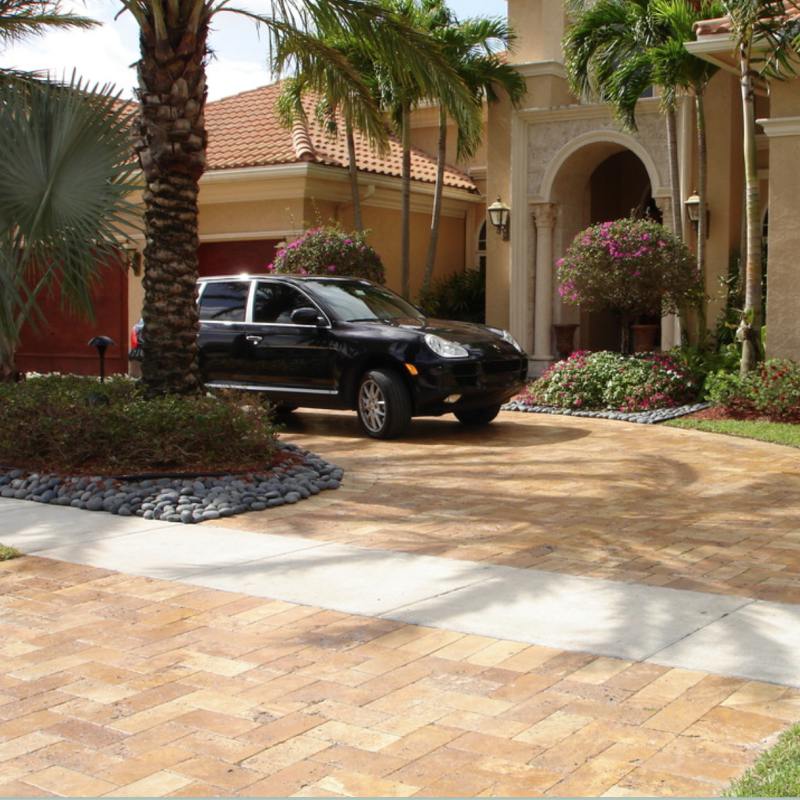 Create a similar look with MSI's Porcini Travertine (Photo Credit: Houzz)
The Chevron pattern has been used in tile installations and hardwood floor installations in the finest structures in the world for hundreds of years. This pattern, generally considered to be one of the more formal patterns, works well with a variety of tile sizes, depending on the overall look you desire.
Our Porcini Travertine tiles feature warm cream, beige and rust tones that echo the warmth of the sun and surrounding landscaping. Laid in the Chevron pattern here as a sweeping, curved driveway, this elegant exterior sets the stage for a beautifully designed interior.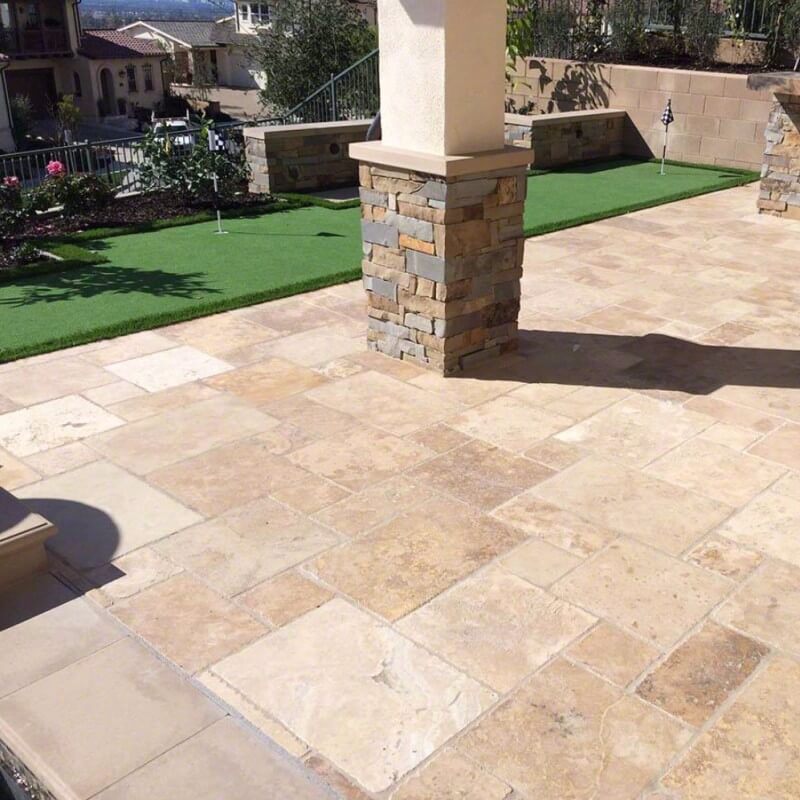 Featured: Tuscany Chateaux Travertine
The Versailles pattern is aptly named after one of the grandest and most luxurious palaces on the planet. This timeless look combines multiple sizes and shapes of tiles to create an intricate pattern that looks custom-cut and laid, just like the travertine floors of yore. The tile is well suited for more rustically finished tiles or travertine pavers like our Tuscany Chateaux Travertine, and comes in a kit with all of the tiles already pre-cut and finished to make installation a breeze. Larger areas like this sunny backyard patio with putting green are perfectly proportioned to allow the beauty of the pattern and the texture of the travertine pavers to be the star of the design.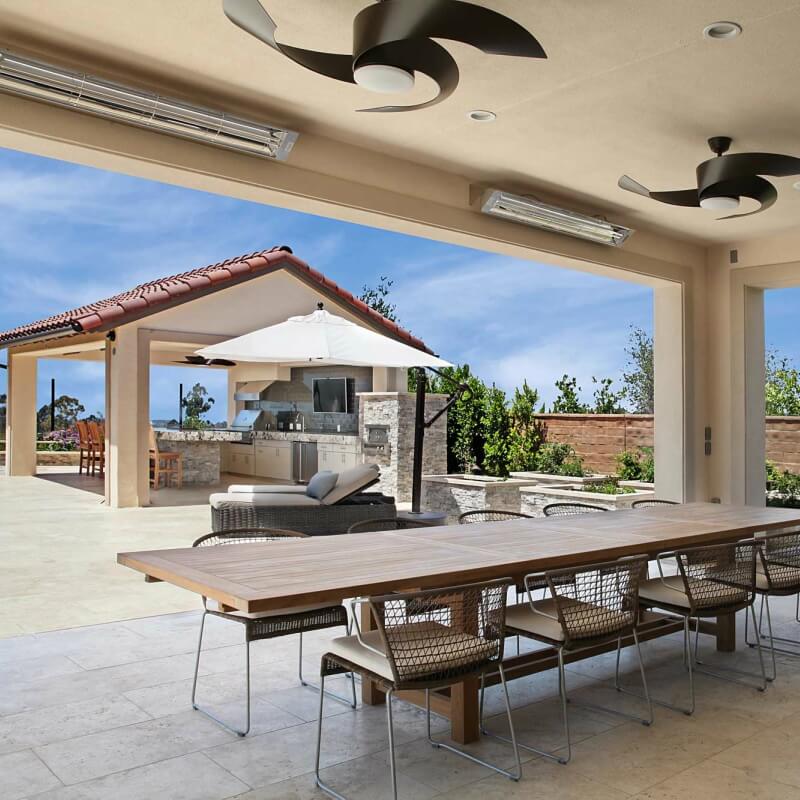 Featured: Tuscany Platinum Travertine
If your design style leans more towards contemporary or modern sensibilities, have no fear! You can still enjoy gorgeous travertine flooring in a beautiful pattern. The soothing hues and honed finish of our Tuscany Platinum Travertine tiles in this spectacular outdoor oasis feature the Savannah pattern. Less intricate and more streamlined than the two previous patterns, this sleek look allows the delicate grains, shading, and wisps of color within the tile to be the focal point of the installation.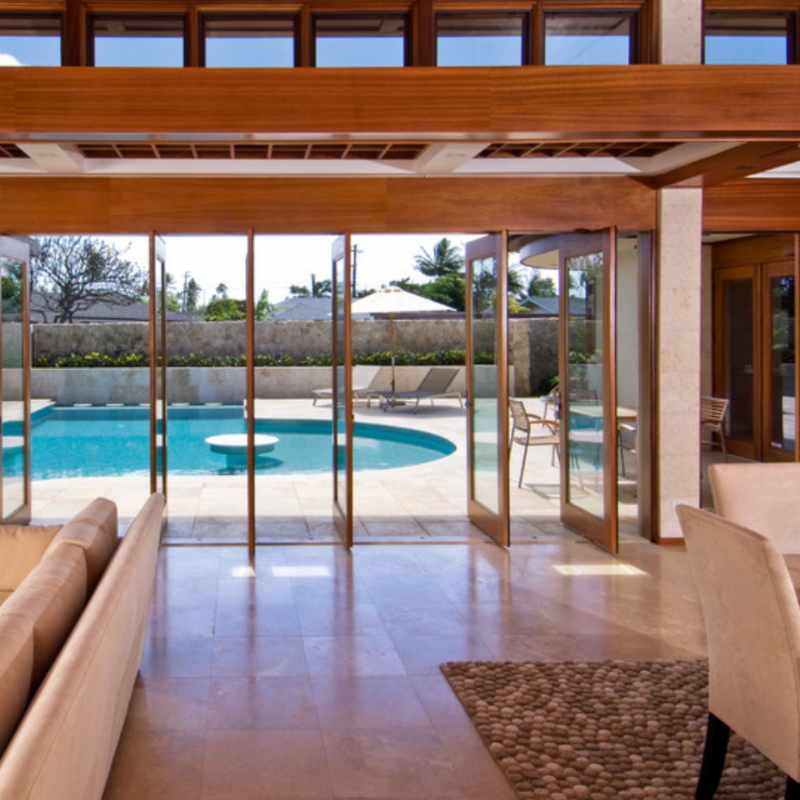 Recreate this look with MSI's Tuscany Ivory Travertine (Photo Credit: Houzz)
Indoor/outdoor living is the dream of many homeowners today. The ability to throw wide your patio doors and let the fresh evening breeze sweep inside is perfect for mild climates. Plus, travertine tile is a fantastic choice for its ability to withstand moisture damage.
In this modern design, the flooring choice is subtle, without dramatic pattern or texture. Our Tuscany Ivory Travertine tiles in the Straight Lay pattern are the perfect complement to the design, drawing the eye out across the warm living space and through the patio doors to the real show-stopper—the pool!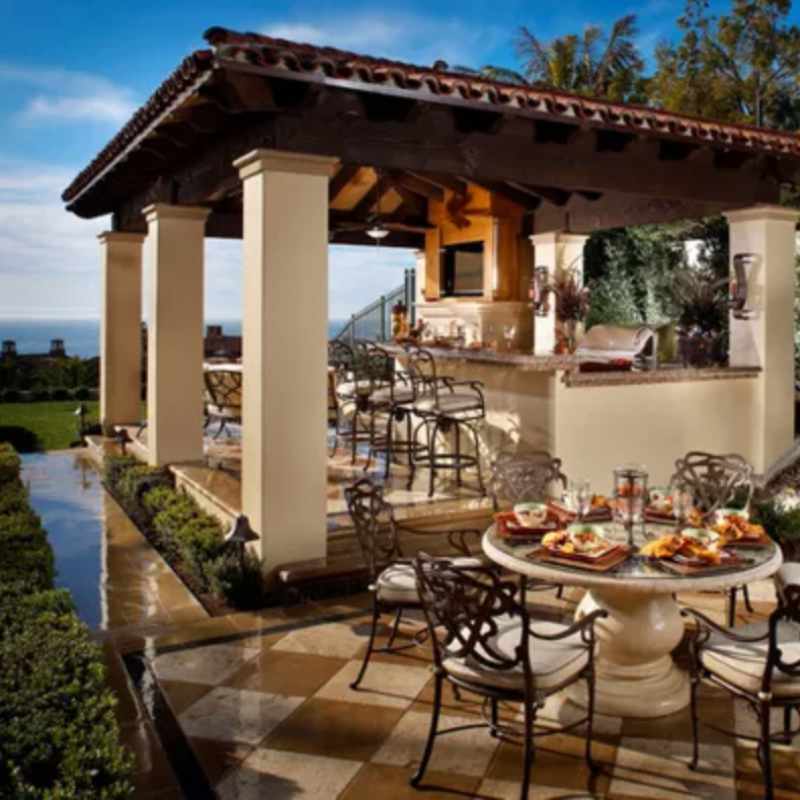 Create a similar look with MSI's Durango Cream Travertine (Photo Credit: Houzz)
On the opposite end of the design spectrum, when you your travertine flooring to make a powerful style impact in its own right, why not use two gorgeous natural travertine tiles instead of just one?
Here, the diagonal checkerboard Harlequin pattern—which traditionally used square black and white tiles—gets a fresh update in this stunning outdoor oasis, with the combination of Durango Cream Travertine and Tuscany Hazelnut Travertine. The blend of warm neutral tones sets the perfect stage for a contemporary take on classic Mediterranean design, with wrought iron and terracotta accents to complete the look.
Whether your style is traditional, modern, or shabby chic—or even if you want to create a dreamy Mediterranean outdoor oasis—there is a travertine tile or paver that marries beautifully with the many installation patterns. So, go ahead and get started, combining multiple colors, sizes, and shapes to determine the best overall pattern for your dream travertine flooring installation. You are only limited by your imagination!