All About Outdoor Tile: Porcelain, Slate, Travertine, And Quartzite
December 26, 2017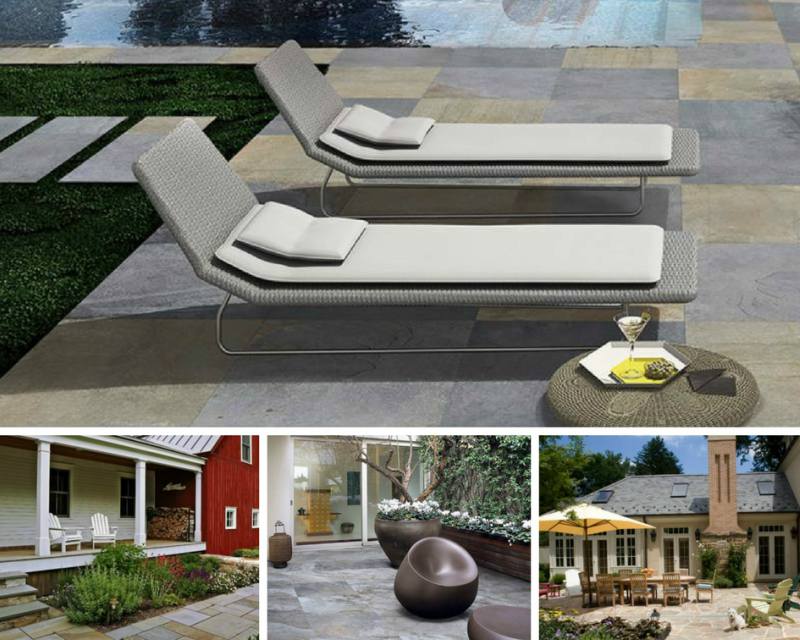 Design magazines and television shows often rave about bringing the outdoors in, but why not also bring luxurious indoor finishes and detailed style to your outdoor living spaces? With outdoor tile and pavers from MSI you can make your home's exterior spaces as polished and comfortable as your interiors, all while providing a seamless transition from indoors to out.
Argento Travertino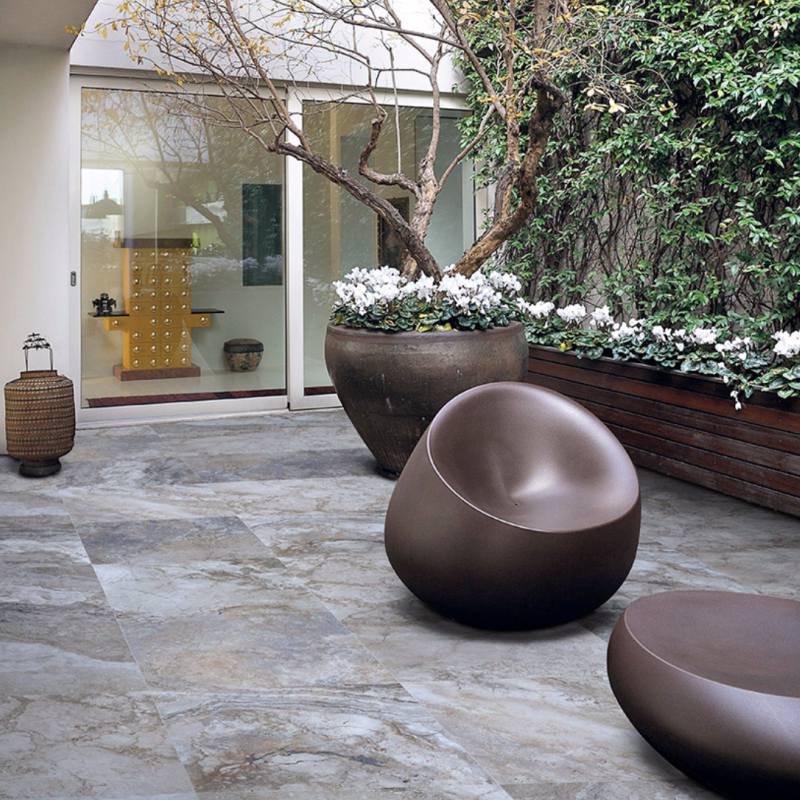 Featured: Argento Travertino Porcelain Pavers
Hardscaping with tile may sound like a luxury, but recent advances in technology and manufacturing have made outdoor tile fairly affordable. Once, concrete patios and planters were the economical hardscaping standard. However, the recent development of high quality inkjet-printed porcelain pavers gives homeowners the luxurious look and feel of natural stone, but on a budget.
For example, these Argento Travertino Porcelain Pavers can be used both indoors and out, and perfectly replicate the look of rich natural stone. The tile's large scale (24x24) and neutral color palette of grays and creams is perfectly on-trend and well suited to many styles.
Pedra Azul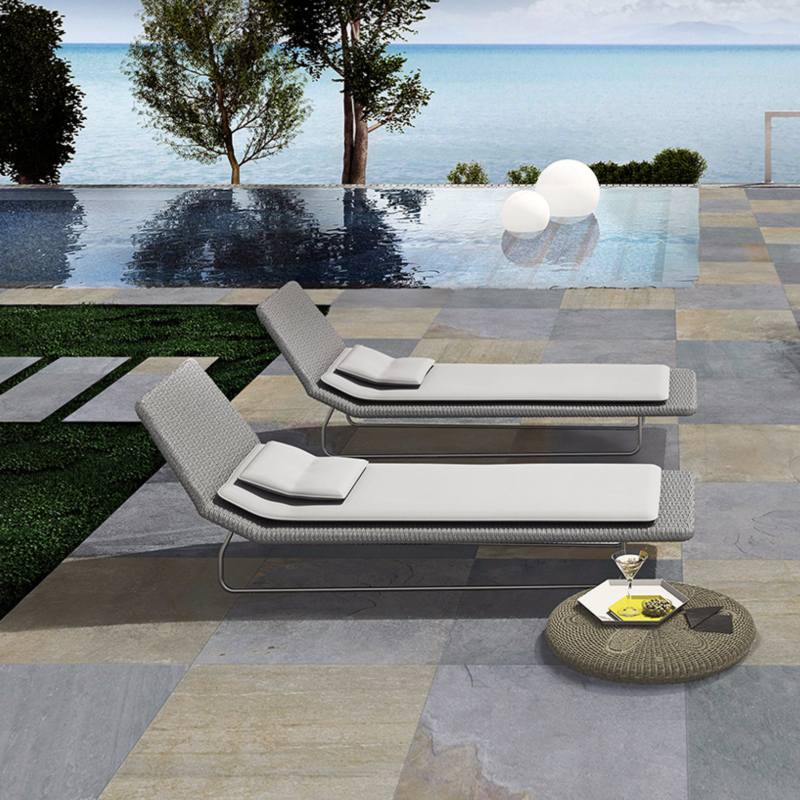 Featured: Pedra Azul Porcelain Pavers
Pedra Azul Porcelain Pavers are another unique and affordable alternative offering depth and character that leaves concrete in the dust. The tiles' matte finish mimics the beauty of natural slate, but with a toned down palette of brown and charcoal that complements both traditional and contemporary designs. One look proves that porcelain tile pavers from MSI can hold their own against natural travertine, slate, or quartzite.
Earth Slate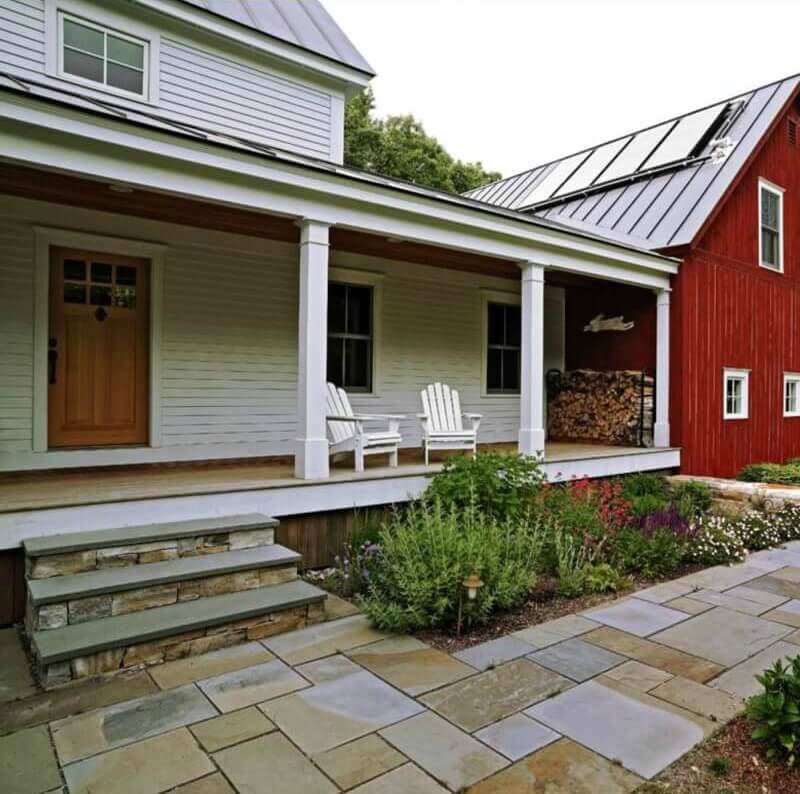 Get this look with MSI's Earth Slate (Photo Credit: Houzz)
If you prefer 100% authentic natural slate hardscaping, Earth Slate outdoor tile offers the classic slate tones of warm gold, rust, and tan. Mixed tile sizes and rough edges to complete the rustic look. Consider using slate instead of wood for mountain homes or rustic cabins, as the naturally occurring stone holds up much better against the elements than wood, and doesn't require staining or sealing.
Buffalo Grey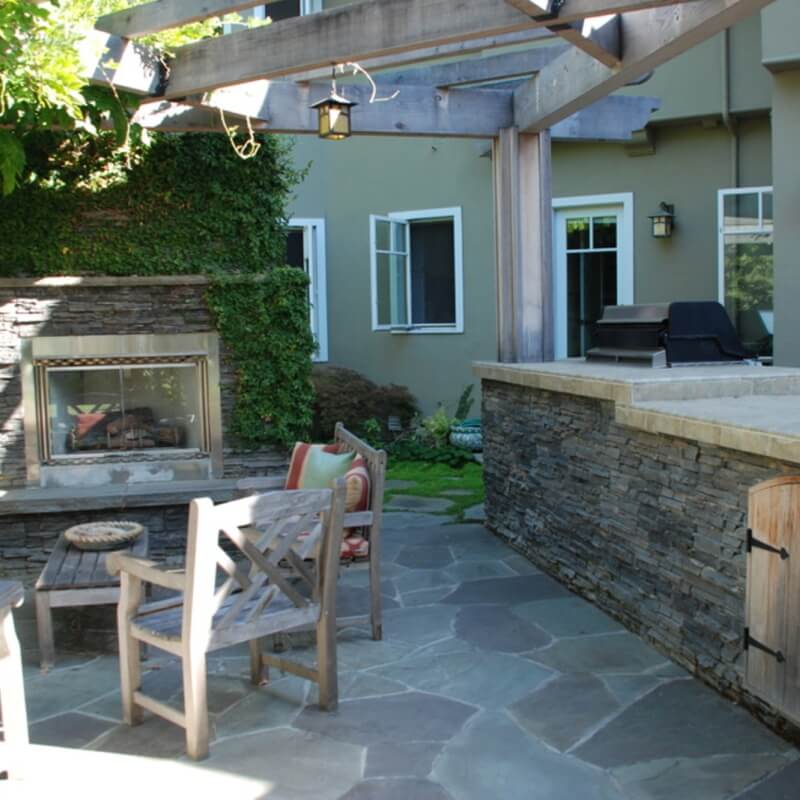 Recreate this look with Buffalo Grey Quartzite Flagstone (Photo Credit: Houzz)
Flagstone is another traditional look that captures the feel of a country manor or cozy cottage. Buffalo Grey Quartzite Flagstone has a soft silver and gold color palette, complemented with flecks of white. These randomly cut flagstones are the perfect material to add interest and a touch of sophistication to patios, driveways, walkways, or any other outdoor space.
Tuscany Beige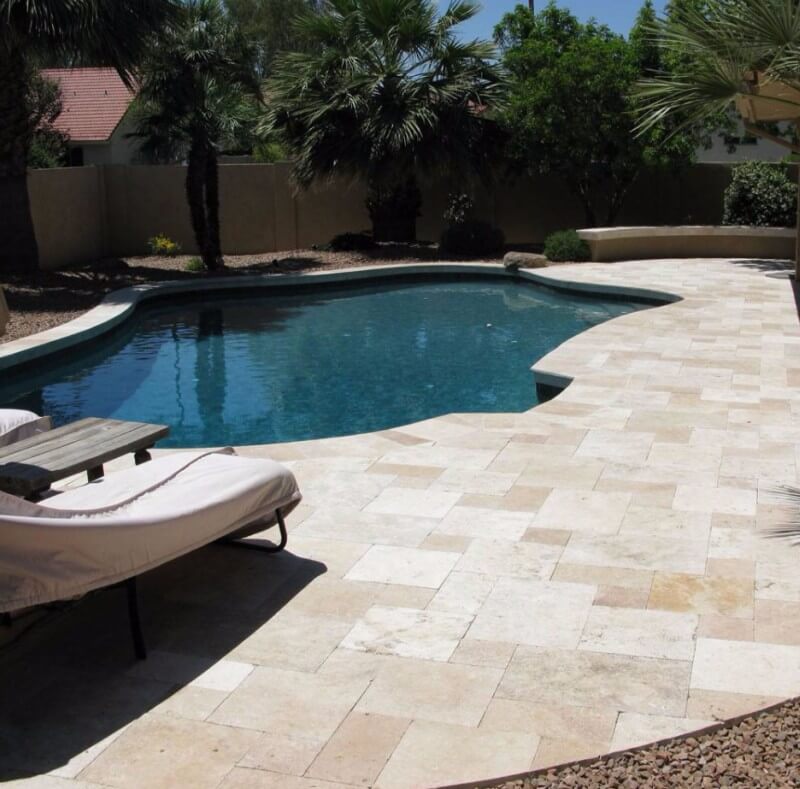 Featured: Tuscany Beige Tumbled Travertine Pavers
Travertine pavers may be the ultimate in outdoor luxury, and MSI's Tuscany Beige Tumbled Travertine Pavers live up to the hype. This rich yet rustic look appeals to a wide range of homeowners, with neutral hues of warm cream and tones of beige. Plus, the varying paver sizes make planning and design easy and flexible. Offered in a wide variety of finishes, including honed, tumbled, and chipped, these pavers can transform any outdoor space into a luxurious getaway.
Whether you prefer natural slate, porcelain tile, or travertine pavers, there are endless ways to upgrade your outdoor hardscaping. And for even more inspirations for your backyard, check out these small outdoor space ideas.
READ MORE ABOUT QUARTZITE AND NATURAL STONE PAVERS
Your Guide To Pavers – Porcelain, Travertine, Slate & Quartzite
Favorite Stone Pavers In Travertine, Marble, Quartzite, And Sandstone
READ MORE ABOUT OUTDOOR SPACES with PAVERS AND PORCELAIN TILE:
New Oversized Arterra Porcelain Pavers Make Outdoor Spaces Feel Larger Than Life
Can Outdoor Porcelain Tile Withstand the Elements?
Get Ready for Summer with Modern Porcelain Tile