Get Easy Care Wood Looks With Flexible Glue-Down Luxury Vinyl Planks
July 13, 2022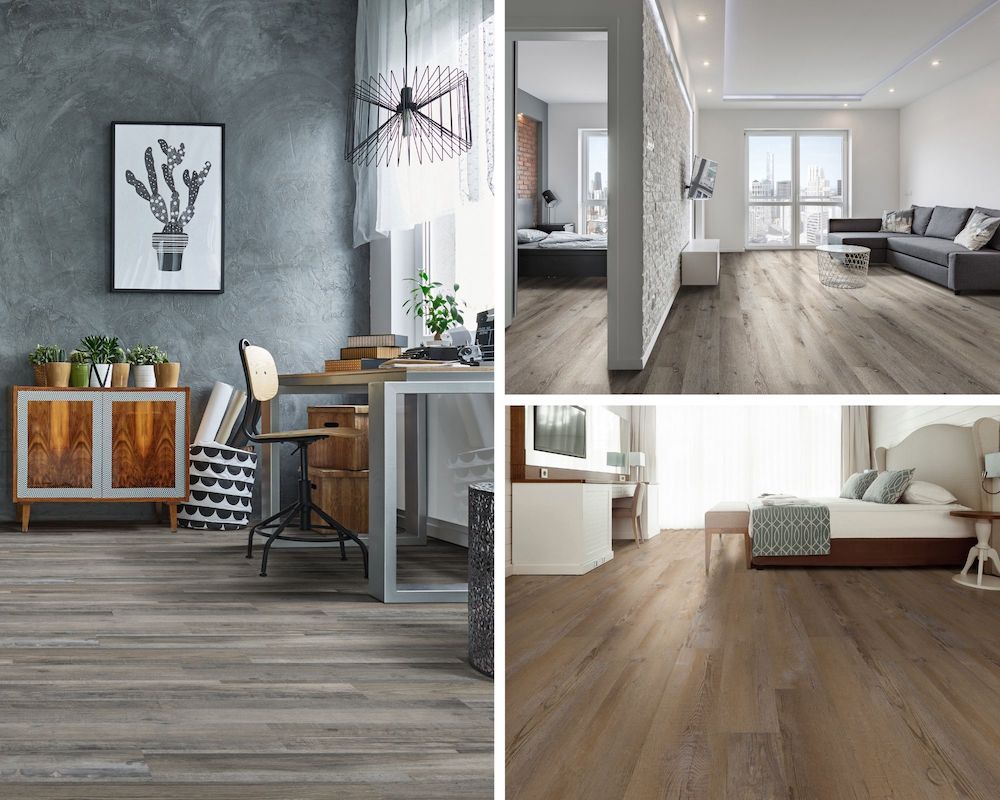 Today's homeowners are realizing that solid floors, rather than carpet, are key to maintaining a clean home with a minimum of labor — particularly for those who have allergies. Hardwood flooring used to be a favorite option, but today's luxury vinyl planks allow you to have the beauty of wood in any room of the house, with next to no maintenance needed.
Vinyl flooring has come a long way since it was first introduced; in fact, today's luxury vinyl tile doesn't look like vinyl at all. Modern technology allows manufacturers to produce durable, long-wearing flooring that authentically replicates the look of natural stone or wood — complete with veining and variation, wood grain, and knots.
But unlike natural stone or real hardwood, vinyl flooring is completely water resistant without needing to be sealed. It's a great choice for busy families with children, pets, or high-traffic areas. What's more, a vinyl flooring installation fits in places where the real thing wouldn't stand a chance, like the bathroom, laundry room, and more. Even when wet, its slip-resistant finish prevents accidents. Here's one more benefit: In areas where you must spend a lot of time on your feet, such as the kitchen, you'll find that LVT is much more comfortable, and less stressful on your feet, knees, and back.
Here are a few of our popular wood-look luxury vinyl planks, along with some gorgeous installations that will convince you to put this innovative flooring at the top of your list.
AGED HICKORY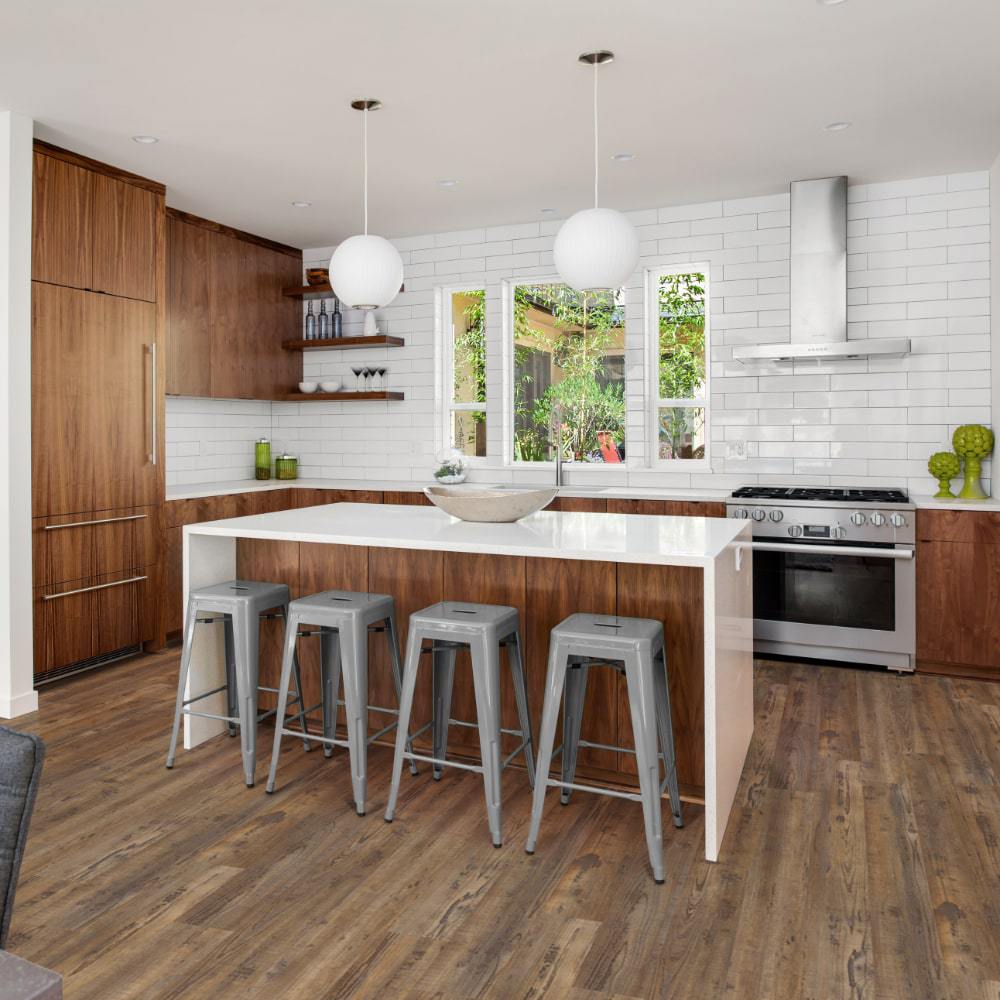 Kitchens can be messy places. For one thing, there's the risk of cooking mishaps — splashes, splatters, and spills. And since many families share meals in the kitchen area, such as a central countertop or peninsula, there's even more opportunity to make a mess. Let's not ignore the fact that the kitchen tends to be a gathering place for other activities as well, such as pet care, kids' class projects, and entertaining.
Most other flooring options just can't stand up to this type of active lifestyle like luxury vinyl planks. But that doesn't mean you have to sacrifice the wood look you love. Aged Hickory glue-down planks feature shades of light- to medium-brown, with an aged patina and saw marks that evoke times gone by. And all you need to do to keep it looking lovely is sweep it and mop occasionally with a mild cleanser. Watch this informative video for tips on how to keep your Everlife LVT flooring looking its best!
CHARCOAL OAK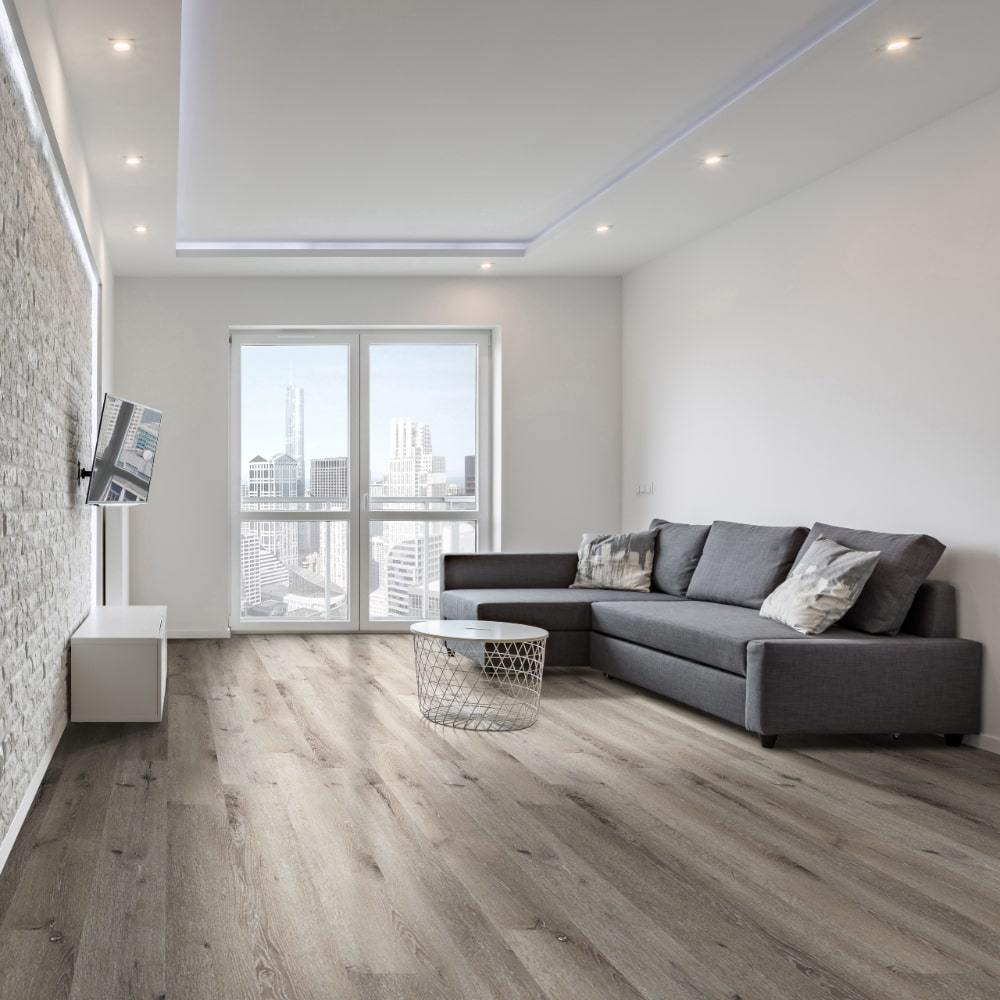 Whether your home is traditional, rustic, or a contemporary design as shown in this photo, wood-look vinyl planks can make any room cozy and comfortable. If you have a large room to fill, LVT is one of the most cost-effective options on the market. Once you see how great it looks and how well it wears, you might want to install it in your entire house. Matching trim pieces, such as endcaps, quarter-round molding, and stair noses are available, so you can ensure the polished, upscale look you're after.
Charcoal Oak is also easy to love because of its neutral palette of beige and gray. Its colors, along with the authentic graining, knots, and whorls found in natural wood flooring, make it complementary as well as practical.
LIME WASHED OAK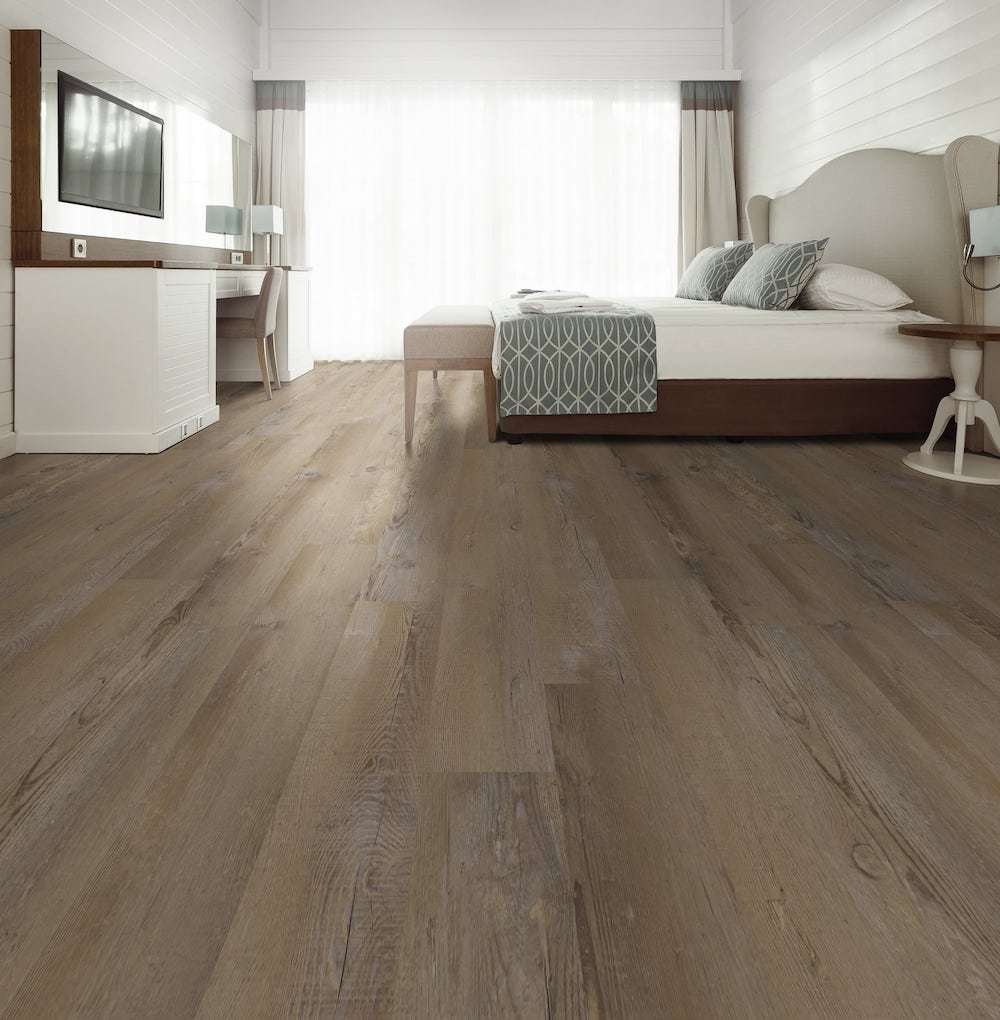 Every day, more homeowners are transitioning to solid flooring in bedrooms, and LVT is one of the top choices. Like natural wood, glue-down vinyl planks are warm to the touch and feel good on bare feet. It also absorbs sound, which can help make your soothing, quiet haven even more restful.
But that's just two of the many luxury vinyl tile benefits. If you're concerned about indoor air quality — and you should be — you can breathe easy knowing that MSI's LVT flooring is FloorScore and Greenguard Gold certified, guaranteeing that it complies with strict criteria for low emissions of volatile organic compounds (VOCs), which are associated with negative health effects.
Lime Washed Oak LVT is an easygoing mix of beige and weathered gray tones accented with subtle grains and knots. It comes with a limited lifetime warranty for residential use, and since vinyl flooring care and maintenance is so simple, you'll enjoy its beauty and comfort for a long time.
COASTAL MIX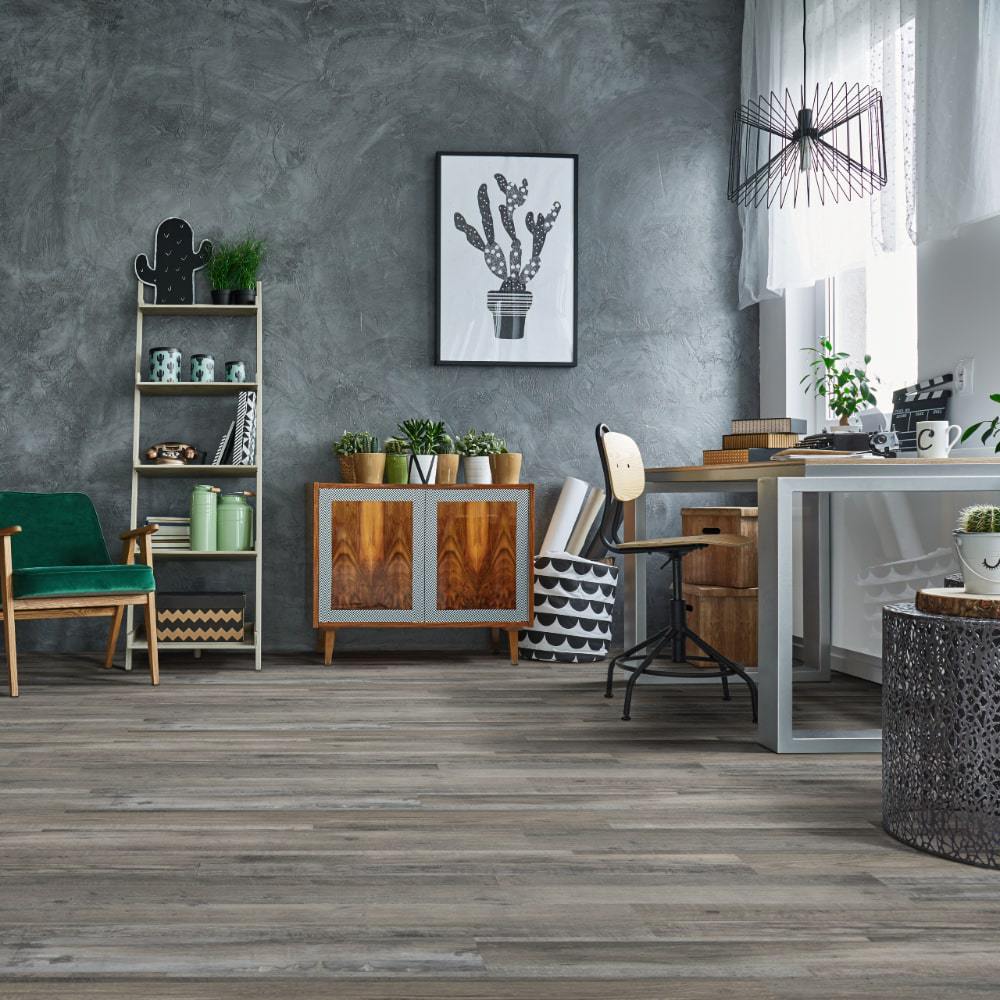 Whether you're working in a home office or a commercial space, there's no need to sacrifice style for the sake of practicality. LVT is tough and durable, even in high-traffic areas. It resists scratches, dents, and stains, and you'll have no need for one of those expensive chair mats for your rolling desk chair. A polished, professional-looking workspace can help make every day a success.
Coastal Mix LVT is a blend of gray and beige with realistic grains and knots with an attractive, on-trend weathered patina. It's easy to install, so those who enjoy DIY projects can save money on labor costs. Our vinyl floor adhesive products can help you create a flawless finished product. You can be confident installing MSI's Everlife LVT anywhere you like within the home, including basements and bathrooms.
At MSI, we love to help you create beautiful spaces. We stand behind our products, and once you've experienced what we have to offer, you will too. If you have any questions about our products, or need tips for installation or maintenance, feel free to give us a call or stop by one of our showrooms. You can also visit our website where you can chat with us online 24/7!
Learn More About Luxury Vinyl Flooring
Cost Comparisons Of Luxury Vinyl Flooring
Best Practices for Installing Luxury Vinyl Flooring
Find Inspiration With Our 10 Most Popular Luxury Vinyl Flooring Colors
Bigger And Better Than Ever: XL Luxury Vinyl Flooring
Beautiful Stone-Look Luxury Vinyl Tile Featuring MSI's Pietratech™ Technology
Whitewash Vinyl Flooring Planks From MSI