Warm Up With Magnificent Outdoor Areas
December 12, 2012
In our previous blog, Make a Splash with mosaics, we celebrated the outdoors with an eye toward water features. The goal, to imagine what mosaics and water can do for an ordinary plot of land, bringing water to plant life and movement to a space. This week, we'd like to turn your imagination to the joys of other functional features, expanding not only your own piece of paradise but expanding your living space with natural stones to include visual masterpieces with a function – fireplaces, barbeque pits, and outdoor kitchens.
Once a living room with a fire was the most romantic room in the home. Today, natural stone creations can bring that living room outdoors—adding breezes and a starry sky to the smells of a crackling fire and offering roomier spaces for larger groups.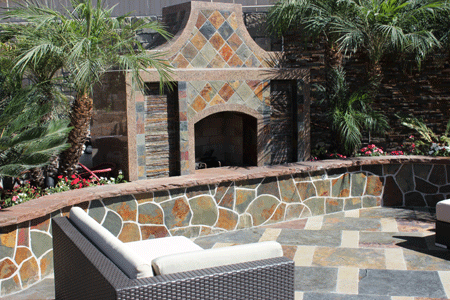 Natural stone isn't just for flooring; it isn't simply for covering surfaces. Natural stone can create dimension and interest. Best of all, it is difficult to find materials that do not complement one another. A mixture of quartzite, travertine flooring, slates, and granite in varying patterns and mosaics is an attractive blend with the presence of a defining color.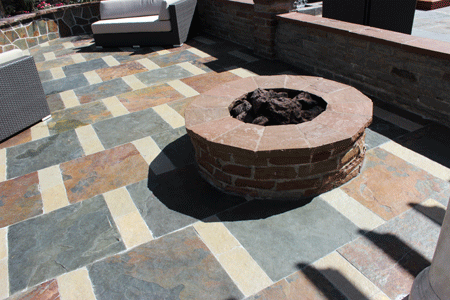 A fireplace is not the only way to add a little warmth in Winter for late nights outdoors. Fire pits are also an attractive and useful way to get the most out of an evening, enjoying the warmth of fire or using it for toasting marshmallows. It's also a perfect centerpiece at home with friends or in your business' backyard, providing a source of entertainment during a business meeting, while allowing plenty of room to move.
Best of all, at a party or meeting where everyone tends to drift, the fire pit draws a group in, encouraging guests to gather around its heat. Thoughtful use of natural stones for both the pit itself and for the surrounding patio ensures a beautiful talking point as well as a safe fire area.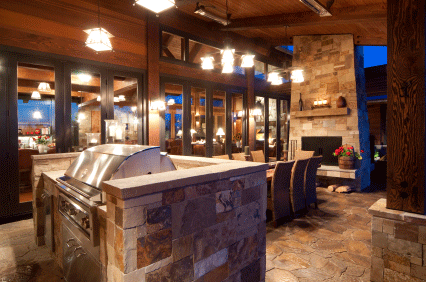 There's no warmer place than the outdoor kitchen. In terms of function, an outdoor kitchen offers something an indoor kitchen cannot – the functionality of an ordinary kitchen coupled with the ambiance of mother nature. Like an indoor kitchen, natural stone can be used for everything from limestone tiles for flooring to gorgeous granite countertops. "Breakfast" bars are also a great option as they offer a landing spot for guests to keep the cook company or for enjoying a meal. In a business setting, an outdoor kitchen is often overlooked, but don't underestimate the power of employee barbeques or grilling lunch for a team meeting, as food and relaxation let the ideas flow!
Fireplaces, fire pits, and outdoor kitchens (as well as the water features we discussed previously) are all great options for the creative use of natural stone, but landscaping does not stop with the focal points. Walls and pathways from landscape stones can unify the setting and truly showcase the color and elegance of natural stone, blending with nature rather than competing with it.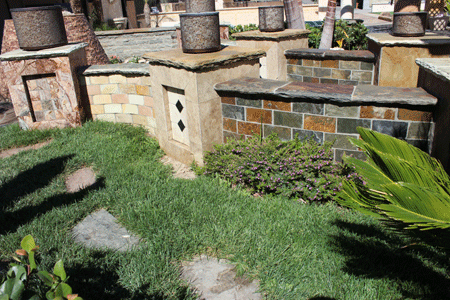 MSI is the leading importer and distributor of flooring, countertop, and wall tile and offers thousands of colors, patterns, and sizes of natural stones for your landscaping needs. Warm up your magnificent outdoor living or meeting space this season!