Popular
A First Look: Top 5 Design Trends Of 2021
January 19, 2021
Our Top 5 Design Trends are at the tippy top of the things we look forward to each January. Lush imagery. Product debuts. Industry insights. Helpful tips. MSI's 2021 Lookbook is a call to creativity – designed to spark your imagination and get the concepts flowing. Enchanted Forest, Gold with Envy, The Great Escape, Wall Stars, and Reinventing the Nest are the trends in this year's hard surface spotlight.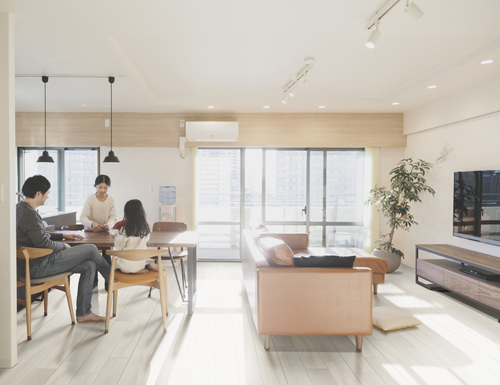 There are plenty of things in life to worry over. Your floors shouldn't be one of them:
Whitby White Luxury Vinyl Tile (Everlife).
Emily Holle, our Director of Trend & Design, said, "At its best, our annual Top 5 Design Trends Lookbook is a guide to creating inspired interiors. We hope that by sharing some of the world's most sought-after design ideas, people view it as an invitation to express their own style." It's also a robust tool for MSI trade partners to return to throughout the year when collaborating with homeowners.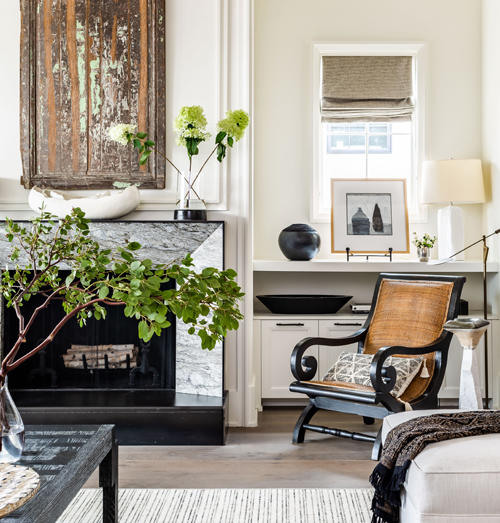 Designer Lorraine Enwright features Azul Celeste Granite in Atlanta's Serenbe Designer Showhouse 2020.
To help you step into the coming months on a practical note (beautiful looks can take us only so far), consider this collection a playbook for adding value to your home. The best part? An overwhelming number of our Lookbook products are kid and pet-friendly, as well as easy on the budget.
#1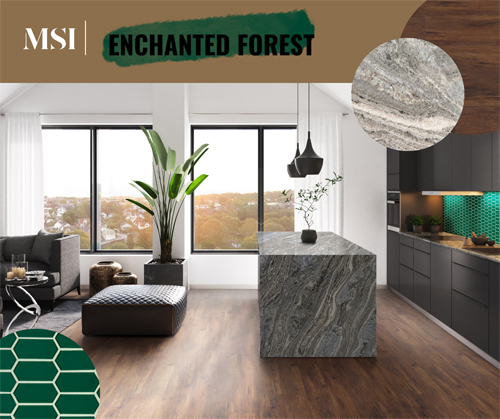 Inspired by lush treetop canopies and storybook woodlands, the best of the outdoors thrives in the Enchanted Forest Lookbook. The trend's vivid green color palette combines effortlessly with wood tones to deliver an immersive, earthy experience akin to forest bathing. (If ever there was a moment in time to surround yourself with the soothing properties of nature, it's now.)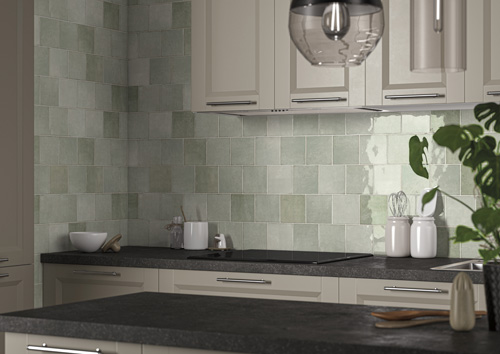 A Zen alternative to mainstream neutrals, Renzo Jade ceramic tile, combines soft green shades and handcrafted looks.
The look is approachable, yet the nuance and layers are sophisticated. Botanical hues like fern, moss, and emerald play out in solids, textures, and patterns, adding a burst of freshness to hard and soft surfaces. On floors, furniture, and cabinetry, blonde and ash wood tones provide a clean, natural vibe – perfect foundations to build upon. You'll also find moments of moody black, gray, and brushed brass underscoring the aesthetics' modern edge.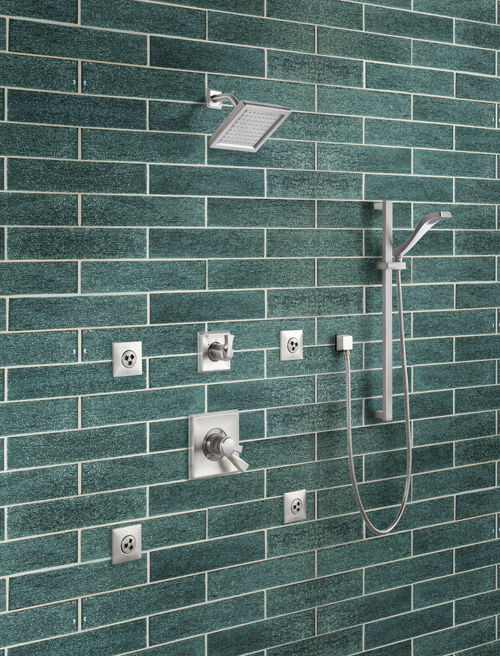 Everything pales in comparison to this glossy emerald green: Anacapri glass tile.
Design tips: Green is striking and powerful—especially combined with wood tones—so pops of this shade is all it takes to bring the look home. Consider pairing a glass backsplash tile - like Evergreen Subway or Arctic Ice with a heavy-veined countertop like Calacatta Macaubas quartzite or Arabescus White marble. Underfoot, try Everlife's Akadia Luxury Vinyl Tile. Don't forget the forest! Plants are a must!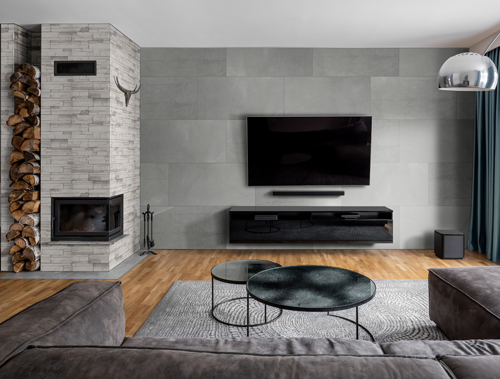 Forest Den done right: Copen Snow fireplace.
#2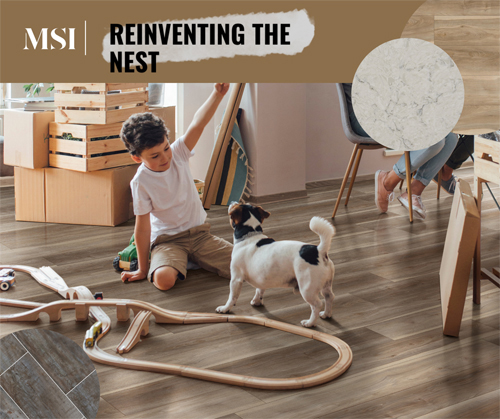 The 2020 struggle was real and in many ways, we're still adjusting to the new normal. From remote work and learning to family life demands, achieving balance when everything is under one roof is no easy feat.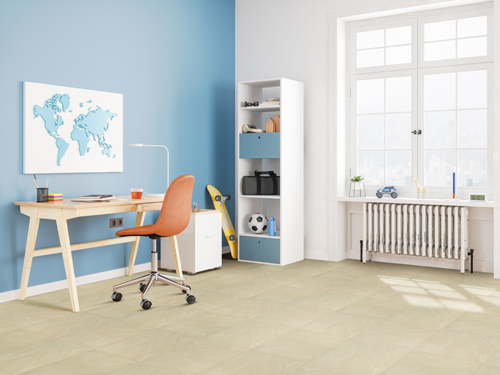 Geography lessons to Housework 101, no special upkeep needed with our porcelain tile lineup.
We made many reactionary changes last year. Reinventing the Nest improves upon them with stress-free solutions designed to withstand the rigors of daily life. Part of the movement calls for multi-use zones with built-in versatility. And creating a much-need separation for the roles we play - parenting, working, schooling, and relaxing.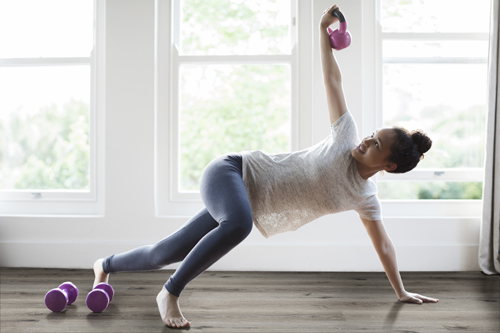 Living room turned home gym, Ludlow Luxury Vinyl Tile is a sweat-free choice.
Another aspect of the trend is low-maintenance products that won't break the bank. Whether working behind closed doors in a home office or homeschooling the kids, magazine-worthy high-performing surfaces satisfy the right and left brain. Making the shortlist are waterproof, pet-proof, and kid-friendly surfaces like Everlife Luxury Vinyl Flooring, Q Premium Natural Quartz countertops, and porcelain tile.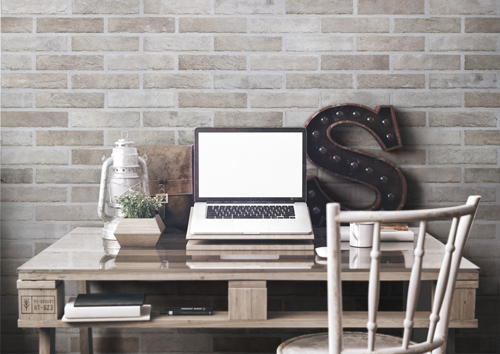 A workspace gets a makeover with Brickstone's Ivory Porcelain Tile walls.
Design tips: Wood-look Everlife Waterproof LVT (Whitfield Gray and Ryder – to name a few) are more authentic-looking than ever. On countertops, Babylon Gray Concrete and Midnight Corvo Concrete lean modern. White marble clones - Carrara Morro Quartz and Carrara Lumos Quartz - are ideal for classic kitchens and baths.

Woburn Abbey Vinyl Flooring elevates family time.
#3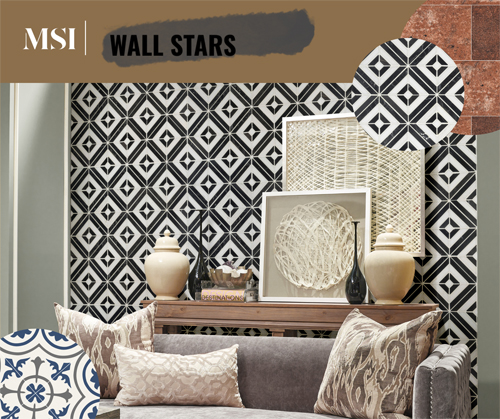 Wall tile adds life to spaces big and small – and in 2021, residential and commercial designers are going all in. It's all about the wow-factor and no area is off-limits. From the entryway to the back of the house, Wall Stars add dimension, texture, pattern, and color; paint and wallpaper cannot.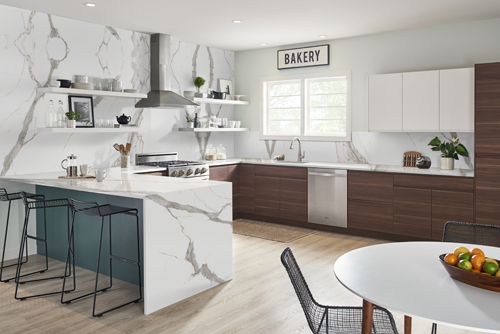 Book match ultra-thin porcelain slabs are in high demand - Statuario Bari (Stile), notably.
3D mosaics, ledger panels, geometrics, and matte looks are among the newest wave of backsplash and wall tile modernizing interiors. Though, classics— wood, brick, subway, encaustic, stone tile— will always have a place in the design playbook – especially when you mix it up, like below.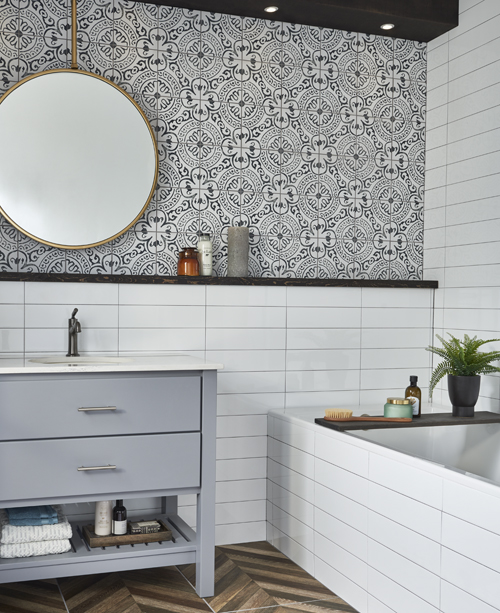 Paloma Porcelain (Kenzzi collection) and White Ceramic Subway Tile are a striking pair.
Marble look quartz backsplashes in kitchens. Stacked subway tile in baths. Statement-making shapes in entries. We're running tile up the walls in versatile ways this year.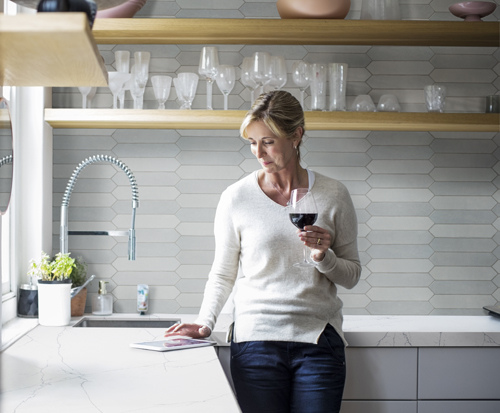 Calm, cool, collected: Renzo Sky is a tastemaker go-to.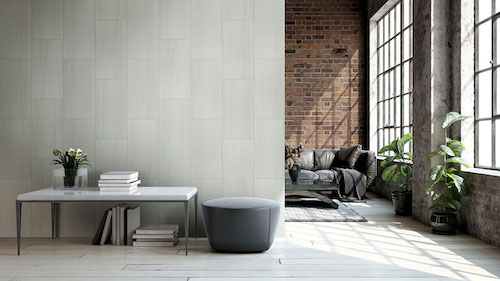 A clean, modern, and natural stone look in a fuss-free porcelain tile: Eden Dolomite.
Design tips:
1. Transform a living room wall into a coveted architectural feature with Sedona Platinum (Rockmount Stacked Stone).
2. Add color to the kitchen with Blue Shimmer Arabesque wall tile.
3. Behind a modern bed, go with a sleek and contemporary matte finish: Eramosa Gray porcelain tile.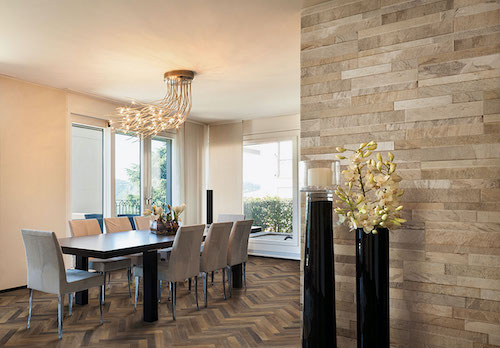 Canyon Cream Dekora Porcelain Panels add instant warmth to this dining area.
#4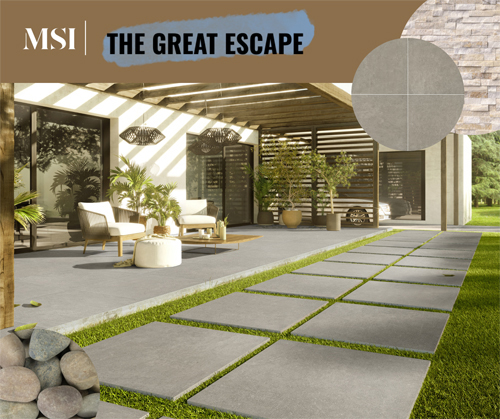 2020 changed everything - outdoor living included. As we hit pause on entertaining, we looked to our homes' exterior to find practical solutions for family and work life. More usable square footage to extend our home's footprint is not exactly new, but what is – is claiming high-functioning micro-spaces in the yard to increase productivity (remote working and learning top the list).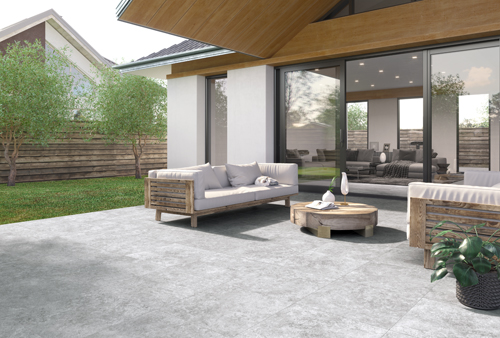 An eight-room backyard retreat or a postage-stamp-sized city terrace, Arterra Porcelain Pavers lay the
foundation for a well-loved space.
Large-scale outdoor projects play a large role in 2021. Designated rooms with all the creature comforts of interiors, specifically. Tech-savvy amenities –heating, lighting, and all products that fall within the Internet of Things (IoT) category, give the Great Escape trend story its modern edge.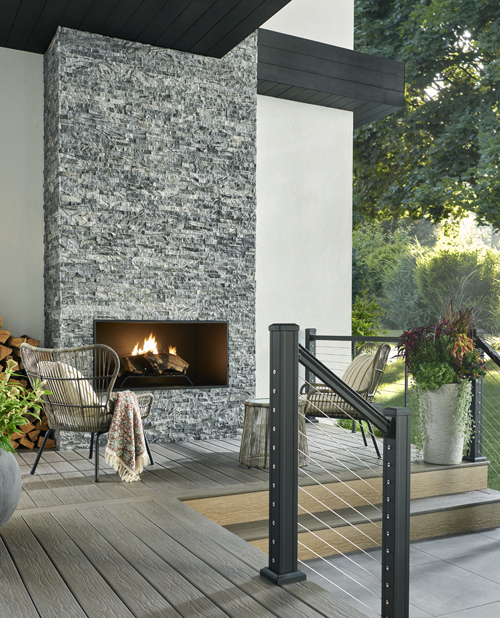 The best seats in the house are in front of this Rockmount Ledger Panel fireplace.
Whether gardening, dining with the kids, or just taking a much-needed moment to yourself, pebble pathways, stacked stone firepits, fireglass, and indoor/outdoor tiles make connecting with nature a bit dreamier in 2021.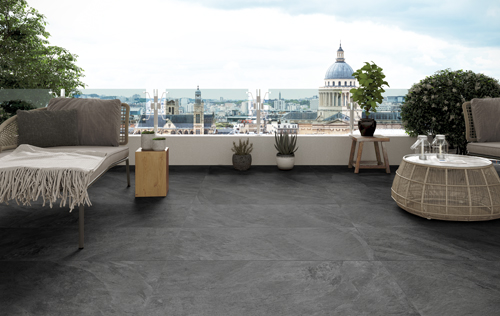 A postcard-ready view made all the more lovely by Montauk Black Slate.
Design tips: Arterra Porcelain's indoor tiles and matching pavers blur the lines between interior and exterior rooms: Praia, Caldera, and LivingStyle (Beige, Cream, and Pearl). Our latest LVT-inspired pavers, Arterra's Lucas Canitia, bring seamless wood looks from the foyer to the patio.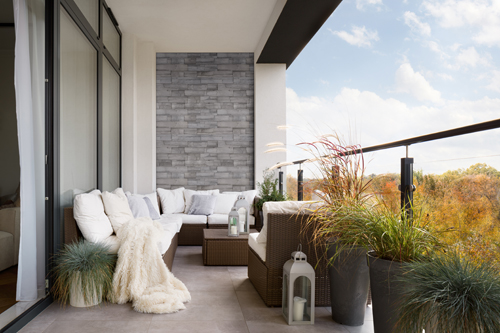 This cozy nook with Copen Ash ledger panels stands up to the elements.
#5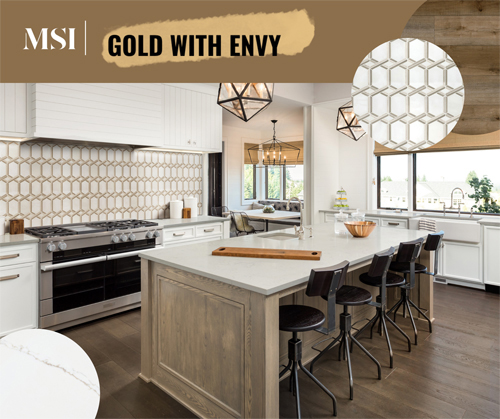 The Gold with Envy trend builds upon bright open floor plans to bring all things warm, light, and breezy to the surface. Interiors return to earth tones - the palest on the color wheel - for a fresh, bright, and airy aesthetic. The golden hour color story looks modern and effortlessly put-together. Yet nothing feels too precious.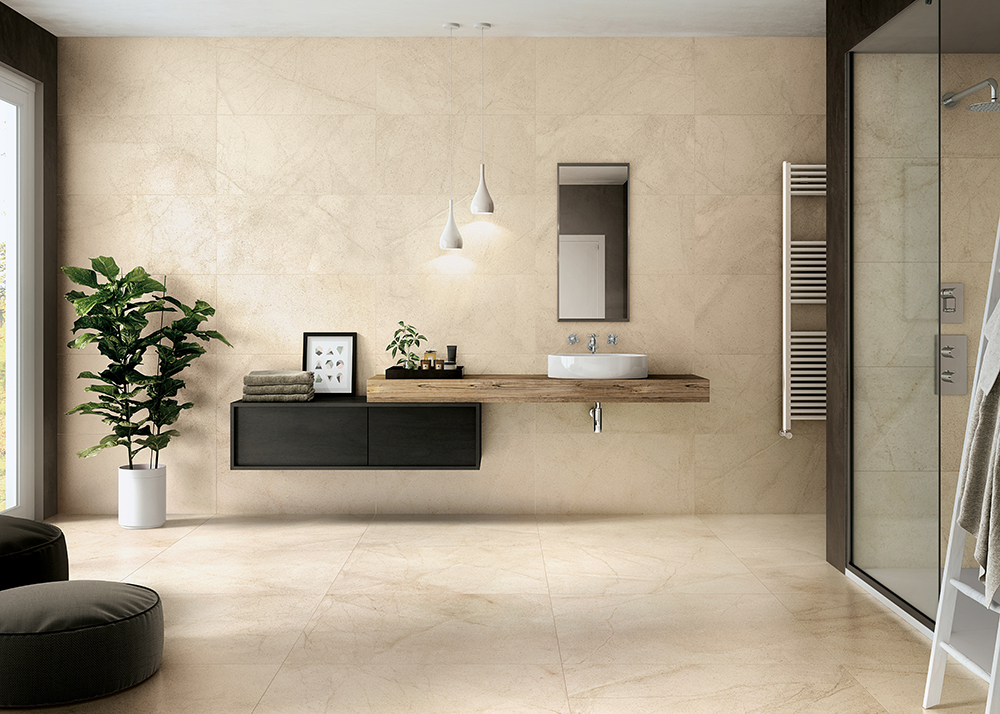 Livingstyle Cream porcelain tile delivers soothing neutral tones to this bathroom.
Champagne, blonde, and platinum — join with caramel and ash shades to create a versatile universe of nature's warmest neutrals. A soft palette is set off with brushed brass finishes and natural textiles –avoiding the one-note look. The effect is calm and inviting.
Underfoot, Saddle Porcelain tile (Braxton Collection) complements the low-key feel of this open living space.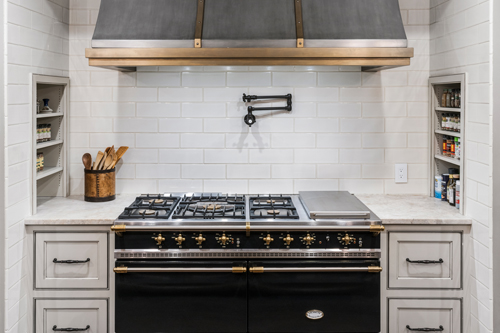 All around chef-worthy: Whisper White backsplash tile and Quartzite Allure counters.
Design tips: Start with creamy white quartz countertops (Portico Cream or Perla White). If you love marble, see Crema Marfil Select. Combine pale cabinets with wood look floors, Andover Whitby White LVT, or Catalina Teak porcelain. Add interest and dimension to walls with Brickstone Ivory.
Whether you can't go another minute without deciding on a low-maintenance floor or you're just gathering countertop ideas for a someday kitchen project, we hope you enjoy exploring our 2021 surface trends. Trying out one of them in your next project? Be sure to tag #msisurfaces. We love seeing the looks you create pop up on our Instagram feed.