Standard Vs. Full Kitchen Backsplash: Which Is Right For You?
July 15, 2021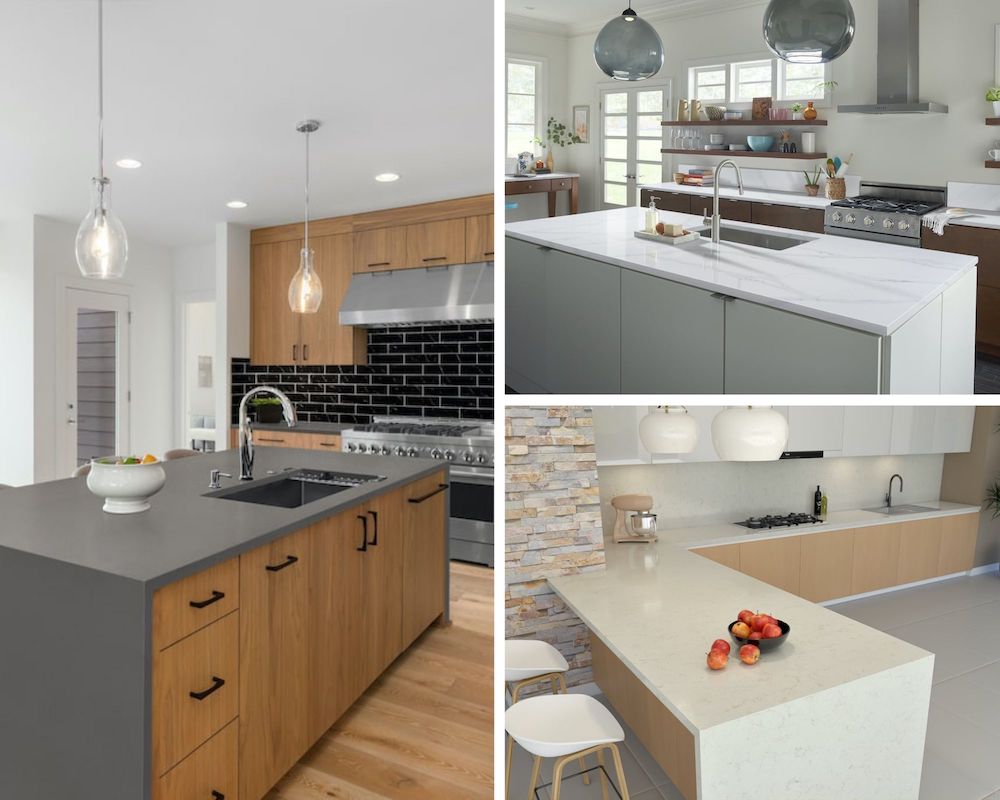 When renovating a kitchen, it's important to pick the right big-ticket items that work well with the smaller details. While you may start with the countertops or cabinets first, remember that your backsplash can make a big impact. Not only does it serve a functional purpose, but it also improves the cooking space's overall aesthetic.
From countertop extensions to mosaic tiles, there are a number of kitchen backsplash options to choose from, but the first thing you should consider prior to picking your perfect material is the height. Some stick with the standard height backsplash, while others wish for a full height backsplash. In this guide, we'll explain what they are and the benefits they offer so that you can choose the right height backsplash for your new kitchen.
Standard Backsplash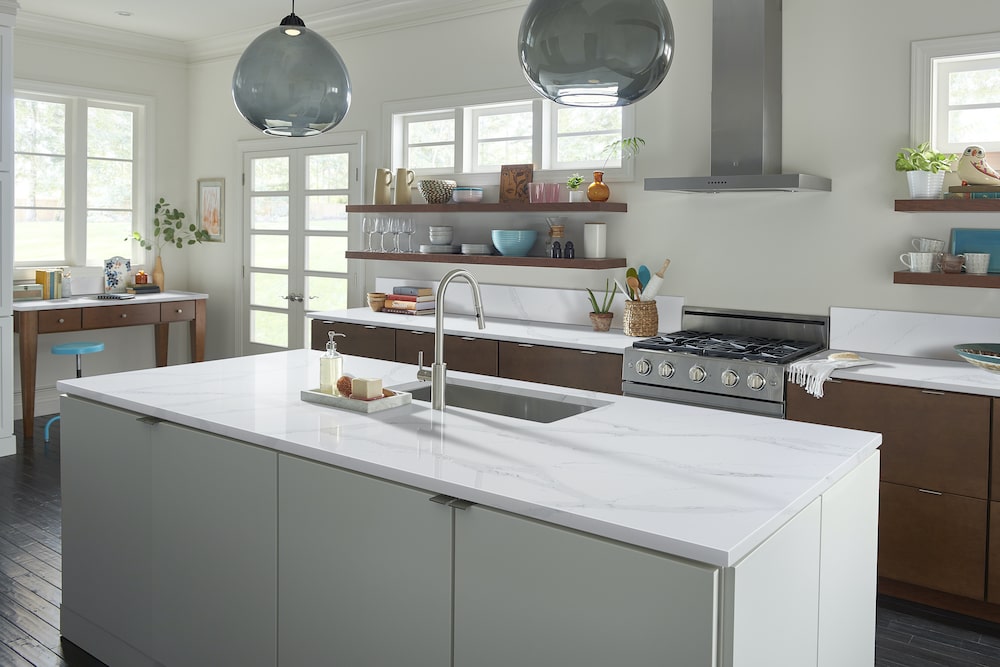 Calacatta Azai Quartz
A standard backsplash continues from the kitchen countertops to approximately three to six inches up the wall, with four inches typically being the most common height. It's often created using the same materials as your kitchen counters, such as popular surfaces like granite, marble, or quartz, but the backsplash can be made of mosaic tiles as well. Because it's a smaller section, using the same stone will give a more cohesive, streamlined style.
One of the biggest benefits to having a shorter backsplash is that it's a cost-effective upgrade that can be quickly added to your kitchen. A standard height backsplash uses a lot less material and doesn't require the same amount of labor as a full kitchen backsplash would. This will also be a cost-saving option if you've already chosen a beautiful but pricey countertop. Even if you're working on a budget-conscious project, don't let the standard height stop you from exploring other height alternatives; you could extend your backsplash up to eight or even 10 inches, especially if you have open shelving above.
Other positives for a standard height kitchen backsplash are that you'll have less material to wipe down and replacing or repairing a broken piece is generally easy. Quickly wiping down the area with some warm water followed by some soapy warm water with a soft sponge will keep your backsplash clean.
One of the downsides to choosing a standard height backsplash is that it covers less wall surface, which means more of your walls will be exposed to cooking splatters and splashes. However, one way to keep important areas protected is to only add a full height backsplash behind your stove, as it will help keep costs relatively low but still offer more protection where you need it most.
Full Backsplash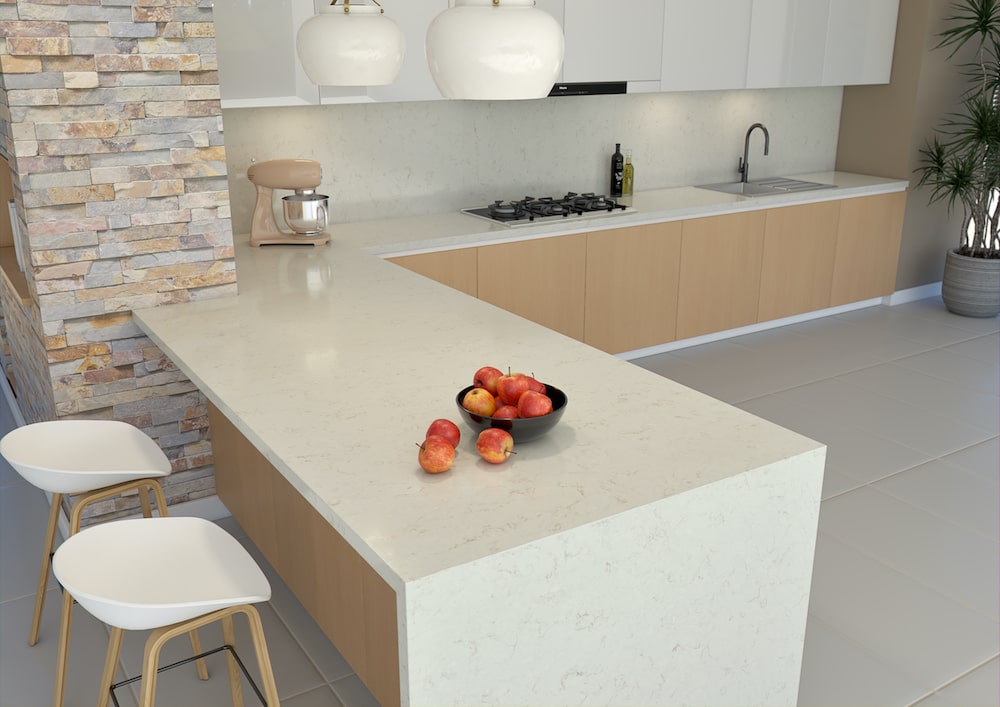 Cashmere Taj Quartz
A full backsplash continues from the countertop to the bottom of the upper cabinets or reaches all the way up to the ceiling. It typically features the same slab of stone on your countertop or any of a variety of backsplash designs for major visual impact. Full slabs will offer the most modern, minimalistic look, while breaking up the full backsplash by adding tile patterns behind the stove will add a splash of color or introduce new textures for something more traditional or farmhouse. While you'll probably consider the countertop color, make sure to also factor in the cabinet color as well. You can choose something that complements, matches, or contrasts with the cabinetry. No matter which direction you choose, you'll easily create a focal point in the kitchen with a fabulous full backsplash.
One of the best benefits of a fully covered backsplash besides its beauty is the protection. Stone, engineered stone, porcelain, ceramic, or glass backsplash tile are much easier to wipe down than your walls, which can become damaged over time from spills and splashes as well as from constant cleaning. If you love to cook, entertain, or craft with the kids in the kitchen, then a full backsplash will be your safest choice. You'll definitely want the most protection around the sink and stove, since these areas will be heavily used and can cause the most damage from water and grease.
Before making a decision, though, you should consider that a full wall tile backsplash might be more difficult to reach to clean. Unlike a standard backsplash where a few inches is within arms reach, a full height backsplash will be harder to get to when cleaning the tiles or slabs all the way up to the ceiling. While the cleaning process would be the same, whether or not you want to pull out the ladder may be something to keep in mind when determining whether or not you want to stop a backsplash at the bottom of the cabinets or continue to the ceiling.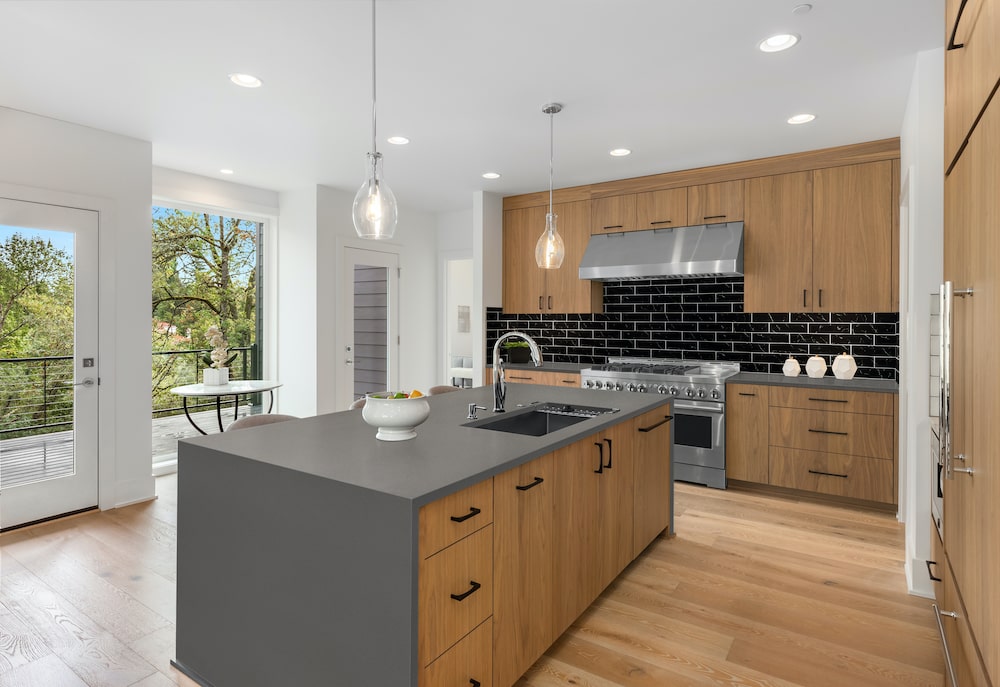 Macabo Gray Quartz
Another downside to a full backsplash is the budget, as it does require a larger investment. Not only will the materials cost more, but also the labor costs will increase due to more time and cuts involved. Of course, the price for materials will depend on what type of backsplash you choose, and if price isn't a huge concern, then you may not care that the beauty comes at a cost because it's worth it in the long-term.
Which One Is Right for You?
Whether you're shopping online or in the showroom, it's important to explore your options first. You may fall in love with a countertop material or tile that works with the overall aesthetic of your new kitchen, but it also needs to suit your budget, too. And, even though some say that the standard height backsplash looks outdated, and that the extra slabs or tile are worth the investment for a fresh, statement-making design, it's important not to break the bank because of a backsplash. If a full backsplash is what you want, then make sure to incorporate it into the overall cost of your kitchen remodel.
With so many options to choose from, picking the backsplash with the right visual and functional needs can be overwhelming. At MSI, we offer a wide range of countertop materials and backsplash designs perfect for your next project. For more kitchen design inspiration, check out MSI's backsplash visualizer tool to help you envision your new backsplash.
If you need more help in deciding which backsplash size is right for your upcoming kitchen renovation, contact our experts using the chat feature on our website, visit an MSI showroom, or find an authorized MSI dealer near you today.
READ MORE ABOUT MSI BACKSPLASH TILE
Pairing Granite Countertops With The Perfect Backsplash
Should You Align Backsplash Wall Tile Vertical Or Horizontal?
Specialty Shape Backsplash Tiles Make A Modern Statement
Striking New Marza Backsplash Tile Collection Offers One-Of-A-Kind Looks