Find An Everlife Luxury Vinyl Plank Floor That Fits Your Needs
January 13, 2022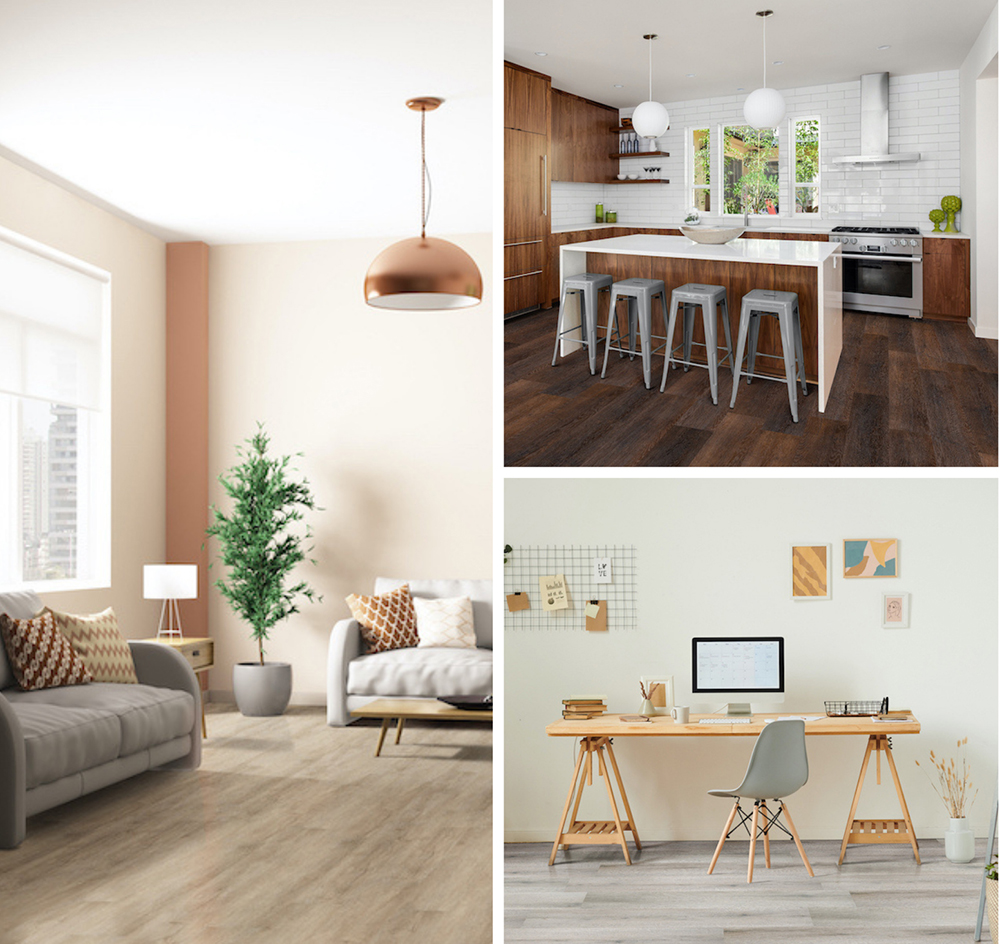 Hardwood flooring has long been considered a classic favorite for all types of decorating styles. That is, in large part, because it's expensive — both to purchase and install. It also requires a significant amount of maintenance, because although it's a lot easier than carpet, hardwood flooring is prone to damage from scratching, scuffing, and water damage. Real wood flooring in humid environments can warp and crack, even if it never gets wet. It's truly a mark of luxury and opulence, but how can you enjoy the beauty and warmth of real wood without the hassle and expense? MSI Luxury Vinyl Plank floors are the answer.
Luxury Vinyl Planks (LVP) are relatively new arrivals in the flooring market, and are soaring in popularity. That's because they allow homeowners to have the luxury and long-lasting durability of natural hardwood without the concerns mentioned above — warping, cracking, scratching, and scuffing. LVT is a fraction of the price of real hardwood, and many types are easy DIY projects allowing you to eliminate the cost of installation as well. Also, Luxury Vinyl Planks Care & Maintenance is easier than many alternative types of flooring.
There are different types of LVT to choose from, so how do you know which is best for the installation you have in mind? The difference between Luxury Vinyl Plank and Luxury Vinyl Tile is minor – all of it is considered LVT, though LVT is also available in square- or rectangular-shaped stone looks. The term LVP describes wood-look planks, some of our most popular products. Read on to find out more about MSI's LVP options.
Best for Kitchens and Bathrooms
BEMBRIDGE LUXURY VINYL PLANKS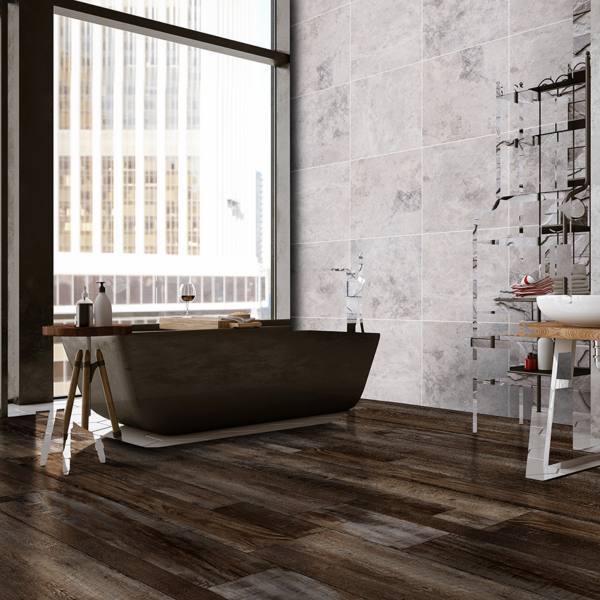 One of the best benefits of Luxury Vinyl Plank flooring is that it's totally waterproof. That said, if you need serious protection against water damage in areas prone to splashes or even standing water, LVT Everlife is an excellent choice. Bembridge luxury vinyl planks from the Cyrus series feature a mixture of gray and dark brown in a high-variation pattern that appears worn and rustic. It is 5 mm thick, with a 12-mil wear layer. A 1-mm waterproof backing is already attached — this helps absorb sound and gives it an extra warm feel underfoot.
WHITFIELD GRAY LUXURY VINYL PLANKS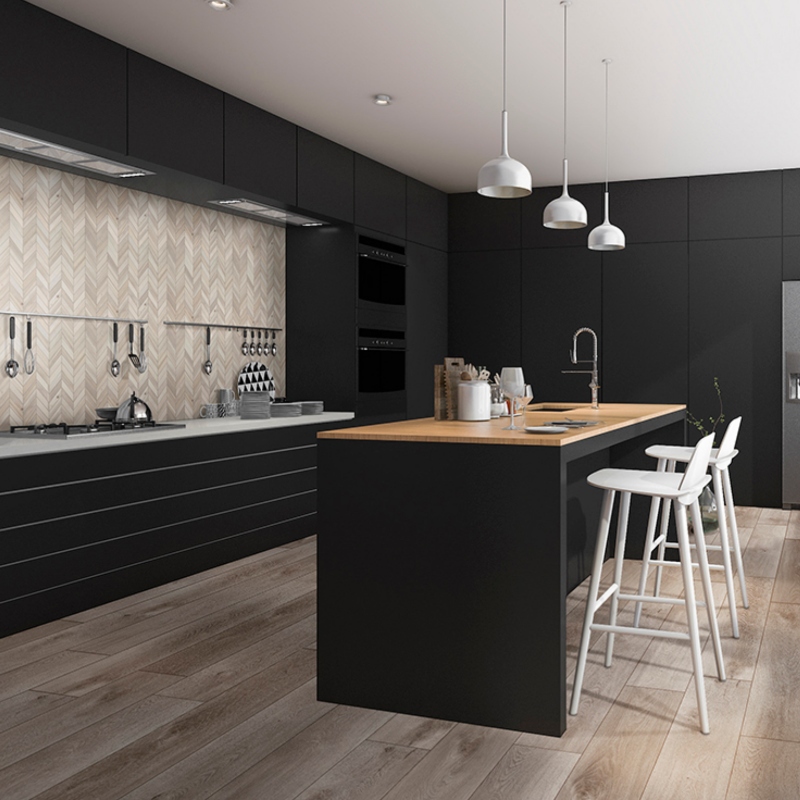 Whitfield Gray LVT from the Cyrus XL series features a light shade of gray with subtle knots and grain patterns. This elegant flooring also offers an additional touch of luxury — enhanced beveled edges. These give the planks extra contrast and dimension, so they look even more like real, natural hardwood flooring. Despite its realistic look, you can install it in kitchens, bathrooms, and other areas prone to wet conditions without worrying about water damage because it is 100% waterproof.
Best for Scratch and Stain Resistance
AVERY ASH HYBRID RIGID CORE FLOORING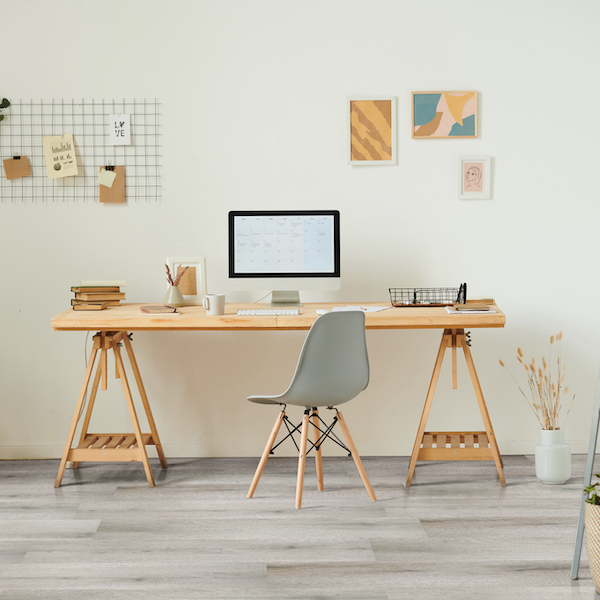 Rooms that get a lot of foot traffic need tough, durable flooring such as Avery Ash, which features a soft shade of gray with subtle grains and knots. This is especially important for busy families with kids and pets, because it's excellent at resisting damages from scratches, scuffs, and stains. Like other types of LVT flooring, Avery Ash is totally water resistant— and anyone with pets knows how welcome that feature is! It is made with a CrystaLux Ultra wear layer that provides 50% improved scratch protection over ordinary vinyl flooring.
BROCKTON HYBRID RIGID CORE FLOORING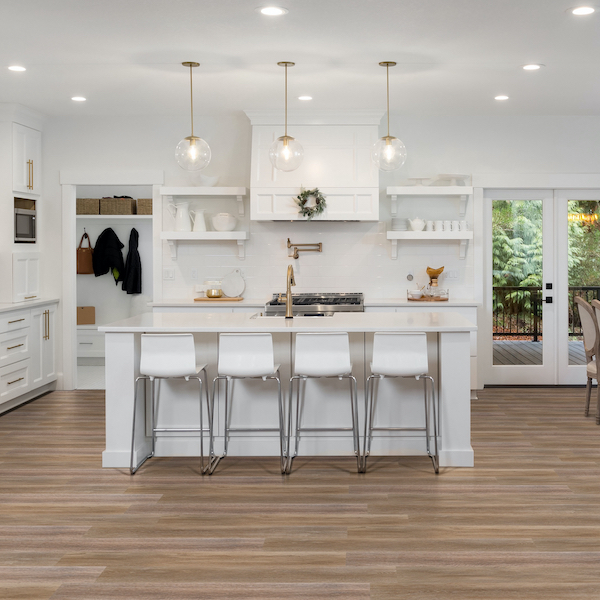 Brockton is another gorgeous wood-look LVT flooring option, perfect for busy kitchens, family rooms, entryways, and much more. It features a cozy shade of cinnamon brown with realistic, subtle graining and wood knots. MSI's Waterproof Hybrid Rigid Core flooring comes with a pre-attached 2 mm backing, which gives it a warm feeling underfoot and absorbs sound — a welcome feature in a home with a lot of busy activity.
HILLSDALE HYBRID RIGID CORE FLOORING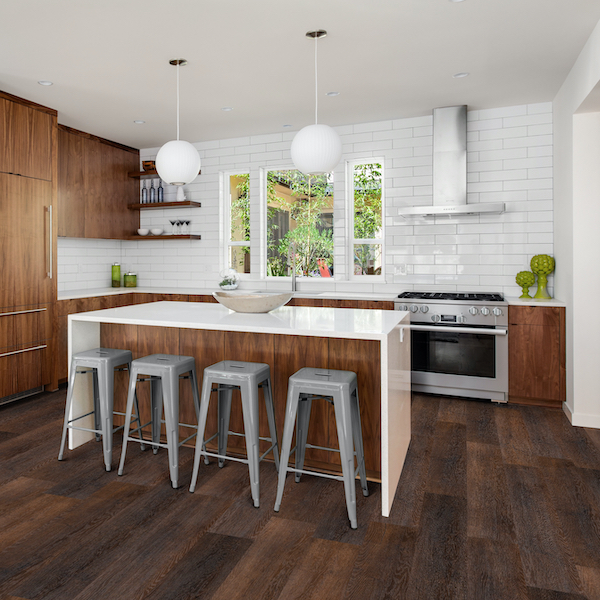 From the Everlife Smithcliffs Collection, Hillsdale features rich tones of cocoa-brown with subtle wood graining and knots. It's a natural match for busy kitchens, living rooms, hallways, bedrooms, or any other part of the home that needs extra protection against stains and scratches. With this heavy-duty LVT, you can worry less when moving furniture or just scooting around the dining-room chairs. With this exceptional durability, however, there's no need to sacrifice the elegant look of dark hardwood flooring.
Easiest DIY Installation
AKADIA LUXURY VINYL PLANKS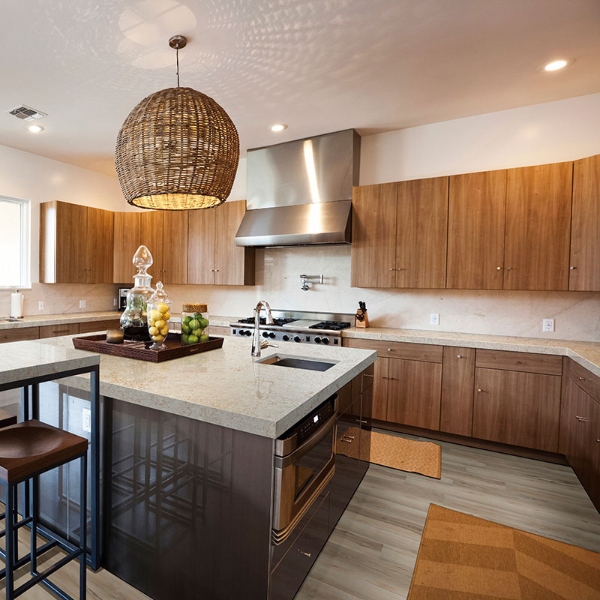 If you've ever tackled a home remodeling project, you know that the labor cost can be a huge part of the expense. If you can do it yourself, you can save a lot of money — and spend it on other things, like accessories and decor, or top-of-the-line appliances. MSI's LVT Everlife Prescott collection is one of the best flooring options for DIY projects. This rigid-core flooring has an underlayment already attached, and just clicks into place, plus it's a cinch to trim to fit.
Akadia planks feature a classic, light beige shade and delicate, realistic wood graining. Like other types of LVT it is completely waterproof, comes with a durable wear layer, and is air-quality certified. MSI offers a lifetime residential warranty and 15- to 20-year warranty for commercial use.
LUDLOW LUXURY VINYL PLANKS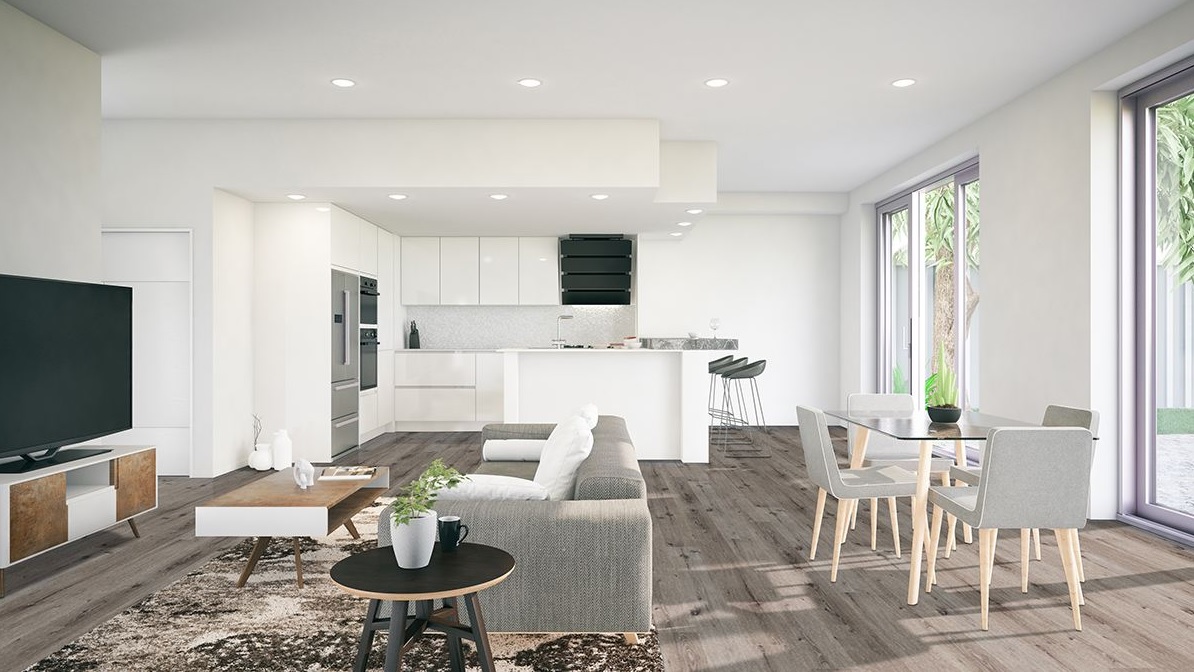 For a look that's a bit more rustic and casual, consider Ludlow LVT, also from the Prescott collection. This plank flooring is a soft gray shade with charcoal-gray veining and wood knots, with a slightly weathered look. Be sure to order matching trim pieces to complete the easy installation.
SANDINO LUXURY VINYL PLANKS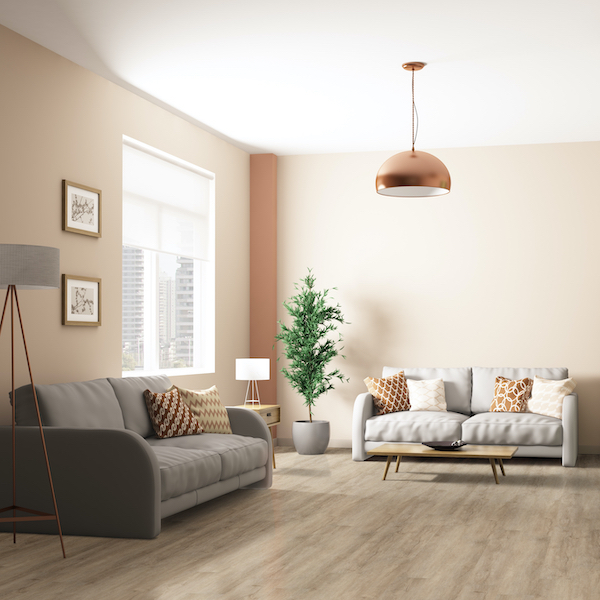 Sandino luxury vinyl planks are a pale brown color, similar to Akadia, but with a more subtle wood grain pattern. This neutral-hued wood-look vinyl flooring is the most affordable, easiest way to makeover a bedroom, living room, or any other space in your home.
With so many types of Luxury Vinyl Tile to choose from, MSI is always here to help. If you have questions about which is best for your application or about its installation, please feel free to contact us.
Learn More About Luxury Vinyl Flooring
Create A Seamless Luxury Vinyl Flooring with Coordinating Stair Treads, Trims, And Transitions
How To Choose A Luxury Vinyl Flooring Style And Color That's Right For Your Home
Luxury Vinyl Flooring Looks: What's New For 2022
Get The Look and Feel of Real Wood with Waterproof Vinyl Plank Flooring
Why You Should Choose Vinyl Plank Flooring Over Laminate
Visualize Luxury Vinyl Planks, Backsplash Tiles, And More with Our Bathroom Visualizer