Alfresco Living With Our New Concerto Indoor & Outdoor Porcelain Tile Collection
July 28, 2020
There is no cookie-cutter recipe for creating your ideal alfresco space. From designing a shaded area to choosing your outdoor porcelain tile to decide if you want an outdoor kitchen, there are plenty of customizable elements to craft your perfect outdoor living area! Your alfresco area is an extension of your living space, tying together your interior aesthetic with your backyard.
Using Concerto Porcelain Tile In Your Alfresco Space
Although your patio is outside and exposed to the elements, an alfresco living space should seamlessly transition from your home's interior style and decor into the backyard. To match your home's indoor aesthetic, you should invest in high-quality outdoor flooring. With so many options available, it can be hard to decide which is best for your space. A popular choice for its "outdoorsy" elegance and durability, indoor and outdoor Concerto tile is a clear frontrunner!
The concrete-look of the tiles helps tie together your space, making it look sophisticated and lived in at the same time! It's grey hues and lightly weathered aesthetic mimics stamped concrete and matches any aesthetic, making it extremely versatile. These low-maintenance tiles and pavers are available in both 24x24" and 18x36", allowing you to incorporate them into your design in a variety of ways—using them as floors, walls, countertops, patios, driveways, pool surrounds, and more!
If you're looking to incorporate the look of concrete, Concerto tile is a great low-maintenance and durable alternative with an added sense of sophistication. The porcelain tile offers a weathered appearance while providing matching edges for a fluid concrete appearance. Blending your interior and exterior with porcelain tile allows guests to transition in and out of your home in a more natural way.
One of the biggest benefits of porcelain tile is it's resistance to frost. Concrete is known to crack after being exposed to the changing elements, but your indoor and outdoor porcelain tile will be resistant to the outdoor climates. How to Style Your Alfresco Space with Concerto Tile Your outdoor space is an extension of the style and aesthetic choices you make inside your home—and Concerto tile can easily tie together all your design choices throughout the entire space!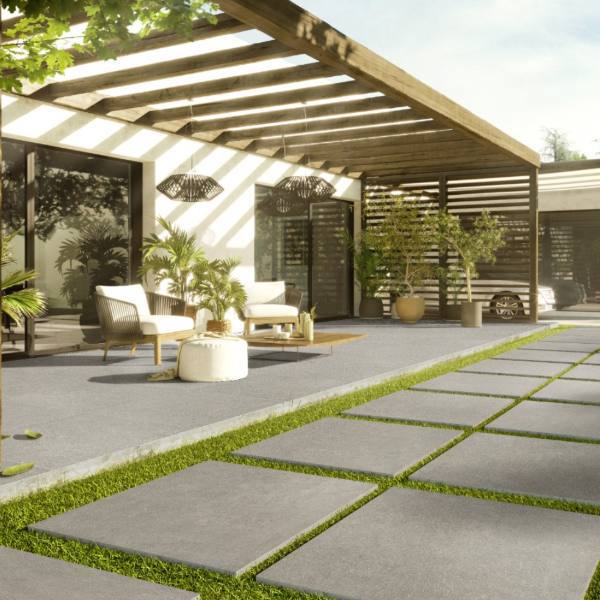 Grigio Porcelain
Create a Modern, Cohesive Outdoor Space
Maybe you're asking yourself: how can I make my outdoor space more cohesive? You've chosen the other elements of your alfresco space—the outdoor kitchen appliances, the furniture, and decor. But now you need to select the ideal flooring to unify the entire space. By combining luxury Concerto porcelain tiles, you'll create a warm and inviting outdoor area that creates a perfect space for relaxing or entertaining guests. Transform your backyard into a luxurious sanctuary by incorporating wooden furniture with white accents and the contrasting weathered-look of the concrete-like tiles to make your space pop.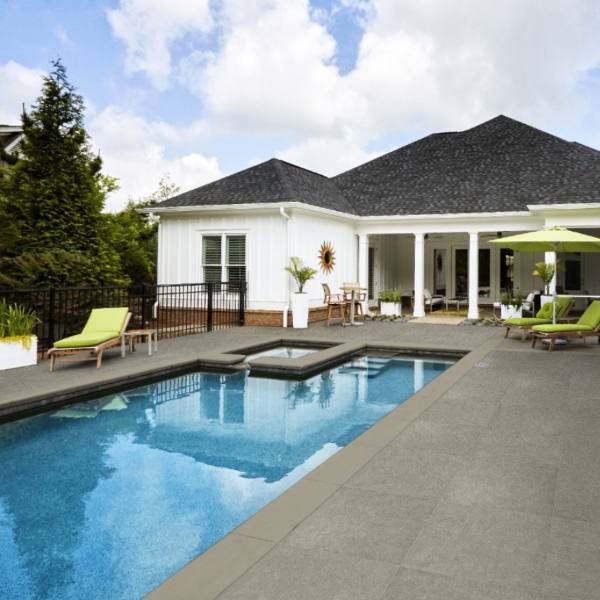 Grigio Concerto
Build Seamless Areas Throughout Your Backyard
Take your pool from drab to fab with Concerto porcelain tiles! You can enhance your patio by expanding the tile throughout the entire outdoor area. Doing so will allow you to have a cohesive backyard, while still creating smaller zones throughout the space for eating, entertaining, and lounging. When designing your alfresco design, consider incorporating different areas where you can lay by the pool and enjoy the sunshine, snuggle on the covered patio to read on a rainy day or host a barbeque for your friends and family—all with the Concerto tile underfoot!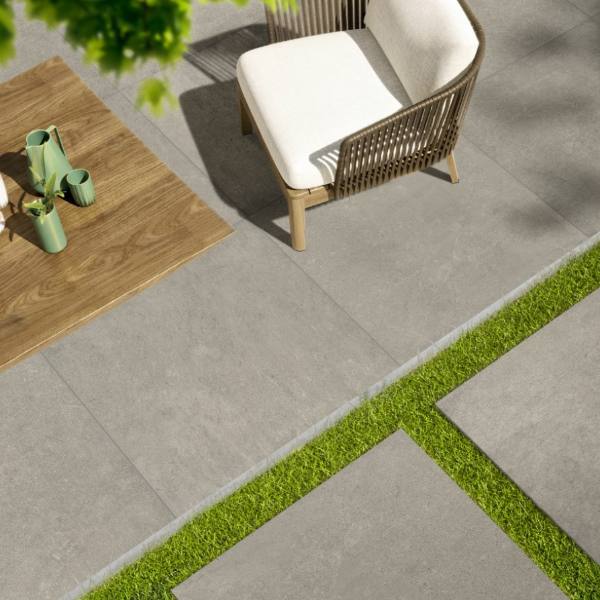 Create Unique Tile Patterns Showcasing Greenery
Whether you have a tiny patio or an expansive garden, Concerto tiles can create a luxurious outdoor area that will allow you to take full advantage of warm weather. A common concern we hear from homeowners is that they don't want the tile to take away from the greenery in their backyard. When designing your alfresco area, you don't have to install porcelain tile from wall to wall! Use the varied sized porcelain tiles and pavers to create tile patterns that are both functional and aesthetically pleasing.
Merge Your Interior & Exterior Seamlessly
The perfect alfresco space is an extension of your home's interior into your backyard. With so many choices to makes when designing and decoring your outdoor space, you need to find introduce elements that will create a relaxing and enjoyable atmosphere. To create this look, you need to seamlessly merge your home decor and blend it into the outdoor area. An easy way to replicate your indoor space is to incorporate beautiful and durable flooring that matches that makes your interior-like elements stand out. Try adding features like an outdoor fireplace, natural wooden furniture, and a tiled area under a covered roof that opens out to the rest of the backyard. You can even tie in an outdoor rug for some added comfort underfoot!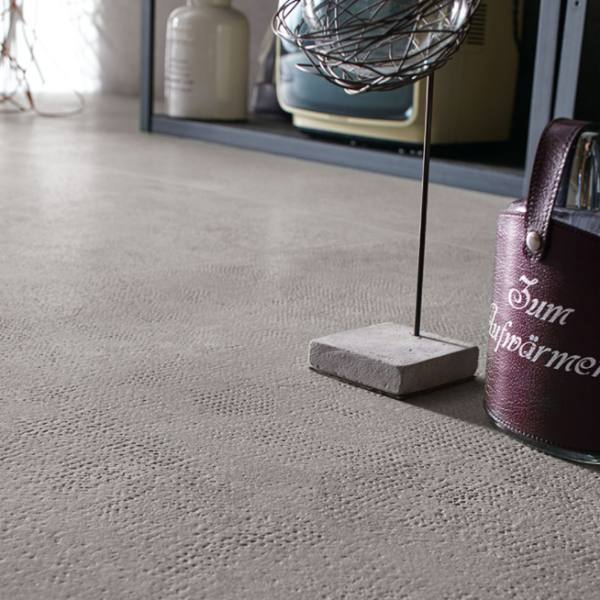 Grigio Concerto
Glam Up Your "Space While Still Feeling "Outdoorsy"
MSI Surfaces prides ourselves in creating elegant outdoor spaces that match your home's style and aesthetic, seamlessly blending your home and garden. You can trust our team to help you incorporate Concerto porcelain tile throughout your outdoor area, creating your ideal alfresco space.
READ MORE ABOUT OUTDOOR SPACES with PAVERS AND PORCELAIN TILE:
Can Porcelain Tile Be Used Outdoors?
Coordinate Your Indoor & Outdoor Spaces with Matching Porcelain Tile & Pavers
How to Install Arterra Porcelain Pavers for Perfect Outdoor Living