Build The Perfect Backyard Wall With Stacked Stone
March 28, 2022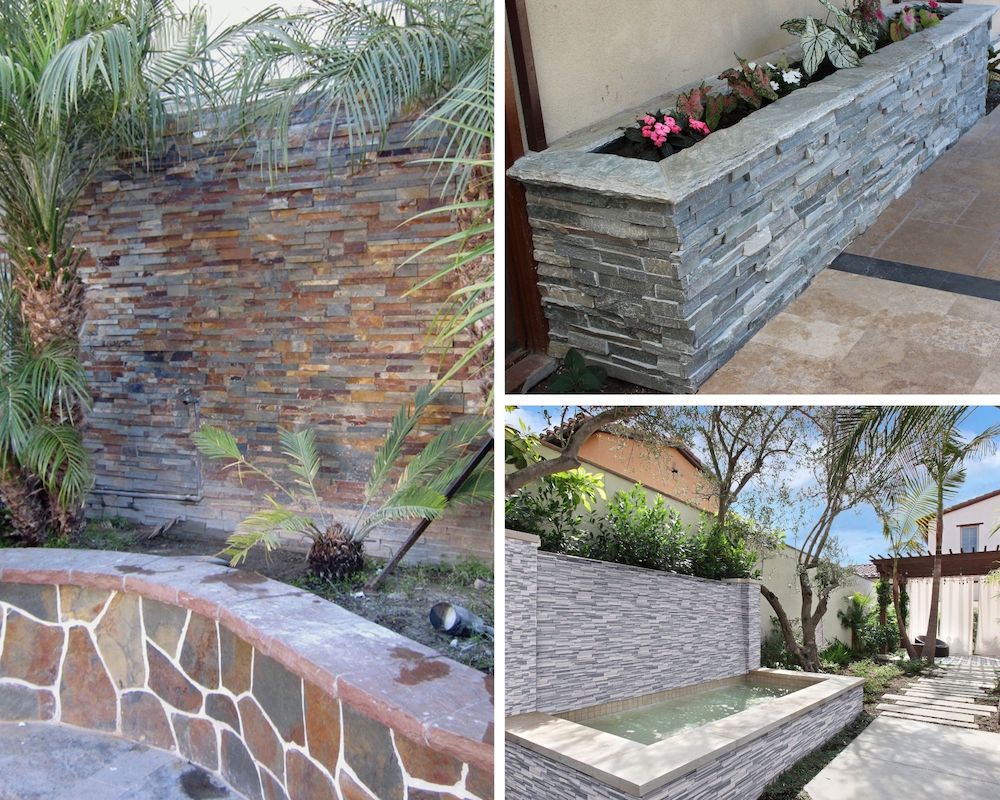 Whether you've made the move to remote work and are spending more time at home or simply like to slip into your outdoor oasis after a long commute, outdoor living spaces have become more important than ever. As a result, you may want to upgrade a bland lawn with lush landscaping, stacked stone planters, and extras like a fire pit or water feature.
The idea is to treat your backyard like any room in your home, creating zones for function and beauty, as well as layers that add depth, dimension, color, texture, and luxury to your exterior.
What role does natural stacked stone from MSI play in your backyard upgrade? Here are a few ways to utilize this gorgeous material, whether you're highlighting flora, creating entertaining zones, or making it a feature unto itself.
Benefits of Stacked Stone
There are many ways to create areas of separation throughout your yard, from strategically laying out earth mounds to raise planting areas to adding walkways and patios in pieces of natural stone. You can also create walls with natural stone ledger panels, and there are many benefits to doing so.
First and foremost, these walls are strong and durable, creating sturdy planter beds or retaining walls that stand the test of time.
In some cases, these walls can help keep water where you want it, which helps maintain healthy and hydrated plants and alleviate issues like soil erosion. They also add a luxury aesthetic to your yard that can increase appeal and resale value. Of course, the fact that they're lovely to look at doesn't hurt.
Stacked Stone Designs
There are several ways you can incorporate ledger stone into your backyard design to improve function and aesthetics within your outdoor living space. One of the easiest ways is to use it as a facing for planter boxes, drawing more attention to beautiful beds of seasonal blooms.
You can also create a variety of stone wall structures, ranging from functional retaining walls to prominent and eye-catching feature walls. What will stacked stone walls do for your space? What are the best ways to incorporate them into your overall design? And which types of stone will elevate your overall aesthetic?
Planters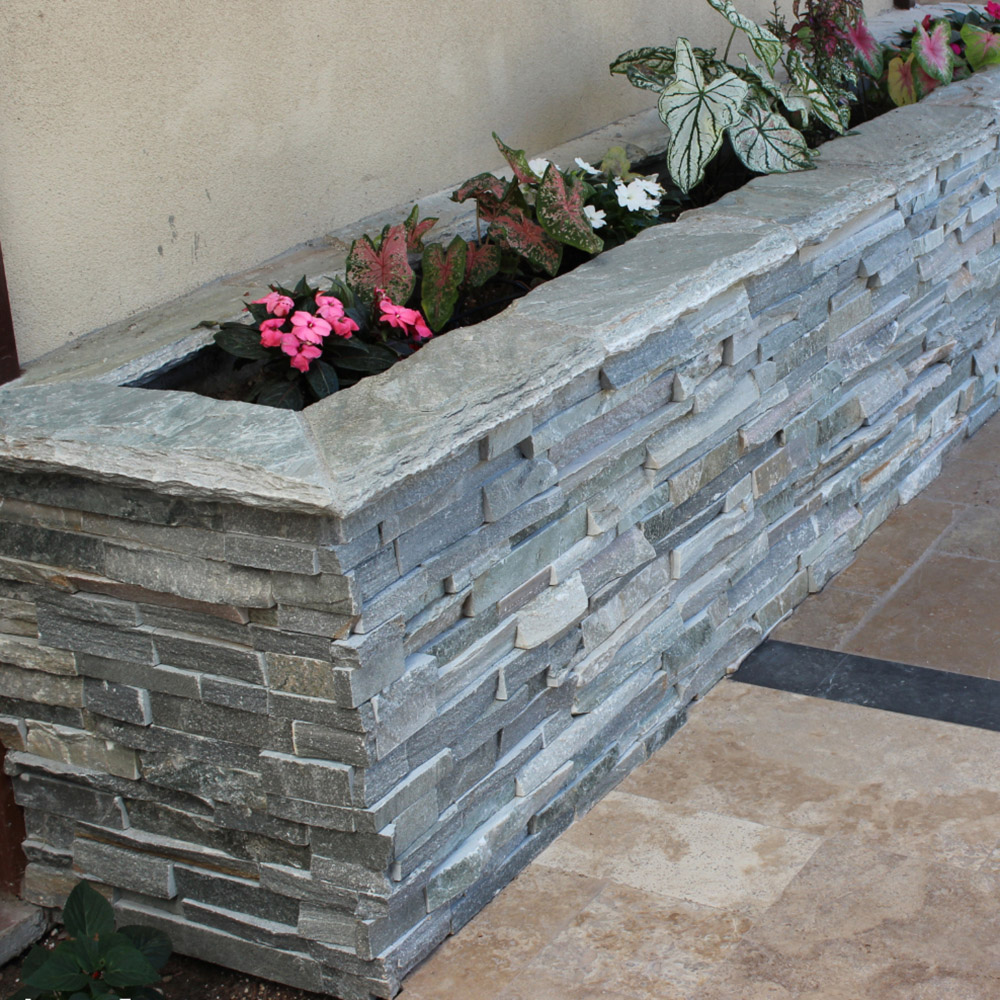 If you already utilize landscape rock for pathways, patios, or even to create a perimeter for ground-level planter beds, you know how much this hardscaping element can complement landscaping in your yard.
However, you can take planters to the next level, literally, by elevating them and surrounding them in attractive and durable stacked stone veneer.
Sierra Blue quartzite is one ledger stone that offers a breathtaking facing for planter beds large and small. Color variations in blue, gray, and white, with hints of rust throughout, deliver a cool palette that provides a perfect backdrop for perennial blooms and evergreen shrubs alike.
The uneven surface adds dimension and a rough texture that perfectly counterbalances the softness of grass and foliage. Even better, quartzite is incredibly strong and durable, ranking at seven on the Mohs' hardness scale, so you know it will stand up to the elements.
Feature Wall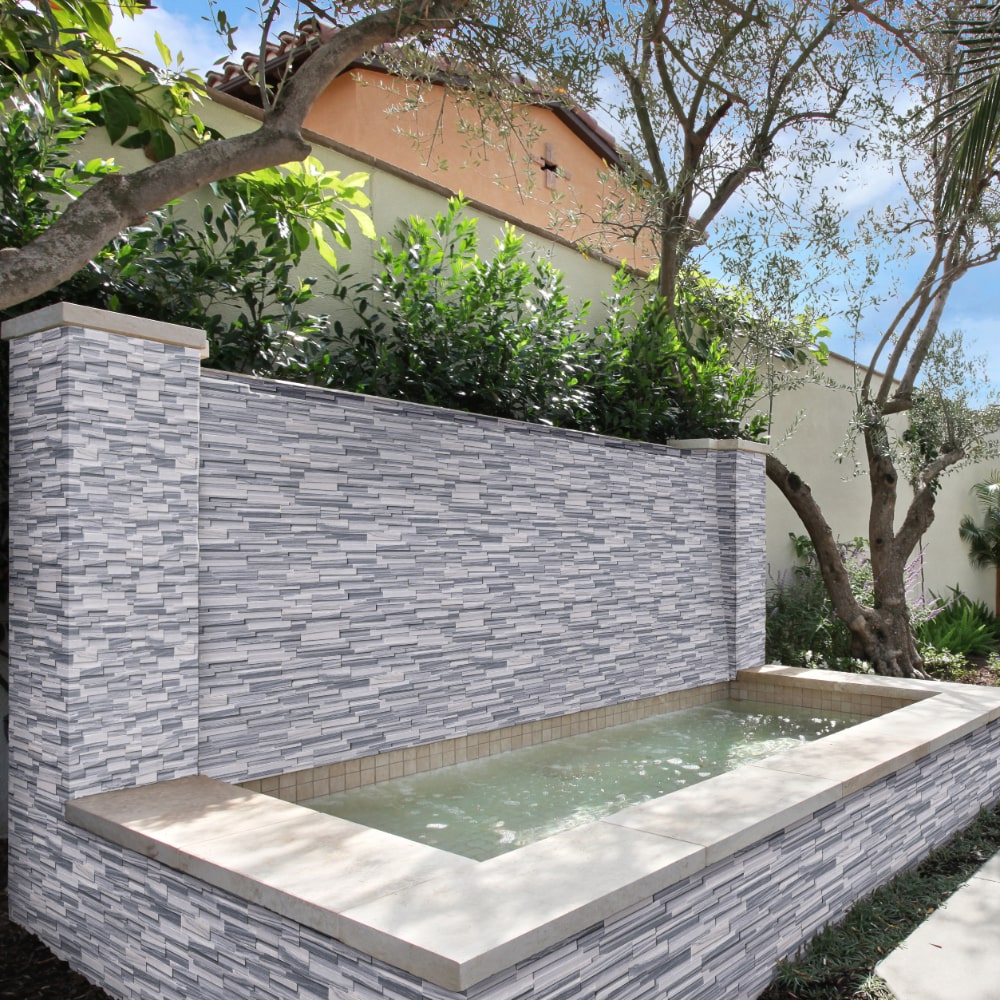 Alaska Gray 3D Honed marble is a beautiful addition to any outdoor space, with soft, creamy striations in white and gray. However, this sophisticated stone is particularly ideal for accent walls designed to serve as a focal point in your space, thanks to relatively smooth facing stacked to deliver three-dimensional appeal.
Maybe you crave the melodic burble of falling water in your outdoor oasis. You could install a water wall with a pool at the base. Or you could create niches or pop-outs to assemble a living plant wall full of lush foliage or even an elevated herb garden.
A stone feature wall is a refined and upscale way to add layers of texture and visual interest to your backyard, imbuing it with luxury and personality. You can even incorporate strategically placed accent lights to further emphasize your feature wall.
Retaining Wall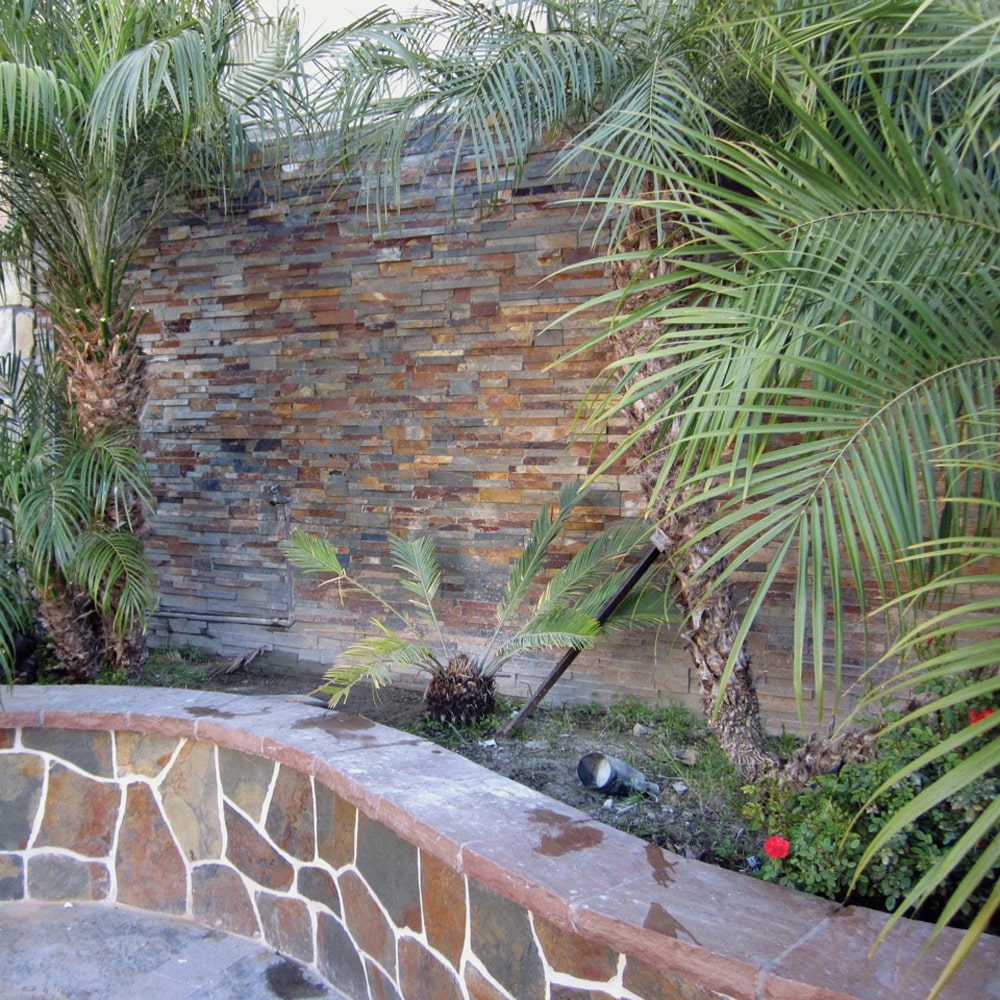 A retaining wall is designed to hold back soil on a sloped surface. These walls are typically built to dig into a hillside and uncover additional flat space to expand your usable yard. For this reason, you may want to choose a stone-like rugged slate in rich, warm earth tones that complement the soil.
In hues of gold, brown, and rust, California Gold is a fantastic option, with just enough color to draw the eye, but not so much that it stands out like a sore thumb. With panels and matching corner pieces, you can easily retain the edges of a driveway or expansive hillsides in your yard.
Separating Wall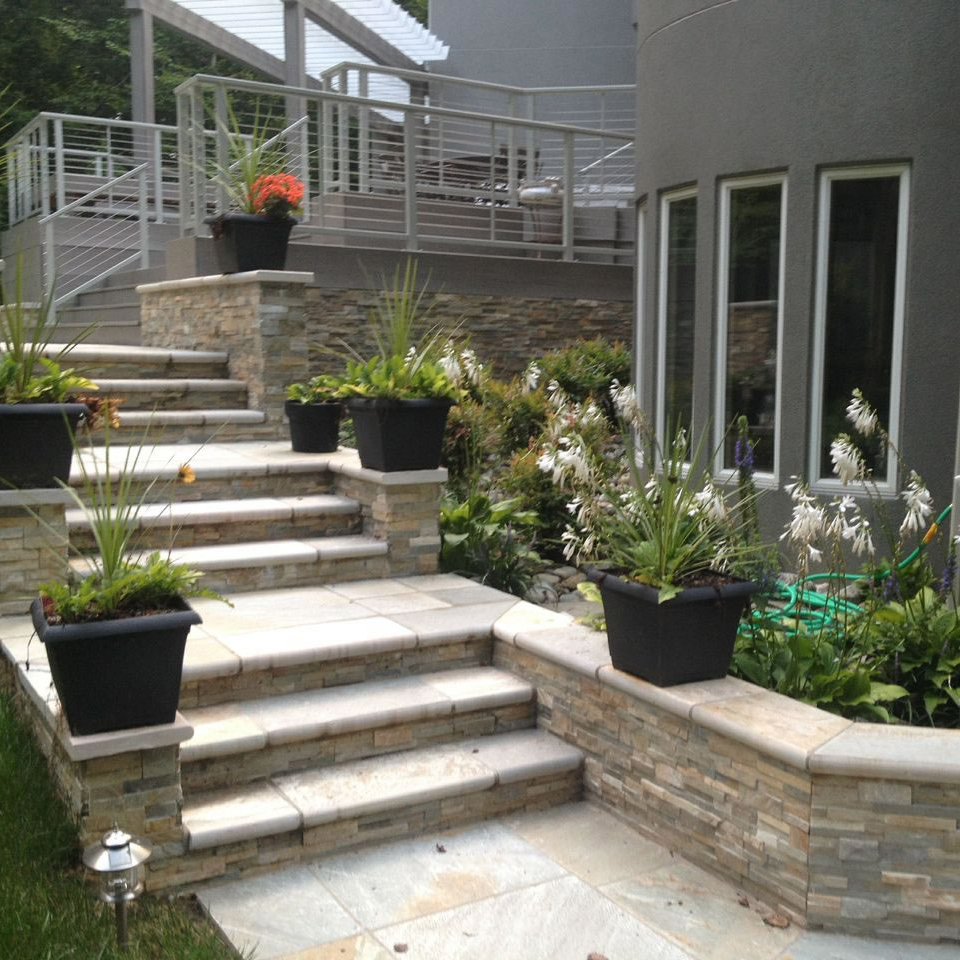 Separating your yard into zones for vegetation and entertainment is easily accomplished with short walls that delineate usage with enchanting stone wall tile. The trick here is to create boundaries without necessarily impeding physical movement or aesthetic flow.
These walls should frame enough space to make boundaries between, say, cooking, dining, and lounging spaces clear. You can use them to accent the perimeter of a fire pit, and they can even double as seating if they're low enough.
A variety like Golden Honey quartzite is a great option, as the pale, warm white, gold, and gray tones add visual lift to your space and the split-faced stones create added texture for a casual, rustic look.
Designing Your Outdoor Oasis
When undertaking a stone veneer project in your backyard, it's important to consider the balance of landscaping and hardscaping elements. For some people, keeping hardscaping to 25% or less is preferable to maximize green space.
For others, rocky hardscaping makes up the bulk of the yard, with a mixture of stacked stone walls, gravel beds, and a minimum of drought-resistant plants, or perhaps only edible landscaping for greater sustainability. Whatever your preference, options from an upscale ledger stone collection are sure to increase function, beauty, and value.
With attractive and durable MSI stacked stone, you have the opportunity to meet all of your outdoor design and lifestyle goals. Visit the inspiration gallery to see what's possible when you upgrade your home with MSI.
Learn More About Stacked Stone
5 Unique Ways To Use Stacked Stone
Build The Perfect Backyard Wall With Stacked Stone
Design A Stunning Accent Wall With Rockmount 3D Stacked Stone
10 Standout Projects Featuring Rockmount Stacked Stone
Wall Tile And Fireplace Facing Using Stacked Stone And Stacked Porcelain Panels