Do Quartz Countertops Need A Special Cleanser?
November 09, 2018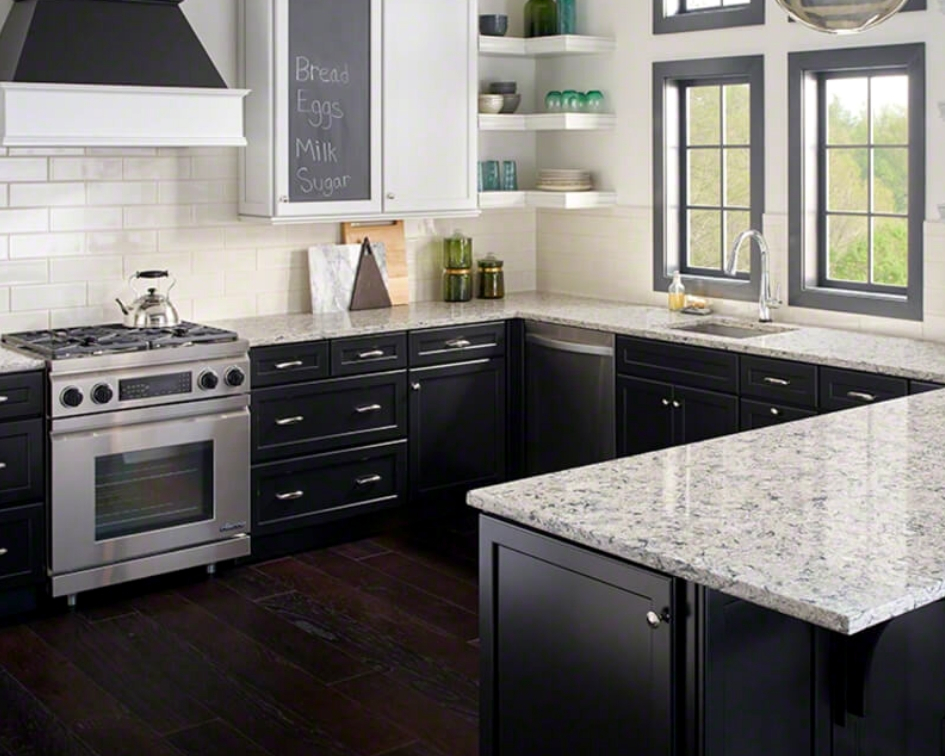 Many luxury countertops come with requirements for extra care, such as using special cleansers. However, quartz is a premium material that requires the most basic and gentlest of cleansers: mild dish soap. That's it! Just a small squirt on a wet soft cloth is all you need to wipe up your quartz countertops and keep them clean.
Because quartz is an engineered surface made from crushed stone and a polymer resin, it behaves differently than other high-end counters made of natural stone. From marble and granite to limestone and quartzite, these natural materials are porous, are prone to scratches, and react to acids due to their sensitive pH levels. However, you won't have to deal with any of these issues when you've got engineered quartz. The perfectly smooth, non-porous surface doesn't have any gaps or dips for food and liquids to stain or for germs and grime to hide. It also won't react to common acidic kitchen foods like tomatoes or lemon. It's benefits like these that help make quartz an easy-to-care-for choice!
Cashmere Oro
Having a large kitchen island complete with a second sink is ideal for food prep, especially when your countertop is made of quartz. You can chop and rinse food without worrying about water or food juices staining your surface. That remains true even with a light and lovely marble look quartz like Cashmere Oro. It offers a touch of quiet drama with its soft whites and subtle veining. The detailed Dupont edging is ideal for this traditional, farmhouse chic kitchen. Just remember to always use a cutting board so that your quartz stays in tip-top shape!
Calacatta Pearl
The kitchen can be a room that can get out of hand quickly no matter how small or spacious it is. Whether you have a large family or love to entertain friends, things can get messy, and fast! But with quartz, you can keep things clean by tidying up and giving it a quick wipe down. Plus, having a minimalist approach to your kitchen design makes it even easier! As you can see in this modern, rustic design, the Calacatta Pearl counters are pretty much cleared! The light greiges and long dark veining in this high-end marble look match well with the concrete floors. But, it's the timeless sensibility of this beautiful quartz that makes a design statement all its own, especially when contrasted against the dark wood cabinetry.
Calacatta Naples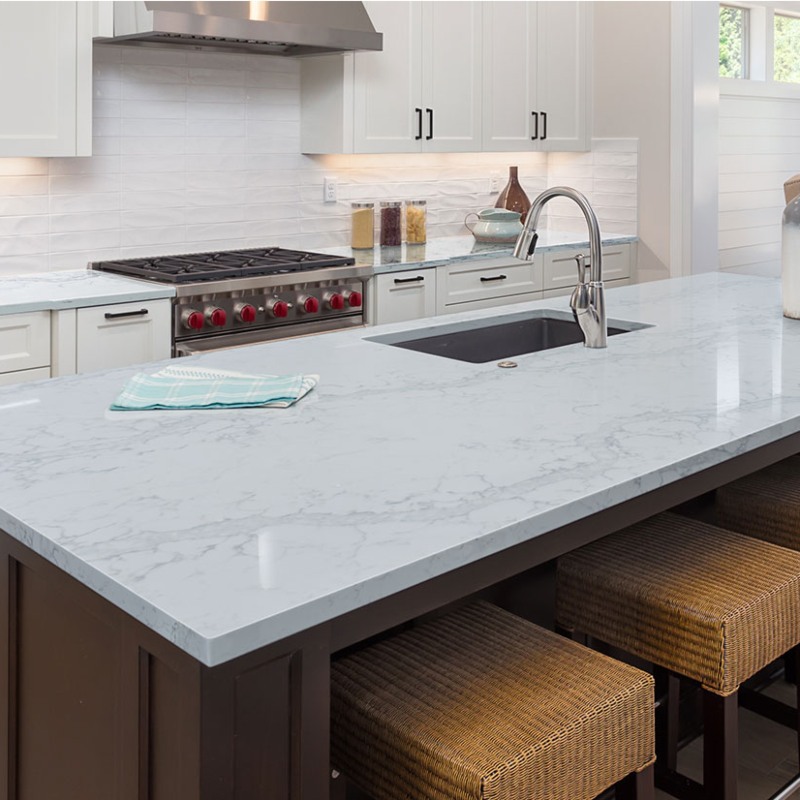 Featured: Calacatta Naples Quartz
With big slab installations, natural stone can be expensive, and while marble may look pretty, it's just not very practical. That's where quartz comes in as the affordable luxury alternative! Calacatta Naples is a dream for both designers and homeowners alike. It features a dusky gray coloring with the most authentic linear veining available, and it looks super chic in this contemporary kitchen. Since it isn't 100-percent natural stone, it will never need to be resealed, re-polished, or waxed again.
Babylon Gray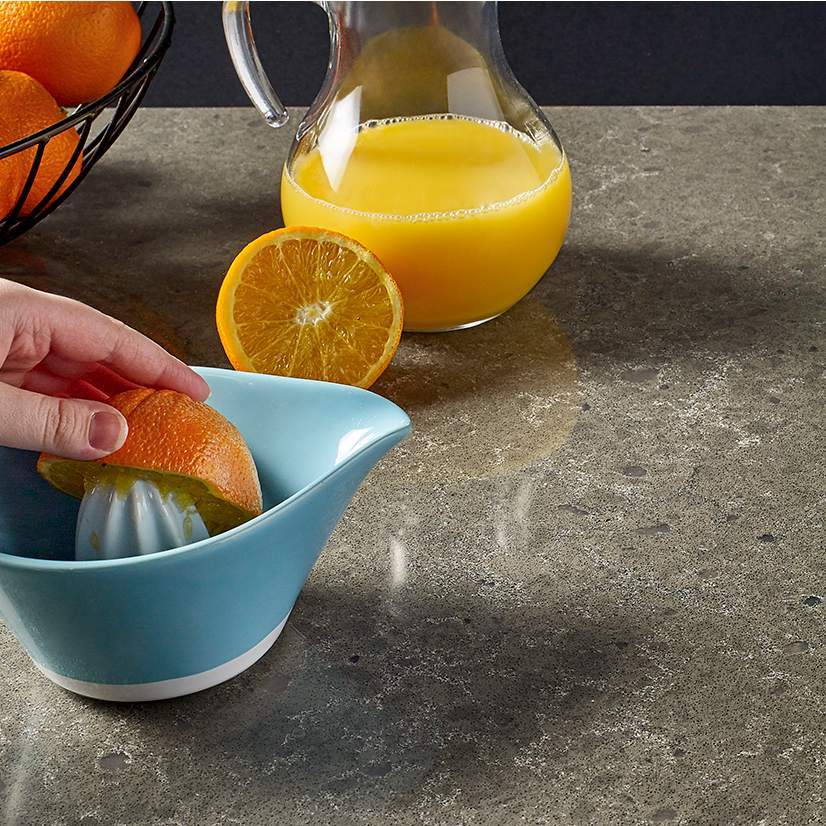 Featured: Babylon Gray Quartz
With natural stone, you have to be careful of using anything too acidic, as it will etch the stone. This goes for cleaners as well as food. But, the resin in quartz helps protect the surface from etching, so you can make all the fresh-squeezed orange juice you want right on your Babylon Gray countertop without worrying about the pH doing damage! This sleek quartz includes a dark background with white specks and larger, darker flecks for a granite look, and it works well with transitional to modern designs.
Hazelwood

You might not expect quartz to be in a very traditional kitchen, but with 90 colors to choose from MSI, you'll find something low-maintenance that suits your specific style. Hazelwood is an elegant quartz countertop that harmonizes with any color scheme thanks to its soft taupe background and slight variations for subtle detail. The limestone look is also in-line with upcoming trends for warmer tones, and this off-white and taupe kitchen is a great example!
When you choose quartz, you'll have one less thing to worry about when it comes to cleaning up your kitchen. There's no need to order or stock up on any special cleaners when you can use what's already at your kitchen sink! It's the perfect surface for those wanting a low-maintenance option. For more ways to tackle your cooking space, check out these smart tips for keeping your kitchen clean.