5 Hot Kitchen Trends For 2021 - Quartz Countertops And Beyond!
April 12, 2021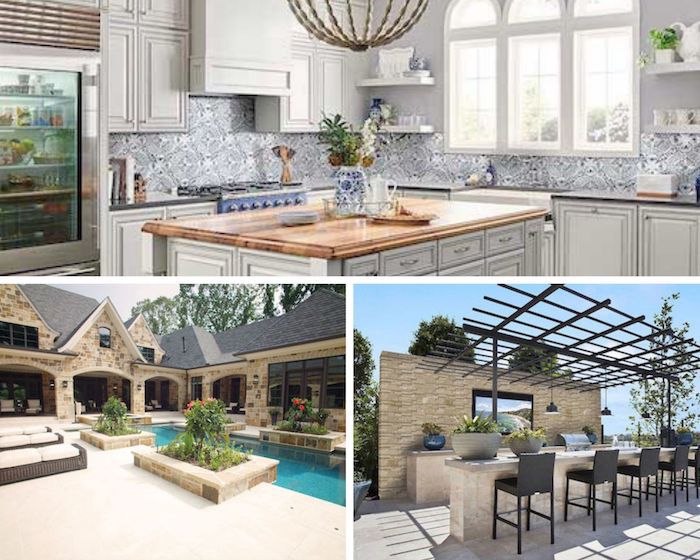 With another year started and spring-cleaning in full bloom, you're probably wondering what you can do to spruce up your kitchen. Especially after a unique 2020, with spending so much more time at home all together, 2021 is the opportunity to finally make changes that benefit everyone. The role of your kitchen has changed, so you'll need to know what the hottest trends are for the most utilized room of the house, from warm tones to quartz countertops. Check out these five ways to make your kitchen the beautiful, functional showstopper you deserve!
1. Oversized Islands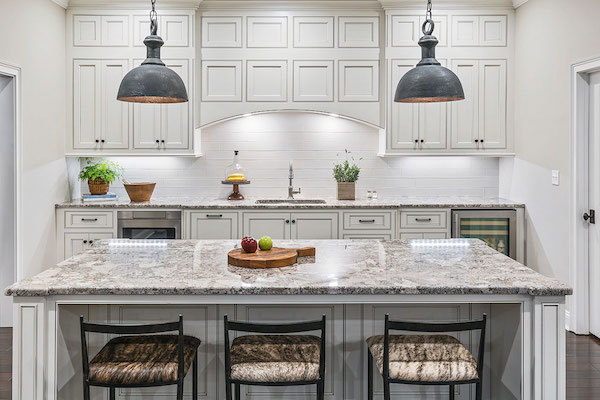 Now that kitchens are doubling as cooking spaces as well as workstations, oversized islands are a must for 2021 if your space allows. Not only does it serve as a centralized hub of the home, but also a larger surface allows for more seating at the island. That way more kids can color or complete their homework and a significant other can finish up some emails on their laptop all while you're busy prepping home-cooked meals. It also helps open up communication in the family by allowing everyone to comfortably spend time together in the same space.
And for some, the kitchen island may even serve as their dining table as a designated eating space or formal dining room is transformed into a much-needed playroom, impromptu home school area, or temporary office. But, if you're not able to remodel your kitchen island or add one from scratch, then don't worry because you can add a counter-height table or piece of furniture next to your existing island in order to instantly add more surface and seating space.
Of course, a supersized island is an excellent way to make a design statement, too. (Granite countertops are an excellent choice!) To keep things clean, continue the same countertop to the island, and with the amount of stunning natural stone patterns available, you'll gladly show off more fabulous slabs like this Alpine White granite with a gray background, icy white veins, and black accents. Or, you can contrast your island surface from the rest of your counters and make an even bigger impact with a waterfall edge.
2. Strong Surfaces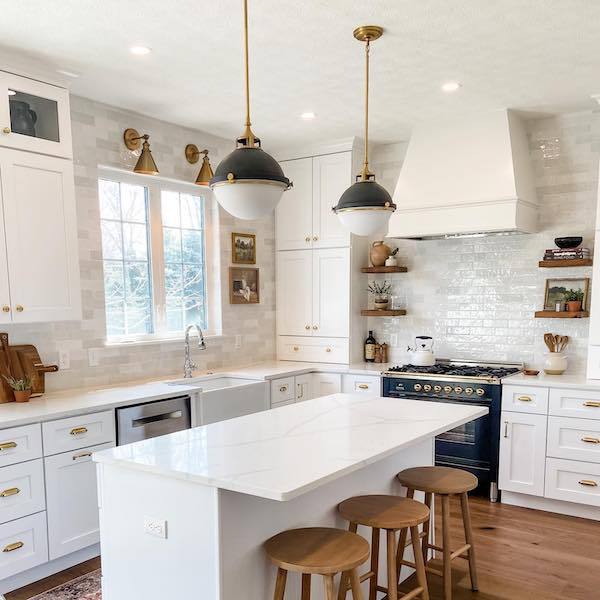 Man-made stone like quartz continues its rise in 2021 because it's a tough, strong surface professional chefs to novice cooks need. Your surfaces are probably seeing more action than normal as a result of more at-home meals, and when comparing quartz vs. granite, the non-porous material won't harbor nasty bacteria or viruses. That will help keep your kids, adults, and pets safe while doing all of the prepping, cooking, baking, and more in the kitchen.
Quartz also provides beautiful colors and patterns with no ongoing maintenance needed. You can get the classic white marble look like Calacatta Verona with a white background and subtle veins. Unlike real marble, quartz won't stain with spills and is super simple and easy to clean.
3. Warm Tones
It's out with the gray and in with the beige for 2021, as designers and homeowners are saying adieu to colder hues and welcoming warmer tones like whites, beiges, oranges, natural woods, and gold accents. Not only are these colors familiar and comforting, but also they're optimistic, which is something we could all use in a space where we spend a lot of time in.
These warmer, softer neutral color palettes are likewise pleasing to the eye. They create a serene sense that's much needed, especially when spending so much time at home. But, if your life just isn't right without some pops of color, then consider accenting your cooking space with greens, blues, or pinks.
White kitchens are still popular, but you can break up the all-white look with your choice of countertop. This kitchen features a light neutral surface, the creamy gray Portico Cream quartz countertop colors, atop white kitchen cabinets contrasted with rich wood-look luxury vinyl tile flooring. Of course, if your heart is set on a marble-look counter, then choose a creamier background like Carrara Mist for a classic stone style without the cool undertones.
4. Wow-Worthy Walls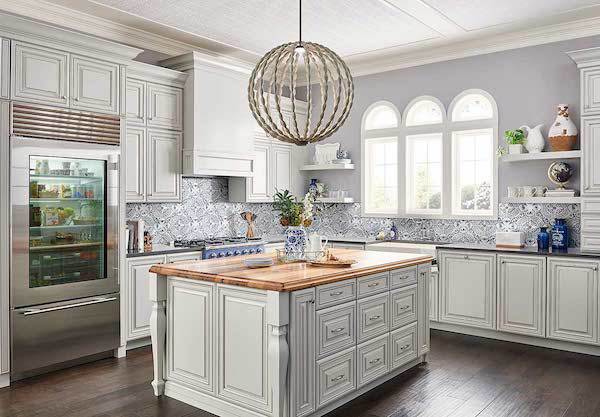 Kitchen backsplash tile is one of the easiest ways to add wow-factor, and in 2021, you'll be seeing a lot more playing up their walls with pattern. Surely, classic subway tile is still popular, but you can add so much more pizzazz to a cooking space with the wide range of colors, textures, finishes, and patterns available.
There are pretty patterns and sleek designs to work with any kitchen style. Something like Kenzzi Indigo porcelain tile beautifully mimics the hand-made stamped tiles of artisans' ages ago, and the indigo blues serve as a secondary color that ties in with a number of accents. The circular pattern is perfect for spaces with arched windows and circular chandeliers where the curved lines are replicated. For more modern or contemporary spaces, you'll want straighter lines like those in Azula Floret, where the geometric tile with white marble and a charming floral motif instead of the traditional square. It adds tons of visual interest to a kitchen with mostly solid colors.
5. Natural Connections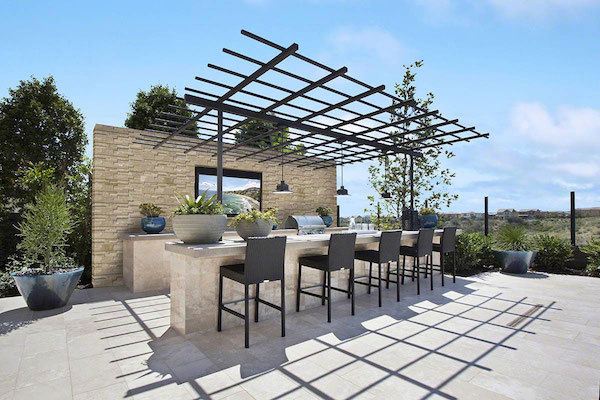 Now that many have been staying home longer, it's time to finally transform the outdoors into another useful space for 2021. After all, the kitchen doesn't have to be only kept indoors. Some homeowners are building out large outdoor kitchens that rival many indoor spaces. Adding stacked stone, like the beautiful warm beige Durango Cream 3D Honed panels, to an outdoor island creates a texture story instead of boring old stucco.
But, if you don't have room for an outdoor dream kitchen, then opt to connect your outdoors with the stunning designs you have inside. Porcelain pavers like the white and cream Tierra Ivory Arterra are an elegant alternative to the traditional brick pavers with brighter tones. The softer outdoor patio tile hues provide a warmer backdrop for vibrant plants and flowers to blossom in your design, and you can carry some of the greenery inside. Plus, you'll have an amazing view from your kitchen sink or countertop.
Now Is the Time!
It's time to transform your home into the space of your dreams because you deserve it! Life lately has required small to big changes like no other, so make your kitchen what it needs to be to serve the needs of you and your family. Whether it's a bigger island for more cooking or working surface or a connection to the outdoors for more calmness amid the chaos, these type of changes can pay off big! Plus, when things get back to "normal" soon enough, you'll be able to show off your revitalized cooking space to friends and family.
More on quartz countertops
Quartz Countertops in Durable Natural Quartzite Looks
Which Marble Look Quartz Is Right for You?
Bathroom Beauties with Quartz Countertops
Are White Quartz Countertops Stain Resistant?