Quartz Countertops In Durable Natural Quartzite Looks
April 01, 2021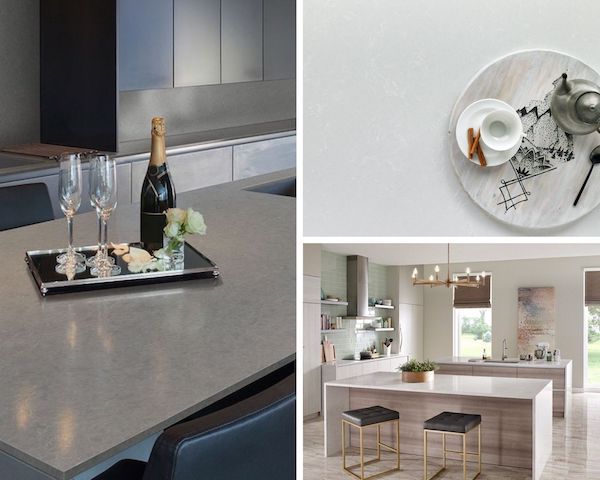 Did you know that kitchens and bathrooms are the most common rooms that homeowners feel the need to spice up? Well, it's true. Kitchen and bath remodels are essential for making your house feel like home and ensuring that both residents and guests feel welcome.
Using quartz countertops that look like quartzite is one of the best ways that you can make your space look amazing. Read on to learn why these counters are one of the best solutions for your next home renovations and to look into some of MSI's best styles.
Quartzite vs Quartz Countertops: What's the Difference?
Quartzite is a metamorphic rock that had started as sandstone. Over time and under intense heat and pressure, it evolves into a very durable and looks very similar to marble but with a more translucent appearance and crystalline sparkle.
But as gorgeous as quartzite countertops are, all that sparkle can't cancel out the possible cons of using it as a countertop surface. Sharp objects can damage it. Some varieties of quartzite countertops need sealing more often. They come in limited color choices and are extremely sensitive to acids, meaning that even something as innocuous as soda or orange juice can damage it.
Natural quartz countertops, on the other hand, require no sealant. They are essentially maintenance-free thanks to the non-porous and dense surface. It's not reactive to acids and resistant to scratches.
All of this adds up to resolving the issues that most have with quartzite. As for the gorgeous colors and looks of quartzite, they, too, are perfectly captured in these quartz slab selections. Let's take a look!
Perla White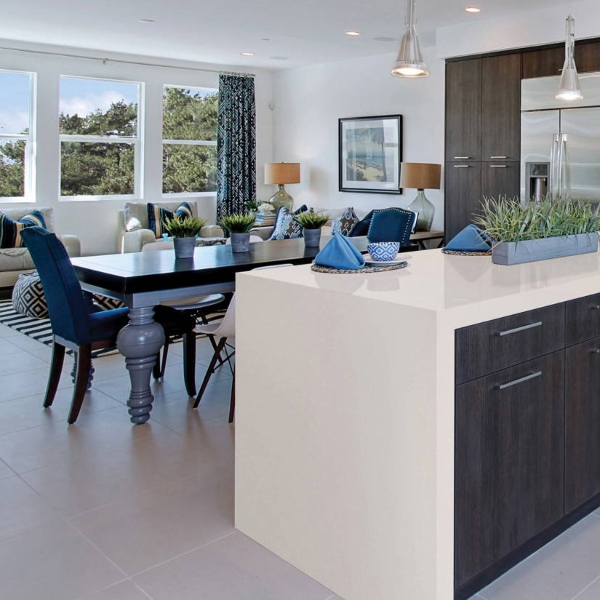 Perla White features a gorgeous white backdrop with subtle beige quartz veining. These veins line the entirety of the slab in organic shapes. The seemingly random intervals between these elegant lines gives each slab a unique elegance that can't be replicated.
This countertop style is made to look like clean and contemporary quartzite. It's a great option for those who are looking for something simple that will complement decor schemes that feature clean lines and bright lighting. You can purchase this design in both 2 and 3-centimeter thicknesses based on your individual needs.
Smoked Pearl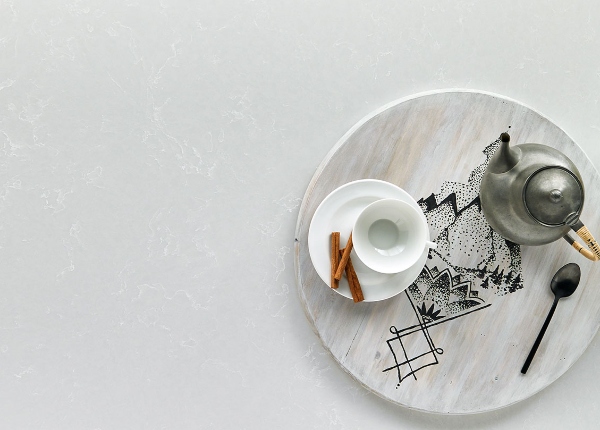 If you're looking for slightly darker taupe quartz, Smoked Pearl has your back. This slab is similar to Perla White in appearance but features a warm light gray base hue rather than a white one. The speckled veining is a cool white rather than a darker hue, which gives it a look that's the inverse of its light-colored counterpart.
Since Smoked Pearl is simple and elegant without being bright and flashy, it's extremely versatile. In addition to having the appearance of quartzite, many people would say that it classifies as marble-look quartz.
Those who are looking for a countertop to pair with a mid-century modern or vintage kitchen or bathroom will enjoy the neutral hues that this style provides. It goes perfectly with depression glass accessories or antique-look wallpaper.
Vena Carbona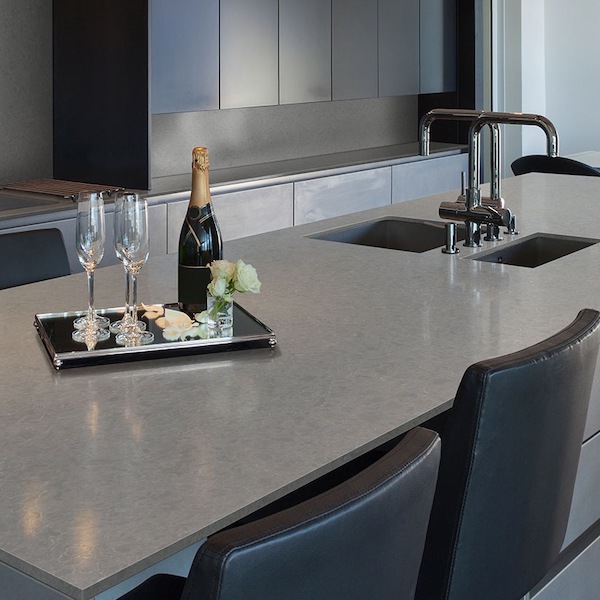 Moving on to darker and more detailed kitchen countertops, exuding class and high tastes, Vena Carbona is a style all its own. The cool gray backdrop is reminiscent of concrete while still having the natural crystalline appearance of quartzite. Those who look closely will see dark gray organic shapes between the thin white veining.
If you want a countertop that makes a statement rather than blending in with its surroundings, this is the perfect option for you. Like all MSI slabs, you can order a small sample of Vena Carbona and bring it home with you. This will give you a clearer picture of whether this quartz is the statement piece you need for your bathroom countertop or kitchen island.
Marbella White
If you're looking for intricate premium surfaces, Marbella White quartz is important to look into. This warm white slab is coated in dark brown veins that border on black. The veins are extremely organic and loop together to form circular and ovular shapes that give the quartz a classic marble-esque quartzite aesthetic.
Those who are looking for something a bit more intricate to pair with Perla White countertops may consider Marbella as a backsplash or accent wall slab. This will create a cohesive look by providing light neutral hues in multiple places around your space.
No matter where you choose to use Marbella White, whether it is a sink countertop, waterfall island, or floor, it will bring a little bit of extra sophistication and grace to your home.
Rolling Fog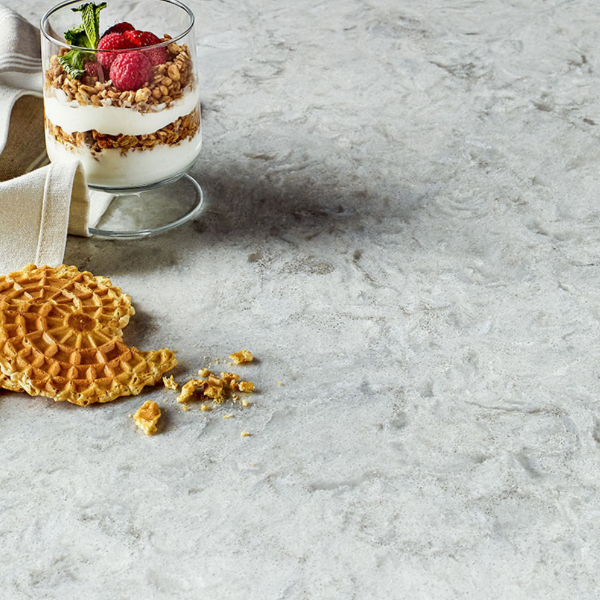 Last but not least, it's time to take a look at one of our favorite quartz countertop colors: Rolling Fog. With gorgeous muted grays in a wide variety of hues, this is one of our more complex patterns. If you're looking for a countertop that is going to be the primary focus of a room, Rolling Fog is definitely the right choice.
Pair this slab with simple decor. Either warm or cool lighting makes it look fantastic, but you will want simple color schemes in other parts of your room. Simple white walls and single-hue appliances are key to letting this countertop option shine as much as possible.
Install Quartz Countertops Today
Now that you know why you should invest quartzite-look quartz countertops during your next home renovations, it's time to get started.
Contact MSI with any questions that you have about these slab styles and more. Ask about our countertop visualizer tool if you're interested in seeing what any of these styles will look like in your space prior to purchase. We're excited to help you make the most of your next remodel!
More on quartz countertops
Which Marble Look Quartz Is Right for You?
5 Hot Kitchen Trends For 2021 - Quartz Countertops and Beyond!
Bathroom Beauties with Quartz Countertops
Are White Quartz Countertops Stain Resistant?
LEARN MORE ABOUT QUARTZITE COUNTERTOPS
Granite Vs. Quartz Vs. Quartzite — How To Choose The Right Countertop
Our Most Popular Natural Stone Countertop Choices: Marble, Quartzite, And Granite
Which Is Better: Quartzite Or Granite Countertops?
Choosing Your Bathroom Countertop: Quartzite, Granite, Marble, And Quartz Countertops