Are Quartz Countertops A Natural Stone Slab Countertop?
October 15, 2018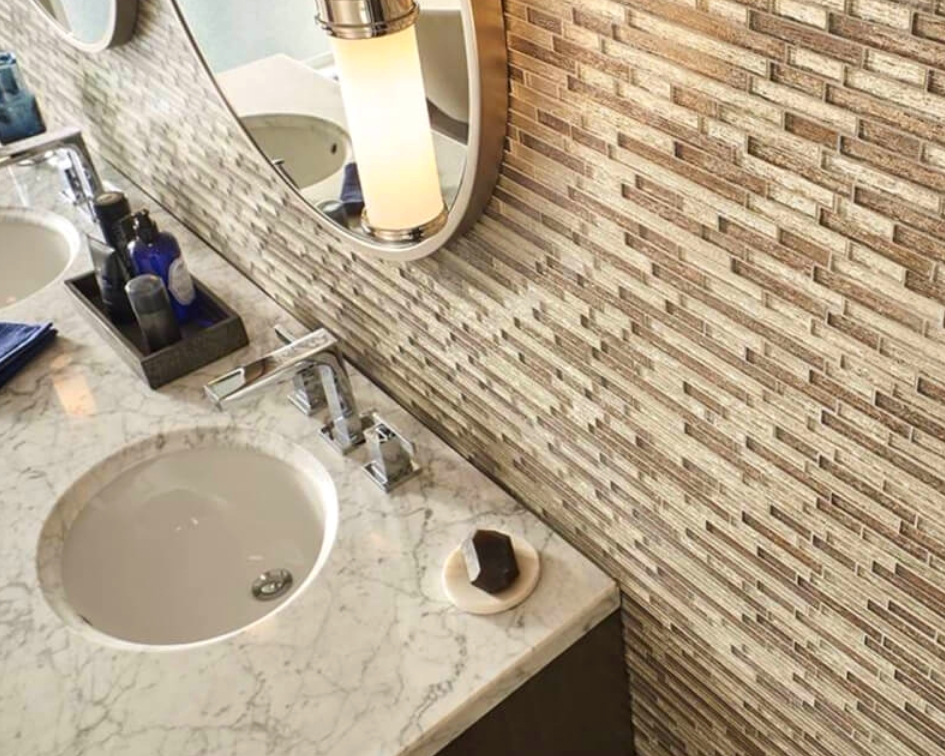 Unlike natural stone slabs mined from a quarry, quartz countertops are engineered surfaces made with precision in a controlled environment. And thanks to the manufacturing advancements in technology, the production of these stone-look quartz countertops has been pretty much perfected!
From the veining and movement to the coloration and speckles, quartz looks so natural that many mistake it for the real deal. That's because the premium material is made from things like mineral quartz, granite, quartzite, and other natural stone bits that were leftover during the mining process. Manufacturers might also add metals, mother of pearl, or colored glass to create one-of-a-kind countertops you wouldn't see in nature. These natural materials are then compressed and surrounded by a non-allergenic, non-harmful polymer resin that bonds the materials together and even contributes toward a healthier indoor environment.
The manufactured quartz countertop slabs are cut to size, polished with the desired texture, and include the edging pattern of choice. The end result is a non-porous surface for your kitchen or bathroom that not only looks like natural stone, but it also resists stains, scratches, heat, and water. See just how realistic quartz looks with these inspirational installs!
Blanca Arabescato
Blanca Arabescato is a marble-look quartz that will have you fooled! Its beautiful pale gray background and long veins in a deep brown color create a timelessness you'll love for years to come! Best of all, the low-maintenance material doesn't require the amount of care that comes with real marble.
Alabaster White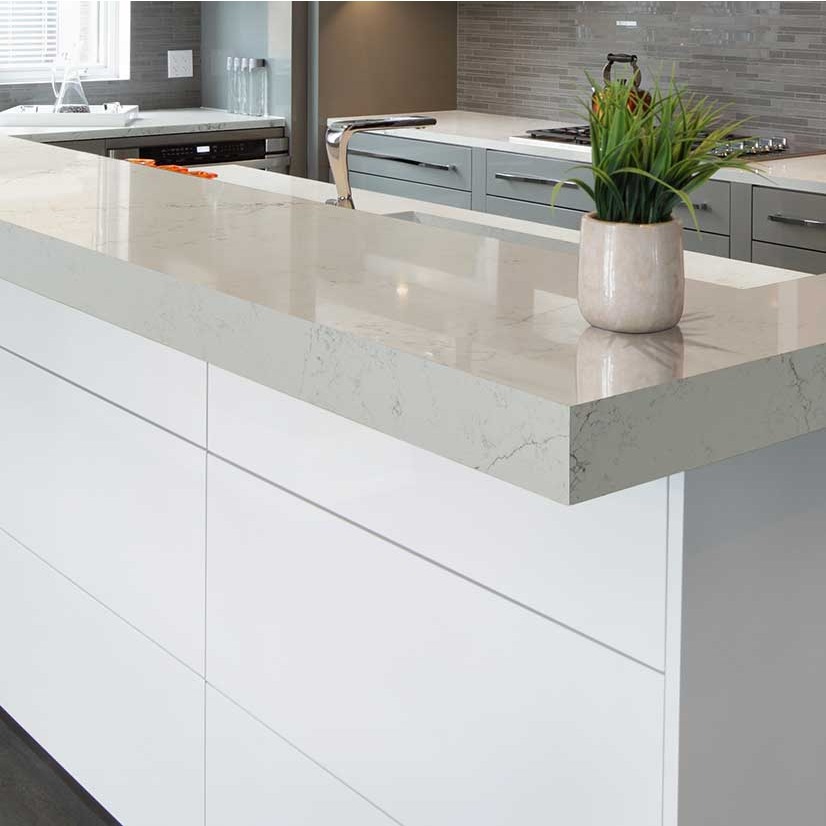 Featured: Alabaster White Quartz
Alabaster White is a soft white quartz with gray veining for a high-end, marble look. It adds elegance to this contemporary kitchen in its monochromatic color scheme, and the subtle pattern will trick you into thinking it's real stone.
Babylon Gray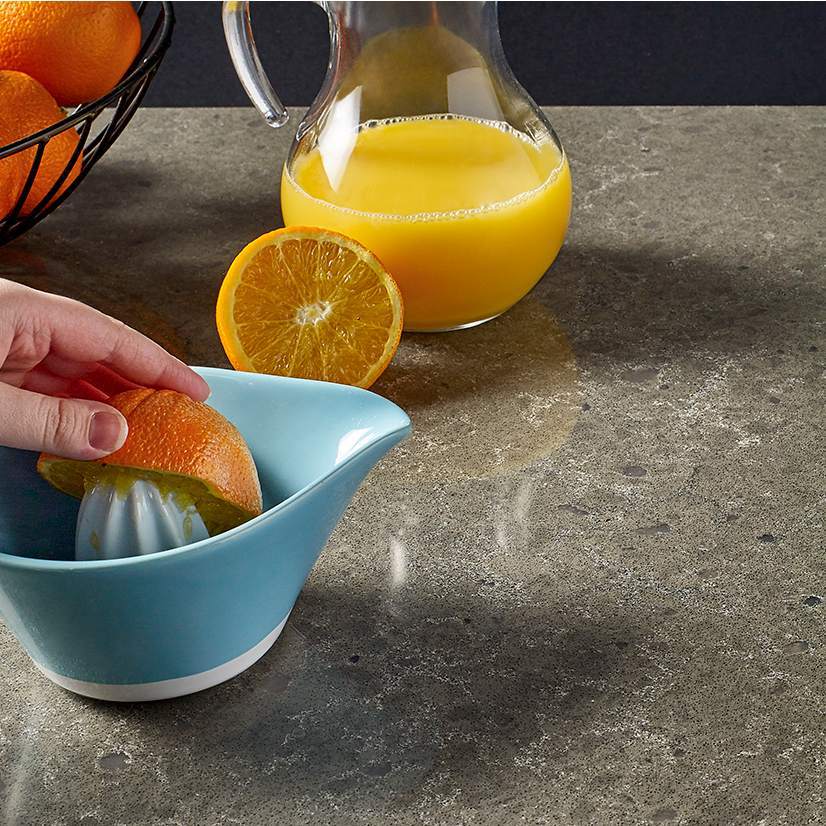 Featured: Babylon Gray Quartz
Babylon Gray is a dark gray quartz with an inherently modern style. It features white specks with larger flecks against the dark hues for an interesting pattern similar to natural granite. It's a durable option for home cooks and families who spend a lot of time in the kitchen.
Concerto
Concerto features frosty grays with soft dove tones accented by darker, charcoal speckles. The quartz countertop that looks like limestone is the perfect choice for this contemporary kitchen. The gray tones make the white glass backsplash and floating white shelves stand out even more, and the waterfall edge gives the sleek space a bit of drama.
Carrara Grigio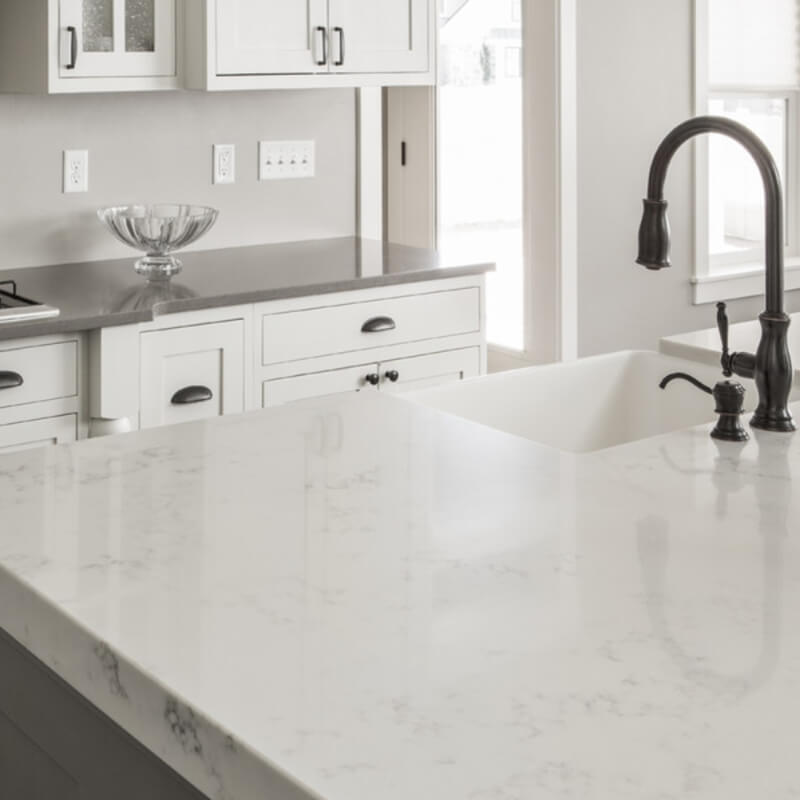 Get this look with MSI's Carrara Grigio Quartz (Photo Credit: Houzz)
Carrara Grigio comes with soft gold clouds over a warm white background for a super chic countertop that looks just like real marble. The white-and-gray kitchen features a number of classic details, from the cabinets to the pulls to the marble-like countertop. The end result is a chic design that'll never go out of style!
Although quartz isn't cut from a natural stone slab, it still features natural stone materials but in a way that requires very little maintenance. Plus, you can choose exactly how you want it to look since the engineered surface comes with consistent colors and patterns. Want more kitchen inspiration? Check out this quartz countertop kitchen remodel that features white Garrara Grigio quartz from MSI. You'll be blown away by the transformation, trust us!
You May Also Be Interested In these Quartz Countertop Topics:
End the Confusion Differences Between Quartz and Quartzite
Quartzite Vs Quartz Countertops: Your Questions Answered