Popular
Top 5 Design Trends Of 2019
March 01, 2019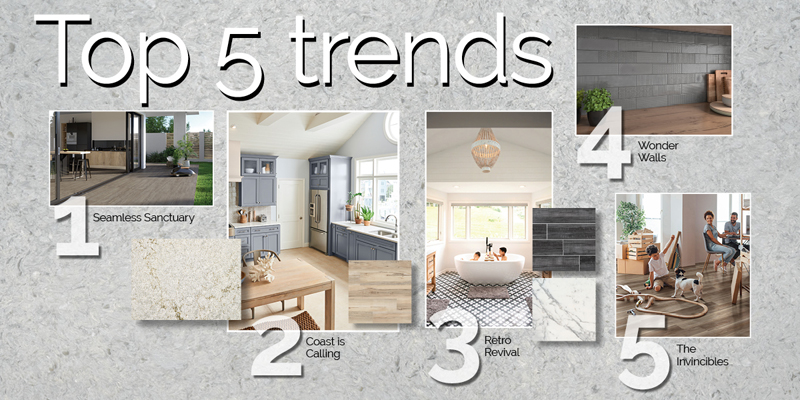 Oh, happy day! Unveiling our top five design trends is one of the most inspiring things we do all year. Before setting out to create an enviable full-house remodel, brightening up the real estate market with a new kitchen, or updating a TLC-deprived workspace, meet the design stars ready to transport residential and commercial spaces with showstopping results: Seamless Sanctuary, Retro Revival, The Coast is Calling, Wonder Walls, and The Invincibles.
From the latest in alfresco design to showstopping walls to indomitable floors, our must-see lookbook is bursting with imaginative ideas, daydreamy images, and insider design tips.
1. Seamless Sanctuary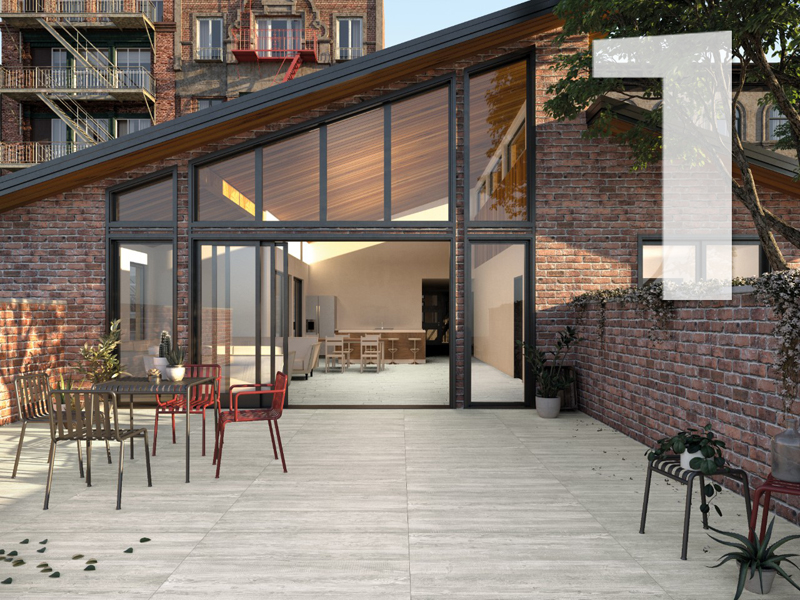 Easy breezy transitions are here at last: starring Porcelain Caldera.
Extending our living space to the great outdoors is what the alfresco lifestyle movement is all about. To give us more entertainment-worthy evenings under the stars throughout the year, we outfitted kitchens, living rooms, and dining rooms with hardworking surfaces, all-weather materials, and cozy fire features. While these spaces increased property value, patchwork surfaces made the transition in and out cumbersome and hard on the eyes. That all changed with the introduction of interior tile with matching patio pavers – which achieves that fabulously fluid indoor/outdoor flow we covet in modern design.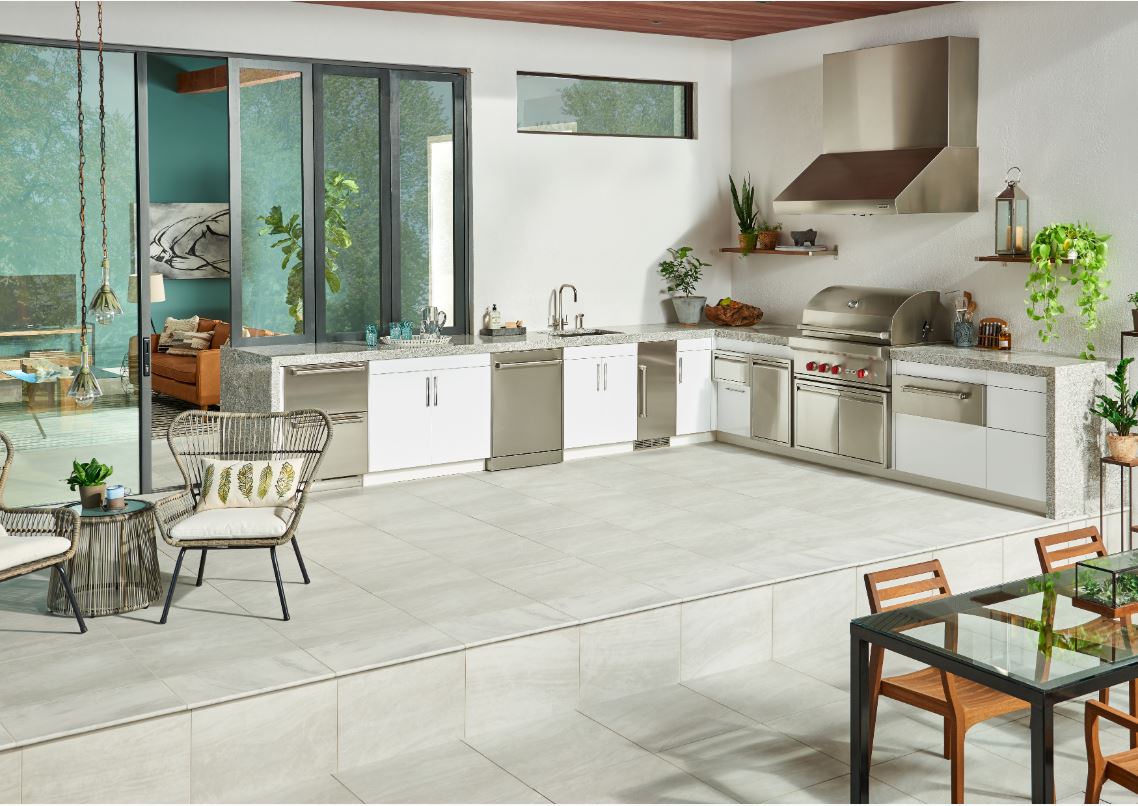 We'd love an invite here: Praia Grey Arterra Pavers underfoot and Silver Falls Granite countertops.
From the front door to the back terrace, seamless sanctuaries are now a beautiful reality thanks to the uniform aesthetics of collections like Arterra Porcelain and Living Style, Praia, and Caldera. Dial up the sophistication and go all in by installing these porcelain tiles on floors and walls.
2. Retro Revival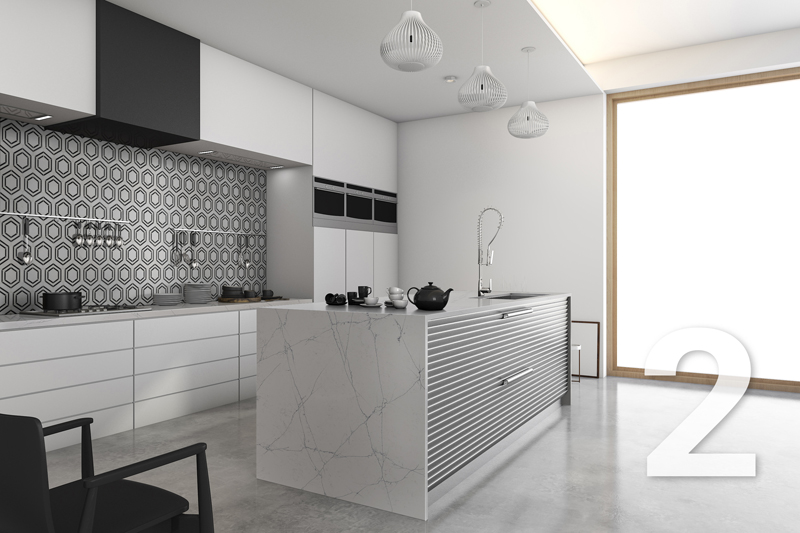 Georama Nero Mosaic backsplash and Calacatta Montage Q Countertops are a nod to simpler days.
Continuity through the ages is what iconic looks are all about. Whether it's a white subway tile, a European-inspired encaustic, or a black penny round, a cadre of throwbacks are reimagined for modern life, and they've never looked better. Part high-performance materials and part color story and pattern, the 2019 Retro Revival trend proves that keeping with tradition, and the very best of the past, is a thoroughly modern thing to do.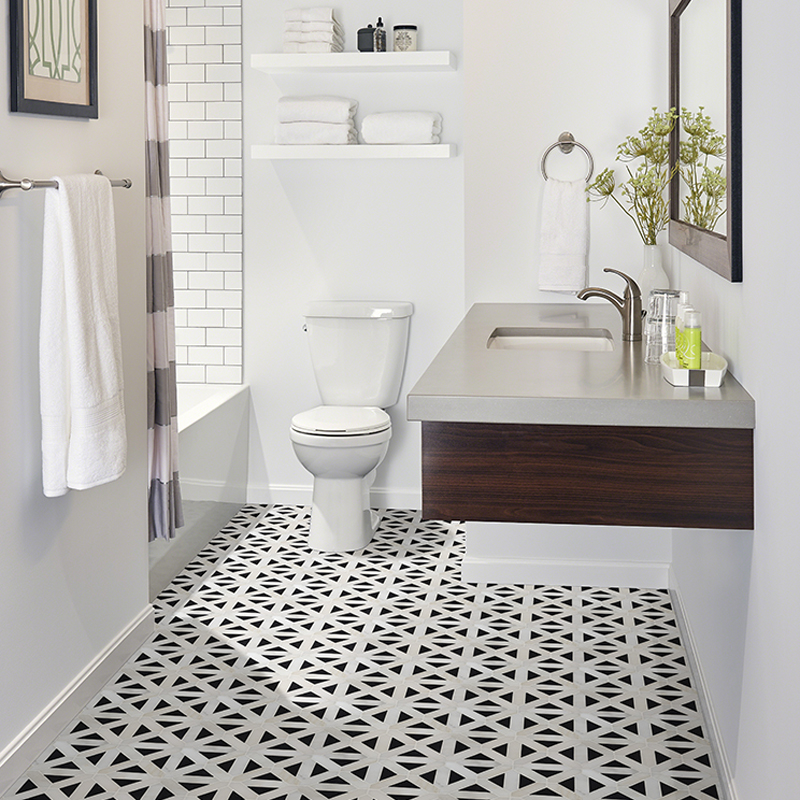 Retro Fretwork Polished tile in marble is striking underfoot.
Palette-wise, the look is moody – dark and dreamy tones launch a new wave of classics in 2019. A departure from the all-white kitchen, contrast is a prevalent theme. From an ebony/ivory geometric tile like Retro Octagon Bianco to the pairing of black countertops with white marble tile, the B&W color scheme plays out in striking ways. To create an opposites-attract industrial vibe, try a Q concrete finish countertop like the new Urban Lava or Midnight Majesty black with a Whisper White Subway tile backsplash.
3. The Coast is Calling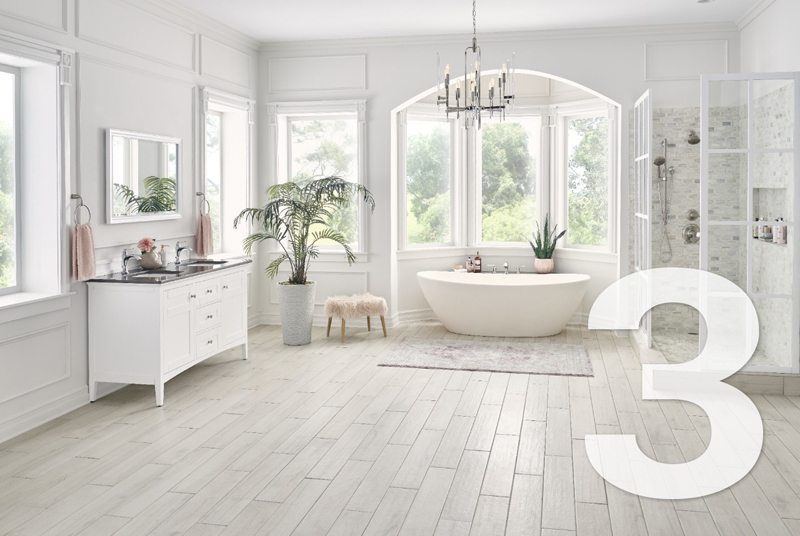 Steal the California seaside look: Palmetto Bianco Porcelain (floors), Babylon Gray Quartz (counter), Angora Framework Subway Tile (shower).
An antidote to overworked senses, this look is an homage to summertime. It's a jaunt to the coast where all things are bright, light, warm, and breezy. Bringing nature indoors with organic textures is essential in transporting a room. On the color wheel, the trend is awash in beachy tones – from driftwood grays and sandy blondes to pebble greige.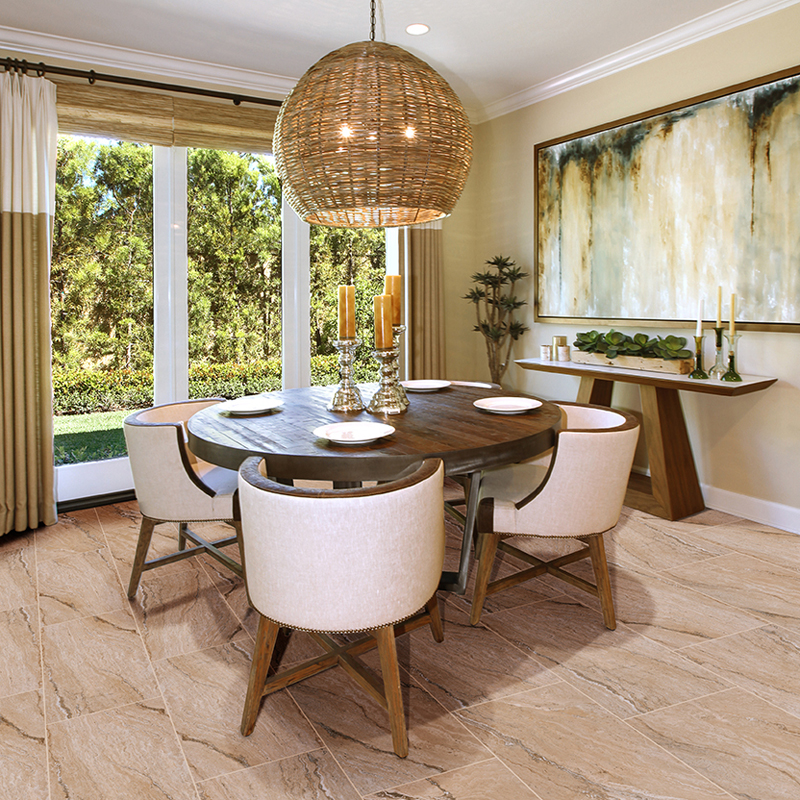 Scandi-vibes, we're coming for you: Essentials Sigaro Dunes Ceramic tile underfoot.
Beyond the dreamy looks, the trend's laid back vibe extends to materials. Walk into the house with wet, sandy toes, and let the kids use the kitchen countertops for science projects. Worry-free surfaces like Luxury Vinyl Flooring, porcelain, and quartz means nothing's too precious. Rounding out relaxed coastal design, the great outdoors comes in with natural stones like travertine, quartzite, marble, and pebbles. Ahh, we can almost hear those waves rolling in.
4. Wonder Walls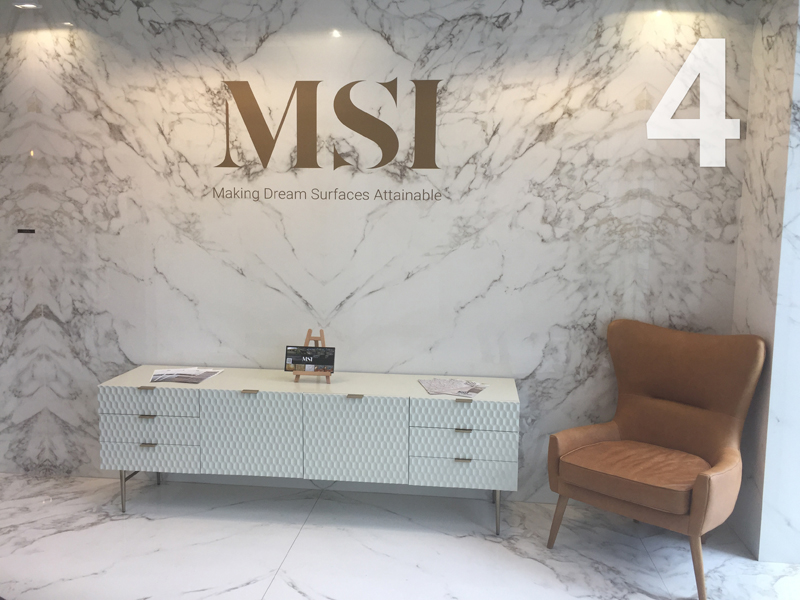 Our kind of drama: Walls and floors with ultra-thin Stile Porcelain.
The height of chic in 2019? Giving walls a little love. With so many fabulous looks making headlines of late, this impossible-to-ignore trend has sparked our imaginations. From the raw and edgy reclaimed brick-look tiles to the modern day appeal of three-dimensional tile and geometrics, there's no better way to create an architectural focus, introduce a pop of color, and add texture. If your taste runs classic, handcrafted subway tiles never fall out of favor.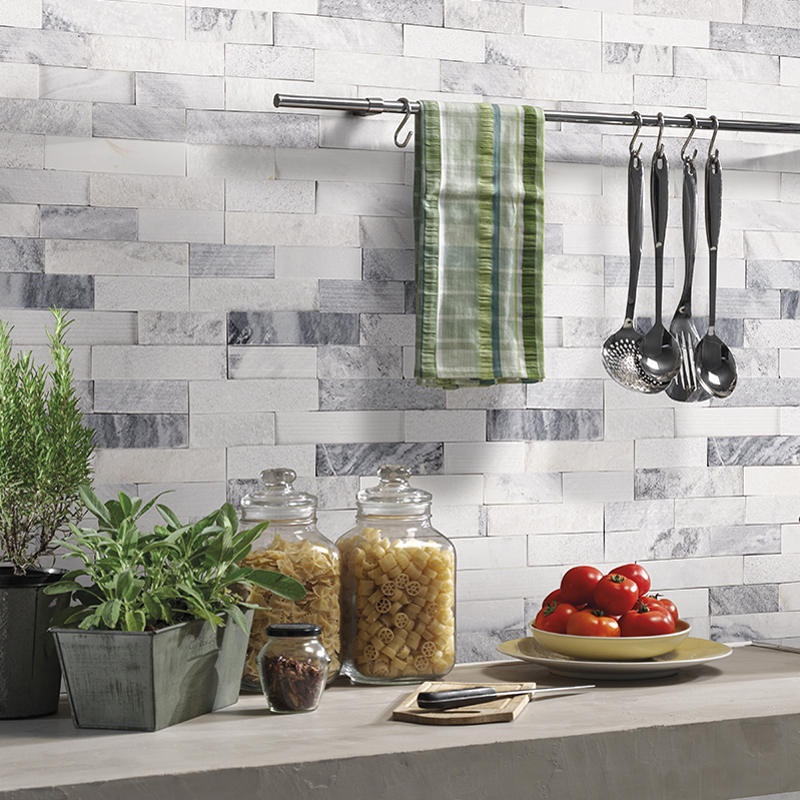 An Alaska Gray marble backsplash makes this kitchen.
We've always had a desire to bring nature indoors, but now more than ever, organic elements are trending. There's nothing like stacked stone panels to kick-start your connection to the natural world. Teeming with texture, their zen vibe, and tactile appeal only make us love them more. To make a great room look and feel cozy, try a Rockmount series feature wall or fireplace.
5. The Invincibles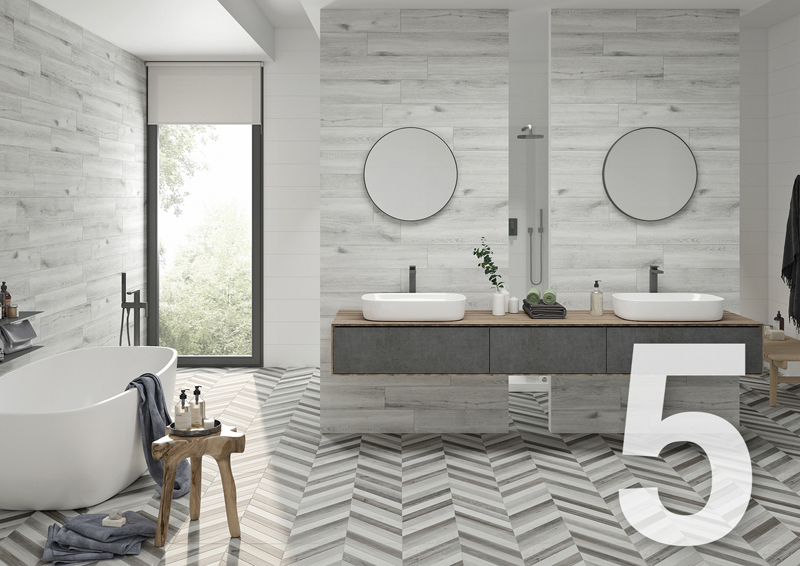 The designer behind this bathroom masterpiece deserves a medal: Antoni Gris Platinum porcelain herringbone floors.
There's just no getting around it. Life is messy sometimes. Your nine-year-old drops spaghetti sauce all over the floor. The youngest has a habit of dragging chairs from room to room. And the list goes on. Worrying about floors that stain, scratch, dent, and warp is tiresome. And altogether unnecessary. With your pick of dream-worthy invincible tiles to choose from–ultra-durable ones designed for modern life—why choose anything else? Besides, who has time to fuss over upkeep – especially when our Everlife Luxury Vinyl Flooring and Porcelain Tiles are low-maintenance workhorses.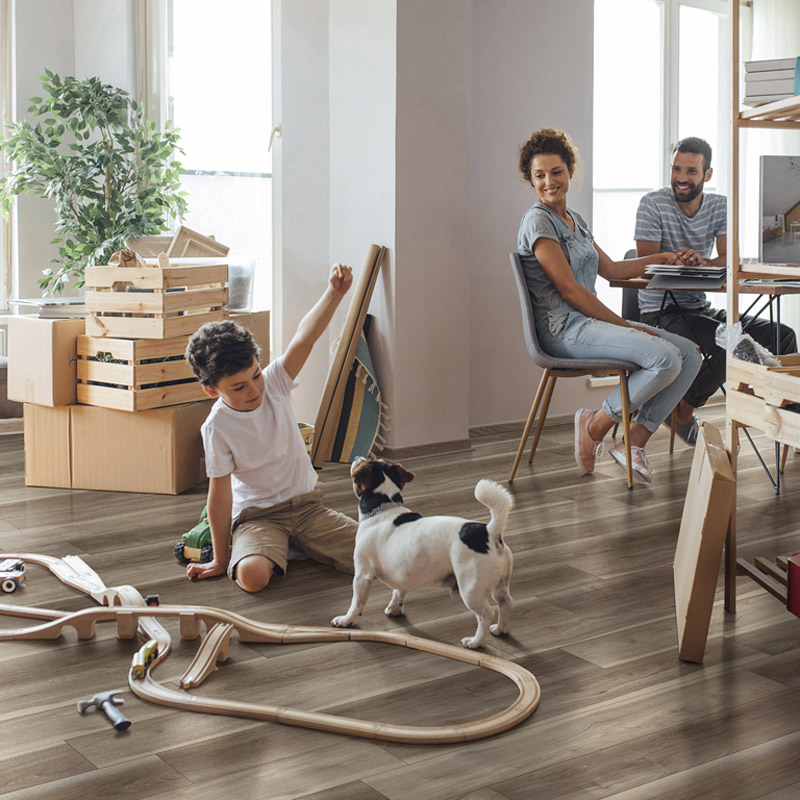 Busy families require durable surfaces and waterproof, easy-care Everlife Luxury Vinyl Tile does the job.
One line, five versatile collections, Everlife LVT has 50 on-trend wood looks, and they're all eco-friendly, worry-proof, and backed by warranty. And since both Waterproof Rigid Core and Dryback Glue Down lines are budget-friendly, homeowners can bring their dream floors to life without breaking the bank. For even more variety, our porcelain tile lineup has almost two hundred styles to choose from – including stone, textile, encaustic, and wood looks (our recently expanded exterior porcelain tile is worth a look, too). When you're out and about this year, expect to see The Invincibles in high-traffic zones – from your local eatery to your favorite hotel.