How To Choose A Quartz Countertop That Matches Your Kitchen Colors
May 17, 2019
Deciding on a quartz countertop is the first of many decisions to make when creating the kitchen of your dreams, but choosing from the cornucopia of colors can become quite a challenge. Quartz comes in a wide range of colors and styles, from bright solids and soft neutrals to stone-inspired patterns and quartz that looks like concrete. Selecting something that matches new or existing materials and tones is key to ensuring it seamlessly fits with the overall design scheme. With this guide, you will know where to start and what details to decipher when it comes time to pick out your perfect piece of quartz.
Mind Your Design Mood
Discovering your personal design style is a great first step to figuring out which color palette is right for your kitchen. Whether it is contemporary, traditional, or farmhouse chic, these aesthetics can elicit thoughts of expected color choices. However, another important element to keep in mind is the mood. Nailing down how you want your new cooking space to make you feel may quickly narrow down your color spectrum. For instance, something light and bright, dark and dramatic, warm and homey, or cool and clean should help you decipher if you desire a solid, patterned, or sparkly speckled countertop.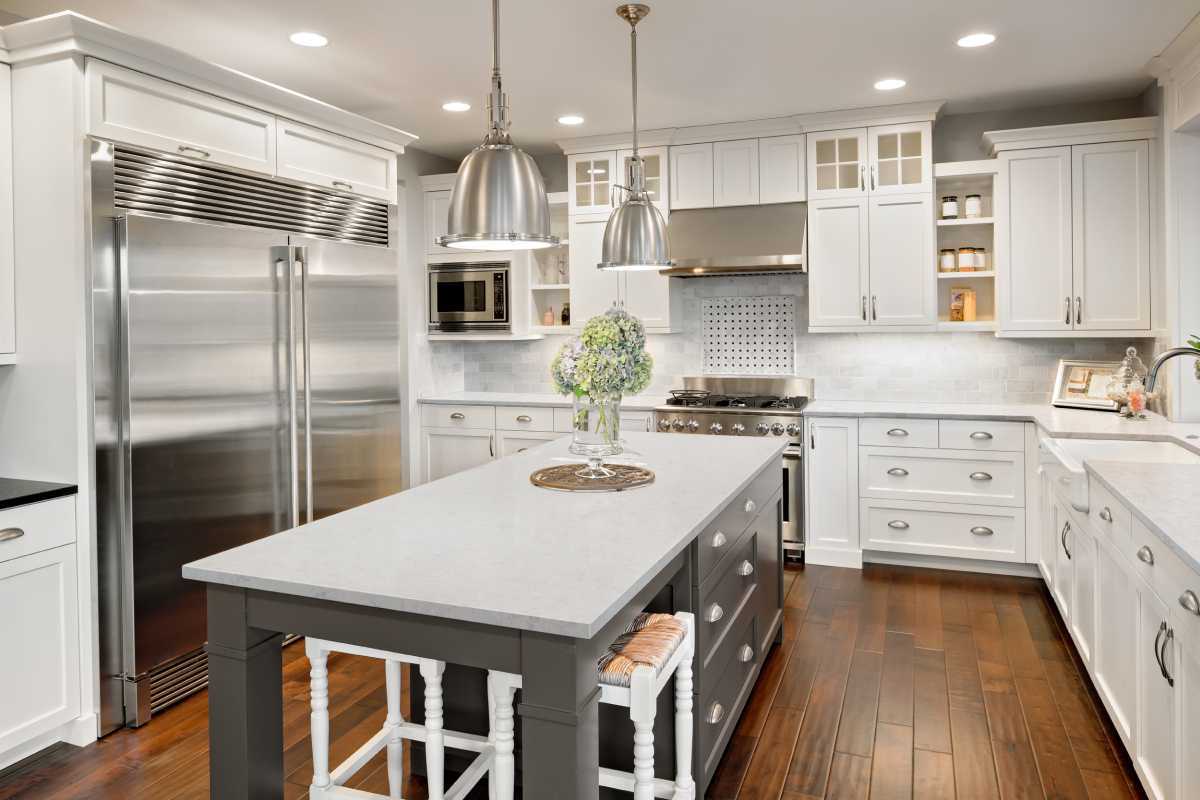 Create a similar look with MSI's Mara Blanca (Photo Credit: Houzz)
Coordinate Colors
Once you have a general sense of what you envision for your space, you can move on to picking out the exact colors. For the kitchen, it is best to stick with two main colors that complement each other and one accent color for some added character. Having two primary colors allow you to make smaller, more affordable changes over the years when your tastes change. Contemporary spaces typically include brighter whites, blacks, and even bold colors, while traditional or farmhouse kitchens feature warmer, neutral tones with less contrast.
Note that if you are aiming for a monochromatic look like with gray quartz, then your color selection will be in the same hue range with the possibility of some white or other neutrals added. However, you will want to pay more attention to pattern, texture, and finishes for your kitchen to keep it visually interesting.
Consider Your Cabinets
Many designers start with the most essential feature and work from there. Cabinets are not only one of the most expensive pieces in the kitchen, but they are also the most visually prominent material. This important decision will help guide you with the rest of the design since this permanent feature, similar to your countertops, likely will not be replaced for many years to come.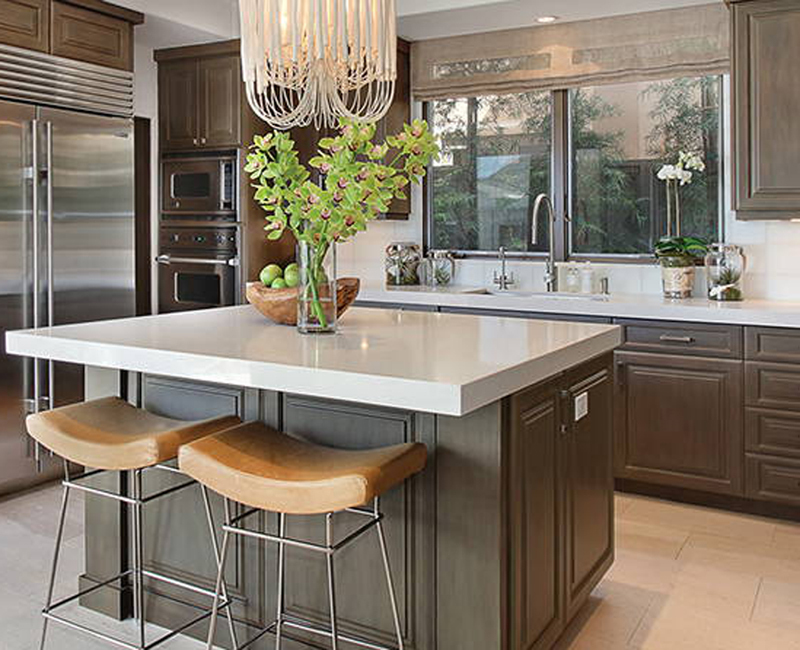 Featured: Snow White
There are lots of details to consider when pairing the right countertop with your new or existing cabinets. If using natural wood, then look at multi-colored quartz since it will enhance the grain and variation of the wood. Matching the style of cabinet with the countertop color and edge finish is key to capturing your style. For instance, a slab cabinet door is cool and sleek just like a waterfall edge, while a raised panel door features more ornate details like a double ogee edge. Older, outdated cabinets may not need demolished when you can get a quick update with new doors in addition to the fresh quartz installed on top.
Also, looking at the selection of hardware is a great place to consider undertones. The color of the hardware has a huge affect on the overall color scheme of the kitchen, so go with a warm or cool metal that complements your countertops or even pulls from the coloring in the surface. You could also get polished or matte black hardware and fixtures to reinforce a black-and-white theme that features black quartz.
Combine Quartz Colors
If you have a kitchen island, you do not have to stick with just one color. Instead, it gives you a great opportunity to create cohesion using multiple hues. A large island slab might consist of a contrasting countertop color to the ones installed along the perimeter cabinetry, or you may have plain white quartz paired with marble-look quartz that takes center stage with its sweeping veins.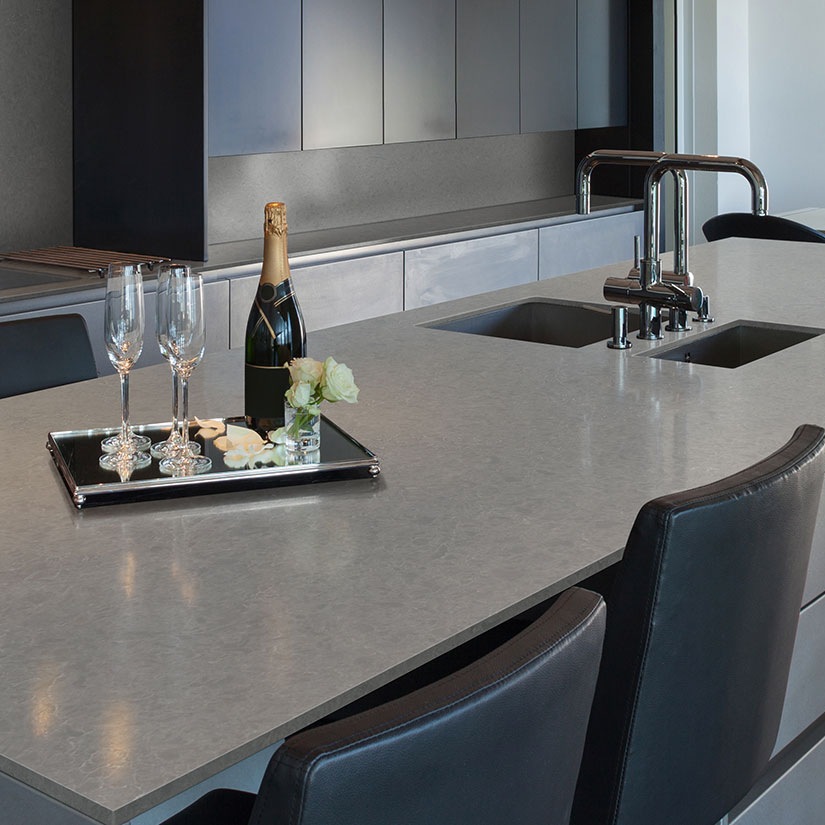 Featured: Vena Carbona
Beyond the Backsplash
Adding a backsplash ties it all together, so select something that blends with one of the primary colors or a mosaic that features an accent color from your countertop for a more fearless look. Extending the countertop as the backsplash is another option that may showcase more of a modern design, but it can be especially impactful with oversized vein patterns seen in elegant marble-look quartz.
Visualize the Space
One of the best ways to visualize your redesigned cooking space in advance of any decision-making is to see it in 3-D. MSI's Kitchen Visualizer is a virtual tool that allows customers the ability to play around with design options for various countertops, cabinets, backsplashes, and flooring materials. No matter if you are just changing out the countertop or giving your kitchen a much-needed facelift, you can test how the quartz countertop colors match main features that look similar to your existing or new materials by utilizing this state-of-the-art tool.
Now that you have a better idea about how your light or dark cabinets and countertops work together, select a floor color that coordinates with the countertops and contrasts with the cabinets in order to avoid an overwhelming look. A perfect example of this would be dark cabinetry paired with beige quartz and light wood or natural stone tile flooring. In an instant, you can see which white, light, medium, or dark tones inspire you the most when utilizing this 3-D tool.
Quartz comes in a wider range of shades than natural stone, so you will find exactly what you need no matter if you are a master of monochromatic schemes or a lover of color. While you might fall in love with more than one, carefully consider how your quartz will mesh with other elements and details of the design. Sometimes it is the small things like undertone, texture, or edge that elevates the look as if a professional designed it.
More on Quartz Countertops
Quartz Countertop Alternatives to White Carrara Marble
Are Quartz Countertops Really Timeless?
Quartz Countertops: An Environmentally Responsible Design Choice
Which to Choose: Quartz Versus Granite
Black and White: Our Favorite Quartz Countertops