Quartzite Vs. Quartz Countertops – Your Questions Answered
July 04, 2018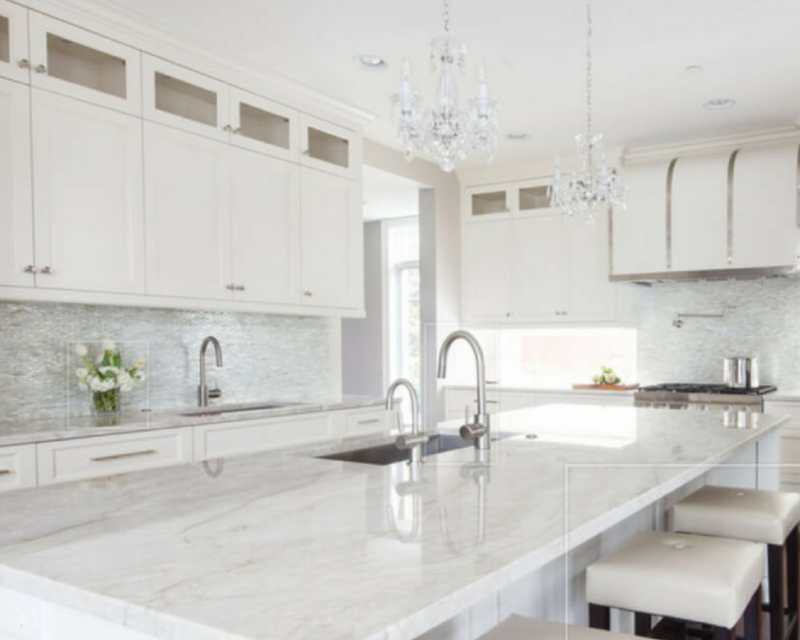 Although there's a lot of information available about quartzite and quartz countertops, many still get confused, especially since their names are so similar. Not only that, but sometimes the countertop materials may even look very similar, too.
As the experts in home and commercial surfaces, we want to clear up confusion about quartzite and quartz by answering some of your most common questions.
Is quartzite completely natural?
Yes, quartzite is a natural stone. This metamorphic rock is made from sandstone first before the heat and pressure within the earth's surface change the chemical makeup of the sandstone and turn it into quartzite.
How are quartz countertops engineered?
You may have heard that quartz is an engineered product. This means that the countertop includes up to 93 percent of natural quartz that is then mixed with a resin to bond the materials together. Depending on the quartz colors or patterns, other things like pieces of stone, coloring, and antibacterial chemicals may be added.
Is quartz a cheap knock-off of quartzite?
Of course not! Pricing for both quartz and quartzite can range from approximately $60 to $100 per square foot or more. This wide range will depend on the quality of the materials, plus you have to factor in installation costs.
With more complex cuts for quartzite comes a more expensive price for the install, whereas quartz can be poured into a mold of the desired size or shape.
How can I tell the difference?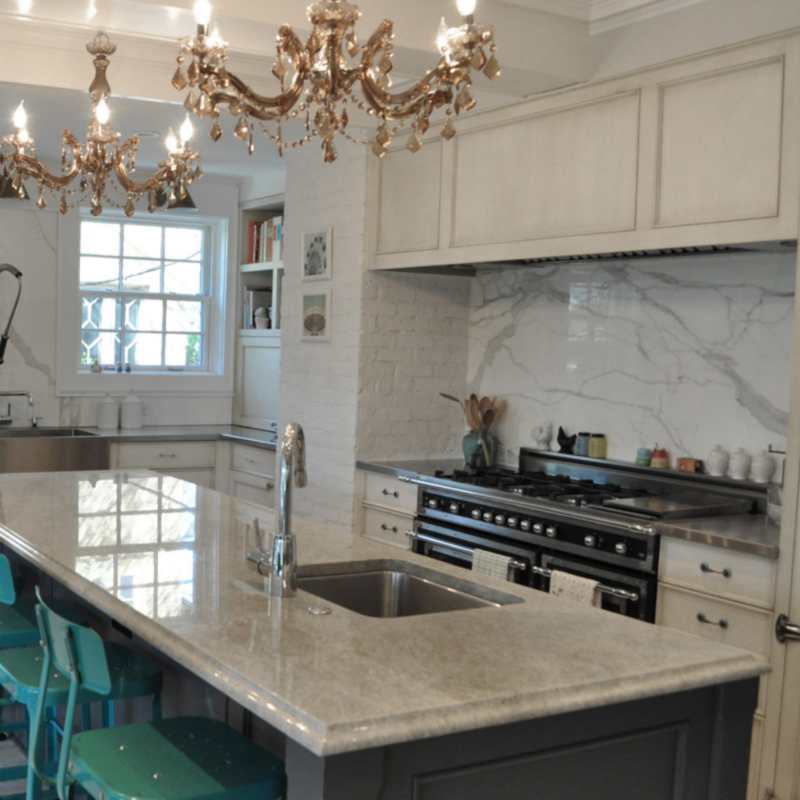 Get a similar look with MSI's Madreperola Quartzite (Photo Credit: Houzz)
Like all natural stone, you will have variation in the coloring and pattern. The quartzite colors are typically white to gray, but depending on how much iron oxide and other minerals are in the rock, they may be anywhere from pink and red to yellow, orange, green, or even blue.
Vein-cut quartzite features stunning linear streaks, while crosscut quartzite features a more organic feel with its diagonal movement.
On the other hand, quartz will be consistent in both color and pattern throughout. It's available in many colors, including solids like white, black, or even blue to natural stone looks like marble or granite. It used to be easier to spot quartz because it was only available in a polished finish.
Note that quartz is now available in several finishes like honed, sandblasted, or even embossed to mimic the various looks of natural stone.
What are the benefits of each?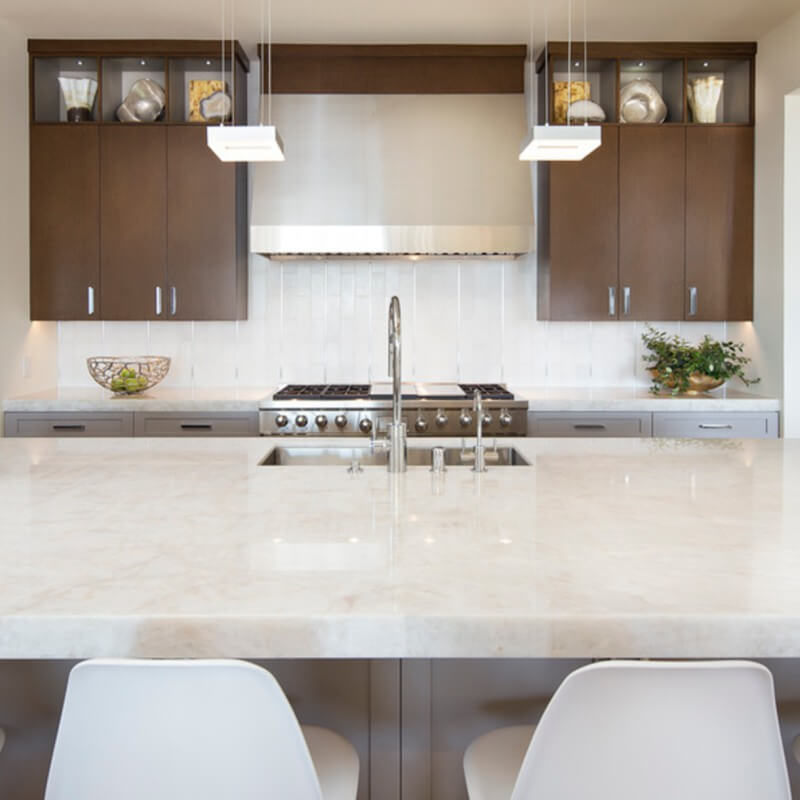 Create a similar look with MSI's Kalahari Quartzite (Photo Credit: Houzz)
One of the top reasons to choose quartzite countertops is that it is a natural stone. Quartzite offers a high-end, luxurious look similar to that of marble, and with its natural veining and neutral tones, it can look like marble but without as much maintenance! Not only does it do very well with heat, but it also is very durable because it's harder than granite.
Like with all natural stone, it must be sealed before installation and re-sealed once or twice a year to keep it protected from stains. One of the main reasons why quartz is becoming so popular is because it doesn't need much maintenance. You can just wipe it down with a soft, damp cloth and will never have to think about sealing your surface.
Quartz is non-porous, so it won't harbor bacteria or germs, and less prone to dents or chips.
Can the terms be used interchangeably?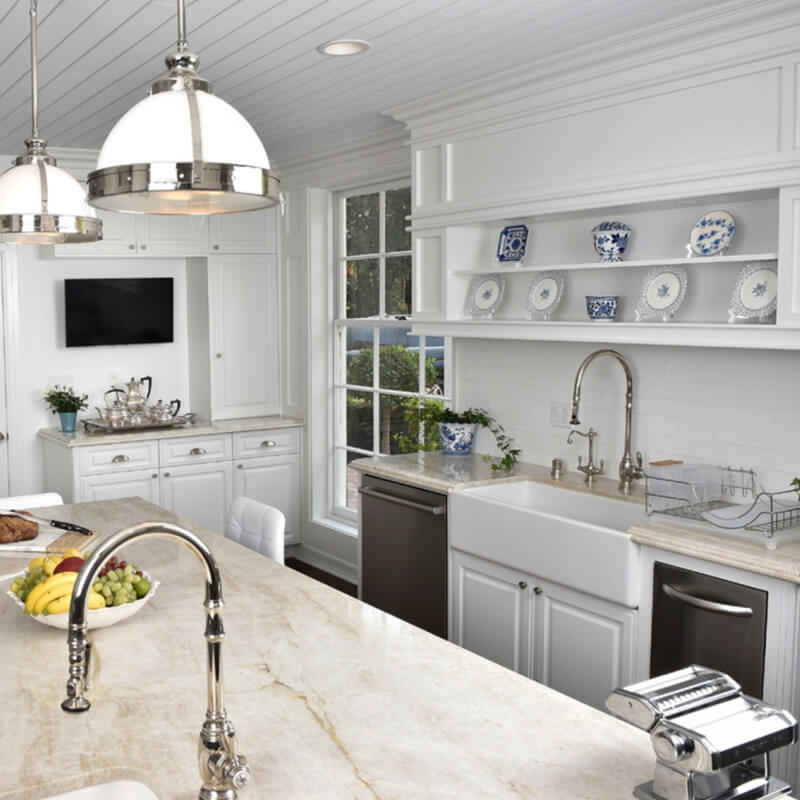 Create a similar look with MSI's Taj Mahal Quartzite (Photo Credit: Houzz)
No, they can't because one is a natural stone and the other is an engineered product.
When shopping for a quartzite or quartz countertop, make sure you're using a trustworthy place and speaking with a knowledgeable employee because some stores can confuse the two different kinds of materials. The professionals at MSI not only know about the differences between these surfaces, but they can also help you select the right material for your residential or commercial project.
You May Also Be Interested In these Quartz Countertop Topics:
End the Confusion Differences Between Quartz and Quartzite
Are Quartz Countertops a Natural Stone Slab Countertop?
LEARN MORE ABOUT QUARTZITE COUNTERTOPS
End The Confusion – Differences Between Quartz And Quartzite
Your Guide To Pavers – Porcelain, Travertine, Slate & Quartzite
Favorite Stone Pavers In Travertine, Marble, Quartzite, And Sandstone
All About Outdoor Tile: Porcelain, Slate, Travertine, And Quartzite