End The Confusion – Differences Between Quartz And Quartzite
March 14, 2018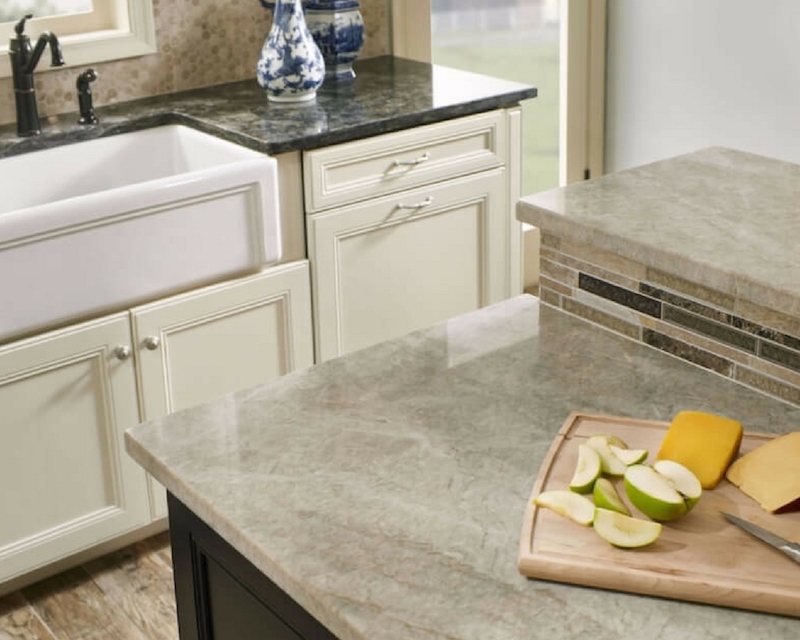 Do you know the difference between quartz and quartzite? If not, don't worry—you're in good company! Even well-respected home décor websites and magazines have made the mistake of using the terms interchangeably, as though they are the same type of material. However, the truth is that they are two very different surfaces, each with its own distinct characteristics and benefits.
Quartzite is a 100% natural stone. To be precise, quartzite is a metamorphic rock that is created underground over thousands of years when sandstone is subjected to the perfect combination of heat and pressure. It is extremely hard and is not water or acid soluble. In fact, quartzite is so hard that it can actually cut glass! Plus, it naturally resists etching, even from acidic foods and drinks.
The biggest difference between quartz and quartzite is that quartz is manmade. It is composed of a combination of natural stone, resins, polymers, and pigments. The result is an extremely durable engineered surface without the naturally occurring fissures, cracks or pores that are inherent to stone. And unlike natural stones like marble or granite slabs, quartz countertops never need sealing, yet are resistant to staining and etching.
When it comes to design, quartz and quartzite are equally beautiful, each with its own character and personality. Let's take a look at some of the most popular quartzite and quartz colors on the market today.
Fairy White Quartz is elegant in its simplicity. With a grounding point of a soft white background and subtle gray veins, it settles into a space nicely, sharing the design stage with cabinetry, accessories, and lighting.
The pattern itself does not distract from the overall design of this tone-on-tone kitchen; instead, it adds a timeless element that blends flawlessly with the cabinetry. Because quartz is easy to clean and durable, it is perfect for multi-tasking islands that do quadruple duty as a meal prep station, homework hub, crafting center, and of course, breakfast bar.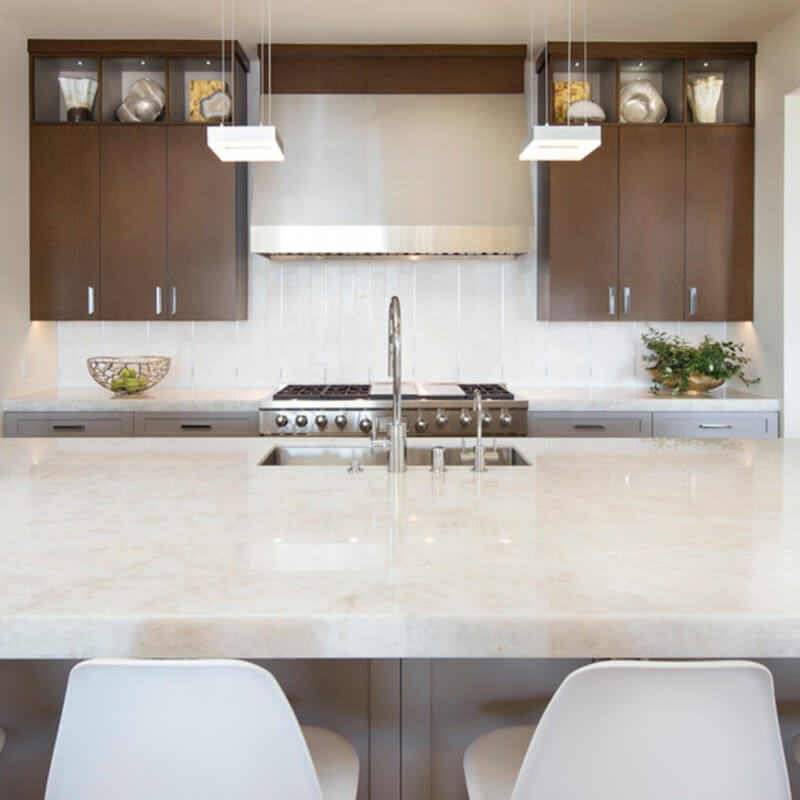 Recreate this look with MSI's Kalahari Quartzite (Photo Credit: Houzz)
You can also find soothing tonal qualities with Kalahari Quartzite. The colors in this natural stone are a touch warmer, with hints of creamy beige in a graceful veining pattern. This gorgeous stone is perfectly at home in both sophisticated contemporary spaces and homey traditional spaces—truly a timeless look to withstand the changing styles of each passing year.
Quartzite's natural resistance to etching, staining, and heat makes it a perfect choice for installation near ranges and on islands, even in busy homes where red wine and spaghetti sauce are staples.
Not to be outdone at resisting stains, Sahara Beige Quartz, is perfect for busy bathrooms where beauty products inevitably get upended on the counters. With no pores or natural fissures, quartz is easy to clean, and even the finest particles of makeup won't settle into the surface or discolor it. Cleanup is a breeze.
All it takes to keep the countertops looking beautiful for decades to come is a mild dish soap, soft cloth and nonabrasive sponge. For tougher spills, you can safely use a product like Goo Gone to remove any residue left behind.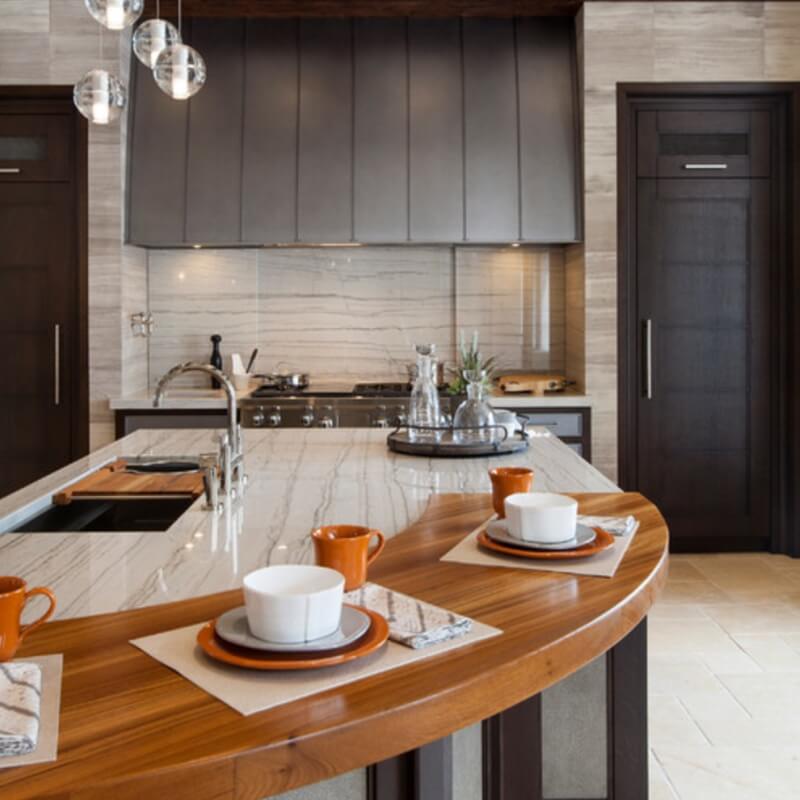 Get this look with MSI's White Macaubas Quartzite (Photo Credit: Houzz)
If you long for a more organic pattern for your countertop, White Macaubas Quartzite is a bold and beautiful choice. Its natural linear veining gives it a contemporary edge. Quartzite is so durable that it is often recommended for floors and even backsplashes over a range, in addition to countertops.
Using a quartzite slab as a backsplash is simply brilliant—after all, when cleaning up spattered marinara or chili, there will be no grout lines to worry about! Simply use a pH neutral mild dishwashing soap and a nonabrasive sponge, and your quartzite backsplash will regain its sparkle.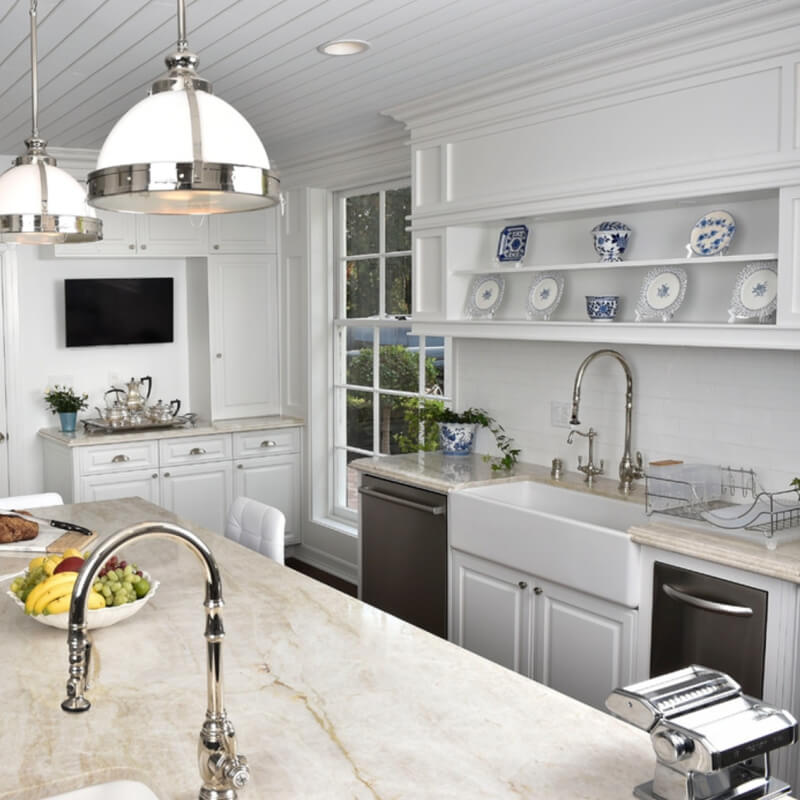 Create this look with MSI's Taj Mahal Quartzite (Photo Credit: Houzz)
To create a luxurious look that is as much at home in a palace as in your kitchen, look no further than the amazing Taj Mahal Quartzite. This truly spectacular stone has more prominent veining than the previous examples. As a result, this natural stone won't fade into the background; it will take center stage in any design. This naturally beautiful surface has a luminescent quality in which the veins appear to move against the background.
Quartzite is unique in that it offers many of the same visual characteristics as marble, but is much harder and more resistant to stains and etching. In other words, it's ideal for busy, hardworking kitchens.
You really can't go wrong with either quartzite or quartz counters for your home. Both are among the most popular kitchen countertops today, for good reason. They are durable, resist etching and staining, and come in a wide range of colors and patterns to fit virtually any décor.
Use our Virtual Kitchen Designer and be inspired to create your perfect kitchen by trying out our many engineered quartz countertops or natural quartzite countertops for yourself.
You May Also Be Interested In these Quartz Countertop Topics:
Quartzite Vs Quartz Countertops: Your Questions Answered
Are Quartz Countertops a Natural Stone Slab Countertop?
LEARN MORE ABOUT QUARTZITE COUNTERTOPS
Quartzite Vs. Quartz Countertops – Your Questions Answered
Your Guide To Pavers – Porcelain, Travertine, Slate & Quartzite
Favorite Stone Pavers In Travertine, Marble, Quartzite, And Sandstone
All About Outdoor Tile: Porcelain, Slate, Travertine, And Quartzite