Current Obsessions: Quartz Countertops Are A "Must-Have" For Professional Home-Chefs!
October 19, 2017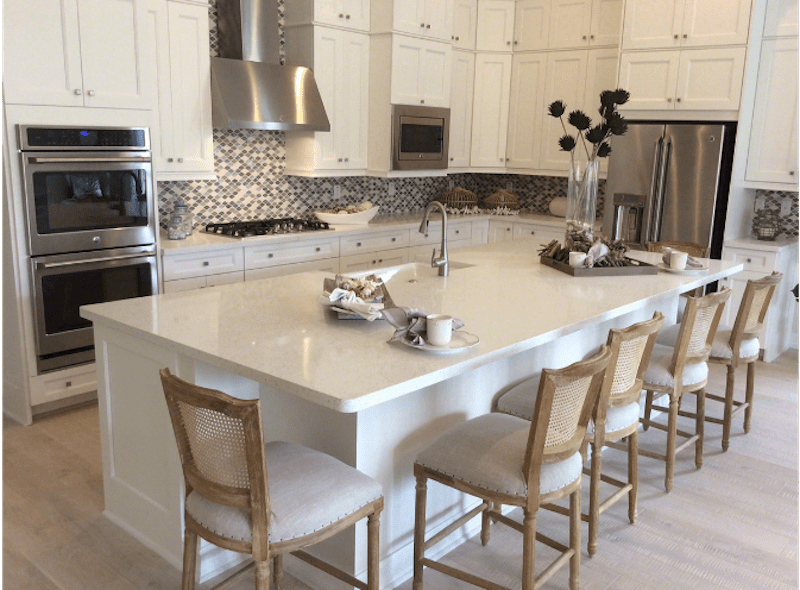 Any artist will tell you that having the right working environment is essential for creative inspiration and achievement. It's no different for a home chef!
Whether your specialty is pub grub, down-home country fare, ethnic dishes or Escoffier-inspired Haute cuisine, you need a countertop surface that works just as hard as you do.
Today's home chefs are discovering the benefits of quartz countertops for durability and resilience as well as beauty.
This quick buying guide for countertops will show you why you should put it on your list for consideration:
• Heat Resistant – inevitably you'll put a hot pan on the counter by accident. You should always try to use hot pads or trivets, but quartz is as heat-resistant as granite.
• Stain Resistant – since quartz is nonporous, it won't stain when exposed to foods and beverages, even tomato sauce and red wine on white quartz countertops.
• Scuff & Chip Resistant – quartz countertops are incredibly durable. We don't recommend chopping food right on the counter surface, but it will withstand rough treatment.
• Variety of Colors & Patterns – you'll find a huge variety of quartz countertops colors to choose from, including quartz countertops that look like Carrara marble.
• Ideal for Baking – Quartz stays cool, so it keeps dough firm as it's rolled out and kneaded.
• Clean & Sanitary – Quartz countertops are easy to keep clean, don't require special cleansers, and don't absorb moisture.
• Low Maintenance – Quartz countertops never need sealing, so your kitchen is conveniently ready to use whenever you need it.
Sparkling Black
Black and white is a classic combination, and what chef could resist this bright, airy room? The starry white accents in Sparkling Black Quartz add depth and character to this dark surface. A large porcelain double sink as well as a wide, roomy work surface ensure that this kitchen's home chef will never be stuck in a corner away from family and guests.
Pebble Rock
This kitchen is clearly designed for someone who loves to cook — instead of a backsplash, the cooktop flanks a big picture window. No matter the season, this home chef can enjoy a natural view while stirring the sauce. Also, the versatility of Pebble Rock Quartz countertops allow for installation of a modern, curvy kitchen island with a convenient, small inset sink.
Chakra Beige
Today's kitchens are more than just a place to cook; they are gathering places for friends and family to enjoy the home chef's creations. Chakra Beige Quartz creates a large kitchen island that encourages guests to pull up a chair to eat, drink, and be merry. It's a snap to keep clean, and a beautiful backdrop for serving your food.
Cascade White
Quartz slabs are easy to customize, as shown here with an unusual-shaped sink. They are also ideal for more than countertops — consider them also as backsplashes, to protect your walls from the messiest food prep splatters. Cascade White Quartz features a bold pattern in colors that are easy to coordinate, even combined with a different color countertop.
Calacatta Laza
Marble countertops are beloved by home chefs due to their classic beauty, but they aren't always practical. Calacatta Laza Quartz countertops that look like calacatta marble are the ideal solution. With quartz that looks like marble there's no need to seal, and no worries about staining or etching, even with bright white.
There are so many reasons for busy, creative home chefs to choose quartz countertops, not the least of which is that you can think less about your countertop and more about your culinary creations. Visit MSI's web gallery to see more chef kitchens, as well as the many colors and patterns of quartz to choose from.