Backsplash Design Guide Part 1: Backsplash Tile Basics
March 03, 2012
You are invited to join us over the next several weeks as we spotlight the eye-catching backsplash in a series of articles that point to their practicality and ability to enhance a room. The backsplash tile has become an integral component of the central design direction of the living space and should never be considered an afterthought. With literally hundreds of options to choose from and blend, we will highlight the myriad of material, color, design and grout options to help get you started on your project.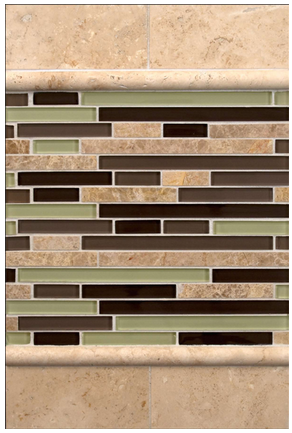 Backsplashes Come to the Fore
Backsplashes began as functional conveniences — easy-to-clean surfaces that protected bathroom and kitchen walls, especially those behind the cook top, sink and prep area. But it didn't take long before designers and homeowners would come to realize that a distinctive backsplash can also provide an important design element that can dramatically enhance the overall look and feel of the space. By integrating different materials, patterns and colors, a unique design motif is created to help other product selections blend effortlessly with the surrounding counters, floors, cabinetry and hardware. Especially impressive is when the primary section of the backsplash - such as the one directly behind the stove or sink - becomes an artistic focal point around which the entire kitchen or bath is designed. You can make a significant difference with a relatively small change, because installing a backsplash is a project that you can tackle without disturbing other elements in the room. As a result, it is one of the most affordable ways to refresh an outdated space when a complete remodel is not feasible.
Early Decisions in Design
With the various backsplash materials and textures available, it is easy to create a beautiful wall covering that not only protects, but also adds color and visual interest. There are things to consider before getting started such as how long the run should be. When wrapping the backsplash around the entire room, it can give a sense of visual continuity to help a small space seem larger. The opposite approach—such as an elaborate single panel behind specific areas like the range or sink —highlights and draws attention away from the rest of the room and to a more localized area. The next thing to decide is how tall the treatment should stand. A backsplash that runs all the way up to the bottom of the wall cabinets gives the room a finished quality whereas a low runner would require less labor and fewer materials but would necessitate another medium such as paint or wallpaper to tie it together and complete the rest of the wall above it.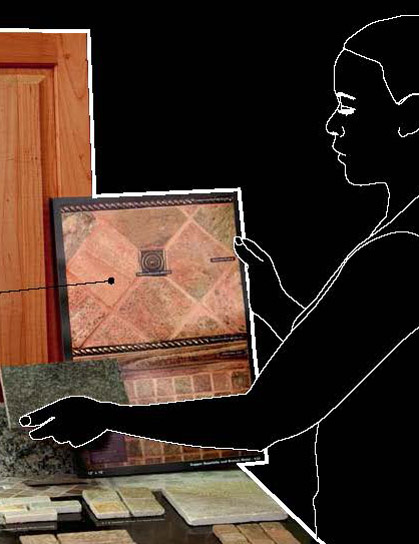 Backsplash Symmetry
Because a backsplash bridges the counter and cabinets, it is best to choose a material and color that works with those elements whether you are newly constructing or planning to marry them together with an existing kitchen or bath. Complementary colors or variations on a dominant color give a traditional look. To liven up the room, add some contrast. Also, consider texture. Rough finishes add a more relaxed and natural flavor to the space, while slick, shiny surfaces emphasize elegance and a more modern feel.
Download your copy of the Mosaic Tile Backsplash Design Guide. With all of the colorful decorative tile options available today for your backsplash, the only thing that can limit you is your imagination.
Stay tuned for our next edition of 'Backsplash Design Guide'. We will explore the myriad of color options that nature has provided for us within natural stone and how the colors found in just one piece can serve as inspiration that can be instrumental in designing a beautiful kitchen or bath.
Please share your comments and questions!
READ MORE ABOUT MSI BACKSPLASH TILE
A DYI Dream Come True: Peel And Stick Backsplashes
A Nod to Mother Nature: Recycled Backsplash Tile
Awaken Your Walls with Marble Geometric Pattern Backsplash Tile
Backsplash Design Guide Part 2: Endless Color Possibilities