Current Obsessions: Floor To Ceiling Tile
September 09, 2016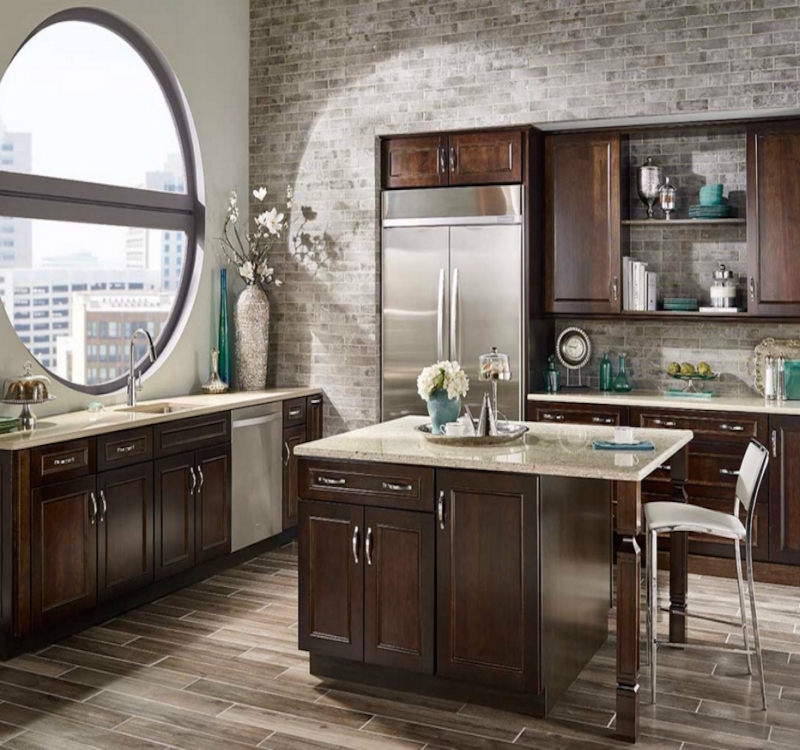 When homeowners want to accent a wall, they often default to paint, stencils, or wallpaper. However, adding tile to a kitchen or bathroom is a fresh option that's gaining popularity. It's a great way to add high style to any space, and there are so many options available at MSI.
So why stop halfway when tiling your walls floor-to-ceiling can provide a stronger impact and open up a variety of design possibilities? To get you started, here are five inspirational ways tile can be used in floor-to-ceiling applications.
1. An Extended Backsplash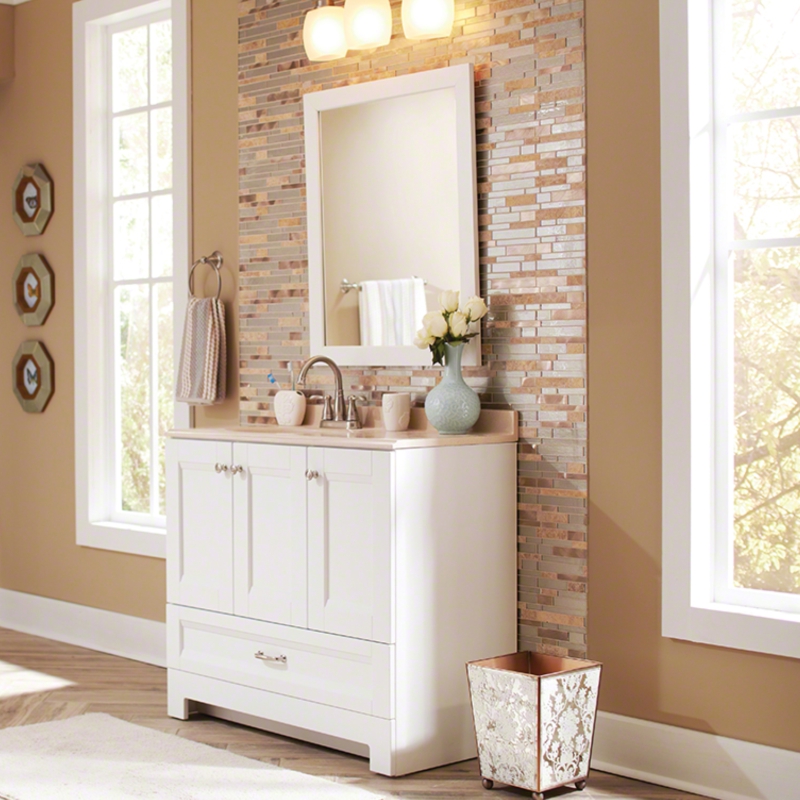 Featured: Champagne Toast Interlocking
Give your kitchen or bathroom vanity a dramatic design upgrade with the addition of an extended backsplash. Not only will it make your room look taller by drawing the eye upward, but also a floor-to-ceiling accent provides a stunning backdrop for your fixtures.
Smaller backsplash tile like glass mosaics are best selected in neutral or similar colors so the large installation area doesn't become too overpowering. For example, this beautiful bathroom features Champagne Toast Interlocking Tiles. This offset brick pattern beautifully blends stone, metal, and glass tiles, with soothing colors ranging from beige to taupe and mocha. The countertop and wall color are a perfect match, while a white mirror and vanity balance out the look.
2. A Blend of Two Styles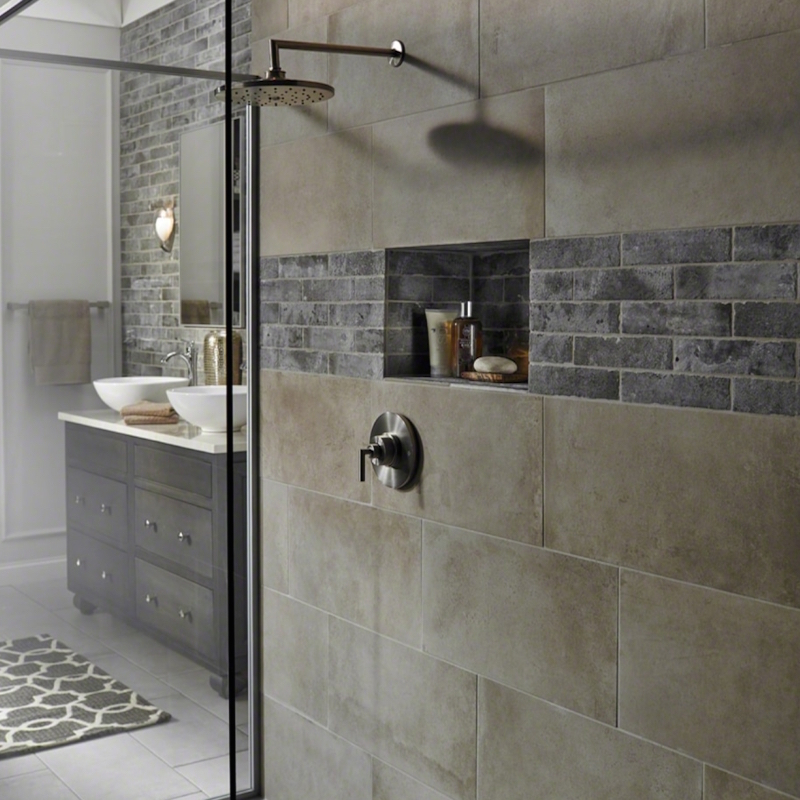 Featured: Capella Sand Porcelain
Mixing styles is a way to give a space an eclectic quality or combine two design ideas into a unified space. In this bathroom, the push and pull of rustic elements with contemporary features creates a cohesive look. These Capella Sand Porcelain Tiles, which have an old-world terracotta look, are jumbo-sized 12x24 in a modern twist. The large tile size also provides cleaning ease for homeowners.
The soft, sandy tones of this porcelain coordinate well with other tiles in the Capella collection, such as Taupe Porcelain Tile. This soft gray and taupe brick-look is used as an accent stripe in the shower and then repeated from the floor to the ceiling behind the double vanity.
3. A Segmented Look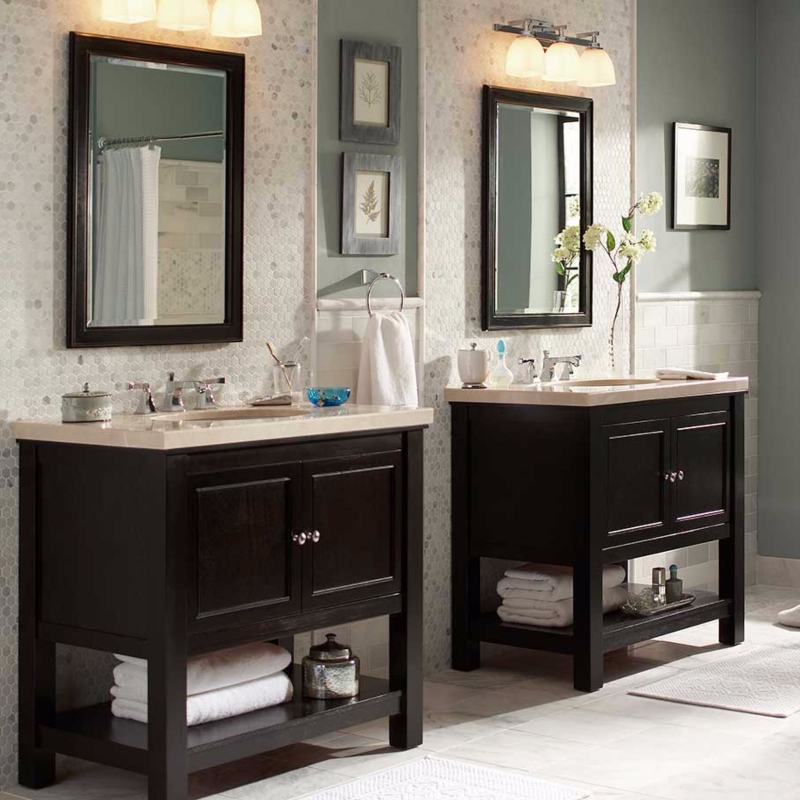 Featured: Greecian White Hexagonal Marble
You can create a defined look by breaking up your accent wall, without making your space look smaller. The use of trim pieces unifies this bathroom's Greecian White Marble subway tiles with hexagonal mosaics. The negative space between the two vanities provides even more definition to the floor-to-ceiling tile behind.
4. A Floored Design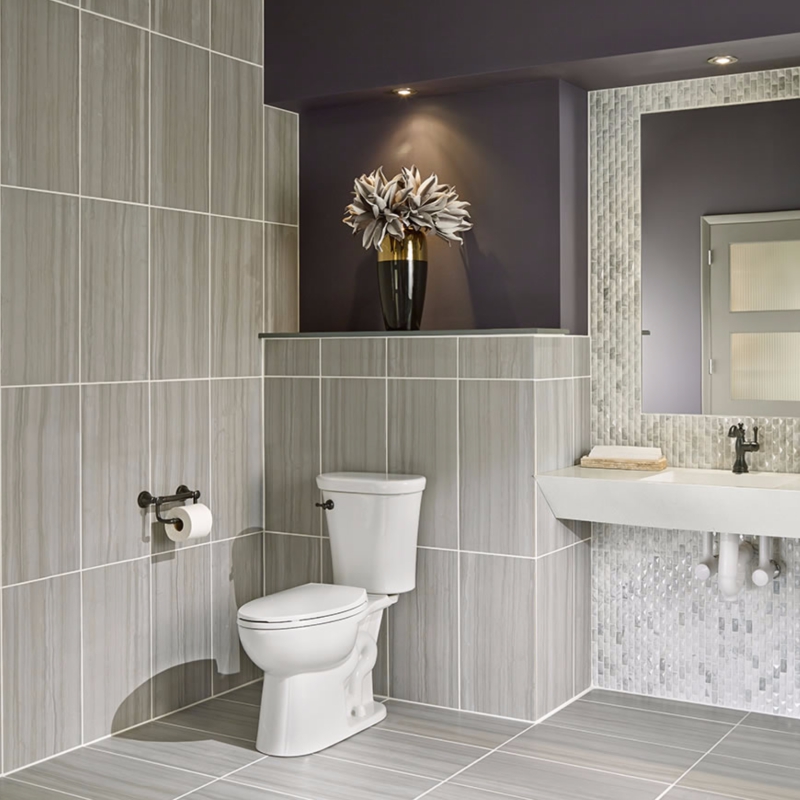 Featured: Anthracite Porcelain
Extending the same tile from the floors to the wall is another way to add drama to your design. This bathroom is given a bold, modern, and linear look with the installation of Anthracite Porcelain Tiles. These easy-to-clean, large format tiles recreate the look of natural stone in a mid-tone gray, and tonal veins create subtle pattern and magnificent movement.
5. A Traditional Twist Using Texture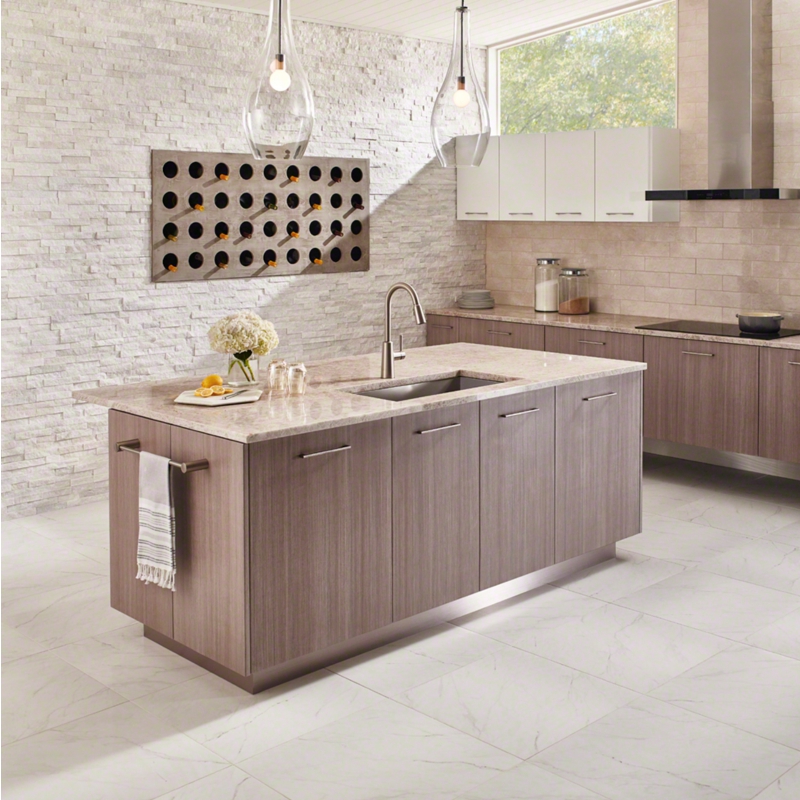 Featured: Arctic White Stacked Stone
While stacked stone is traditional for fireplaces and exterior applications, why not use it as an accent wall? This striking kitchen features various types of stone and tile, including a gorgeous floor-to-ceiling tile installation in Arctic White. This split-face finish features snowy white panels that give stunning texture to what would otherwise be a plain wall.
The use of tile gives your bathroom or kitchen added visual interest. So if you are ready to see how your ideas and dream materials could work together to create an amazing kitchen design, check out MSI's Virtual Kitchen Designer. Try out your design skills by mixing and matching colors, textures, and styles using this helpful tool.