Going Green With MSI Granite Countertops
September 10, 2021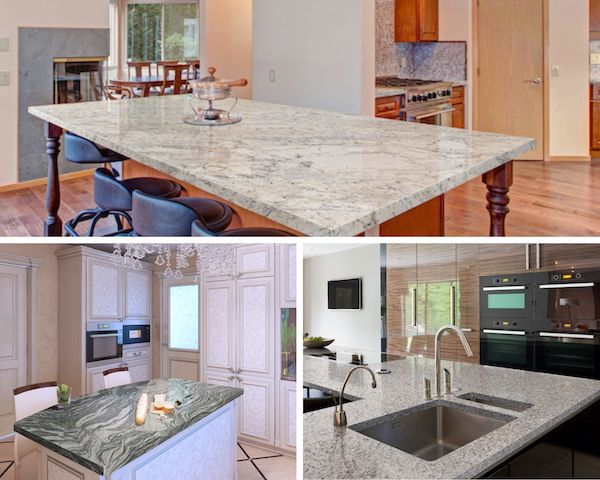 Today's homeowners are searching for eco-friendly building materials in hopes of helping the environment and creating safe spaces for their families. One way to be more eco-conscious when planning a remodel or new build is to choose granite countertops, a natural stone that comes straight from the Earth and contributes to better indoor air quality. Let's take a closer look at how you can go green with granite from MSI.
Granite Is a Natural Resource
Granite comes straight from Earth as it's mined from solid rock formations. The natural stone is manufactured into solid slabs by using diamond-tipped blades to saw off the granite from the large chunks of stone. Since the manufacturing process is verily simple compared to other prefabricated countertops, there is little energy used and carbon emissions created when producing granite.
One of the most beautiful things about choosing a natural product is that your granite slab will be unique. Since no two slabs are alike, a pattern like Gray Mist offers a flow and movement only Mother Nature could create. This beauty hails from India, and the dark and light grays highlighted by warmer tones would be difficult to recreate since the variations will always change.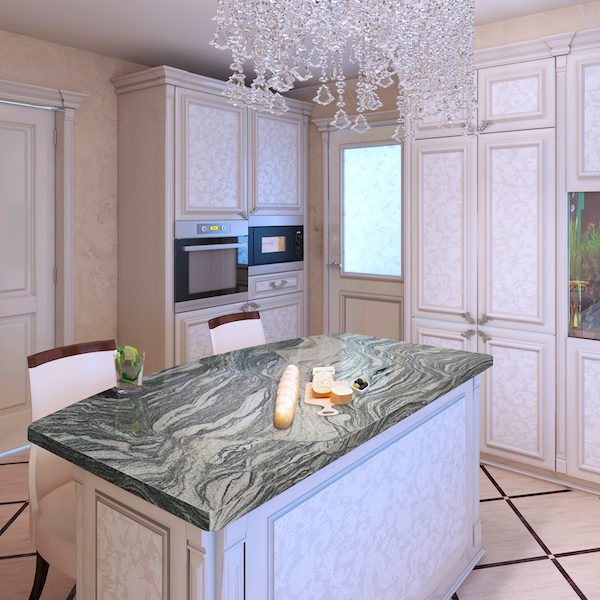 Granite Is Inherently Eco-Friendly
The pure stone material is void of any foreign substances that may be considered harmful toward the earth or someone's health. Plus, there are no chemicals that go into the quarrying or fabricating process of granite, which means no chemicals are ever added to the stone. Engineered products like quartz do require synthetic resins and other fillers, so you'll have to weigh other factors of quartz vs. granite besides its environmental differences to decide which one is right for your project.
Granite Has a Long Lifespan
Your new granite countertop materials might be the only surface you'll need to purchase, ever again. That's because natural stone, such as granite, offers a longer replacement life when compared to other laminated or wood countertop surfaces. Your investment should last anywhere from 30 to 50 years and remain in good condition with proper care. However, if you or the next homeowners are ready for an aesthetic change, then you'll be glad to learn that the environmentally friendly product can be recycled instead of sitting in a landfill.
There are some designs more typical of granite, and choosing something in a more neutral pattern and color palette means you'll likely love it for longer, unless you'll always want drama with a black granite surface. Whether you choose a neutral in warm hues or cool tones like Bianco Imperial, you'll be able to match it with more styles. Design tastes change approximately every four to five years, so it's important to consider how many ways you can spruce up the mixture of light grays, medium tones, and dark specks and flecks found in this Brazilian granite.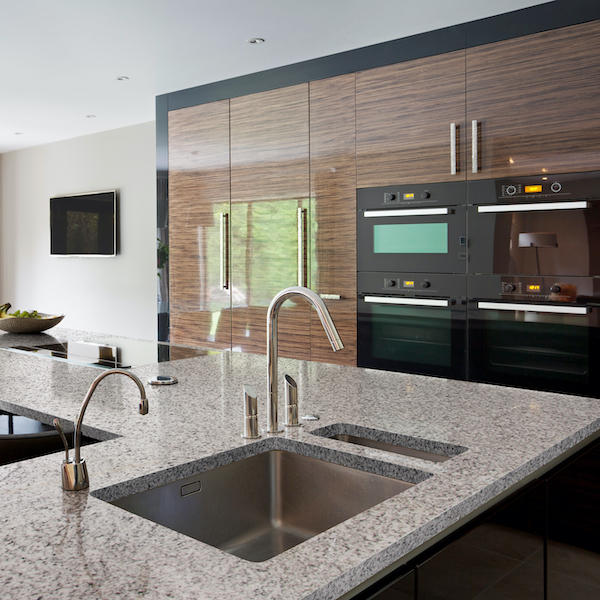 Granite Doesn't Release VOCs
One of the biggest contributors to harmful indoor air quality is volatile organic compounds, or VOCs. While they're common in many types of building materials like laminate, they are not found in natural stone. You can rest assured knowing that your beautiful granite stone countertop won't contribute to poor indoor air quality since it doesn't leach VOCs. This is one of the many reasons why granite is a preferred sustainable building material.
Granite from MSI is GREENGUARD Certified and contributes to healthier indoor environments. This certification means that a third party tests for more than 10,000 chemicals and VOC emissions that can affect indoor air quality. Look for the GREENGUARD Gold certification especially for those with children or other sensitive adults with health issues for even stricter standards on lower VOCs.
Granite Is Easy to Clean
Keeping your granite clean is pretty simple with non-toxic solutions. Using some mild dish soap and warm water on a soft, non-abrasive sponge will help get your surfaces clean. Rinse and ring out your sponge before wiping up the remaining soap. It may take a few times to get rid of the soapy residue. Then, wipe dry. For more stubborn stains, try making a water and baking soda paste. Use a soft cloth to rub in the paste into the stain.
To disinfect surfaces, use a solution of 1-cup water and 1-cup isopropyl alcohol. Spray your counters, wait five minutes for it to disinfect, and wipe the granite dry.
Since natural stone requires a sealant, you'll want to avoid using any cleaning products that are too acidic. Using cleaners with vinegar or bleach as well as Windex will dull your stone and reduce the strength of the sealant.
Granite Can Use Non-Toxic Sealants
Even with the right cleaning techniques, you will still need to reseal your granite over time, just like with any natural stone. This helps protect your surfaces from stains and will help keep its luster. Use a non-toxic sealer with low VOCs to help keep your interiors and the environment safe. Ask your manufacturer for non-toxic sealant recommendations prior to install so that they can use a safe sealant during the installation.
You can install a light, warm white granite like African Rainbow without worrying about stains. The pale-laced stone features an ivory background with auburn specks and multi-colored veins for a stunning polished surface from Namibia. With proper cleaning and sealing, your light-colored granite will look like new for years to come.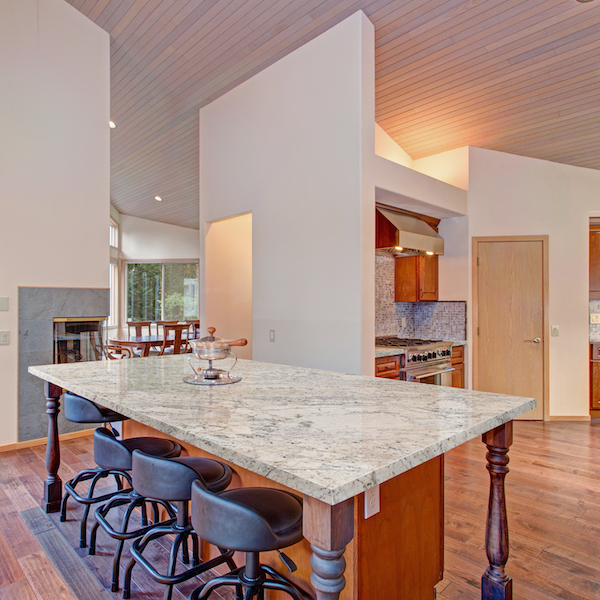 Granite Tiles Are an Eco-Friendly Choice
Take your green-focused remodel one step further by choosing granite tiles for your kitchen countertops. Remnants or used granite slabs can be cut down to tile size to help recycle or reuse more products. This benefits the environment as there's no new mining and very little energy used when creating granite tiles.
Going Green with Granite
One of the biggest home improvement impacts you can make is with new countertops. Natural granite is a durable, beautiful, low-maintenance material that offers green benefits for homeowners and the environment. While some products are considered green, they may not be as eco-friendly as you think when considering how they're produced and how long they will last. Granite comes from the earth, so there aren't any added chemicals, and the production process is simple compared to other engineered products. Plus, these premium surfaces will last decades, so you can be confident in choosing a material that's good for your family and the environment.
READ MORE ABOUT GRANITE COUNTERTOPS
Gold Granite Countertops Sparkle And Shine!
Gorgeous Granite Countertop Islands
Granite Countertops - Get the Right Start with the Right Finish
Granite Countertops 101: All Of Your Everyday Use Questions Answered