Selecting The Right Type Of Hotel Flooring
March 22, 2021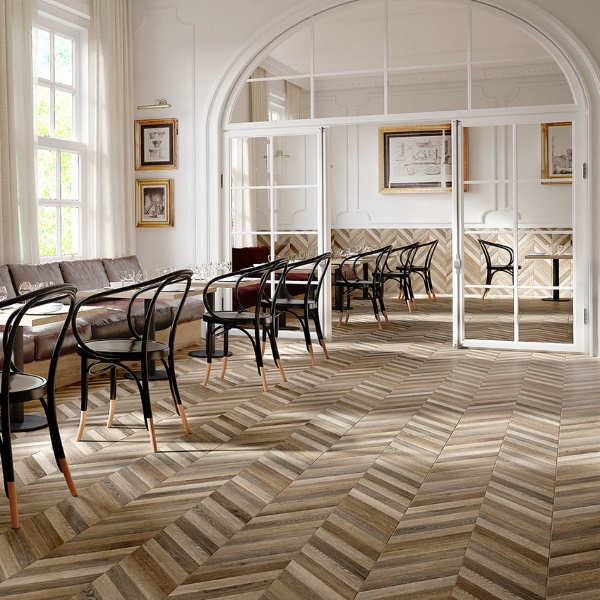 Flooring that is both beautiful and durable is always in demand, but nowhere is it more important than in the hospitality industry. Hotel rooms, lobbies, lounge areas, and other spaces need hotel flooring that is safe and, preferably, cost-effective.
Choosing the right type of flooring for hotels, motels, and other businesses in the hospitality industry can be a difficult choice, and no flooring type is a one-size-fits-all solution. Also, flooring that is inappropriate for one area within the hotel may be the perfect type of flooring elsewhere. Owners and managers must carefully consider the benefits and drawbacks of each flooring choice, along with the personal preferences of their clientele.
So, how do the most popular hotel flooring materials stand up to one another, and how do you choose the best one for your remodeling project? The following information, including the pros and cons of each type of flooring, should help you decide.
Commercial Carpeting
Everyone loves the feeling of soft carpeting beneath their bare feet, particularly in bedrooms. Carpeting has a lot going for it, which makes it the default choice for many homeowners as well as those who manage commercial spaces. But is it the best choice for your hotel?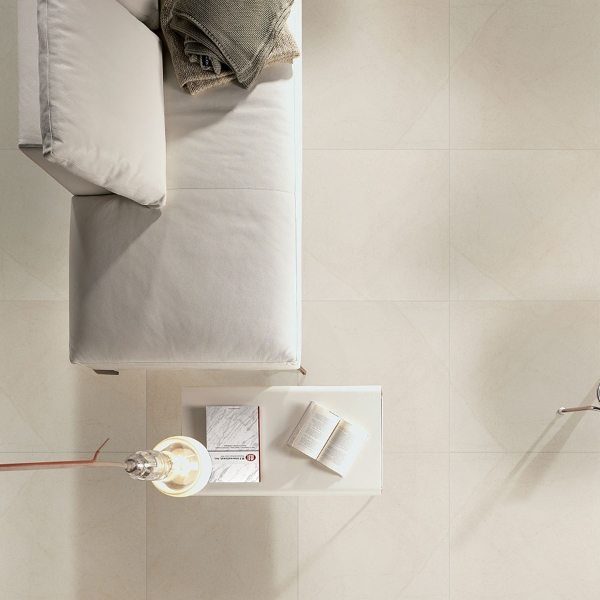 Well-maintained carpeting has a luxurious look and feel. It's available in nearly any color and a wide variety of patterns, textures, and pile heights. Carpet is relatively inexpensive, which is another reason for its popularity. Most importantly for a hotel or any commercial setting is carpet's sound-absorbing qualities. If installed properly, carpet can keep noises between hotel rooms to a minimum — those in rooms below won't hear every footstep from the rooms above.
However, carpeting has a lot of drawbacks as well. For one thing, it's difficult to keep clean and disinfected — a big issue in hotel rooms, especially nowadays when everyone is so mindful of sanitation and hygiene. Carpet is prone to staining, tearing, and other types of damage; it absorbs moisture and can smell musty if not properly cared for. It can also develop a dark, dingy look over time.
Despite the fact carpet is relatively inexpensive, in a hotel environment it will need to be replaced frequently — therefore, it may not be such a budget-friendly choice after all.
Wood Flooring
Hardwood flooring makes a great impression because it's a luxurious, opulent choice. Unfortunately, the reason for that is its price. Real wood flooring can be extremely expensive, and therefore, impractical for any hospitality environment larger than a bed and breakfast.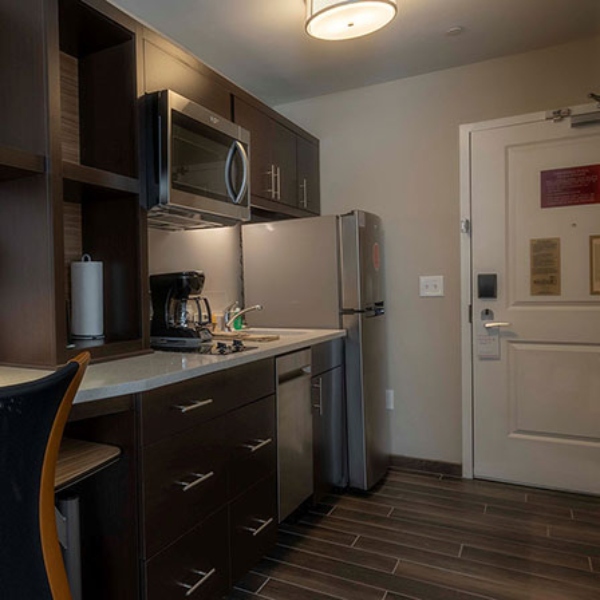 Not only is the formidable expense of wood flooring an obstacle, but it's also a bad choice for high-traffic areas. It will require refinishing on a regular basis, which means blocking off access to the rooms during this renovation process. Refinishing wood flooring can also emit toxins and unpleasant odors. Wood flooring can absorb moisture, which can lead to warping, staining, and other damage. Plus, it's easy to scratch.
However, there's certainly a place for wood flooring in the hospitality industry. It looks terrific installed in small areas, such as an entryway or a reception area, where it will make a maximum impression with a minimum of expense and upkeep.
Luxury Vinyl Tile Flooring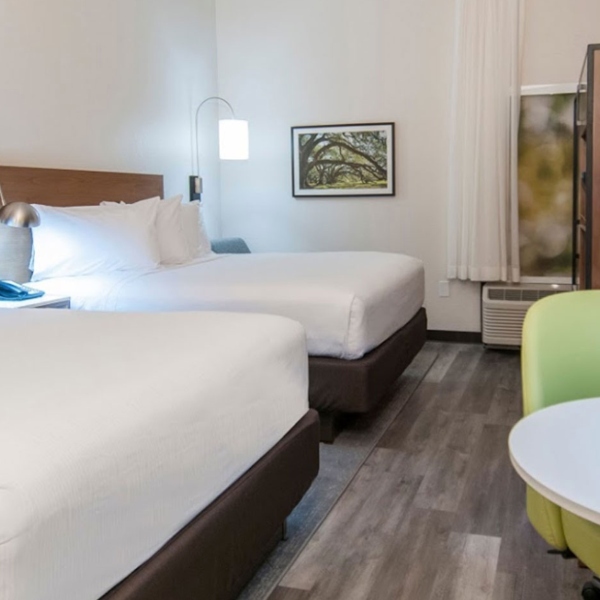 Luxury Vinyl Flooring, or LVT, is a popular choice for flooring in the hospitality industry. One of its main benefits is its budget-friendly price, making it an excellent flooring option for large areas. Although it's a manufactured flooring tile, LVT authentically mimics stone or wood flooring.
With LVT you can have the look of expensive flooring with a lot less cost and upkeep. A luxury vinyl tile floor is typically installed with underlayment, and there are various types to choose from with different qualities. With the right underlayment, LVT can muffle sound, so guests can enjoy quiet hotel rooms. It's also soft to walk on and feels relatively warm on bare feet.
Daily care of luxury vinyl flooring is minimal; it requires no sealing, waxing, or refinishing, even in high-traffic areas. Further, it's completely waterproof and stain-resistant. It provides a high-quality appearance and extremely durable performance.
Porcelain Tile Flooring

When durability and ease of care is your highest priority — not to mention unparalleled beauty and elegance — porcelain tile might be the ideal option for your hospitality business. Porcelain is of great value, even for large expanses of floor space such as lobbies and hallways. It stands up to high traffic, even in busy commercial settings, yet requires very little in the way of maintenance. Because it's easy to clean, it is a much more hygienic choice than carpeting or wood flooring, a fact much appreciated by hotel guests as well as your cleaning staff.
Porcelain tile flooring has the widest variety of design and color options of all flooring types mentioned here. It authentically replicates other types of flooring, such as wood, marble, and other kinds of natural stone. So, it can create more expensive looks at a fraction of the cost. Porcelain is also an interesting choice for hotel bathroom countertops, so you can mix and match countertop patterns and colors. Porcelain tile flooring can even be installed in outdoor areas such as pool decks, patios, and balconies. Although it's extremely durable if a tile should become damaged it's a simple job to replace the tile with a new one.
There are a few drawbacks to porcelain tile, however. For one thing, it does not absorb sound, so hotel guests may hear every footstep or other noise other guests make. Depending on the type of tile installed, wet tiles may be slippery, so care should be taken when choosing porcelain tile for bathrooms, hotel shower surrounds, and other wet areas.
Every type of flooring has its pros and cons. It also has its share of people who love it or dislike it. Keep the information in this article in mind when choosing the flooring for your hospitality business, and you can be more confident in making the right decision.
READ MORE ABOUT HOTEL AND HOSPITALITY SURFACES:
5 Ways to Upgrade Your Hotel Vanity
The Hottest Hotel Shower Surrounds For Any Style
How to Choose Hotel Flooring For Lobby Areas
The Benefits Of Installing Natural Stone For Your Hotel Bathroom Countertops