MSI Countertops: How To Select And Find An Installer
June 13, 2022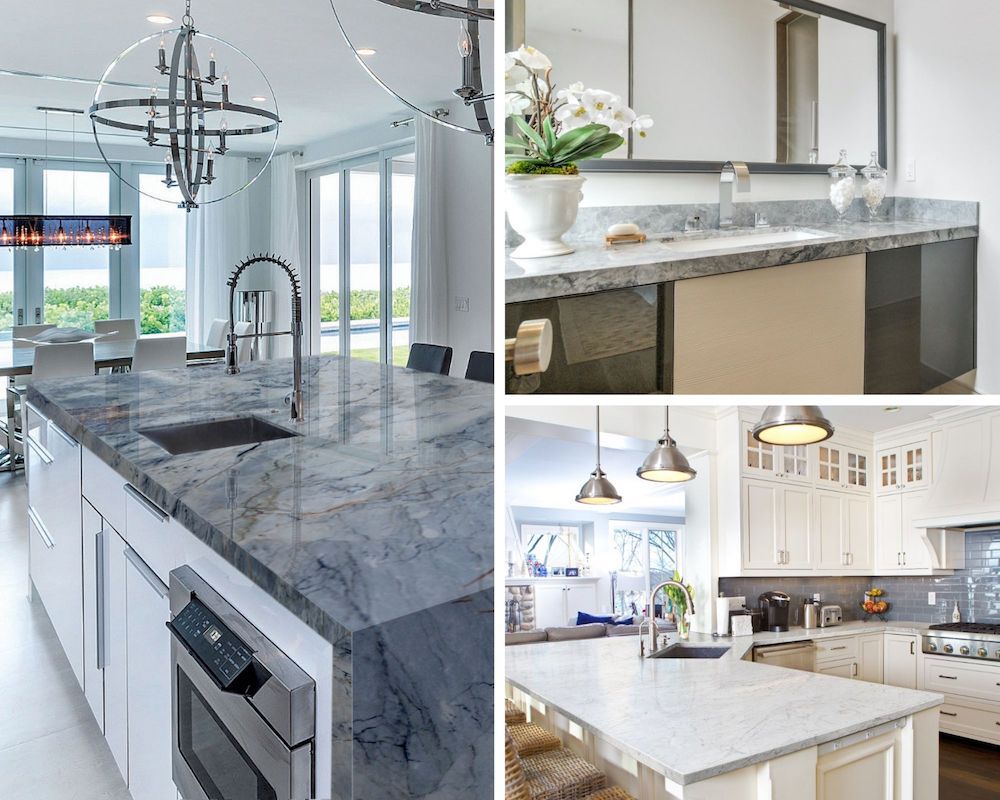 With so many beautiful and unique MSI countertops to choose from, you'll never have a problem finding the perfect fit for your home, your practical needs, and your personal aesthetic. However, you will have to narrow your options and find an installer to get your project underway.
The good news is that MSI has all of the tools you need to visualize the impact of different counter surfaces and pair them with other design elements, as well as to locate an authorized MSI dealer near you. Here are a few tips to help you turn your dream of a remodeled kitchen or bathroom into a reality.
Countertop Selection
Your journey starts with finding the perfect countertop material, and MSI is pleased to offer everything from natural stone, like marble, quartzite, and granite slabs, to attractive and resilient engineered surfaces, like quartz and porcelain.
Just head to our Countertops page to start perusing materials and learning about their particular attributes. You're sure to find several options that meet your practical needs for strength and durability along with your personal preferences for color, pattern, and style.
Trending MSI Countertops to Consider
When it comes to choosing countertops, it can be hard to know where to start. A good bet is to understand what makes certain materials so popular and which varieties are trending in marble, granite, and quartzite, as well as in porcelain and quartz countertops.
Quartz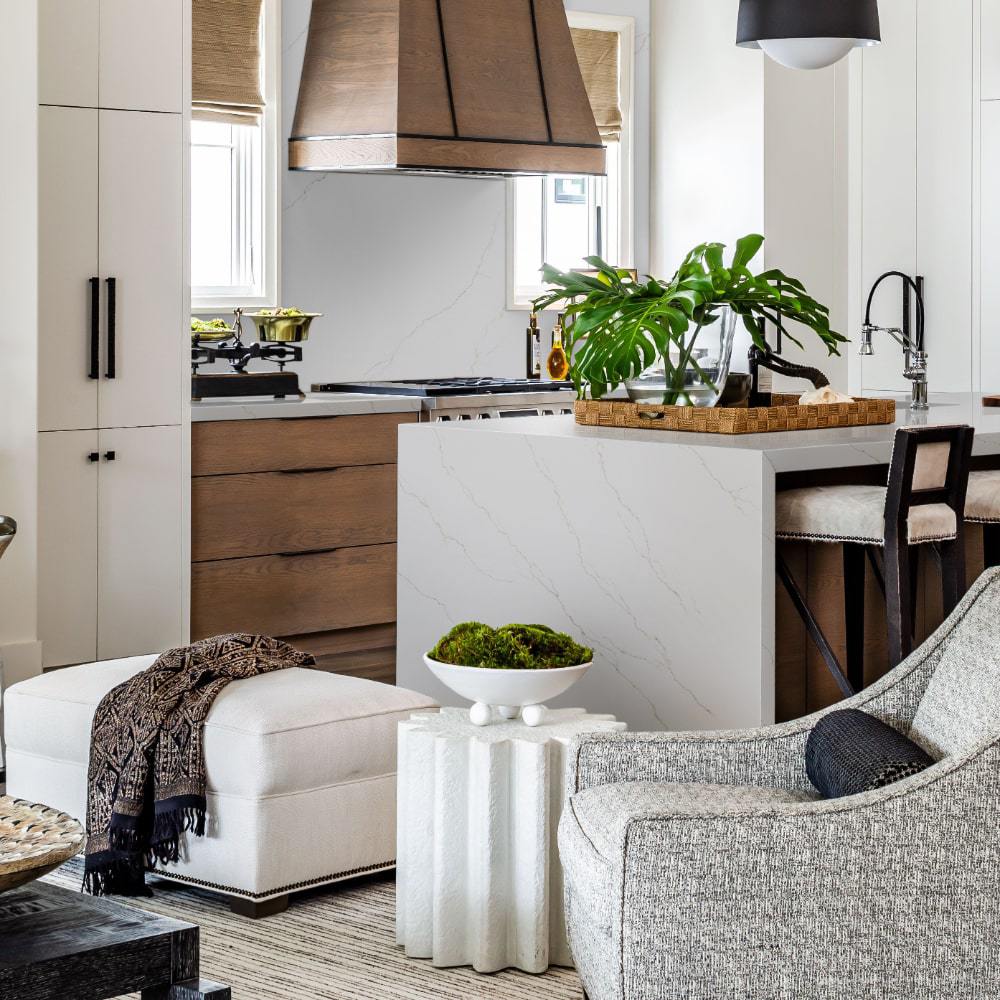 In the granite vs. quartz debate, it's hard to tell which material is winning. On the one hand, granite offers incredible strength, impressive durability, and bewitching colors and patterns.
On the other hand, engineered quartz delivers similar practical benefits, along with a nonporous, food-safe surface ideal for families. Additionally, it can be made to look like a range of natural stone varieties, including marble and granite.
It's no wonder quartz has become a popular choice for modern households. Calacatta Miraggio Gold quartz is a great example. The bright white background scattered with delicate, golden-brown veining provides the lovely look of marble paired with the low maintenance that busy homeowners prefer.
Quartzite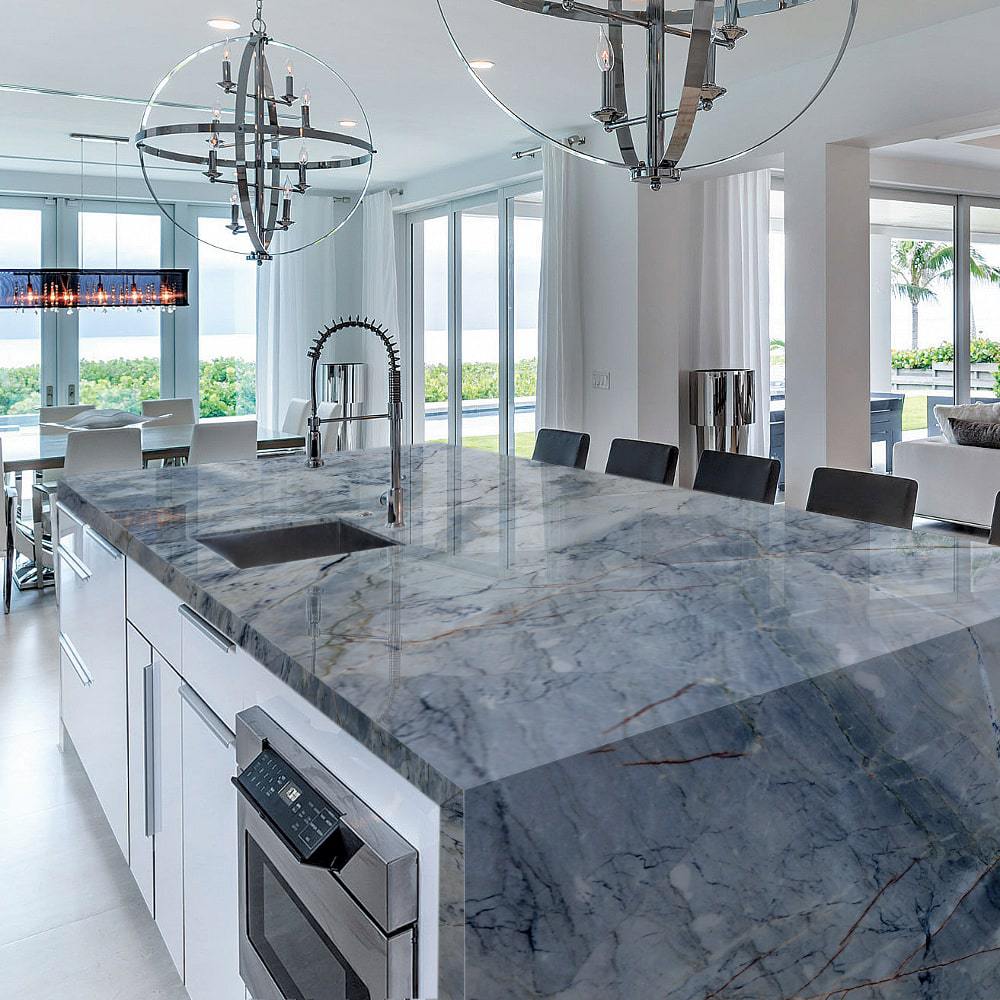 Quartzite is among the hardest counter surfaces you can choose, with a Mohs rating of 7 (even greater than granite). While many varieties exhibit soft neutral shades and soothing striations, some options deliver a lot more drama, such as Blue Lava quartzite.
This stunning variety features a background in cool, icy blue, studded by dark blue veining. However, it's the contrasting streaks of vibrant orange and rust throughout that really make this variety something special.
Granite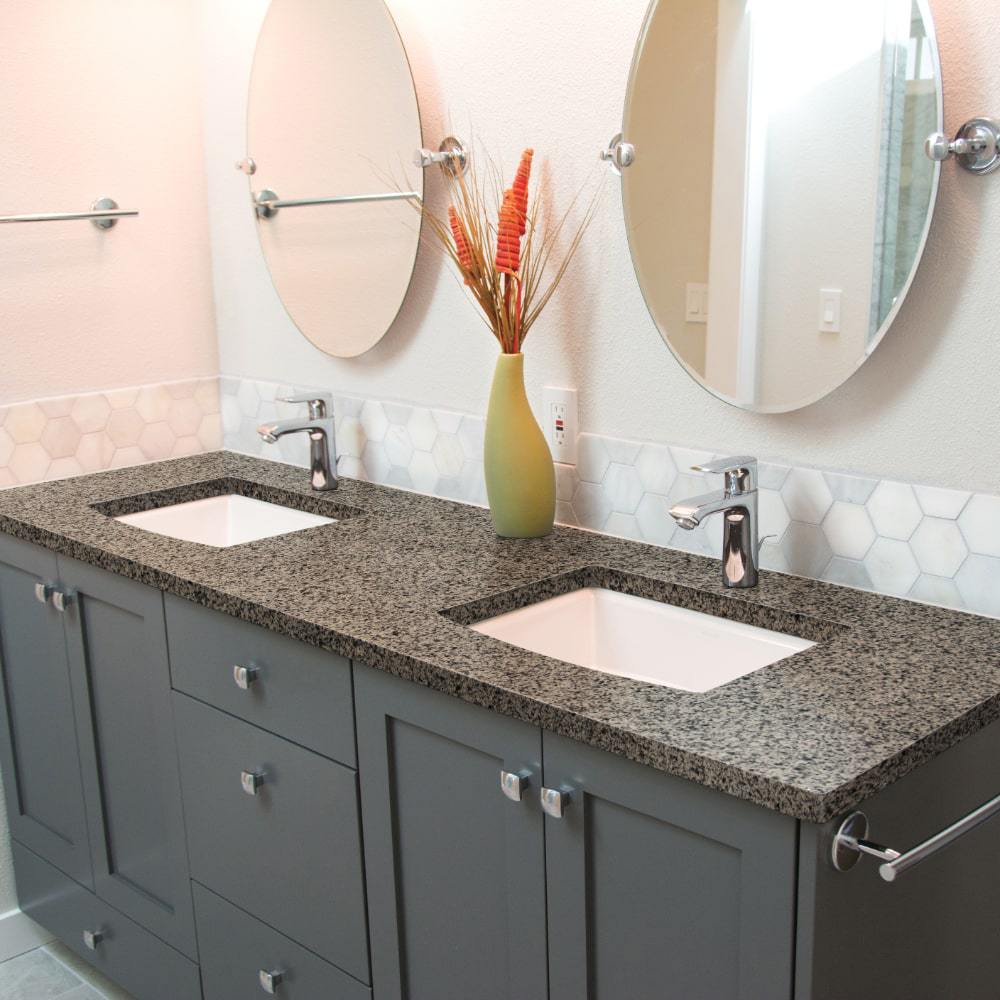 Granite is among the most popular options for kitchen and bathroom countertops in general, but you may be hesitant to choose from the more dramatic varieties. If you love the strength, durability, depth, and dimension of granite but you're looking for a style that's a bit less bold, Bohemian Gray granite is ideal.
The warm, gray background is modern and inviting, and flecks of darker gray and black add visual interest to this low-variation stone. It's the perfect complement to any interior, with neutrals that ensure easy pairing with other materials and just enough pattern to catch the eye.
Marble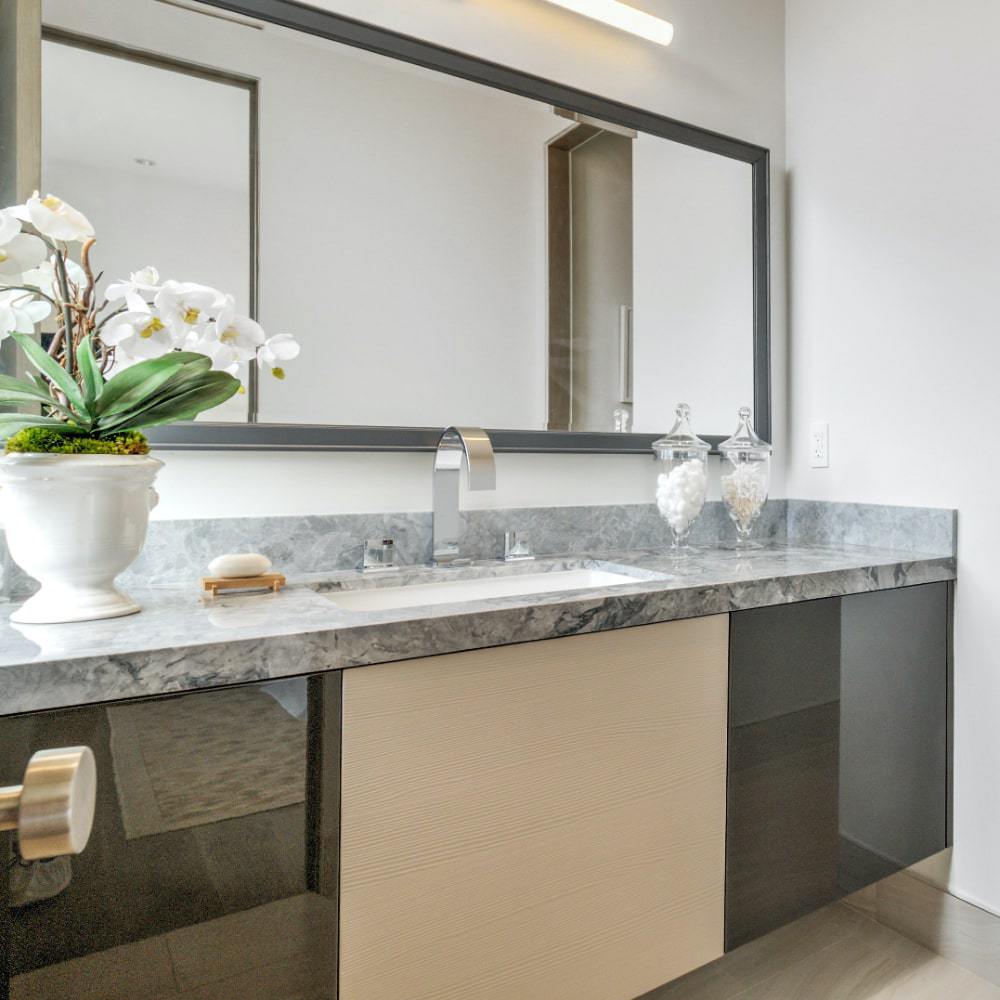 It's hard to argue with the beauty and luminescence of marble, as evidenced by the striking Super White marble variety.
A blend of white and gray vie for dominance in this tempestuous stone, which features rich, dramatic, mid-tone gray veining throughout. Bubbling and crackling like the stormy sea, this is one marble counter sure to draw attention.
Porcelain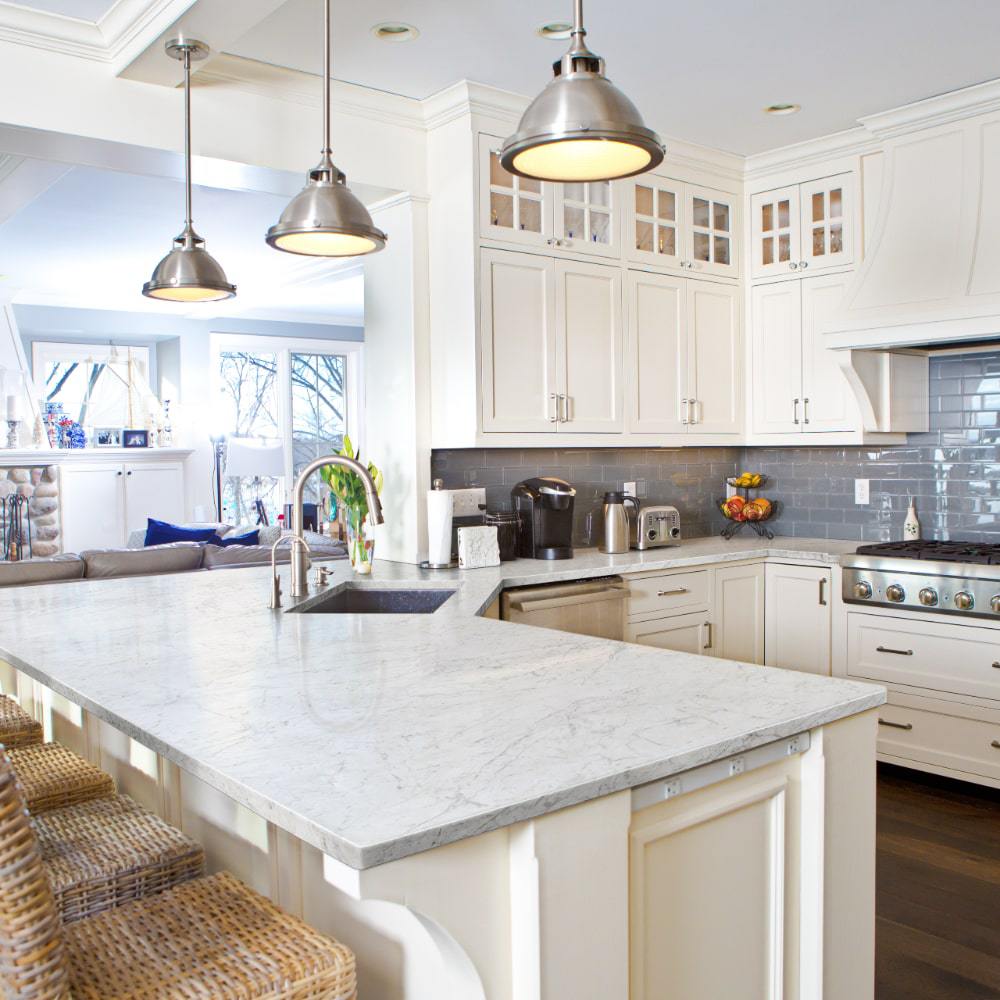 Porcelain is quickly emerging as a contender in the countertop arena. No longer merely for tubs and sinks, modern porcelain is incredibly durable and can be made to look like the natural stone you love. Carrara porcelain, with a white background and soft gray veining, is a lovely stand-in for the marble on which it is modeled.
Preview Product Choices
Once you've decided on a few counter surfaces you like, it's time to get an idea of how they'll fit into your design and look in your space, and this is where the right countertop visualizer tool can help. MSI has two great options when you want to preview your product choices.
You can start with the Virtual Kitchen Design tool. Choose from a range of countertop materials and add your favorite backsplash, cabinet color, and flooring material to create a complete look and see how all of these elements work together. Change it up as many times as you want to find the perfect combination.
Next, you can get an idea of how preferred products will actually work in your space, thanks to the Multi-Surface Visualizer tool. Just upload a pic of the room you want to upgrade, select floor, countertop, and wall materials, and see your remodeled space in seconds.
Find an MSI Installer
MSI provides an incredible selection of natural stone and engineered materials suitable for countertops in kitchens and bathrooms — but doesn't sell materials directly to the public.
You'll need to contact an authorized MSI countertop dealer near you, and it's easy with our Dealer Locator tool. Just enter your zip code and choose the products you're interested in to find a trusted contractor conveniently located in your area.
Preview and Find Actual Slabs
With showrooms in every major metropolitan area and the largest selection of countertops in the country, MSI has what you need to transform your house into a home you love.
Once you select a preferred dealer or installer, you can make an appointment to visit an MSI showroom to pick the perfect slab. Check out this video to prepare for your showroom visit.
Countertop Edge Options
The interior design process is detail-oriented, to say the least. When choosing your countertops, it's easy to forget that you also have to select an edge design.
The Countertop Edge Visualizer tool can help. Simply pick a stone type and preview different edge profiles until you find the right look for your upgrade. The Countertop Edge Guide also offers a handy visual aid detailing dozens of different edge profile options.
With so many tools at your disposal and tons of gorgeous varieties to choose from, you have all you need to find the perfect MSI countertop for your home improvement project, along with the authorized installers in your area that will ensure the outcome you desire.