How To Choose A Quartz Countertop That Matches Your Kitchen Colors
February 12, 2019
The colors of your floors, countertop, and cabinetry make up the majority of the color scheme in the kitchen. Since the price of products and installation can be quite costly, you probably will not want to change out main materials like a quartz countertop for a long time, which is why it is so important to get the color scheme just right. Once those three "permanent" features are living in perfect harmony, it makes matching everything else much easier, from picking cabinets to appointing appliances to selecting a new sink.
Because countertops take up a large chunk of the budget, you will want to pick your countertop first. Now that you have selected quartz for your counter, you will need to single out the one hue you love from the many options available. Quartz comes in a wide variety of colors, from solids to natural stone and concrete looks. Let this article guide you on how to choose a countertop that matches your kitchen colors.
Start with a Color Palette
Smart design always starts with a good color story. But, before you begin shopping for a quartz countertop, learn which colors you like best first. You can create a design board with paint samples or get inspired on Pinterest by saving designs you like and identifying the colors repeated in the images. For those not familiar with primary, secondary, and tertiary colors, a color wheel is helpful in learning about the various choices of warm versus cool tones and which hues are opposite of each other.
For the kitchen, you will want to select two main colors and one accent color. The two can be simple yet should complement each other, while the third can add a pop of color or be a neutral that ties it all together. Remember that things like wall paint and accessories can be easily changed over the years.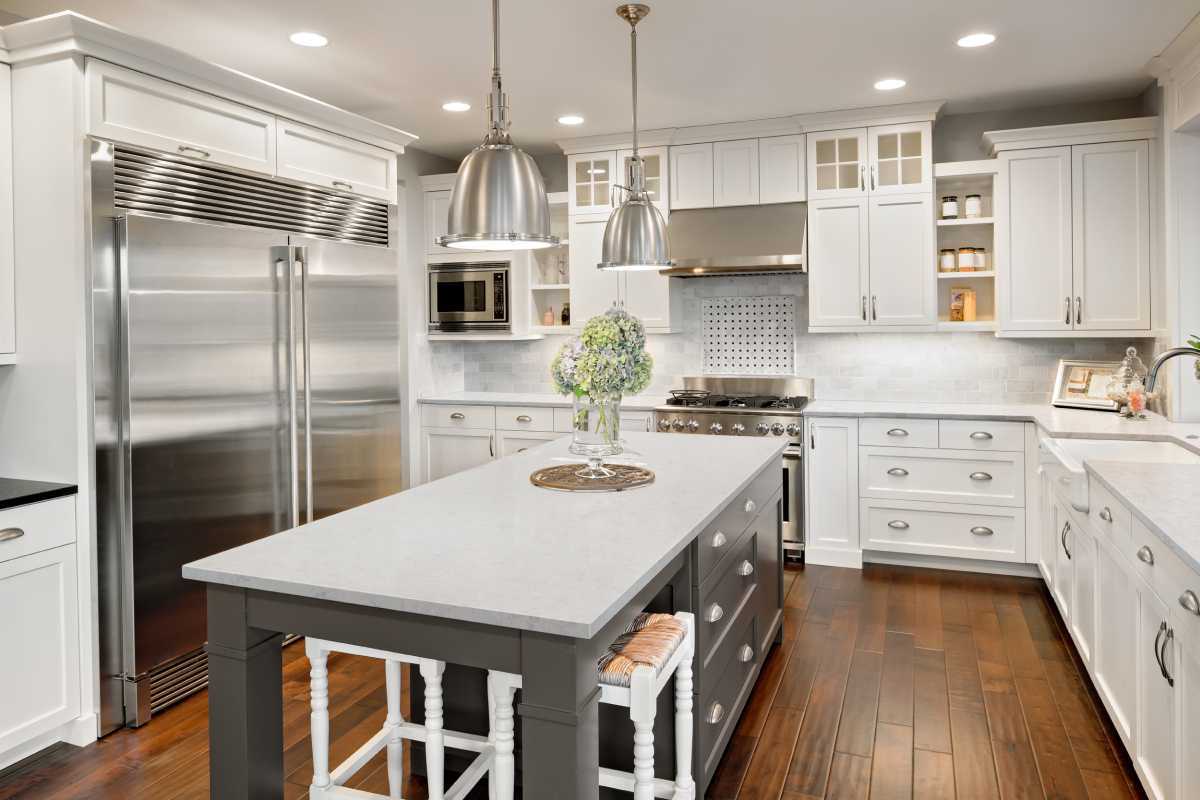 Featured: Mara Blanca
If you are working on a complete kitchen remodel or new build, then the sky is the limit in terms of what you can choose for every single item. However, for existing kitchens with minimal renovations, you should thoughtfully select colors that work well with some of the permanent materials that are staying. You can take photos of your cooking space or match paint samples to have easy access to the existing color story so that you achieve the look you envision.
Keep Lighting in Mind
Lighting comes in warm and cool tones and has a big effect on color, which means your quartz might look different under natural light during the day and artificial light during the night. Bringing home samples before finalizing your decision will allow you to test it under the actual lighting in your home instead of the sparkle of a bright showroom.
Many people also make the mistake of testing samples vertically instead of placing them horizontally in a way similar to how the materials will be installed. You can try covering your countertops with a sheet or towel in a color close to the one you like and then place the sample or photo of your quartz on top. This will help you get a better feel for how it will impact the room and overall design. And, be sure to test the samples or photos during different times of the day to get a more accurate picture of how it will look.
Color can also manipulate the size of the kitchen, whether it includes the hues of the actual items or the amount of lighting in the space. A room flooded with natural light will feel larger, while a kitchen with not as many windows might feel more cramped. The same goes for the colors of your counters. White quartz countertops can make things feel bigger because it helps bounce around the natural light. Dark countertop gives a room a more dramatic feel, but it can make the area appear smaller.
Bring Samples with You
When it is time to choose your countertop, take your color paint samples, pictures of materials, or your inspired Pinterest board with you. If you are installing countertops over existing cabinetry, then an easy thing to do is to unhinge a door and bring it with you. Bringing colors and samples to the showroom will help you select a surface that goes with your new or current color story and avoid choosing something that is just a trend.
Featured: Vena Carbona
Once you have selected your brand-new quartz, make sure you take that sample with you when picking out new design elements. If your counter is not a completely solid color, then you can pull coordinating colors from the specks, flecks, or veining. For instance, you might match the subtle veins of Mara Blanca or the impactful veins of Statuary Classique with gray cabinets or a wood-look tile with gray undertones. Remember that the countertop is part of the three main components in the kitchen, and since the countertop and cabinetry will be touching, those should be matched first before matching the floors.
Accessorize Last
Using accessories to pull together your design is easy to do, so it should be the last step you make in creating your ultimate kitchen. Your accent color might create pops of color through a feature wall or decorative pieces, come in the form of metallic finishes in your fixtures and appliances, or simply be another variation of your main colors for a true monochromatic design. Especially if you chose a neutral base, you can change the mood of your kitchen as the seasons change by rotating your accessories throughout the year.
Your individual style will influence the colors you choose, whether you love soft neutrals or desire dramatic colors. No matter if you opt for something light or dark for your quartz surface, be confident that you will find something that works for your cooking space. Following these tips will help you pick out the perfect countertop color and create a dream kitchen you will love for years to come!