Everlife Glue Down Vinyl Flooring And Luxury Vinyl Plank Flooring
November 01, 2021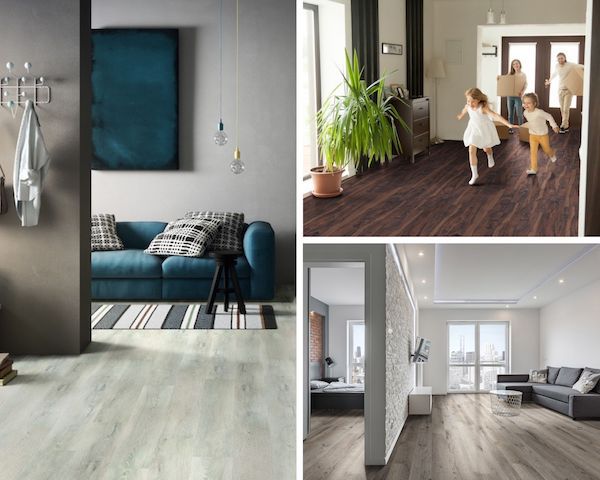 Ditching the carpet and installing a hard flooring option is one of the hottest trends in today's home decor. Luxury vinyl flooring has become one of the most popular choices, and today it's a better product than ever. So, how can you choose the perfect LVT flooring for your home?
There are two basic types of luxury vinyl flooring (LVT): glue-down and vinyl planks. Although they may look much the same, the difference lies in how they are installed. Wood-look planks are the most popular, but you can also install natural stone-look tile and enjoy the look of travertine, marble, and other stone tiles without the maintenance. LVT also removes the limitations on where it can be installed because it's totally water-resistant.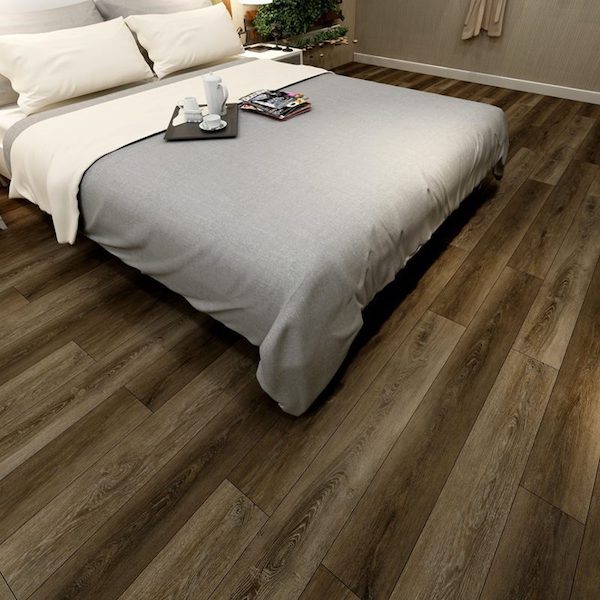 MSI's Everlife Collection includes both glue-down and interlocking rigid-core LVT. Here's a guide to luxury vinyl tile, so you'll be able to make an informed decision.
Rigid Core Luxury Vinyl Plank Series
Rigid Core is a next-generation, 100% waterproof vinyl plank floor tile featuring an easy-install locking system. It's thicker than sheet vinyl or glue-down vinyl planks and is made with five layers:
Backing layer of PVC or fiberglass, which gives the tile its rigidity and stability.
Cushion foam layer, which helps the tile absorb sound and gives it a warmer, more comfortable feel underfoot.
Design layer that is printed in a photorealistic wood-look pattern.
Clear film layer that protects the tile against damages such as tearing and dents.
CrystaLux top layer that protects it from scuffs and other light damage and provides texture, slip-resistance, and shine.
Rigid core vinyl plank flooring is installed by clicking a ridge on one side of the plank into a slot on the next plank. It's also called a "floating" floor, meaning that it is not attached to the subfloor beneath and does not need adhesive. This easy installation makes it a popular DIY project.
One advantage of this flooring type is that it does not require much preparation of the subfloor before installation. In some cases, it's even possible to install it over the old flooring, such as sheet vinyl or tile. Many homeowners choose to install it themselves, saving money on labor costs — that's one of the best benefits of luxury vinyl tile.
MSI's Everlife Collection includes several beautiful wood-look patterns, from light to dark shades. Matching trim pieces are available, such as end caps, stair noses, and quarter-rounds to create a safe, professional installation.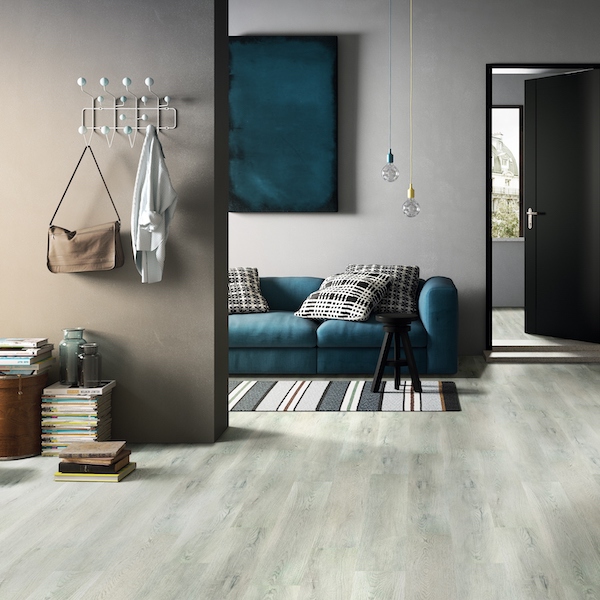 One of the most on-trend flooring options is reclaimed wood, such as Kardigan vinyl flooring, in the Prescott series. It features shades of gray with accents of cream and a tinge of blue. It is available in two different sizes, so you can choose between wide 9" or narrow 7" planks. This premium vinyl tile also has an extra 1mm pad attached to its backing, making it even more luxurious and quiet.
Barrell vinyl planks, also in the Prescott series, provide a more traditional wood look. It's a rich coffee-brown shade, featuring darker brown knots and wood grain. It also has a pre-attached backing and is available in 9" x 60" planks.
Glue-Down Luxury Vinyl Plank Series
Glue-down planks are thinner than rigid-core planks, but that doesn't make them any less durable and beautiful. Vinyl care and maintenance are simple, making it ideal for busy families, pet owners, or anyone who doesn't have time for fussy cleaning routines. Just as their name implies, they are attached to the subfloor with an adhesive.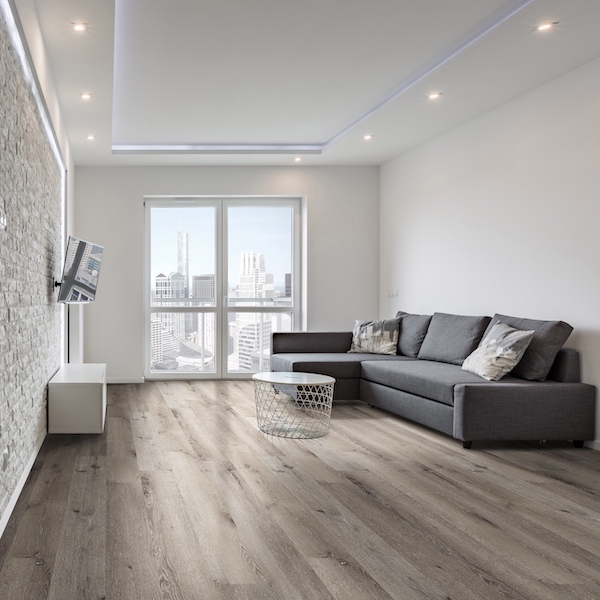 They are manufactured with the same layers as rigid core vinyl planks: backing layer, cushion layer, design layer, protective film layer, and CrystaLux top wear layer. The backing and cushion layer are thinner, however, giving it a total thickness of 2 to 2.5 mm, versus rigid core's thickness of 5 to 6.5 mm. There are two types of glue-down vinyl planks: pressure-sensitive and dryback, also called hard set. Pressure-sensitive planks have the adhesive already applied to the backing, so they are essentially peel-and-stick. Dryback planks are installed differently, with the adhesive applied to the subfloor first and the flooring laid on top.
MSI's luxury vinyl flooring is dryback. Best practices for luxury vinyl tile installation include preparation of the subfloor, with any bumps or irregularities removed first so they won't show through. Unlike rigid core planks, glue-down planks can be flipped around end-to-end to vary the pattern and make the result even more realistic. Like MSI's rigid core flooring, matching accessories such as stair noses and trim pieces are available.
Vinyl plank flooring that requires the application of adhesive is more stable than peel-and-stick or rigid-core tile planks. That makes it a better choice for commercial settings or for any high-traffic areas. Furniture and fixtures will be less likely to create indentations or other damage.
One of MSI's popular glue-down plank patterns is Charcoal Oak from the Glenridge collection. It features shades of mid-town gray and beige, with subtle wood grains and knots that give it plenty of character. It's available in 6" by 48" planks, a great size for easy installation even in smaller rooms or tight spaces like hallways and entryways.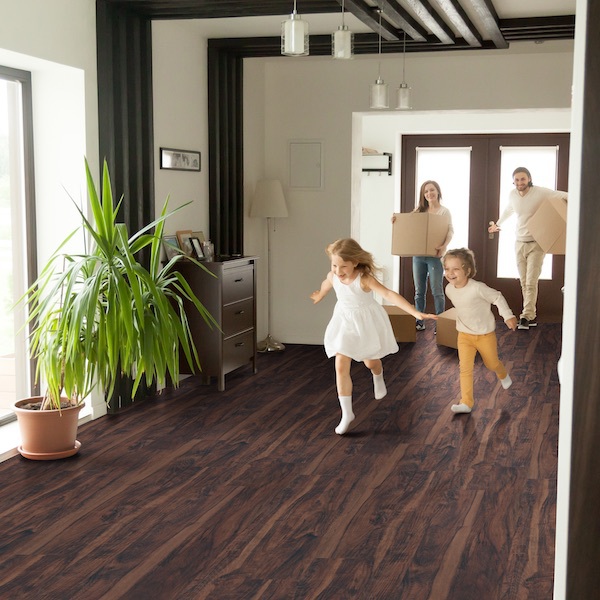 For a more dramatic look, consider Burnished Acacia vinyl flooring from the Wilmont series. It's a deep shade of brown with authentic, dark wood graining. It's available in 7" by 48" planks and will look great anywhere in your home — even rooms where you would never install real wood flooring, such as a bathroom or laundry room because it is 100% waterproof.
No matter which type of flooring you choose from your home, you can breathe easy because it's all Greenguard Indoor Air Quality certified. It's also backed by MSI's warranty that covers both residential and commercial installations. Want to find out more? Browse our web gallery for dozens of beautiful wood-look patterns that will look great in your home.
More on Everlife LVT
Everlife LVP Indoor/Arterra Paver Outdoor Collection
Got Trim? A Guide To Everlife Luxury Vinyl Tile Accessories
Easy Installation With Everlife Luxury Vinyl Tile


For more detailed information on vinyl flooring, including installation costs for Luxury Vinyl Flooring, visit our website for our entire line of luxury vinyl planks.
Are you ready to get your DIY project started? First, find the perfect Luxury Vinyl Tile and Luxury Vinyl Plank flooring by reviewing MSI's expansive Luxury Vinyl Flooring Collection, then find and visit an MSI Luxury Vinyl Flooring Dealer in your area.